Shanghai Winter – Weather, Temperature & Wear
Shanghai winter, starting from December to February next year, is cold with evident temperature variation between day and night. The average low temperature is -1℃ (30℉ ) and the average high temperature is 8℃ (46 F). Obviously, the temperature is not low enough for snow and the possibility to see snow during winter in Shanghai is low. It is also humid, with the average humidity of 75% and the rainfall of 40-60mm. Besides, there are several foggy days, therefore the air quality is not excellent as in other seasons. The strong wind blows occasionally, when the Shanghai winter weather is colder than other time.
But Chinese New Year is celebrated in winter season, when is the good time to attend various folk activities. Just remember to book hotels and transportation in advance to ensure a smooth trip.
What to Wear When Visiting Shanghai in Winter
The Shanghai winter wear should be warm, such as down jackets, padded overcoat, wool sweaters, thick overcoats, padded trousers and long boots and adjust accordingly based on Shanghai winter temperature. In addition, you need accessories such as hats, scarves, gloves and mouth-muffles to keep warm.


Why to Travel to Shanghai in Winter?
Although winter is not a good season for travelling because of the cold weather, there are still several reasons that attract tourists to visit Shanghai in winter.

The travel expenses would be lower in Shanghai winter season, including flight ticket fares, entrance fees and accommodation costs.

Several traditional Chinese festivals are celebrated in winter, including
Chinese New Year
,
Laba Festival
and
Lantern Festival
. Travelling there during the festival periods, you can join in Chinese folk activities and learn local folk customs.

Generally speaking, there won't be crowded tourists at popular scenic areas during Shanghai winter. Avoiding long queues and crowds, you can obtain nice travel experience.
What to Do in Shanghai Winter Season

Watching Lantern Show at
Yuyuan Garden
Yuyuan Garden holds Lantern Show every year during Chinese New Year, which attracts tourists all over the world. Many kinds of lanterns decorated on roofs and corridors with cartoon, traditional and myth characters add happy festival atmosphere. Besides, several folk performances like Face-changing Performance, Lion Dancing and Lantern Riddles Guessing bring more fun when visiting Shanghai in winter.
| | |
| --- | --- |
| Lantern Show at Yuyuan Garden | Shanghai Old City God Temple Fair |

Attending Temple Fairs at Longhua Pagoda and Old City God Temple
As a traditional custom, Longhua Pagoda welcomes tourists to make a New Year wish by knocking the bell on both the New Year's Eve and Chinese New Year's Eve. After that, people can eat a bowl of famous Longhua vegetarian noodles to warm body. Various folk shops on the pedestrian street are lined up, including Chinese Paper-Cut, Dough Figures, Magic Playing, Lanterns Making, Chinese Knots and Seal Carving.

The most attractive thing of Old City God Temple is to watch the folk performances, such as Lion Dance, Shadow Puppets Show and Huangmei Opera Show. In the evening, tourists can also watch beautiful and fascinating lanterns. After sightseeing, you can taste local snacks. Mini Steamed Buns, Chop Rice Cakes and Black Rice Balls are highly recommended. Therefore, it's no doubt to say that attending temple fair ranks among fun things to do in Shanghai winter.



Enjoying Plum Blossom at Century Park
As the Chinese New Year approaches every winter, the fragrance of plum blossom will overflow at Century Park in the cold weather. Strolling along the road, you can see the plum branches are covered with blossoming white petals. With breeze blows, the flakes of white petals fall like a romantic rain of petals, making you feel like in a fairyland.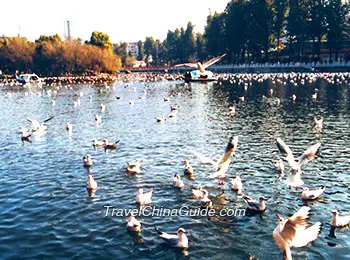 Migratory Birds at Dongtan Wetland Park

Viewing the Migratory Birds and Reed at Dongtan Wetland Park
Generally speaking, from November to next February is a fantastic time for watching migratory birds on the bird watching platform in the park. The best time for bird watching is early morning with the sunrise. More than 400,000 square meters original reed area provides an ideal place for birds to inhabit.

Read more:
Top 10 Places for a Shanghai Visit in Winter
6 Shanghai Must-Visit Places in January
6 Shanghai Tourists Places in February
What to Do in Shanghai in December: 6 Places to Go
Will Shanghai Snow in Winter? 8 Places to See Snow
Shanghai Winter Tour Tips

Please make sure to bring some basic cold medicines because tourists may easily catch a cold due to the cold weather in Shanghai winter.

When you join in outdoor activities, it is wise to wear a mouth-muffle to keep dust away in foggy and windy days.

If you travel during Chinese New Year, you are advised to arrange hotel and transportation in advance.
- Last updated on Jan. 27, 2021 -