Shanghai Botanical Garden
Shanghai Botanical Garden is the biggest municipal botanical garden in China. It has a large collection of thousands of plants, including some rare species. Plants either from home or abroad are nurtured here. First named Longhua Nursery Garden in 1954, it turned into Shanghai Botanical Garden in 1974 and finally opened to the public in April, 1978. Now it has an area of 81.86 hectares (about 202 acres). After decades of construction, it has become a comprehensive base combining plants research, production, tourism and nature science education and has won many prizes in international flower shows.
| | |
| --- | --- |
| Butterfly Orchid | Map of Shanghai Botanical Garden |
Shanghai Botanical Garden in Different Seasons
Shanghai Botanical Garden will bestow a fresh and sweet memory on your trip to shanghai by its thousands of plants and enchanting flowers. Every season, a majority of flowers show their beauty and charm in a competing way.

Spring is the most beautiful time during the whole year. Big flower shows are often held. You will be enchanted by a mass of flowers for their colors, fragrances and shapes. Cherry, Peach, Plum, Begonia, Bauhinia are in their full blossom in the Rose Garden. In the Peony Garden, the graceful and fascinating national flowers of China are showing their fineness. 5,000 azaleas of different species are throwing off a pleasant aroma in the Azalea Garden. Magnolias of various colors are a feast to your eyes in the Magnolias.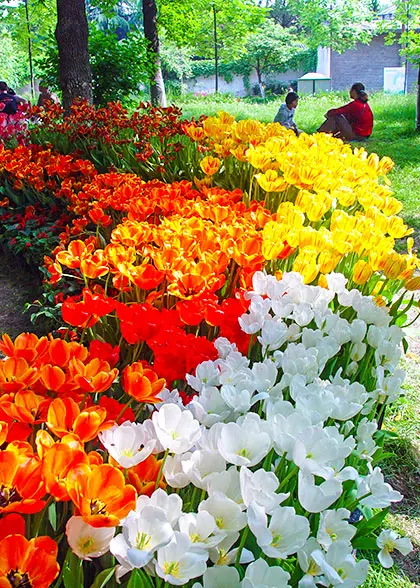 In summer, the Bamboo Garden will provide you an idealized summer resort. More than 50,000 plants of one hundred species in eight floras are growing with infinite charm. These bamboos are rich resources for the study of the evolution and classification of bamboos. Here you can have a look at the bamboos from most places of China and all over the world. In the meantime, the houses made of bamboo on the road sides offer you a cool place to rest. Another good place in summer is Penjing (Miniascape) Garden. The beautiful Water Lilies blossom with pink faces and fancy lotus welcomes you with refreshing aroma. On Children's Day, many parents accompany their kids having fun in Shanghai Botanical Garden, knowledge of plants and interesting activities enrich their holidays.

Autumn is a good season to enjoy the colorful leaves. Red maple leaves like flames show their ebullient passion in the Garden of Maple. Trembling poplars wear yellow coats in the Garden of Osmanthus and the fruits of haw, persimmon, Photinia serrulata and orange hanging on the branches in the Garden of Magnolias gave you harvest happiness. Small exhibitions will be held in summer too.

You may say, in winter, the doom of the flower is coming but the Conservatory which is regarded as the symbolic architecture of Shanghai Botanical Garden brings another spring for flowers and plants. The Greenhouse covers an area of 0.5 hectare (about 1 acre) and has a height of 32 meters. The automatic system can control and adjust the environment and provides proper living conditions for the 3, 500 tropic plants from different places all over the world. There are two main exhibition areas here. In the Tropical Plant Exhibition Area, you can see a miniature rainforest. Rainforest Plants from Xishuang Banna and Hainan Province of China are elected to create marvelous scapes. Some rare spices you may have not seen before are growing healthily in this Conservatory. Wangtianshu (Shorea wantianshuea) which is 70-80 meters (about 230-262 feet) high when grown up is the highest tree in South-Eastern Asia. Palm tree is nicknamed as the 'king' of making oil. Bodhi which originated in India is regarded as the national tree of India is also planted here. In the exhibition area of Tropical Fruit Trees, more than 40 kinds such as cocoa, pineapple, coffee are exhibited.
Seeing the flowers with various colors in different shapes, breathing the fragrance, you will feel relaxed both in body and mind. Surely, it will bring you good mood. If you want to relax, the Amusement Park inside will bring you pleasant memory with your kids.

How to get to Shanghai Botanical Garden

Entrance No. 1: Take bus 56, 178, 342, 714, 720, 824, 831, 956 or 958 and get off at Luwulu Baiselu Station; take bus Shangfeng Special Line and get off at Shanghai Zhiwuyuan (Botanical Garden) Station. The conservatory, herb garden and tropical plants house are near this entrance.



Entrance No. 2: Take bus 56, 178, 342, 714, 720, 770, 824, 956, 958, or Shangfeng Special Line and get off at Longwulu Longshuinanlu Station. The demonstration garden and Temple of Huang Dao Po are nearby.



Entrance No. 3: Take bus 720, 824, or 973 and get off at Baiselu Longchuanbeilu Station. Gardens of maple, osmanthus, rose and bamboo are nearby.



Entrance No. 4: Take Metro Line 3, get off at Shilong Rd. Station, and then walk south for five minutes. The Children's Playground is nearby.

Shanghai Bus / Metro Search

Tips:
1. On the right side of the Entrance No. 1, there is a clinic in case of injury in playing and each entrance provides with commonly–used medicine and sewing kit.
2. You can rent a wheelchair or a children bike at each entrance of the garden.
Ticket Fee
Admission Fee: CNY 15
Conservatory: CNY 30
Bonsai Garden: CNY 7
Orchid Garden: CNY 7
Combo Ticket: CNY 40

* Children under 1.3 m (4.3 ft) can visit the botanical garden for free.
Opening Hours
Open Area: 7:00 - 17:00
Gardens and Exhibition Halls: 8:30 - 16:30

Relative attraction:
Shanghai Chenshan Botanical Garden

Further Reading

15 Most Beautiful Places in Shanghai in Spring

Shanghai Tourist Information for April - 7 Things to Do
- Last updated on Apr. 08, 2021 -
Questions & Answers on Shanghai Botanical Garden
Asked by Jo from PHILIPPINES | Feb. 16, 2021 20:01

Reply
Where can we go for flower viewing this spring 2021 in Shanghai?
Answers (1)
Answered by Sylvia | Feb. 21, 2021 14:55

0

0

Reply
Botanical Garden, Haiwan National Forest Park, Century Park, Meichuan Park, Gucun Park and Zuibaichi Park are recommended places to see flowers.
Asked by Sue from TRINIDAD AND TOBAGO | Jun. 12, 2019 15:34

Reply
Are flower seeds on sale in September 2019 at Shanghai Botanical Garden?
Answers (1)
Answered by Ben from JAPAN | Jun. 12, 2019 18:47

0

0

Reply
I'm not sure. You can ask help for the staff when you arriving at the botanical garden.
Asked by Milica from SERBIA | Oct. 27, 2018 07:51

Reply
How to get to the Conservatory from Hongqiao Railway Station Metro station? Thanks in advance
Answers (1)
Answered by Hailey from USA | Oct. 29, 2018 01:40

0

0

Reply
Take the metro line 10 and get off at South Shaanxi Road. Then walk about 10 minutes to the Conservatory.
Asked by ramesh from INDIA | Jan. 07, 2017 09:25

Reply
I am longyang road station how to go to with train to shanghai botanical garden?
Answers (1)
Answered by Monica from USA | Jan. 07, 2017 21:58

0

0

Reply
You may take subway line 7 to Middle Longhua Road and transfer to line 12. Get off at Longcao Road. Then go for line 3 and you are suggested to get off at Shilong Road. After that, the distance to the garden can be around 1.2mi. You can walk there by asking locals about the direction or take a taxi to get there.
Asked by shanghai tourist from USA | Aug. 30, 2016 22:52

Reply
How to go to Shanghai Botanical Garden by subway? I live in Xujiahui Area.
Answers (1)
Answered by Sally from USA | Aug. 31, 2016 04:09

0

0

Reply
You can take public bus no.56 at East Nandan Road North Caoxi Road, and get off at Longwu Road South Longshui Road. After arriving, walk south along Longwu Road around 200 yards.
Or for your convenience, just take a taxi from your starting place. Take Xujiahui Metro Station as an example, the cab fare to the garden is about CNY 30 in the day time.