How to Plan a Trip to Shanghai: 6 Steps
For first-time international travelers, it may be a little hard to plan a trip to Shanghai — a remote Chinese city. By following these 6 steps, you can save a lot of time and have a smooth Shanghai tour.
1
Step 1: Decide on the Travel Time
Confirming the travel time is the first thing to do. The best time to visit Shanghai is usually in autumn from September to November. The cool weather and moderate climate make it the top season to go. However, if you cannot arrange a trip in autumn, then late spring from April to May is also a good time to pay a visit.
See More about:
Shanghai Weather
and
Best Time to Visit
.

How long to stay in Shanghai:
3 to 5 days are necessary to explore the city for most travelers.

Times to avoid:
Try to avoid public holidays such as the National Day Holiday from Oct. 1 to 7 and the Chinese Lunar New Year in January or February.
See More about
Public Holidays in China
.
2
Step 2: Book Flights & Hotels
Once your travel date is settled, you'll need to keep an eye on your flight tickets and try to book them at a cheap price. Decide where to stay and book the hotels after you book your flights. It is better to make free reservations for hotels in case your visa is denied.
China Flights: Schedule & Booking

Where to Stay in Shanghai
:
Most travelers will choose to stay near the city center which is around the Bund, People's Square and Nanjing Road. The neighborhood around the Disney Resort is also very popular.
3
Step 3: Make a List of What to See
It is important for you to decide what to see and what to do in Shanghai. You can choose some great guided tours according to your interest. Recommended Shanghai Guided Tours:
If you plan to explore Shanghai on your own, making a detailed travel plan day by day is necessary. Traffic information should also be collected in advance.

Best Attractions to Visit in Shanghai:
1. The Bund & Huangpu River: The Bund features scores of Western art deco style buildings and cruising on the Huangpu River is one of the best ways to appreciate the city.
2. Shanghai Disneyland Park: This is the largest Disneyland Park in Asia. You can have a great time and re-live your childhood dreams.
3. Yu Garden & Old City God Temple: The Yu Garden is a classic-style garden of South China, which boasts intricate layout and exquisite buildings. The bazaar around the garden and the temple is filled with local snacks and interesting accessories.
4. Zhujiajiao Water Town: This is the nearest water town to Shanghai. The old buildings along the river and several ancient bridges over the water are impressive.
5. Nanjing Road: As one of the busiest pedestrian streets in Shanghai, you can not only go shopping in Nanjing Road but also appreciate the ancient buildings in the Western style.

Read more:

Top 10 Things to Do in Shanghai

Shanghai Night Tours: Top 7 Night Activities

15 Free Things to Do in Shanghai

10 Cool Things to Do in Shanghai for Youngsters

Places of Interests in Shanghai: 12 Historical Sites to Explore

8 Best Water Towns near Shanghai

Shanghai Amusement Parks: Top 5 Places to Go

List of 8 Theme Parks in Shanghai

What and Where to Eat
:
Best restaurants and famous local food
you should try

Recommended Shanghai Guided Tours with Low Prices: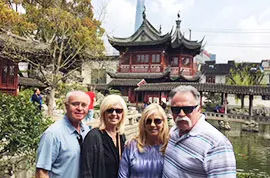 Shanghai 2 Days Tour from $299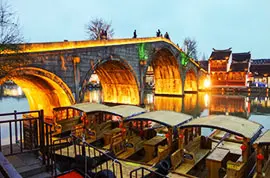 Shanghai Water Town Trip from $439

4
Step 4: Estimate Travel Expenses
Assessing your travel cost is necessary especially for independent travelers. If you book a guided tour, then the travel cost will be easier to figure out. Otherwise, you need to make a detailed estimate of your expenses and add some wiggle room. Overestimating is always better than underestimating. If the expense is higher than you are willing to spend, then cut some where you can.

Most credit cards can be used in the large malls and restaurants of Shanghai. However, in some small shops, Chinese cash is needed. You can also try mobile payments systems such as Apple Pay, Ali Pay, and WeChat Pay. The latter two are more widely used in China.

5
Step 5: Get Your Visa Ready
Study
China visa policy
carefully since most people need to apply for a visa at least one month in advance. You can check if you meet the qualifications for the
144-hour visa-free transit
which allows passport holders of 53 countries to travel to Shanghai for a short visit and then leave for a third country.
6
Step 6: Pack the Baggage
Since it is easy to buy everyday items in such a large city, there is no need to pack everything. The most important things are:
1. Travel documents: passport, visa, health certificates, tickets & maps.
2. Necessary electronics: smart phone, camera, charger, power bank, local SIM card, laptop or table.
3. Check the weather forecast in advance and take proper clothing. Don't forget an umbrella and a raincoat.
4. Some medicine for emergency use, like aspirin, vitamins and anti-inflammatory remedies.
See More about
China Travel Checklist
.
- Last updated on May. 05, 2023 by Catherine He -
Questions & Answers on How to Plan a Trip to Shanghai: 6 Steps
Asked by Rita from VIETNAM | Jun. 15, 2019 22:12

Reply
May we use Google Map in smart phone when we are in China (Beijing, Shanghai & Shijiazhuang)?
If not, any Map app. (English version) we can use? Thank you.
Answers (4)
Answered by Oliver from USA | Jun. 16, 2019 20:57

0

0

Reply
I'm sorry you cannot use the Google Map in mainland China unless you have VPN service. Maybe you can try the Bing Map.
Answered by Irfan from PAKISTAN | Jul. 15, 2019 23:26

0

0

Reply
You can download Baidu map, because in china playstore, facebook, youtube, google etc are blocked
Answered by Marta from ITALY | Oct. 15, 2019 09:12

0

0

Reply
Maps.me us very helpful and it can be used offline.
Answered by Rita from VIETNAM | Oct. 27, 2019 20:50

0

0

Reply
Thank you so much.