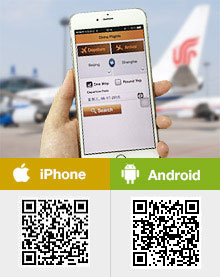 What's On

Beijing - Kashgar Direct Flight Will Open since June 10, 2019
May. 21, 2019
Air China proclaimed to open a direct flight between Beijing and Kashgar since June 10, 2019. The numbers of the new flight is CA1897/8 and it will be operated by Boeing B738. There are 4 flights from Beijing to Kashgar on every Monday, Wednesday, Friday and Sunday. It will depart at 19:35 from Beijing and arrive in Kashgar after 5 hours. The return flight will fly on Monday, Tuesday, Thursday and Saturday at 1:30 and arrive in Beijing at 6:00.

Oslo - Beijing Direct Flight Opened Since May 15, 2019
May. 16, 2019
A plane took off from Beijing Capital International Airport to Oslo on May 15, 2019. After 9 hours' flight, it landed off successfully at Oslo International Airport. This is the first direct flight connecting China and Norway by Hainan Airlines. The flight is operated by Airbus 330. There are 3 round-trip flights weekly on Monday, Tuesday and Friday. The plane departs from Beijing airport at 1:30 and from Oslo airport at 14:30 local time. The new air route will provide more convenience for tourists and business travelers of both two countries.
Read More
Questions & Answers on China Flights
Asked by Violet from AUSTRALIA | May. 20, 2019 22:47

Reply
Book Business class flights
Hi, I can't see an option on your website to book international business class flights . How do I change the class of the booking to business?
Answers (1)
Answered by Berger from ANDORRA | May. 24, 2019 02:20

0

0

Reply
Thank you for your inquiry.
In flight schedule page, you can choose "All classes" and there will be business class listed
Asked by Leon from UNITED STATES | May. 13, 2019 14:50

Reply
I can't seem to get through on your website?
Answers (1)
Answered by TravelChinaGuide | May. 15, 2019 02:26

0

0

Reply
Thank you for your inquiry.
We are sorry for the inconvenience. Would you please kindly advise us the flight details you are looking for including date, flight number, destination. Thank you.
Asked by BONA from CHINA | May. 07, 2019 07:40

Reply
how many kgs for domestic flight
nanjing to guangzhou
Answers (1)
Answered by Earl | May. 10, 2019 02:40

0

0

Reply
Normally 20kg but cheap airlines are different, it depends on the ticket price. Some cheap airlines do not offer free checked luggage.
Asked by Michael from MALAYSIA | May. 05, 2019 01:08

Reply
Flight from Guangzhou or Beijing or Shanghai to Weifang problem
I'm trying to purchase a flight ticket to Weifang either depart from Guangzhou or Beijing or Shanghai between this date 21 to 29 May 2019 but seems to having problem with it. But all flight is available and back to normal from 1st August 2019 onward. Could anyone assist me and let me know what's wrong with the airlines with this flight route ? By the way previously I took Hainan Airlines from Guangzhou to Weifang.

Thanks everyone in advance.
Answers (1)
Answered by Earl | May. 10, 2019 02:59

0

0

Reply
It seems there is indeed no direct flight for these days. If you can stop at Beijing, maybe you can change to a train to Weifang.
Asked by joe from PHILIPPINES | Apr. 16, 2019 03:18

Reply
Is the number of trips referring to the number of individuals?
Answers (1)
Answered by Eve | Apr. 19, 2019 05:30

0

0

Reply
No, you only choose the number if individuals after you choose the flight, in another booking form after your click "book".