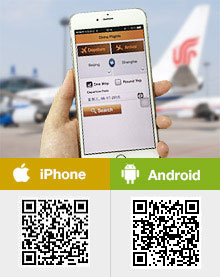 Top Deals

Loading...
What's On

Vancouver - Nanjing Direct Flight to be Opened
China Eastern Airlines is going to open a direct air route between Vancouver Canada and Nanjing China since December 20, 2016. The route will be operated on every Tuesday, Thursday, and Sunday. The plane MU216 will depart at 10:30 from Vancouver. It will first arrive in Nanjing at 15:00 the next day, then take off at 17:00 for Kunming and arrive there at 20:00. The plane MU215 will leave from Kunming at 09:30 and get to Nanjing at 12:30. It will then fly to Vancouver at 14:00 and land there at 08:30 the same day. All time points here follow the local time.
After this route is opened, it will take only 12.5 hours from Vancouver to Nanjing and 10.5 hours from Nanjing to Vancouver by air.

Direct Flight between Bangkok and Zunyi Guizhou Opened
Since December 2, 2016, the direct flight between Bangkok Thailand and Zunyi City of Guizhou Province China has been opened by the Spring Airlines. The plane 9C8721 takes off from Bangkok at 06:50 and arrives in Zunyi at 10:00 on every Friday. The plane 9C8722 departs from Zunyi at 12:45 on the same day and gets to Bangkok at 15:50.
Read More