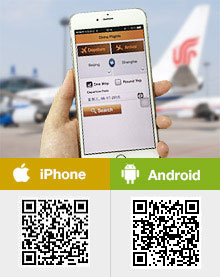 What's On

More China Flights Will be Added as 2020 Spring Festival Travel Rush Coming
Jan. 15, 2020
The 2020 Spring Festival Travel Rush of China flights started from January 10 to February 18, 2020. Civil Aviation Administration of China estimates that more than 79 million passengers are expected to be transported during this period, with a year-on-year growth of 8.4%. A lot of air companies plan to increase more flights and flight routes to meet travel demands. Air China, the lead air company of the country, will handle 54,000 flights. Tianjin Airlines will add 15 new routes including Tianjin-Xishuangbanna, Hangzhou-Chengdu, Xian-Nanchang, and Urumqi-Altay. Air Changan opened the direct flights Xi'an-Kunming, Xi'an-Chongqing from January 10 to March 28. Also, China Southern Airlines opened the flights between Guiyang and Beijing Daxing Airport.

In the spring travel rush, the hot air routes including Kunming-Beijing, Chengdu-Shanghai, Nanjing-Sanya and Wenzhou-Shanghai are in hot demands and it may take a longer time than usual to check in and go through security. Travelers should book tickets as soon as possible and get to the airport at least 2-3 hours in advance.

Nursultan - Xi'an Direct Flight Opened since Jan. 6 in 2020
Jan. 07, 2020
On January 6, 2020, the SCAT Air of Kazakhstan declared to open a direct flight between the capital city of Kazakhstan, Nursultan and famous Chinese tourism city Xi'an. The flight by Boeing 737-500 is operated twice a week, from Nursultan to Xi'an every Monday and Friday while it returns every Tuesday and Saturday. It takes about 5 hours for a single trip.

As the new flight opened, it is more convenient for travelers from Kazakhstan to arrive in Xi'an and visit the magnificent Terracotta Warriors.
Read More
Questions & Answers on China Flights
Asked by ObligedFriend from USA | Oct. 12, 2019 09:36

Reply
Will Philippine airlines check baggage from Manila to Shanghai PVG to DFW with American Airlines
Answers (1)
Answered by Justin | Oct. 17, 2019 20:37

0

0

Reply
I suppose not, they need to be at least the same airlines
Asked by Rachel from CHINA | Sep. 29, 2019 00:08

Reply
If I booked the air ticket in January, but I need to cancel it, will this charge me any commission?
Answers (1)
Answered by Kayleigh from USA | Sep. 30, 2019 03:20

0

0

Reply
Yes, if you make cancellation after ticket confirmation, there will be cancellation fee charged. The detailed amount depends on the policy of airlines.
Asked by Tania from POLAND | Aug. 08, 2019 03:23

Reply
Hi, I saw ticket options in your page, e.g. Economy 46% Off.
Is is valid for all passengers (or these tickets are only for children)? why they are with some offs?
Answers (1)
Answered by Hailey | Aug. 22, 2019 23:44

0

0

Reply
Yes, it can be booked by all passengers, adult, no matter Chinese or international travelers.
Asked by prakash man kansakar from NEPAL | Jul. 22, 2019 18:50

Reply
which time arrived kathmandu china southern airlines flight no.cz 3067
Answers (1)
Answered by Thalia | Aug. 07, 2019 01:53

0

0

Reply
CZ3067 (19:00/21:25) from Guangzhou to Katmandu