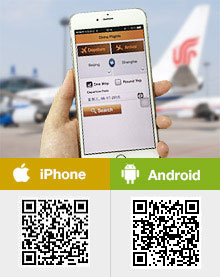 Top Deals

Loading...
What's On

More Flights Will Be in Service in Summer Holiday
To meet the needs of visitors during summer holiday from July to early September, many airlines decide to operate more international and domestic air routes, such as Tianjin Airlines. In this summer, Tianjin Airlines plans to operate about 10 more international and domestic air routes, including: Moscow - Hohhot, Tianjin - Hohhot, Urumqi - Kuqa - Khotan and Haikou - Jieyang.
From the second week of July to the last week of August, the number of passengers and ticket prices are both at peak level. It is advised to book tickets 2 to 3 weeks in advance for those who have any travel plan during this period.

London - Sanya Direct Flight to Open since July 12, 2018
China Southern Airlines has announced that it would operate the regular air route between London and Sanya, which will be the first direct route serving between Europe and Hainan China by civil airlines of China. Numbered as CZ651/652, the planes will take off from each terminal twice a week, with about 12 hours in the air.
Currently, China Southern Airlines operates the routes connecting London with Guangzhou and Wuhan. When the new route is operated, there will be 12 flights to London a week run by China Southern Airlines.
Read More