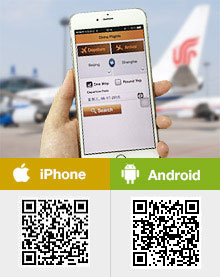 What's On

2020 Summer - Autumn Flight Schedule will be Implemented since May 3
Apr. 28, 2020
Affected by coronavirus pandemic, China's summer - autumn flight schedule in 2020 has been put off and it will officially start on May 3 and last till October 24. Since then, a lot of airports will adjust and rearrange the flight routes, schedules and even terminals.

Shandong Airlines will add 14 new domestic flight routes including Jinan - Wuhan - Jieyang, Jinan - Changsha - Huizhou, Jinan - Guilin - Fuzhou and Jinan - Hangzhou - Nanning and increase more flights on routes such as Jinan - Chengdu, Jinan - Wuhan, Jinan - Chongqing and Qingdao - Beijing.

In Beijing Capital Airport, from May 3 on, the domestic flights operated by Hainan Airlines, Grand China Air and Lucky Air will be transferred to Terminal 2 and the check-in areas will be congregated on E and T areas. The check-in areas of China Southern Airlines and China Eastern Airlines will transfer to G and E areas.

As some schedules may change as the new plan implemented, passengers should pay attention to confirm your flight schedule before departure.

Juneyao Airlines will Open Several New Domestic Flight Routes since May 2020
Apr. 21, 2020
As Chinese airlines will implement a new flight schedule of the summer-autumn season on domestic flights since 3 May 2020, Juneyao Airlines adjust their existing flight routes and timetables accordingly. Several new air lines will be added from Shanghai and Nanjing to some medium- and small-sized cities including Liupanshui, Chifeng, Datong, Lvliang, Xinzhou, Shaoyang, which cover some of the famous industrial and popular tourist cities. Also, the round trip services will be offered between Xian - Lijiang, Huizhou - Yueyang - Taiyuan, Huizhou - Changsha, and Shanghai Pudong - Yichang.

In the mean time, some of the current air lines will be improved while the current international routes to Helsinki, Finland; Osaka, Japan; Bangkok, Thailand will be remained, which will be operated once a week.
Read More
Questions & Answers on China Flights
Asked by Jim from CANADA | May. 07, 2020 12:44

Reply
Dates/day of week: flights to Auckland
Please let me know which day of the week China Southern fly to Auckland in May and June and prices from Guangzhou
Answers (1)
Answered by Duffy | May. 09, 2020 17:30

0

0

Reply
Due to the Covid-19, there seems no flight from Guangzhou to Auckland during May and June.
Asked by Philip Van Staden from SOUTH AFRICA | Apr. 30, 2020 11:28

Reply
when will foreigners allow to go back to China?
Answers (1)
Answered by Ladd | May. 05, 2020 17:58

0

0

Reply
It is not decided yet, no any news about it.
Asked by guest222 from CHINA | Apr. 06, 2020 04:41

Reply
US citizen travelling domestically in China.
I live and work in China. I have a residence visa and have not left the country.

If I travel from my city, Shijiazhuang, to another city, will I be quarantined? I am trying to travel from Shijiazhuang to Hainan (Sanya). What is my best option?
Answers (1)
Answered by Lee | Apr. 06, 2020 18:12

0

0

Reply
If you hold the Green Health QR code and without any symptom, quarantine is not needed. They will check your health condition and making a record at the airport.
Asked by Maria Quinonez from HONDURAS | Apr. 01, 2020 03:57

Reply
Hello, are you still processing visas
Answers (2)
Answered by Jeana | Apr. 01, 2020 19:44

0

0

Reply
No, China should stopped entrance of foreigners unless being invited or for emergency affairs.
Answered by Guzman from LONDON | Apr. 17, 2020 08:32

0

0

Reply
what do you mean by invited or for emergency affairs from the government or from citizens ? I reall want to see my girlfriend
Asked by Ken from USA | Mar. 23, 2020 23:34

Reply
Traveling with fish out of china
Am i allowed to travel out of china with fish?
Answers (1)
Answered by Lrif from PHILIPPINES | Mar. 26, 2020 01:08

0

0

Reply
If it is cooked and well packed, I think it is fine with China side. The point is that if it is allowed to enter the place you will go.