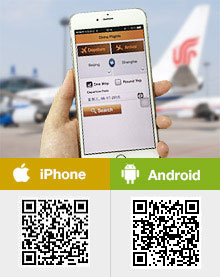 Top Deals

Loading...
What's On

Los Angeles - Chengdu Flight to be Opened in Mid-October
Sichuan Airlines is planning to open its first intercontinental air route linking America and Chengdu, the capital city of China's Sichuan Province. This route is set to be opened on October 17, 2016. The plane will depart from LA to Chengdu on Tuesday and Friday, stopping over Hangzhou for two hours. The journey between LA and Hangzhou takes 14.5 hours and that between Hangzhou and Chengdu takes two hours and 50 minutes. The plane will take off from Chengdu to Hangzhou on Monday and Thursday. After a 2-hour stopover in Hangzhou, it will fly to LA.

China Airlines to Open Chengdu - Sydney Flight
China Airlines will open Chengdu - Sydney air route since November 11th, 2016. The plane will depart from Chengdu every Tuesday, Friday, and Sunday at 22:55, arrive in Sydney at 12:35 the following day; after a short break for 2 hours, it will take off at 14:35 and land in Chengdu at 22:35. All time mentioned is local. A single trip will take about 13 hours and the ticket fare for an economy class seat will cost at least CNY 1,120.
By the end of 2016, the airlines will also open Shenzhen - Melbourne route.
Read More