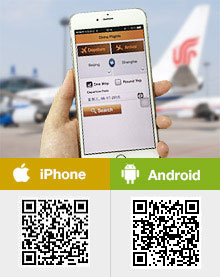 What's On

Sendai - Dalian Direct Flight Opened on Nov. 2, 2019
Nov. 08, 2019
The airline between Sendai, Japan and Dalian China formally opened on November 2, 2019, which is the second air route from Dalian Airport to Japan after the Dalian - Kyushu line in 2019. The Sendai - Dalian airline operated by A738 of Air China twice a week. From Dalian to Sendai, it flies on Tuesday and Saturday and the return flights are on Thursday and Monday.

At present, there have been 9 routes from Dalian to Japanese cities, namely Tokyo, Osaka, Nagoya, Fukuoka, Hiroshima, Toyama, Sapporo, Kitakyushu, and Sendai.

2020 China Winter-Spring Flight Timetable Started since Oct. 27, 2019
Oct. 30, 2019
From October 27, 2019 on, all the Chinese air companies started to implement the winter-spring flight timetable. As a lot of flights have been adjusted and some new air routes have been added, travelers should pay more attention to the change of flights during this period.

New International Flights to China
Katmandu - Beijing Flight: Operated by Himalaya Airlines, the flight takes about 5 hours for a single journey from/ to Beijing Daxing Airport and there are three flights every week.

Kuala Lumpur/ Jakarta - Fuzhou - Harbin Flights: The flights are operated by Xiamen Airlines since October 29 with three flights a week.

Brunei - Beijing Flight: There are 4 flights every week departing from Brunei to Beijing Daxing Airport. Another flight will be increased after January 14, 2020.

Philippines - Quanzhou Flight: Direct flights between Cark City, Philippines and Quanzhou, Fujian Province opened since October 27, flying on every Monday, Thursday, and Friday.
Read More
Questions & Answers on China Flights
Asked by ObligedFriend from USA | Oct. 12, 2019 09:36

Reply
Will Philippine airlines check baggage from Manila to Shanghai PVG to DFW with American Airlines
Answers (1)
Answered by Justin | Oct. 17, 2019 20:37

0

0

Reply
I suppose not, they need to be at least the same airlines
Asked by Rachel from CHINA | Sep. 29, 2019 00:08

Reply
If I booked the air ticket in January, but I need to cancel it, will this charge me any commission?
Answers (1)
Answered by Kayleigh from USA | Sep. 30, 2019 03:20

0

0

Reply
Yes, if you make cancellation after ticket confirmation, there will be cancellation fee charged. The detailed amount depends on the policy of airlines.
Asked by Tania from POLAND | Aug. 08, 2019 03:23

Reply
Hi, I saw ticket options in your page, e.g. Economy 46% Off.
Is is valid for all passengers (or these tickets are only for children)? why they are with some offs?
Answers (1)
Answered by Hailey | Aug. 22, 2019 23:44

0

0

Reply
Yes, it can be booked by all passengers, adult, no matter Chinese or international travelers.
Asked by prakash man kansakar from NEPAL | Jul. 22, 2019 18:50

Reply
which time arrived kathmandu china southern airlines flight no.cz 3067
Answers (1)
Answered by Thalia | Aug. 07, 2019 01:53

0

0

Reply
CZ3067 (19:00/21:25) from Guangzhou to Katmandu