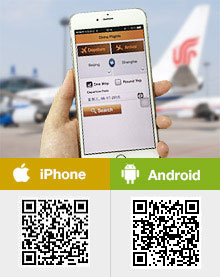 Top Deals

Loading...
What's On

The Passenger Throughput of Tianjin Airport Exceeds 20 Million
Nov. 15, 2018
Recently, the aggregate passenger throughput of Tianjin Airport has been over 20 million with year-to-year growth of 13.2 percent and it is estimated that the annual passenger throughput of 2018 will exceed 23.5 million. At present, the Tianjin Airport operates more than 180 air lines including 150 domestic air routes and 32 international airways. In 2018, it opened new intercontinental flights to Vancouver and Sydney. Besides, some new air routes to Bali Islands, Minato, Kuala Lumpur and Nha Trang will be opened soon.
Tianjin airport is an ideal place to land for those people who want to go to Beijing. It takes only about 30 minutes by high speed train to travel between the two cities. But the international air fare to Tianjin is much cheaper than that to Beijing most of the time.

More Flights Opened or to Be Opened to Connect China with the World
Oct. 30, 2018
As the Winter-Spring Timetable of Chinese starts from this month, a lot of new air routes have opened recently and some new flights will open in the next two months.
The flights opened recently are as follow:
Vienna - Shenzhen flights are operated twice a week by Hainan Airlines;
Dubai - Shenzhen, CZ8019/20, is operated every Wednesday and Sunday;
Rangoon - Shenzhen, CZ 86555/6, is operated every Monday, Wednesday, Friday and Sunday;
Cairo - Chengdu flights are operated by Sichuan Airlines every Tuesday and Friday.
Some new flights to open soon include:
Los Angeles - Shenyang, CZ609/ CZ610, will open on December 18, 2018 and it is scheduled to sail every Tuesday, Thursday and Saturday; Kota Kinabalu - Kunming direct flights will operate from November 30, 2018 and once opened, there will be four flights a week.
Read More
Questions & Answers on China Flights
Asked by Scandinavian traveller from NORWAY | Nov. 13, 2018 02:05

Reply
Any restrictions on bringing smaller quantity of bakery items (cookies & hot dog bread) into China?
Answers (1)
Answered by Anne from UNITED KINGDOM | Nov. 13, 2018 17:39

0

0

Reply
There is not problem if you don't take too much.
Asked by Merina Pomu from CHINA | Nov. 11, 2018 10:50

Reply
Hi!! I want to send one watch to Australia.which way is the quickest or the cheapest?
Just one watch
Answers (1)
Answered by Hailie from USA | Nov. 11, 2018 18:40

0

0

Reply
The quickest way is by air and the cheapest is by sea. I'm not sure what the weight your watch is, but it takes about CNY140 for 200g by air and CNY90 by sea.
Asked by Yeri from VIETNAM | Nov. 03, 2018 06:25

Reply
24 TWOV Guangzhou with multi-stop?
I'm not up to date. Can you have multi-stops in China when one layover is in Guangzhou? Don't know if this no-multi-stop regulation has changed. (-> refers to 24 TWOV)
Answers (1)
Answered by Suzan from NEW ZEALAND | Nov. 04, 2018 17:57

0

0

Reply
Yes, you can have a layover in Guangzhou if you have multi-stops in China.
Asked by Irene from CABO VERDE | Nov. 01, 2018 13:03

Reply
How much does it cost 1 kg to Cape Verde-Africa by china post air mail?
Answers (1)
Answered by Banner from AUSTRALIA | Nov. 01, 2018 18:02

0

0

Reply
It costs about CNY 200.
Asked by May from USA | Oct. 31, 2018 07:41

Reply
Will a flight via Air Macau that leaves Taipei, lands in Beijing in T3 at 11pm
be enough time to do security, recheck my bag, and catch my flight from Beijing to Washington DC that leaves from T3 at 1:10am?
Answers (1)
Answered by Jane from CANADA | Oct. 31, 2018 18:46

0

0

Reply
Don't worry, your time is enough. Nice trip!