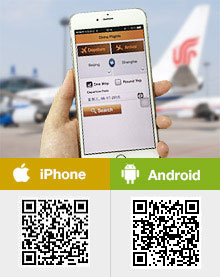 9 Tips You Should Know Before Taking a Plane during Coronavirus Pandemic
What's On

Changsha - Yantai - Mudanjiang Flight to Open since June 23, 2021
Jun. 21, 2021
The flight QW6083 will take off from Changsha at 07:25, stopover in Yantai from 09:50 to 12:55 and land in Mudanjiang at 14:55. QW6084 will depart from Mudanjiang at 18:45, layover in Yantai from 20:50 to 21:35, and arrive in Changsha at 00:10 the next day. Both will be operated on every Monday, Wednesday, Friday and Sunday.

Hungarian Wizz Air Plans to Open the Flight between Budapest and Beijing
Apr. 13, 2021
Recently, Wizz Air of Hungary is about to open the regular flight between Budapest and Beijing, which has a layover in Nursultan, the capital of Kazakhstan. According to Péter Szijjártó, the Minister of Foreign Affairs of Hungary, Wizz Air plans to resume the flight between Budapest and Nursultan in this June. Accordingly, they may open the flight between Budapest and Beijing. If all goes well, they will use Airbus A320 to serve this route.

Currently, there are no direct flights between China and the two most populated cities in Kazakhstan, namely, Nursultan and Alma-Ata.
Read More
Questions & Answers on China Flights
Asked by Amy from USA | May. 26, 2023 08:27

Reply
Is it allowed in 2023 to bring a crochet hook on a Chinese airliner?
The most recent answers about this are from more than five years ago. Are people allowed to bring crochet hooks or knitting needles on airplanes in 2023 in China?
Answers (1)
Answered by Flora | May. 28, 2023 23:02

0

0

Reply
Generally, it is okay to take but it must be taken in your checked luggage.
Asked by Martin Birch from CHINA | Feb. 28, 2023 18:57

Reply
Luoyang to PEK
Are there daily flights to PEK from Luoyang and if so what bare the schedules. I wish to travel on 2023/3/26.
Answers (1)
Answered by Ivy | Mar. 01, 2023 18:42

0

0

Reply
There are two daily flights, taking off at 10:40 and 17:00. BTW, you may also travel by high speed train.
Asked by Jim from CANADA | May. 07, 2020 12:44

Reply
Dates/day of week: flights to Auckland
Please let me know which day of the week China Southern fly to Auckland in May and June and prices from Guangzhou
Answers (1)
Answered by Duffy | May. 09, 2020 17:30

0

0

Reply
Due to the Covid-19, there seems no flight from Guangzhou to Auckland during May and June.
Asked by Philip Van Staden from SOUTH AFRICA | Apr. 30, 2020 11:28

Reply
when will foreigners allow to go back to China?
Answers (1)
Answered by Ladd | May. 05, 2020 17:58

0

0

Reply
It is not decided yet, no any news about it.
Asked by guest222 from CHINA | Apr. 06, 2020 04:41

Reply
US citizen travelling domestically in China.
I live and work in China. I have a residence visa and have not left the country.

If I travel from my city, Shijiazhuang, to another city, will I be quarantined? I am trying to travel from Shijiazhuang to Hainan (Sanya). What is my best option?
Answers (1)
Answered by Lee | Apr. 06, 2020 18:12

0

0

Reply
If you hold the Green Health QR code and without any symptom, quarantine is not needed. They will check your health condition and making a record at the airport.