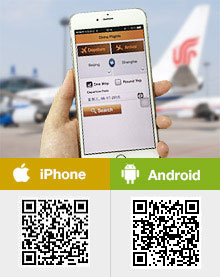 Top Deals

Loading...
What's On

Direct Flight to Connect Vancouver and Zhengzhou
The direct flight between Vancouver in Canada and Zhengzhou in Henan Province of China will be opened on November 11, 2016. It will be operated twice a week on Tuesday and Friday. 3U8502 will take off from Vancouver at 10:25 and arrive in Zhengzhou at 15:00; 3U8501 will depart from Zhengzhou at 13:25 and land in Vancouver at 08:35 (all time is local).

Montreal - Shanghai Direct Flight to be Opened
Air Canada is about to operate a direct air route daily between Montreal Canada and Shanghai China since Feb. 16 2017. As the first air route between Montreal and China, it will adopt Boeing 787-8 Dreamliner. A one-way trip may take around 14.5 hours.
At present, Air Canada operates 28 direct air routes per week between Canada and China, including those between Vancouver and Beijing, Vancouver and Shanghai, and Toronto and Beijing.
Read More