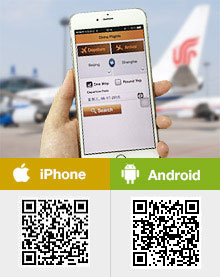 What's On

Two New Air Routes Operated from Xinjiang Yili to Shanghai since the End of July, 2019
Jul. 30, 2019
From July 21 on, Suparna Airlines opened a new flight from Xinjiang Yining Airport to Lanzhou and finally to Shanghai Pudong Airport. The flight is operated by Boeing 737-800 and the flight numbers are Y87515/6. There are 4 flights every week on Monday, Wednesday, Friday and Sunday. It departs from Yining Airport at 16:00, arriving in Lanzhou at 19:35, taking off from Lanzhou at 20:25 and finally lands in Shanghai at 23:20. It returns from Shanghai pudong at 6:30 and arrives in Xinjiang Yining at 14:30.

Since July 23, the flight Y87513/4 operated by Suparna Airlines from Yining, passing by Urumqi to Shanghai pudong flies on every Tuesday, Thursday and Saturday. It starts from Yining at 16:20, stopping in Urumqi at 17:45 and arriving Shanghai pudong at 23:20. The return time is at 6:30, after about 8 hours, it reaches Yining Airport.

London - Zhengzhou Direct Flight Opened since June 25, 2019
Jun. 28, 2019
At 16:10 of June 25, a plane operated by China Southern Airlines took off from Zhengzhou Xinzheng International Airport. It would land at the Heathrow Airport in London after 11 hours' fly. The flight CZ653 was the first direct air route to connect Europe and Henan Province.

The flight is operated twice a week on Tuesday and Saturday. It starts from Zhengzhou at 16:10 and arrives in London at 20:10 local time. At 22:10, it returns from London to Zhengzhou.
Read More
Questions & Answers on China Flights
Asked by Nicole from USA | Aug. 16, 2019 01:13

Reply
10 year multiple entry 60 day limit Chinese visa
My son (a US citizen) has a 10 year multiple entry 60 day limit Chinese visa. He is in China right now and is going on a short trip to Hong Kong in a few weeks. When he leaves Hong Kong and returns to Xiamen China will the 60 day limit on his Chinese visa start over? In other words could he stay in China 60 more days from his return? Any answers and further explanation would be greatly appreciated.
Asked by Tania from POLAND | Aug. 08, 2019 03:23

Reply
flight tickets
Hi,

I saw ticket options in your page, e.g. Economy 46% Off. Is is valid for all passengers (or these tickets are only for children)? why they are with some offs?
Asked by prakash man kansakar from NEPAL | Jul. 22, 2019 18:50

Reply
which time arrived kathmandu china southern airlines flight no.cz 3067
Answers (1)
Answered by Thalia | Aug. 07, 2019 01:53

0

0

Reply
CZ3067 (19:00/21:25) from Guangzhou to Katmandu
Asked by Kelvin Shiang from USA | Jul. 04, 2019 19:18

Reply
Hong Kong protests effecting my trip
I heard there are lots of protesting and rioting in Hong Kong. Will it affect my trip if I go there at the end of this month and the beginning of next month?
Answers (1)
Answered by TravelChinaGuide | Jul. 10, 2019 04:41

0

0

Reply
Thank you for your inquiry.
Accordig to the recent news, the situation gradually back to normal. Based on current situation, it should not influence your trip a lot if you are traveling at the end of July or early August.
Asked by Angela Loke from SINGAPORE | May. 29, 2019 08:41

Reply
loke_angela@yahoo.com
About:China Flight
We only have 1 hour to transit in Baiyun international airport.
We are flying from Yiwu to Guangzhou Baiyun by Southern China and transit to Singapore with Scoot airlines. I only have 1 hour transit time. Is there any airport staff to guide us to the gate to board another flight. I will be with a child so im worried that we might miss the connecting flight.
Answers (2)
Answered by Hidi | Jun. 06, 2019 04:11

0

0

Reply
which flight? Are both flight offered by same airlines? I think there is no staff guide you to the second flight. 1 hour is indeed too limited. If the two flights are not the same airline, you still need to due with luggage at Guangzhou and the time would be not enough.
Answered by Angela from SINGAPORE | Jun. 06, 2019 04:51

0

0

Reply
Thanks