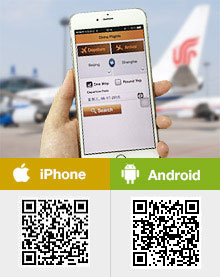 What's On

Flight Ticket Fare Drops after China's National Day Holiday
Oct. 12, 2019
During the busy National Day Holiday, also the golden travel week for Chinese people, the ticket prices of the hot domestic and international flight routes were pretty expensive and hard to purchase. However, after the holiday, the fares drop sharply. For example, passengers could only buy a full price ticket of the Beijing - Kunming flight, at about CNY3, 000 during the holiday. But now, you can enjoy a huge discount of 70% - 80%, only CNY600-700 is needed. Besides the popular domestic flights, the same thing has happened on international flights. The ticket prices from New York, London and Tokyo to Beijing all fall a lot.

As it's the best time to purchase relatively cheap tickets and October is also the top season to visit most attractions in China, it is a good chance to have a China tour.

Beijing Daxing International Airport Opened on September 25, 2019
Sep. 27, 2019
On September 25, Beijing Daxing International Airport formally opened. The mega-hub with the world's largest terminal is designed to accommodate 72 million passengers throughput by 2025. The star-shaped airport with a unique design saves passengers a lot of time no matter in check-in or transfer, no more than 600m to reach any boarding gate and transfer time less than 1 hour.

At present, there are 7 domestic and 8 international air companies setting down in the new airport including Air China, China Southern, China Eastern, British Airways, LOT Polish Airlines, and Air Finland. More airlines and flights will be added in the future.

The airport is 46 km (about 30 miles) south of downtown Beijing. The new airport express connects Daxing Airport with downtown Beijing and only 20 minutes are needed between Caoqiao Station and the airport. Passengers can even check-in directly at Caoqiao Station. Besides that, there are 6 shuttle bus lines between the airport and Beijing Railway Station, West Railway Station, South Railway Station, Tongzhou, Fangshan and Xuanwumen. The Beijing - Xiong'an Intercity Railway also opened on September 26, operating between West Station and the airport with 20 minutes for a single way.
Read More
Questions & Answers on China Flights
Asked by Fátima Gabriel from PORTUGAL GERAL | Oct. 02, 2019 20:19

Reply
I want go to Zaozhuang from zengzhou tomorrow Can go by plane?
And afternoon can I go to Sanya by plane
Asked by Rachel from CHINA | Sep. 29, 2019 00:08

Reply
If I booked the air ticket in January, but I need to cancel it, will this charge me any commission?
Answers (1)
Answered by Kayleigh from USA | Sep. 30, 2019 03:20

0

0

Reply
Yes, if you make cancellation after ticket confirmation, there will be cancellation fee charged. The detailed amount depends on the policy of airlines.
Asked by Tania from POLAND | Aug. 08, 2019 03:23

Reply
Hi, I saw ticket options in your page, e.g. Economy 46% Off.
Is is valid for all passengers (or these tickets are only for children)? why they are with some offs?
Answers (1)
Answered by Hailey | Aug. 22, 2019 23:44

0

0

Reply
Yes, it can be booked by all passengers, adult, no matter Chinese or international travelers.
Asked by prakash man kansakar from NEPAL | Jul. 22, 2019 18:50

Reply
which time arrived kathmandu china southern airlines flight no.cz 3067
Answers (1)
Answered by Thalia | Aug. 07, 2019 01:53

0

0

Reply
CZ3067 (19:00/21:25) from Guangzhou to Katmandu
Asked by Kelvin Shiang from USA | Jul. 04, 2019 19:18

Reply
Hong Kong protests effecting my trip
I heard there are lots of protesting and rioting in Hong Kong. Will it affect my trip if I go there at the end of this month and the beginning of next month?
Answers (1)
Answered by TravelChinaGuide | Jul. 10, 2019 04:41

0

0

Reply
Thank you for your inquiry.
Accordig to the recent news, the situation gradually back to normal. Based on current situation, it should not influence your trip a lot if you are traveling at the end of July or early August.