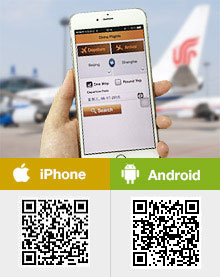 Top Deals

Loading...
What's On

China Southern Airlines to Open Mexico-Vancouver-Guangzhou Flight in April 2017
China Southern Airlines plans to open Mexico-Vancouver-Guangzhou air route since April 10, 2017. The air route will be served by Boeing 787 Dreamliner, which can accommodate 228 passengers. The plane CZ378 will fly from Mexico City at 07:45 on Tuesday, Friday, and Sunday and arrive in Guangzhou at 16:30 the next day, with a stopover in Vancouver. The plane CZ377 will depart from Guangzhou at 23:30 on Monday, Thursday, and Saturday. After a layover in Vancouver, it will continue to fly and land in Mexico City at 05:15. (All times follow local time.)

Extra Flights to be Adopted during 2017 Spring Festival Travel Rush
The 2017 Spring Festival Travel Rush is just around the corner! It spans 40 days from January 13 to February 21, 2017. Many airlines have announced to operate extra flights to cope with the huge passenger traffic. Shenzhen Airlines is going to add 2,000 flights, including those between Shenzhen and Yinchuan, Shenzhen and Lanzhou, Shenzhen and Yibin, and Guangzhou and Hefei. China Southern Airlines plans to adopt 7,300 to meet passengers' demands. The tickets have already been put on sale. The peak travel period is predicted to be from January 20 to 26 and February 1 to 10. As the tickets will be quite expensive compared with usual time, passengers should try best to avoid the peak days. If they can't, please get a ticket as soon as possible in case they are sold out.
Read More