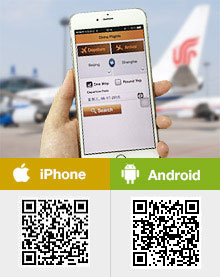 What's On

Dublin/ Reykjavik - Shanghai Flights will be Operated in 2020 Summer, Fall Travel Season
Dec. 02, 2019
Juneyao Air declares to add flights to Ireland and Iceland in 2020 summer, fall travel season, offering more travel choices between Europe and China, and enlarging its European flight network. Besides the 2 routes, it will also set flights to Manchester, Athens and Helsinki, totally increasing 5 destination cities in Europe in 2020.

The first Dublin - Shanghai flight will be operated on March 29, 2020 and it will fly twice a week, every Thursday and Sunday. The Reykjavik - Shanghai flight will fly since March 31 and be operated on every Tuesday and Saturday. Both of the two flights will have stops in Helsinki. However, passengers don't need to recheck-in or recollect the baggage because of the fifth freedom traffic right.

22 International Flights Connect to Harbin Airport in 2019-2020 Winter Season
Nov. 22, 2019
During the 2019-2020 winter season, Harbin Airport opened new international flights to Malaysia, Indonesia, Japan and Russia including Kuala Lumpur - Fuzhou - Harbin, Jakarta - Fuzhou - Harbin, Osaka - Harbin, Vladivostok - Harbin. At present, there are totally 22 international flight routes from/to Harbin Airport and about 95 flights will be operated every week.

China Xiamen Airlines, Juneyao Airlines and Chengdu Airlines participated in the operation of international routes for the first time in Harbin. And China Southern Airlines and Korea Jeju Airlines added more international flights from Harbin to Seoul, Osaka and other cities.
Read More
Questions & Answers on China Flights
Asked by Kwok Michael from VIETNAM | Dec. 01, 2019 20:49

Reply
I plan to travel from Taipa Ferry Terminal to Sky Pier to connect CX in hk. I plan 15:55 sailing.
what is the earliest time I can check in my luggage in Taipa Ferry station?
Asked by ObligedFriend from USA | Oct. 12, 2019 09:36

Reply
Will Philippine airlines check baggage from Manila to Shanghai PVG to DFW with American Airlines
Answers (1)
Answered by Justin | Oct. 17, 2019 20:37

0

0

Reply
I suppose not, they need to be at least the same airlines
Asked by Rachel from CHINA | Sep. 29, 2019 00:08

Reply
If I booked the air ticket in January, but I need to cancel it, will this charge me any commission?
Answers (1)
Answered by Kayleigh from USA | Sep. 30, 2019 03:20

0

0

Reply
Yes, if you make cancellation after ticket confirmation, there will be cancellation fee charged. The detailed amount depends on the policy of airlines.
Asked by Tania from POLAND | Aug. 08, 2019 03:23

Reply
Hi, I saw ticket options in your page, e.g. Economy 46% Off.
Is is valid for all passengers (or these tickets are only for children)? why they are with some offs?
Answers (1)
Answered by Hailey | Aug. 22, 2019 23:44

0

0

Reply
Yes, it can be booked by all passengers, adult, no matter Chinese or international travelers.
Asked by prakash man kansakar from NEPAL | Jul. 22, 2019 18:50

Reply
which time arrived kathmandu china southern airlines flight no.cz 3067
Answers (1)
Answered by Thalia | Aug. 07, 2019 01:53

0

0

Reply
CZ3067 (19:00/21:25) from Guangzhou to Katmandu