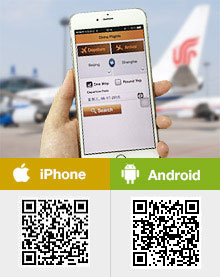 9 Tips You Should Know Before Taking a Plane during Coronavirus Pandemic
What's On

Etihad Airways to Resume the Air Route between Beijing and Abu Dhabi in December 2020
Nov. 30, 2020
On November 29, 2020, the Etihad Airways announced that they were going to resume the passenger air route between Beijing and Abu Dhabi since December 7, 2020. The route will be operated once in a week for both directions and served by Boeing 787 Dreamliner. Passengers traveling to China by this flight are required to go through the COVID-19 PCR test and Serum IgM Antibody test within 96 hours before departure.

Previously, the Etihad Airways had resumed the air route between Shanghai and Abu Dhabi in late July, 2020. Currently, it is the only airline in Middle East and North Africa that runs the direct flights to Shanghai and Beijing.

China Southern Airlines Will Operate Two New International Air Routes since the End of November, 2020
Nov. 24, 2020
At the end of November 2020, China Southern Airlines is about to open two new international flight routes, one between Nairobi Kenya and Shenzhen China, the other between Islamabad Pakistan and Wuhan China.

The flight between Shenzhen and Nairobi will start to operate as of November 27, 2020 and then regularly run on every Friday. Flight CZ8181 will take off at 0:05 from Shenzhen and arrive at 6:05, and the returning Flight CZ8182 will depart at 15:25 and arrive at 8:05 the following day.

The flight between Wuhan and Islamabad will start to operate since November 30, 2020 and later regularly run on every Monday. The Flight CZ8139 will depart from Wuhan at 8:30 and land in Islamabad at 11:45. In the opposite direction, the Flight CZ8140 will fly at 13:00 and land at 21:45. All timings refer to the local time.
Read More
Questions & Answers on China Flights
Asked by Jim from CANADA | May. 07, 2020 12:44

Reply
Dates/day of week: flights to Auckland
Please let me know which day of the week China Southern fly to Auckland in May and June and prices from Guangzhou
Answers (1)
Answered by Duffy | May. 09, 2020 17:30

0

0

Reply
Due to the Covid-19, there seems no flight from Guangzhou to Auckland during May and June.
Asked by Philip Van Staden from SOUTH AFRICA | Apr. 30, 2020 11:28

Reply
when will foreigners allow to go back to China?
Answers (1)
Answered by Ladd | May. 05, 2020 17:58

0

0

Reply
It is not decided yet, no any news about it.
Asked by guest222 from CHINA | Apr. 06, 2020 04:41

Reply
US citizen travelling domestically in China.
I live and work in China. I have a residence visa and have not left the country.

If I travel from my city, Shijiazhuang, to another city, will I be quarantined? I am trying to travel from Shijiazhuang to Hainan (Sanya). What is my best option?
Answers (1)
Answered by Lee | Apr. 06, 2020 18:12

0

0

Reply
If you hold the Green Health QR code and without any symptom, quarantine is not needed. They will check your health condition and making a record at the airport.
Asked by Maria Quinonez from HONDURAS | Apr. 01, 2020 03:57

Reply
Hello, are you still processing visas
Answers (2)
Answered by Jeana | Apr. 01, 2020 19:44

0

0

Reply
No, China should stopped entrance of foreigners unless being invited or for emergency affairs.
Answered by Guzman from LONDON | Apr. 17, 2020 08:32

0

0

Reply
what do you mean by invited or for emergency affairs from the government or from citizens ? I reall want to see my girlfriend