Reservation Center
1-800-315-3949
(USA&Canada)
1-800-665-977 (AU)
0-808-189-1339 (UK)
Tel:(+86) 29 8523 6688-555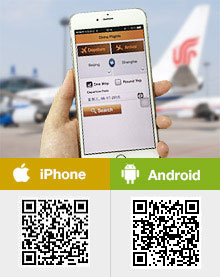 China Flight News

Chinese Airlines Have Opened New Sino-British Air Routes
Published: Aug. 29, 2018
In recent days, in order to provide more choices for passengers, many Chinese airlines have opened new air routes between Britain and China. A few days ago, China Southern Airlines opened London-Sanya direct flight and it's also the first air route from Hainan to Europe. On June, 2018, Hainan Airlines opened a series of air routes among Dublin, Edinburgh and Beijing. Recently, Tianjin Airlines and Chongqing Airport jointly announced that the flights from Chongqing to London will be increased from two to three flights per week from this August.

Airbus A350-900 Started to Serve Beijing - Shanghai Flight since August 14, 2018
Published: Aug. 15, 2018
On August 14, 2018, the first Airbus A350-900 in China mainland which was introduced by Air China successfully completed its first flight from Beijing to Shanghai. This is a faster and more advanced plane with a maximum flying range of 15,000 kilometers (9,320 miles). Meanwhile, it provides passengers more comprehensive services including USB interface for mobile phone charging, Wi-Fi network, and entertainment system. What's more, every class has used the latest seat products to offer better experience to passengers.

In the future, A350-900 will mainly fly for hot domestic routes, such as Beijing-Shanghai, Beijing-Chengdu, Beijing-Guangzhou, as well as international long distance routes such as Beijing-Milan, Shanghai-Frankfurt and Shanghai-Milan.

Flights in Chengdu Airport Have Been Greatly Affected Due to Heavy Rain Falls
Published: Jul. 18, 2018
From 09:30 on July 15th to 06:00 on July 16th, due to the thunderstorms and heavy rain falls, the airstrips of Chengdu airport were forced to shut down. It caused a total of 96 flights cancelled and 43 incoming flights were prepared for landing at the outfield. Some flights postponed to the July, 16th flight plan. A lot of passengers stranded at the airport as a result of cancelled flights. In recent days, the airport will keep operation day and night to ensure the passengers' smooth trip.

For tourists who will have any flight plan in Chengdu Airport, it is recommended for you to pay attention to the weather and adjust your itinerary in time.

More Flights Will Be in Service in Summer Holiday
Published: Jul. 13, 2018
To meet the needs of visitors during summer holiday from July to early September, many airlines decide to operate more international and domestic air routes, such as Tianjin Airlines. In this summer, Tianjin Airlines plans to operate about 10 more international and domestic air routes, including: Moscow - Hohhot, Tianjin - Hohhot, Urumqi - Kuqa - Khotan and Haikou - Jieyang.

From the second week of July to the last week of August, the number of passengers and ticket prices are both at peak level. It is advised to book tickets 2 to 3 weeks in advance for those who have any travel plan during this period.

London - Sanya Direct Flight to Open since July 12, 2018
Published: Jun. 14, 2018
China Southern Airlines has announced that it would operate the regular air route between London and Sanya, which will be the first direct route serving between Europe and Hainan China by civil airlines of China. Numbered as CZ651/652, the planes will take off from each terminal twice a week, with about 12 hours in the air.
Currently, China Southern Airlines operates the routes connecting London with Guangzhou and Wuhan. When the new route is operated, there will be 12 flights to London a week run by China Southern Airlines.

Domestic Flights of China Began to Levy Fuel Surcharge since June 5, 2018
Published: Jun. 05, 2018
Due to the price rise of oil, since June 5, 2018, the domestic flights of China have begun to levy fuel surcharge on passengers, which is CNY 10 per ticket, while they did not charge such fees during the past two years. Air China, China Eastern Airlines, and Spring Airlines have already published announcements about ticket price adjustment. By the way, international flight ticket price is not influenced.

London - Chengdu Direct Flight to Open since July 3, 2018
Published: May. 29, 2018
Air China is planning to operate the direct air route between London and Chengdu since July 3, 2018. The route will be run on every Tuesday, Friday, and Sunday. The plane will depart from London at 22:00 and get to Chengdu at 15:40 the next day. For the opposite direction, the plane will take off from Chengdu at 15:45 and arrive in London at 20:00. All follow the local time and it takes about 10 hours and 40 minutes for a single trip.

T2 Terminal Building of Guangzhou Baiyun Airport Put into Full Use
Published: May. 22, 2018
With 12 airlines including China Southern Airlines and Sichuan Airlines transferring their flights to the T2 terminal building in Guangzhou Baiyun Airport, the newly-built T2 terminal came into full operation since May 19, 2018. The whole terminal building consists of four floors. The ground floor is the arrival hall, the second floor serves as the domestic departure and arrival hall, the third floor acts as the departure hall, while the fourth floor holds hourly rate hotels and rest rooms for first class and business class passengers.

St. Petersburg - Xian Direct Flight Opened
Published: May. 07, 2018
In recent days, China Eastern Airlines has opened the direct air route linking St. Petersburg of Russia and Xian, China, which is operated on Wednesday and Friday.
The plane MU258 takes off from St. Petersburg at 21:05 and reaches Xian at 10:25 the next day, with about 8.5 hours in the air. The plane MU257 leaves from Xian at 13:45 and arrives in St. Petersburg at 18:05. The journey takes about 9.5 hours.
In addition to this route, there is the Moscow - Xian direct route that was opened in 2014 linking northwestern China with Russia.

New Terminal Building in Harbin Airport to be Put into Use on April 30, 2018
Published: Apr. 28, 2018
After the last flight maintenance ends on April 29, 2018, the new T2 terminal building of Harbin Taiping Airport will be put into use since April 30, 2018. T1 terminal building will be temporarily closed. All domestic arrival and departure flights will be transferred to the new T2 terminal building. Before T2 is put into operation, four manoeuvre had been conducted.