Reservation Center
1-800-315-3949
(USA&Canada)
1-800-665-977 (AU)
0-808-189-1339 (UK)
Tel:(+86) 29 8523 6688-555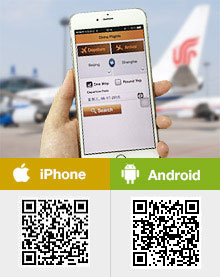 China Flight News

Cathay Pacific Airways to Resume Hong Kong - Xiamen Flights Since April 8, 2021
Published: Mar. 31, 2021
Cathay Pacific Airways plans to resume the flights between Hong Kong and Xiamen since April 8, 2021. The initial schedule is one flight for each direction a week and more flights might be operated gradually in accordance with the policy changes. In April, the flight will be operated on 8th, 15th, 22nd, and 29th.

China Domestic Flights Will Use Spring and Summer Schedules since March 28, 2021
Published: Mar. 16, 2021
Starting from March 28, 2020, all airlines of China will adopt the spring and summer schedules. This flight season will end on October 30, lasting for 216 days. Passengers planning to travel by air during this period please confirm your flight schedule before departure in case of any changes.

Singapore Airlines Started to Operate Singapore - Chongqing Flights since March 8, 2021
Published: Mar. 09, 2021
Starting from March 8, 2021, Singapore Airlines took over the flight between Singapore and Chongqing which was previously operated by Singapore Silk Air. The flight is served by Boeing 737-800 NG installed with 162 seats, including 12 business class seats and 150 economy class seats.

The flight SQ814 will depart from Changi Airport in Singapore at 7:00 on every Monday while the returning flight SQ815 will leave from Jiangbei Airport in Chongqing at 12:35. A single trip takes about 5 hours.

British Airways Resumed London - Hong Kong Direct Flights
Published: Jan. 04, 2021
As of January 3, 2021, British Airways resumed the direct flights between London and Hong Kong. The flights from Hong Kong to London take off daily at 16:25. Though British Airways also announced that they would operate a flight per day from London to Hong Kong since January 11, 2021, the flight may be cancelled because of the entry ban of Hong Kong.

The Hong Kong government previously has banned UK flights into Hong Kong because of the new variant of COVID-19 virus. All UK citizens entering Hong Kong are subject to a quarantine of 21 days at designated hotels. All passengers, if having stayed in UK for more than two hours in the last 14 days, are not allowed to board the flights to Hong Kong.



All Nippon Airways about to Re-operate the Flight between Tokyo and Hangzhou
Published: Dec. 29, 2020
According to the news from All Nippon Airways, they plan to resume the flight between Narita Airport of Tokyo Japan and Xiaoshan Airport of Hangzhou China since January 14, 2021.

The flight from Tokyo to Hangzhou is numbered NH929, and will operate once a week on every Thursday from 12:10 and arrive in Hangzhou at 15:00. The returning flight NH930 will take off at 16:30 and land at 20:30 on every Thursday. The tickets for the above tickets are available as of December 23, 2020.

Scoot Airlines Announced to Reopen the Singapore - Zhengzhou Flight since Dec. 22, 2020
Published: Dec. 09, 2020
On December 8, 2020, the Scoot Airlines announced that they planned to resume the operation of the direct air route between Singapore and Zhengzhou China. Boeing 787-9 Dreamliner will be used to serve this line on every Tuesday. The Flight TR116 will depart from Singapore at 02:55 and land in Zhengzhou at 08:30, while the returning Flight TR117 will take off at 11:00 and arrive at 16:45. The flight schedule is subject to changes.

Apart from this route, the Scoot Airlines had previously reopened the direct routes between Singapore and four cities of China, including Guangzhou, Nanjing, Tianjin and Wuhan.

Etihad Airways to Resume the Air Route between Beijing and Abu Dhabi in December 2020
Published: Nov. 30, 2020
On November 29, 2020, the Etihad Airways announced that they were going to resume the passenger air route between Beijing and Abu Dhabi since December 7, 2020. The route will be operated once in a week for both directions and served by Boeing 787 Dreamliner. Passengers traveling to China by this flight are required to go through the COVID-19 PCR test and Serum IgM Antibody test within 96 hours before departure.

Previously, the Etihad Airways had resumed the air route between Shanghai and Abu Dhabi in late July, 2020. Currently, it is the only airline in Middle East and North Africa that runs the direct flights to Shanghai and Beijing.

China Southern Airlines Will Operate Two New International Air Routes since the End of November, 2020
Published: Nov. 24, 2020
At the end of November 2020, China Southern Airlines is about to open two new international flight routes, one between Nairobi Kenya and Shenzhen China, the other between Islamabad Pakistan and Wuhan China.

The flight between Shenzhen and Nairobi will start to operate as of November 27, 2020 and then regularly run on every Friday. Flight CZ8181 will take off at 0:05 from Shenzhen and arrive at 6:05, and the returning Flight CZ8182 will depart at 15:25 and arrive at 8:05 the following day.

The flight between Wuhan and Islamabad will start to operate since November 30, 2020 and later regularly run on every Monday. The Flight CZ8139 will depart from Wuhan at 8:30 and land in Islamabad at 11:45. In the opposite direction, the Flight CZ8140 will fly at 13:00 and land at 21:45. All timings refer to the local time.

Singapore Airlines about to Operate Singapore - Shenzhen Direct Flight
Published: Nov. 12, 2020
Singapore Airlines is planning to operate the direct flight between Singapore and Shenzhen China as of November 15, 2020. The route will use Airbus A350-900, which takes off once a week on every Sunday for both directions. The flight SQ847 will depart from Shenzhen for Singapore at 14:20 and arrive at 18:05, while the flight SQ846 will depart from Singapore for Shenzhen at 7:25 and arrive at 11:20. All timings refer to the local time.

Direct Flight between Nanjing and Lhasa Operated Since October 27, 2020
Published: Oct. 30, 2020
On October 27, 2020, the inaugural direct flight between Nanjing and Lhasa successfully took off, cutting the travel length between the two cities to merely four hours and greatly saving traveler's time. During this winter-spring flight season, the flight will be run three times a week, respectively on Tuesday, Thursday, and Saturday. The flight from Lhasa to Nanjing is TV9929 from 17:00 to 21:00, and the returning flight is TV9930 from 9:55 to 14:25. Airbus 319 will serve this route.