Reservation Center
1-800-315-3949
(USA&Canada)
1-800-665-977 (AU)
0-808-189-1339 (UK)
Tel:(+86) 29 8523 6688-555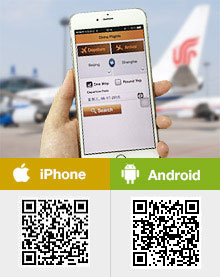 China Flight News

Nursultan - Xi'an Direct Flight Opened since Jan. 6 in 2020
Published: Jan. 07, 2020
On January 6, 2020, the SCAT Air of Kazakhstan declared to open a direct flight between the capital city of Kazakhstan, Nursultan and famous Chinese tourism city Xi'an. The flight by Boeing 737-500 is operated twice a week, from Nursultan to Xi'an every Monday and Friday while it returns every Tuesday and Saturday. It takes about 5 hours for a single trip.

As the new flight opened, it is more convenient for travelers from Kazakhstan to arrive in Xi'an and visit the magnificent Terracotta Warriors.

Bangkok - Linyi - Yantai Airline Opened by Shandong Airlines since Dec. 2, 2019
Published: Dec. 10, 2019
The new air route SC2283/4 Bangkok - Linyi - Yantai has been operated by Shandong Airlines since December 2, 2019. This is also the first airline between Yantai Airport and Southeast Asia by Shandong Airlines. At present, there are 3 flights every week between Bangkok and Yantai. The flight from Bangkok to Yantai departs every Thursday, Saturday and Monday and the return flights fly every Tuesday, Friday, and Sunday.

Dublin/ Reykjavik - Shanghai Flights will be Operated in 2020 Summer, Fall Travel Season
Published: Dec. 02, 2019
Juneyao Air declares to add flights to Ireland and Iceland in 2020 summer, fall travel season, offering more travel choices between Europe and China, and enlarging its European flight network. Besides the 2 routes, it will also set flights to Manchester, Athens and Helsinki, totally increasing 5 destination cities in Europe in 2020.

The first Dublin - Shanghai flight will be operated on March 29, 2020 and it will fly twice a week, every Thursday and Sunday. The Reykjavik - Shanghai flight will fly since March 31 and be operated on every Tuesday and Saturday. Both of the two flights will have stops in Helsinki. However, passengers don't need to recheck-in or recollect the baggage because of the fifth freedom traffic right.

22 International Flights Connect to Harbin Airport in 2019-2020 Winter Season
Published: Nov. 22, 2019
During the 2019-2020 winter season, Harbin Airport opened new international flights to Malaysia, Indonesia, Japan and Russia including Kuala Lumpur - Fuzhou - Harbin, Jakarta - Fuzhou - Harbin, Osaka - Harbin, Vladivostok - Harbin. At present, there are totally 22 international flight routes from/to Harbin Airport and about 95 flights will be operated every week.

China Xiamen Airlines, Juneyao Airlines and Chengdu Airlines participated in the operation of international routes for the first time in Harbin. And China Southern Airlines and Korea Jeju Airlines added more international flights from Harbin to Seoul, Osaka and other cities.

Sendai - Dalian Direct Flight Opened on Nov. 2, 2019
Published: Nov. 08, 2019
The airline between Sendai, Japan and Dalian China formally opened on November 2, 2019, which is the second air route from Dalian Airport to Japan after the Dalian - Kyushu line in 2019. The Sendai - Dalian airline operated by A738 of Air China twice a week. From Dalian to Sendai, it flies on Tuesday and Saturday and the return flights are on Thursday and Monday.

At present, there have been 9 routes from Dalian to Japanese cities, namely Tokyo, Osaka, Nagoya, Fukuoka, Hiroshima, Toyama, Sapporo, Kitakyushu, and Sendai.

2020 China Winter-Spring Flight Timetable Started since Oct. 27, 2019
Published: Oct. 30, 2019
From October 27, 2019 on, all the Chinese air companies started to implement the winter-spring flight timetable. As a lot of flights have been adjusted and some new air routes have been added, travelers should pay more attention to the change of flights during this period.

New International Flights to China

Katmandu - Beijing Flight: Operated by Himalaya Airlines, the flight takes about 5 hours for a single journey from/ to Beijing Daxing Airport and there are three flights every week.

Kuala Lumpur/ Jakarta - Fuzhou - Harbin Flights: The flights are operated by Xiamen Airlines since October 29 with three flights a week.

Brunei - Beijing Flight: There are 4 flights every week departing from Brunei to Beijing Daxing Airport. Another flight will be increased after January 14, 2020.

Philippines - Quanzhou Flight: Direct flights between Cark City, Philippines and Quanzhou, Fujian Province opened since October 27, flying on every Monday, Thursday, and Friday.

Flight Ticket Fare Drops after China's National Day Holiday
Published: Oct. 12, 2019
During the busy National Day Holiday, also the golden travel week for Chinese people, the ticket prices of the hot domestic and international flight routes were pretty expensive and hard to purchase. However, after the holiday, the fares drop sharply. For example, passengers could only buy a full price ticket of the Beijing - Kunming flight, at about CNY3, 000 during the holiday. But now, you can enjoy a huge discount of 70% - 80%, only CNY600-700 is needed. Besides the popular domestic flights, the same thing has happened on international flights. The ticket prices from New York, London and Tokyo to Beijing all fall a lot.

As it's the best time to purchase relatively cheap tickets and October is also the top season to visit most attractions in China, it is a good chance to have a China tour.

Beijing Daxing International Airport Opened on September 25, 2019
Published: Sep. 27, 2019
On September 25, Beijing Daxing International Airport formally opened. The mega-hub with the world's largest terminal is designed to accommodate 72 million passengers throughput by 2025. The star-shaped airport with a unique design saves passengers a lot of time no matter in check-in or transfer, no more than 600m to reach any boarding gate and transfer time less than 1 hour.

At present, there are 7 domestic and 8 international air companies setting down in the new airport including Air China, China Southern, China Eastern, British Airways, LOT Polish Airlines, and Air Finland. More airlines and flights will be added in the future.

The airport is 46 km (about 30 miles) south of downtown Beijing. The new airport express connects Daxing Airport with downtown Beijing and only 20 minutes are needed between Caoqiao Station and the airport. Passengers can even check-in directly at Caoqiao Station. Besides that, there are 6 shuttle bus lines between the airport and Beijing Railway Station, West Railway Station, South Railway Station, Tongzhou, Fangshan and Xuanwumen. The Beijing - Xiong'an Intercity Railway also opened on September 26, operating between West Station and the airport with 20 minutes for a single way.

Two New Air Routes Operated from Xinjiang Yili to Shanghai since the End of July, 2019
Published: Jul. 30, 2019
From July 21 on, Suparna Airlines opened a new flight from Xinjiang Yining Airport to Lanzhou and finally to Shanghai Pudong Airport. The flight is operated by Boeing 737-800 and the flight numbers are Y87515/6. There are 4 flights every week on Monday, Wednesday, Friday and Sunday. It departs from Yining Airport at 16:00, arriving in Lanzhou at 19:35, taking off from Lanzhou at 20:25 and finally lands in Shanghai at 23:20. It returns from Shanghai pudong at 6:30 and arrives in Xinjiang Yining at 14:30.

Since July 23, the flight Y87513/4 operated by Suparna Airlines from Yining, passing by Urumqi to Shanghai pudong flies on every Tuesday, Thursday and Saturday. It starts from Yining at 16:20, stopping in Urumqi at 17:45 and arriving Shanghai pudong at 23:20. The return time is at 6:30, after about 8 hours, it reaches Yining Airport.

London - Zhengzhou Direct Flight Opened since June 25, 2019
Published: Jun. 28, 2019
At 16:10 of June 25, a plane operated by China Southern Airlines took off from Zhengzhou Xinzheng International Airport. It would land at the Heathrow Airport in London after 11 hours' fly. The flight CZ653 was the first direct air route to connect Europe and Henan Province.

The flight is operated twice a week on Tuesday and Saturday. It starts from Zhengzhou at 16:10 and arrives in London at 20:10 local time. At 22:10, it returns from London to Zhengzhou.