Reservation Center
1-800-315-3949
(USA&Canada)
1-800-665-977 (AU)
0-808-189-1339 (UK)
Tel:(+86) 29 8523 6688-555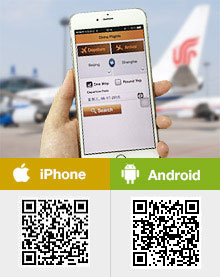 China Flight News

China Eastern Airlines to Launch WiFi Service in the Air
Published: Jan. 18, 2018
It's announced that China Eastern Airlines is now on the way to launch airplane WiFi service. Soon passengers taking planes providing WiFi service can use smart phones in airplane mode, laptops, PADs, electronic books, audio and video players, and game machines within regulated specifications.

At present, China Eastern Airlines has 74 planes enabling WiFi accessibility, covering all international flight routes and 166 domestic routes.

Cairns - Shenzhen Direct Flight Opened
Published: Dec. 26, 2017
Since December 20, 2017, Hainan Airlines has opened the direct air route between Cairns, the capital of Queensland Australia, and Shenzhen China. There are two flights for each direction one week. The plane HU746 leaves from Cairns at 10:30 on every Wednesday and Monday and arrives in Shenzhen at 15:25, after a journey in the air for nearly seven hours. The plane HU745 departs from Shenzhen at 22:50 on Tuesday and Saturday and reaches Cairns at 08:30 the next day. A single trip takes 7 hours and 40 minutes. Note: All time points refer to local time.

Direct Flight between Melbourne, Australia and Zhengzhou, China Opened
Published: Dec. 07, 2017
Since December 6, 2017, the direct air route linking Australia and China's Henan Province has been opened, taking about 10.5 hours for a one-way trip. It's scheduled that the route will be later operated on every Wednesday and Saturday. The plane JQ67 will depart from Melbourne at 14:00 and arrive in Zhengzhou at 21:30. On the other side, the plane JQ68 will take off from Zhengzhou at 23:00 and get to Melbourne at 12:30. All time points here refer to local time.

St. Petersburg - Sanya Direct Flight Opened
Published: Nov. 09, 2017
Having been suspended for three years, the direct air route between St. Petersburg Russia and Sanya China resumed operation on November 8, 2017 by iFly Airlines. The flights numbered I49889/9890 are operated once a week. I49889 leaves from St. Petersburg on every Monday while I49890 departs from Sanya on every Tuesday. As winter comes, the opening of the route will facilitate travelers to Sanya, a winter resort.

Chendu - Xian Direct Flights Hardly Available Temporarily
Published: Nov. 06, 2017
Since October 29, 2017, airlines of China have adopted new timetables for the coming winter and spring. Many direct flights between Xian and Chengdu have been canceled, thus passengers have to make a stopover in other cities before getting to their destinations. According to staff in China Eastern Airlines, it's because that the Xian - Chengdu High Speed Railway is going to open in this winter. Many believe that the opening of this railway will make it unnecessary to travel between these two cities by air. Compared with planes, high speed trains on the railway will run almost equally fast and it costs only three hours for a single trip at a mere price of about CNY 300.

Direct Flight between Prague and Xian Opened
Published: Oct. 31, 2017
China Eastern Airlines has recently opened a direct route between Prague, the capital of Czech Republic, and Xian of China. The plane MU786 departs from Prague at 21:20 on every Thursday and Monday and arrives in Xian at 14:10 the next day. The plane MU785 leaves from Xian at 15:45 on Thursday and Monday and gets to Prague at 18:50 the same day. All times here refer to local time.

Guizhou Maotai Airport to Open by the End of October 2017
Published: Oct. 26, 2017
Guizhou Maotai Airport, located in Maotai Town of Zunyi City where produces the most renowned alcohol in China, will be put into use since October 31, 2017. According to the latest schedule, major cities including Beijing, Tianjin, Chengdu, Xian, Shanghai, Sanya and Zhengzhou will operate flights to and from Maotai Airport. Tourists can now conveniently get to Maotai Town to taste its liquor and the culture behind. Besides, they can visit the nearby attractions such as Chishui Scenic Spot and the Site of Hailongtun Tusi Fortress, a UNESCO World Cultural Heritage.

Sydney - Qingdao and London - Qingdao Direct Flights to be Opened
Published: Oct. 10, 2017
China Capital Airlines announced that it would open the direct air route between Sydney and Qingdao on October 29, 2017. The route will be operated on Monday, Wednesday, Friday and Sunday every week. A one-way journey will take around 13 hours.

Additionally, the airlines will inaugurate the route between London and Qingdao on November 17, 2017. The route will be in service on every Monday and Friday and a single trip will cost about 12 hours.

The First Direct Flight between Brisbane and Shenzhen Opened
Published: Sep. 22, 2017
The first direct air route between Brisbane and Shenzhen has been opened by Hainan Airlines since September 21, 2017. It's the fourth route that links Shenzhen with Oceania after the routes between Shenzhen and Sydney, Auckland, and Melbourne.

The plane departs from Brisbane at 11:30 on Monday and Tuesday and arrives in Shenzhen at 18:40. It leaves from Shenzhen at 22:35 on Wednesday and Sunday and gets to Brisbane at 09:30 the next day. A one-way trip takes about nine hours. Note: All times follow local time.

Urumqi - Xian - Lhasa Flight Opened
Published: Sep. 14, 2017
On September 13, 2017, the Urumqi - Xian - Lhasa air route was opened, linking Xinjiang with Tibet by air for the first time. The route is operated daily by China Eastern Airlines. The plane MU1500 takes off from Urumqi at 07:30 and arrives in Xian at 10:35. After two hours, it continues to fly and lands in Lhasa at 14:55. The plane MU1501 flies from Lhasa at 12:15 and gets to Xian at 15:15. Then it departs from Xian at 16:45 and reaches Urumqi at 20:25.