Reservation Center
1-800-315-3949
(USA&Canada)
1-800-665-977 (AU)
0-808-189-1339 (UK)
Tel:(+86) 29 8523 6688-555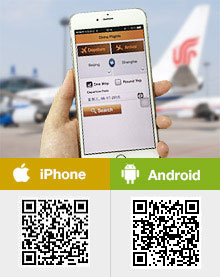 China Flight News

Beijing Daxing International Airport Will Put to Use before Sep. 30, 2019
Published: May. 10, 2019
The Beijing Daxing International Airport is set to open before September 30, 2019 and its main project will be finished before June 30. Served as the second international aviation hub of Beijing, Daxing Airport will be the largest airport in the world. It covers an area of 820,000 square meters (202 acres), aiming to accommodate 72 million passengers a year by 2025.

Meanwhile, several metro lines to the airport are also under construction and some will open in September. After the new airport putting to use, another airport of the city, Beijing Nanyuan airport will close by the time.

Inner Mongolia - Tibet Flight Opened since April 15, 2019
Published: Apr. 17, 2019
The direct flight between Inner Mongolia and Tibet started to operate by China Eastern Airlines from April 15, 2019. The Airbus A320 plane flies between the two capital cities Hohhot and Lhasa, which can contain 120 passengers. The new flight route operates daily and the flight number is MU2355/56. Every day, the plane takes off at 7:45 from Hohhot and arrives in Lhasa at 14:40. At 15:30, it leaves for Hohhot and stops by Xi'an before landing at 22:15.

Helsinki - Jinan Flight Opened since April 8, 2019
Published: Apr. 11, 2019
An Airbus A330 took off from Jinan City of Shandong Province in the afternoon of April 8. After 9 hours' journey, it landed on Helsinki-Vantaa Airport of Finland. This is the first direct flight connecting the two cities and it is operated by Tibet Airlines. At present, the flight operates weekly and there may be more flights in the future according to the market. The new air route offers great convenience for travelers and strengthens the connection of both cities.

Kuala Lumpur - Quanzhou Flights Will be Operated since May 1, 2019
Published: Apr. 02, 2019
Recently, the Air Asia headquartered in Malaysia declared that they would operate direct flights from Kuala Lumpur to Quanzhou City of Fujian Province since May 1, 2019. According to the Air Asia, there will be round-trip flights everyday between the two cities, which will provide greater convenience to travelers. In addition, more air routes from secondary hubs of Malaysia to China can be expected in the future. The flight schedule is as follow:
| Route | Flight No. | Depart | Arrive | Frequency |
| --- | --- | --- | --- | --- |
| Kuala Lumpur - Quanzhou | AK 270 | 08:20 | 12:55 | Daily |
| Quanzhou - Kuala Lumpur | AK 271 | 13:55 | 18:30 | Daily |

China Airlines will Adopt Summer-Autumn Timetable from Mar. 31 to Oct. 26, 2019
Published: Mar. 27, 2019
As the China airlines' summer-autumn timetable adjustment is coming, a lot of airports and air companies reschedule the air routes. In Zhengzhou Airport, there will be new international air routes to open to the cities including Mandalay in Myanmar, Osaka in Japan, Sihanoukville in Cambodia; some domestic air routes will be increased to connect Zhengzhou with Dunhuang, Heihe, Zhangjiajie, Bayannur and Golmud.

In Guilin Airport, more domestic flights will be newly operated between Guilin and Yibin, Dali, Nanyang, Luzhou and Yancheng. Guilin - Shanghai, Guilin - Zhengzhou and Guilin - Zhangjiajie air routes will also be recovered at that time.

Tourists plan to depart after March are suggested to pay attention to the announcements of the air companies in case of the schedule adjustment.

Two Air Routes from Xinjiang to Open since March 31, 2019: Korla - Lanzhou - Wuhan and Kuqa - Chengdu
Published: Mar. 19, 2019
From March 31, 2019 on, two new direct air routes between Xinjiang and Wuhan, Chengdu will be operated by Air China. The flight number of the Korla - Lanzhou - Wuhan route is CA8271/2 and it will run by the Airbus 320. There are 4 flights every week operating on each Monday, Wednesday, Friday and Sunday. The Kuqa - Chengdu route is also run by 4 flights weekly on Monday, Wednesday, Friday and Sunday. It will be operated by Airbus 319 and the travel time is around 4 hours.

Dublin - Shenzhen Direct Flights Have Opened since Feb. 25, 2019
Published: Feb. 28, 2019
From February 25, 2019 on, the direct flights from Dublin to Shenzhen started to be operated by Hainan Airlines. The round - trip flights fly weekly on every Monday and Friday and the new air route is operated by Boeing 787 aircraft which can take at most 289 passengers. This is also the second direct flight between China and Ireland operated by Hainan Airlines. The first route is from Beijing to Bublin opened on June 12, 2018.

Cheap Air Tickets will be on Sale in Domestic Air Routes after Chinese New Year
Published: Feb. 20, 2019
Popular domestic airline tickets will plummet after the Chinese New Year holiday. Some airlines' tickets fare is with the discount of 30% to 50%. Some are even lowered to only 20% of the full price. For example, the air ticket to the coastal city Sanya, one of the most popular tourist cities during Chinese New Year holiday, is pretty expensive in the holiday; but in recent days, the lowest price ticket from Beijing to Sanya just costs about CNY400, with a 84% discount off the full price. Not only to Sanya, the air tickets to some hot cities like Qingdao, Chengdu, Hangzhou, Xi'an, Kunming and Chongqing are all sold much cheaper. Travelers who want to have a budget tour in these cities are recommended to book tickets in this period.

Kalibo - Ningbo Direct Flights have Opened since Jan. 9, 2019
Published: Jan. 10, 2019
The direct flights between Kalibo and Ningbo have been operated by Loong Air since January 9, 2019. There are three round-trip flights weekly. The flights depart from Ningbo at 14:10 on every Monday and Tuesday, at 13:55 on every Friday. The flights depart from Kalibo at 18:45 on every Monday, Tuesday and Friday. The travel time for single journey is about 3.5 to 4 hours. What's more, the Kalibo Airport is the closest airport near the famous Boracay Island in Philippine, which contains one of the seven most beautiful beaches in the world.

Air Tickets for 2019 Spring Festival are in Hot Demand
Published: Dec. 28, 2018
As 2019 Spring Festival Travel Rush is coming, the air tickets before the Spring Festival are in hot demand. For some popular flights like Shenzhen - Haikou, Beijing- Jiamusi, even the full price economy tickets have been sold out recently.

The peak travelers flow will appear on February 3, 15 and 22, 2019. Tourists who have any tour plan during this period are suggested to book tickets as early as possible. If the direct flight thickets have been sold out, you can choose to take a transfer flight or high speed trains.