Reservation Center
1-800-315-3949
(USA&Canada)
1-800-665-977 (AU)
0-808-189-1339 (UK)
Tel:(+86) 29 8523 6688-555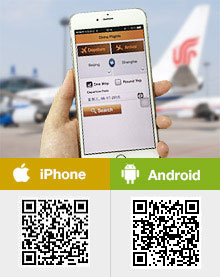 China Flight News

Direct Flight between Prague and Xian Opened
Published: Oct. 31, 2017
China Eastern Airlines has recently opened a direct route between Prague, the capital of Czech Republic, and Xian of China. The plane MU786 departs from Prague at 21:20 on every Thursday and Monday and arrives in Xian at 14:10 the next day. The plane MU785 leaves from Xian at 15:45 on Thursday and Monday and gets to Prague at 18:50 the same day. All times here refer to local time.

Guizhou Maotai Airport to Open by the End of October 2017
Published: Oct. 26, 2017
Guizhou Maotai Airport, located in Maotai Town of Zunyi City where produces the most renowned alcohol in China, will be put into use since October 31, 2017. According to the latest schedule, major cities including Beijing, Tianjin, Chengdu, Xian, Shanghai, Sanya and Zhengzhou will operate flights to and from Maotai Airport. Tourists can now conveniently get to Maotai Town to taste its liquor and the culture behind. Besides, they can visit the nearby attractions such as Chishui Scenic Spot and the Site of Hailongtun Tusi Fortress, a UNESCO World Cultural Heritage.

Sydney - Qingdao and London - Qingdao Direct Flights to be Opened
Published: Oct. 10, 2017
China Capital Airlines announced that it would open the direct air route between Sydney and Qingdao on October 29, 2017. The route will be operated on Monday, Wednesday, Friday and Sunday every week. A one-way journey will take around 13 hours.

Additionally, the airlines will inaugurate the route between London and Qingdao on November 17, 2017. The route will be in service on every Monday and Friday and a single trip will cost about 12 hours.

The First Direct Flight between Brisbane and Shenzhen Opened
Published: Sep. 22, 2017
The first direct air route between Brisbane and Shenzhen has been opened by Hainan Airlines since September 21, 2017. It's the fourth route that links Shenzhen with Oceania after the routes between Shenzhen and Sydney, Auckland, and Melbourne.

The plane departs from Brisbane at 11:30 on Monday and Tuesday and arrives in Shenzhen at 18:40. It leaves from Shenzhen at 22:35 on Wednesday and Sunday and gets to Brisbane at 09:30 the next day. A one-way trip takes about nine hours. Note: All times follow local time.

Urumqi - Xian - Lhasa Flight Opened
Published: Sep. 14, 2017
On September 13, 2017, the Urumqi - Xian - Lhasa air route was opened, linking Xinjiang with Tibet by air for the first time. The route is operated daily by China Eastern Airlines. The plane MU1500 takes off from Urumqi at 07:30 and arrives in Xian at 10:35. After two hours, it continues to fly and lands in Lhasa at 14:55. The plane MU1501 flies from Lhasa at 12:15 and gets to Xian at 15:15. Then it departs from Xian at 16:45 and reaches Urumqi at 20:25.

Direct Flight to Connect Koh Samui in Thailand and Xian in China
Published: Sep. 04, 2017
The flight will start service since September 6, 2017 by Tibet Airlines. TV6006 will depart from Koh Samui at 13:55 and land in Xian at 19:25; TV6005 will take off from Xian at 08:55 and arrive in Koh Samui at 12:25. Both of them will be operated on every Monday, Wednesday, Friday, and Sunday.

Athens - Beijing Direct Flight to be Opened in September 2017
Published: Aug. 30, 2017
Air China is planning to open a non-stop air route between Athens and Beijing since September 30, 2017. The planes will depart on every Wednesday and Saturday from each city.
At present, there are only two flights a week between Athens and Beijing with a stop in Munich. Most passengers travelling between Greece and China have to transfer in Germany, Turkey, the UAE, or Russia.

Jakarta - Guilin Direct Flight Opened
Published: Aug. 30, 2017
Since August 26, 2017, the first direct air route between Jakarta Indonesia and Guilin China has been opened, making Indonesia the fifth ASEAN country with flights to and from Guilin, following Thailand, Malaysia, Cambodia, and Vietnam. The plane ID9000 leaves Jakarta at 03:00 on Saturday and arrives in Guilin at 09:00. The plane ID9001 departs from Guilin at 10:00 on Saturday and gets to Jakarta at 14:00. With the visa exemption policy for tour groups from ASEAN countries, tourists can now enter Guilin very conveniently.

The First Direct Flight between Brunei and Kunming Opened
Published: Jul. 19, 2017
The Lucky Air has opened a direct air route between Kunming China and Bandar Seri Begawan, the capital city of Brunei, since July 18, 2017. As the first regular air route linking Brunei and Kunming, the route provides passengers with more choices to travel between the two. The planes are operated on every Tuesday and Saturday. Plane 8L9506 departs from Bandar Seri Begawan at 16:20 and gets to Kunming at 20:55; plane 8L9505 takes off from Kunming at 11:15 and lands in Bandar Seri Begawan at 15:20. All time points follow local time.

Ningxia Opened a Low-altitude Sightseeing Flight between Yinchuan and Zhongwei
Published: Jul. 14, 2017
A low-altitude sightseeing flight between Yinchuan and Zhongwei of Ningxia Hui Autonomous Region has been opened since July 2017. As a well-known desert tourist destination, Zhongwei has become readily accessible by visitors via Yinchuan, the capital city of Ningxia. The flights depart daily from Yinchuan at 09:25 and 14:35 and from Zhongwei at 10:35 and 15:50. Operated by Joy Air, a budget airline, the tickets are cheap. A discounted ticket may cost only CNY 200 or so. Furthermore, passengers do not need to pay airport departure tax and bunker adjustment fee. There is a 25-minute low-altitude journey in the air, enabling passengers to overlook deserts, oases and the Yellow River.