Reservation Center
1-800-315-3949
(USA&Canada)
1-800-665-977 (AU)
0-808-189-1339 (UK)
Tel:(+86) 29 8523 6688-555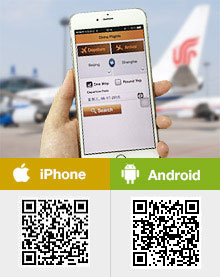 China Flight News

Direct Flight between Nanjing and Lhasa Operated Since October 27, 2020
Published: Oct. 30, 2020
On October 27, 2020, the inaugural direct flight between Nanjing and Lhasa successfully took off, cutting the travel length between the two cities to merely four hours and greatly saving traveler's time. During this winter-spring flight season, the flight will be run three times a week, respectively on Tuesday, Thursday, and Saturday. The flight from Lhasa to Nanjing is TV9929 from 17:00 to 21:00, and the returning flight is TV9930 from 9:55 to 14:25. Airbus 319 will serve this route.

Scandinavian Airlines Plan to Resume Flights to Beijing
Published: Oct. 22, 2020
According to the news from the website of Routes, the Scandinavian Airlines intend to resume the flights from Copenhagen, the capital of Denmark, to the Capital International Airport of Beijing. The flight will be served by Airbus A330 and take off once in a week. However, the plan needs to be further confirmed by the local government.

United Airlines will Resume San Francisco - Shanghai Nonstop Flight since Oct. 12
Published: Oct. 16, 2020
In recent days, United Airlines has declared to resume the nonstop flight between the US and China since October 12, which is the direct flight operated between San Francisco International Airport (SFO) and Shanghai Pudong International Airport (PVG). The flight will be operated by Boeing 777-300ER for 4 times a week. Travelers can take a flight every Wednesday, Friday, Saturday, and Sunday from San Francisco to Shanghai and the return flight will fly every Monday, Tuesday, Friday, and Sunday from Shanghai. The tickets have been already for sale. Before the virus pandemic, United Airlines was the American airline company that kept operating the most US - China flights, and in 2019 there were 5 flights departing from Shanghai to San Francisco, Los Angeles, Chicago, New York, and Newark.
The detailed flight schedule of San Francisco - Shanghai flight:
| Flight | Departure City | Date | Departure Time | Arrival City | Arrival Time |
| --- | --- | --- | --- | --- | --- |
| UA857 | San Francisco | Wed./Fri./Sat./Sun. | 11:50 am | Shanghai | 16:30 pm (the next day) |
| UA858 | Shanghai | Mon./Tues./Fri./Sun. | 13:30 pm | San Francisco | 9:30 am |

Helsinki - Zhengzhou Direct Flight will Open from Oct. 12, 2020
Published: Sep. 30, 2020
On September 29, at a press conference in Zhengzhou airport, it formally declared that the direct flight between Zhengzhou in Henan Province and Helsinki, Finland will be operated by Juneyao Airlines since October 12. The new flight will be served on board Boeing 787-9 aircraft weekly. The flight HO1665 will depart from Zhengzhou Airport at 01:55am and arrive in Helsinki at 06:10am local time every Monday. The return flight HO1666 will leave Helsinki at 20:30 pm the same day and land in Zhengzhou at 10:00am the second day. It only takes about 9 hours for visitors to travel between the two cities, and this is also the second route to the Finnish capital by Juneyao Airlines after the first air route operated from Shanghai.

9 International Flights Resumed Direct to Beijing since Early September
Published: Sep. 21, 2020
Since September 3, Beijing declared to gradually allow international flights to land and take off from Beijing after several-month restrictions due to COVID-19. So far, 9 international flights from 8 countries which have less confirmed cases have resumed, respectively Thailand, Cambodia, Pakistan, Greece, Denmark, Austria, Sweden, and Canada. As the first international flight operated by Air China from Phnom Penh landed in Beijing on September 3, people believed more international flights would resume soon.

On September 19, Beijing announced that more strict prevention and control measures would be taken and the nucleic acid testing is the must premise to resume direct international flights. Gradually, it will restore to no more than 4 to 5 flights per day depending on the situation. What's more, only the flights which were once direct to Beijing will resume but no more new flights will join the resumption.

Helsinki - Nanjing Flight Resumed since September 12, 2020
Published: Sep. 14, 2020
On September 12, the flight AY105 departed from Helsinki successfully landed in Nanjing Lukou Airport. It was the first flight by Finnair resumed between Helsinki and Nanjing City, Jiangsu Province since the outbreak of Covid-19, and Nanjing is also the second domestic destination of Finnair reopened after Shanghai.

The flights AY105/106 are operated once a week initially since September 12. The carrier departs from Helsinki at 6:55 PM local time every Friday and arrives in Nanjing at 8:55 AM local time every Saturday. The return flights are operated at 9:35 AM every Sunday from Nanjing. Until now, Nanjing has resumed 3 direct flights to Europe, namely to Milan, Frankfurt and Helsinki.

Domestic Flights from/ to Xinjiang will Fully Resume in September
Published: Sep. 07, 2020
As COVID-19 infections in Xinjiang have fallen to zero for more than 20 days, the strict regional lockdown has gradually lifted since the beginning of September, and the flight restriction is also releasing.

Since September 1, Urumqi International Airport has resumed flights to Lanzhou, Guangzhou, Hangzhou, Changsha, Xiamen, and Tianjin. At the beginning stage, these flights will be operated once a day. Moreover, Xiamen Air will resume the flight of Urumqi - Yinchuan - Fuzhou since September 8 and the flights to Jinan, Quanzhou, Zhengzhou, and Fuzhou since September 16. Xi'an Xianyang International Airport also declared to resume all the flights bound for Xinjiang since September 5, from the present less than 10 round-trip flights to 27 round-trip flights per day, including destination cities like Urumqi, Kashgar, Korla, Hotan, Aksu, Karamay, Altay, Yining, and Kuqa.

As all the Xinjiang outdoor scenic areas reopened on September 2, the domestic flights from/ to Xinjiang are expected to fully resume in September, including some intercity air routes like Yining - Karamay.

Wuhan will Resume International Flights from Mid-September, 2020
Published: Sep. 02, 2020
As the once epicenter of COVID-19, Wuhan had suspended 63 international flight routes since the outbreak of the coronavirus. After several months' suspension, recently, the Civil Aviation Administration of China has agreed to Wuhan international flights gradually resuming. At present, a lot of foreign air companies are applying for resuming the flights from Wuhan to Seoul, Bangkok, Kuala Lumpur, Manila, Hanoi, Sihanouk, Tokyo, Jakarta, and Singapore, etc. The first international flight is expected to resume since mid-September.

Wuhan's domestic flights have resumed since April 8 and the domestic destinations have reached 73 at the end of August. Also, the daily maximum passenger throughput of Wuhan Tianhe Airport is more than 60,000 so far, about 90% of the passenger volume in the same period last year.

Amsterdam - Hangzhou Flight via Seoul will Resume since August 27
Published: Aug. 24, 2020
With the gradual release of China's travel restrictions, KLM Royal Dutch Airlines declared to resume the flights between Amsterdam and Hangzhou in Zhejiang Province since August 27 and the round-trip flights will both stopover in Seoul. The flights will be operated by Boeing 777-300ER and B777-200 for temporarily once a week. The flight KL 857/821 will depart from Amsterdam on Tuesday at 18:55 and arrive in Hangzhou at 15:00 the next day. The return flight KL 822/858 will fly on Friday at 18:50 and reach Amsterdam at 04:45 the second day. All times above are local.

Hangzhou is the second destination in China that KLM has resumed the flights, after the weekly flights from Amsterdam to Shanghai. And KLM also indicates that they will add another frequency on the route of Amsterdam - Hangzhou as soon as possible.

For better security of passengers and airport staff, KLM takes a lot of measures. For example, wearing masks are required; the HEPA filters are used to clean the air; and more frequent disinfection of the toilet on board. Moreover, to reduce the contact time of passengers and staff, the catering service will be limited.

US and China Declared to Double the Flights between Them since August 18
Published: Aug. 20, 2020
After several months' flight cutbacks due to coronavirus, both of the United States and China have agreed to double the flights between the two countries from the original four to eight per week, which are operated by each other's airlines. The US Transportation Department declared the announcement this Tuesday, August 18.

On August 12, Civil Aviation Administration of China(CAAC)informed the US Transportation Department that the two weekly flights operated by United Airlines can be expanded to four times a week, so can the two flights of Delta Air Lines per week.

From September 4 on, the United Airlines will add the flights between San Francisco and Shanghai to four times a week. The Delta Air Lines will add the flights from Detroit and Seattle to Shanghai, via Seoul since August 24.