Reservation Center
1-800-315-3949
(USA&Canada)
1-800-665-977 (AU)
0-808-189-1339 (UK)
Tel:(+86) 29 8523 6688-555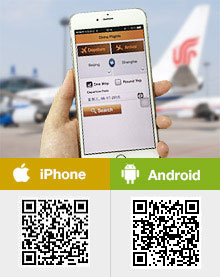 China Flight News

Fuel Surcharges of China Domestic Flights Have Been Decreased since Dec. 5, 2018
Published: Dec. 07, 2018
Recently, with the slide of international oil prices, many air companies including China Eastern Airlines, China Southern Airlines and Hainan Airlines have declared to cut down the fuel surcharges of domestic flights. After adjustment, the surcharge of the air route less than 800 km (497 mi) has been cut to CNY 10 from CNY 20 and of which more than 800 km has been reduced from CNY 50 to 30. It is noticed that babies are free of fuel surcharges and children can enjoy half-price of that.

The Passenger Throughput of Tianjin Airport Exceeds 20 Million
Published: Nov. 15, 2018
Recently, the aggregate passenger throughput of Tianjin Airport has been over 20 million with year-to-year growth of 13.2 percent and it is estimated that the annual passenger throughput of 2018 will exceed 23.5 million. At present, the Tianjin Airport operates more than 180 air lines including 150 domestic air routes and 32 international airways. In 2018, it opened new intercontinental flights to Vancouver and Sydney. Besides, some new air routes to Bali Islands, Minato, Kuala Lumpur and Nha Trang will be opened soon.

Tianjin airport is an ideal place to land for those people who want to go to Beijing. It takes only about 30 minutes by high speed train to travel between the two cities. But the international air fare to Tianjin is much cheaper than that to Beijing most of the time.

More Flights Opened or to Be Opened to Connect China with the World
Published: Oct. 30, 2018
As the Winter-Spring Timetable of Chinese starts from this month, a lot of new air routes have opened recently and some new flights will open in the next two months.

The flights opened recently are as follow:

Vienna - Shenzhen flights are operated twice a week by Hainan Airlines;

Dubai - Shenzhen, CZ8019/20, is operated every Wednesday and Sunday;

Rangoon - Shenzhen, CZ 86555/6, is operated every Monday, Wednesday, Friday and Sunday;

Cairo - Chengdu flights are operated by Sichuan Airlines every Tuesday and Friday.

Some new flights to open soon include:

Los Angeles - Shenyang, CZ609/ CZ610, will open on December 18, 2018 and it is scheduled to sail every Tuesday, Thursday and Saturday; Kota Kinabalu - Kunming direct flights will operate from November 30, 2018 and once opened, there will be four flights a week.

China Airlines to Adopt Winter-Spring Timetable since Oct. 28, 2018
Published: Oct. 17, 2018
In view of the different travel seasons and the periodicity of travel, China civil aviation will carry on the flight plan adjustment in winter and spring seasons from Oct. 28, 2018 to March 30, 2019. During this period, many air companies have declared the new flight routes. For example, Shandong Airlines will open 11 new flights including Beijing-Hangzhou, Xiamen-Nanjing-Yantai, and Qingdao-Shanghai. The China Southern Airlines will add 6 new routes and some flights will be adjusted accordingly.

A warm reminder to the passengers is that the tickets and flights of most air companies will be adjusted and some flights you booked before the season changing may be changed or canceled. So please note to check your flight information on official websites before departure.

China Flights to Welcome Peak Passenger Flow from Sep.28 - Oct.10
Published: Sep. 28, 2018
China civil aviation will face a new peak passenger flow with the start of the Chinese National Day Holiday, also named the Golden Week, which lasts from October 1 to 7. The popular domestic tourist destinations including Beijing, Shanghai, Hangzhou, Chengdu, Xi'an, Chongqing, Sanya will receive a lot of tourists across the country. The airports in these cities will be very busy and the peak will appear on the September 30 and October 7. For example, it is estimated that there will be more than 300,000 passengers entering and exiting Beijing Capital Airport in these two days.

Passengers who have any flight plan in this period are suggested to arrive in airport to check in earlier than usual to avoid the long queue.

Direct Flight between Dubai and Shanghai will be opened since September 17, 2018.
Published: Sep. 11, 2018
Recently, China Eastern Airlines had announced in Dubai that they would open a direct flight from Dubai to Shanghai. This will be the second direct flight between Dubai and Shanghai after the first airline operated by Emirates Airlines.

The first fight will be opened on September 17, 2018 and the air route is designed to provide more options for travelers to travel between China and the United Arab Emirates. The route will be operated by Airbus 330 and the flight number is MU 245/246. From Sep. 17 to Oct. 26, there will be 3 flights per week and 4 flights will be operated every week after Oct. 27, 2018.

Direct Flight between Zurich and Shenzhen Opened by Hainan Airlines
Published: Aug. 29, 2018
On August 27, 2018, a Boeing 787 airliner landed at Zurich International Airport in Switzerland. It's the first direct airline opened from Shenzhen, Guangdong Province to Switzerland, also the seventh intercontinental route operated by Hainan Airlines in Shenzhen. It's undoubtedly a piece of good news for the passengers in Shenzhen and Switzerland, especially for the business travelers. The newly opened direct flights are tentatively scheduled for Monday and Friday with two round-trip flights a week.

Chinese Airlines Have Opened New Sino-British Air Routes
Published: Aug. 29, 2018
In recent days, in order to provide more choices for passengers, many Chinese airlines have opened new air routes between Britain and China. A few days ago, China Southern Airlines opened London-Sanya direct flight and it's also the first air route from Hainan to Europe. On June, 2018, Hainan Airlines opened a series of air routes among Dublin, Edinburgh and Beijing. Recently, Tianjin Airlines and Chongqing Airport jointly announced that the flights from Chongqing to London will be increased from two to three flights per week from this August.

Airbus A350-900 Started to Serve Beijing - Shanghai Flight since August 14, 2018
Published: Aug. 15, 2018
On August 14, 2018, the first Airbus A350-900 in China mainland which was introduced by Air China successfully completed its first flight from Beijing to Shanghai. This is a faster and more advanced plane with a maximum flying range of 15,000 kilometers (9,320 miles). Meanwhile, it provides passengers more comprehensive services including USB interface for mobile phone charging, Wi-Fi network, and entertainment system. What's more, every class has used the latest seat products to offer better experience to passengers.

In the future, A350-900 will mainly fly for hot domestic routes, such as Beijing-Shanghai, Beijing-Chengdu, Beijing-Guangzhou, as well as international long distance routes such as Beijing-Milan, Shanghai-Frankfurt and Shanghai-Milan.

Flights in Chengdu Airport Have Been Greatly Affected Due to Heavy Rain Falls
Published: Jul. 18, 2018
From 09:30 on July 15th to 06:00 on July 16th, due to the thunderstorms and heavy rain falls, the airstrips of Chengdu airport were forced to shut down. It caused a total of 96 flights cancelled and 43 incoming flights were prepared for landing at the outfield. Some flights postponed to the July, 16th flight plan. A lot of passengers stranded at the airport as a result of cancelled flights. In recent days, the airport will keep operation day and night to ensure the passengers' smooth trip.

For tourists who will have any flight plan in Chengdu Airport, it is recommended for you to pay attention to the weather and adjust your itinerary in time.