China Civil Aviation - Tickets & Departure
Ticket
A. About e-tickets


What is an e-ticket?
Actually, an e-ticket is an electronic record of the traditional paper ticket. Or rather, an e-ticket memorizes the information of both flights and passengers from the internet and stores it in the reservation system. At present, as the world's most advanced form, the e-ticket relies on modern information technology to achieve paperless procedures of booking, payment and check-in services. Compared with paper tickets, e-tickets bring much more convenience for air passengers.



How to book and use an e-ticket?
a. Log in an airline reservation system and inquire;
b. Fill in the reservation form with accurate information of the passenger;
c. Confirm the order and pay on line through the bank website;
d. Receive a message for verification within a half hour after payment and then e-ticket will be sent to your e-mail box;
e. Go to the airport e-ticket counter and get your boarding pass with your ID card or passport;
f. Pass the security check; fetch an receipt for reimbursement from the airline or the agency if needed.



What is an e-ticket receipt?
An e-ticket receipt functions as a voucher for payment and reimbursement of China domestic air passengers; it is not a voucher for boarding plane;
The receipt is permitted to be printed once, one piece for each passenger (If lost, it cannot be reprinted.);
The receipt cannot be arbitrarily altered; passengers should check the items listed on the receipt, such as names and certificate numbers.
The receipts are needed when passengers want to reroute or refund their e-tickets; passengers should send their application to the ticket agency with the original receipt.
B. E-ticket rerouting
For China domestic air passengers who want to reroute their e-tickets, there are two kinds of circumstances.
a. If the receipt has not been printed out:
Passengers can notify the agency directly (e.g. by phone) if they want to reroute to a ticket of the same class standard (at the same discount); they must confirm the completion of rerouting before they take their flights. If the price of the rerouted ticket is higher than that of the original one, passengers should go to the airport e-ticket counter or the agency, where they have their receipt printed and pay the fare difference.
b. If the receipt has been printed out:
Passengers who want to reroute to a ticket of the same class standard (at the same discount) should notify the agency first and reroute under the help of the agency staff. If the price of the rerouted ticket is higher than that of the original one, passengers should go to the airport e-ticket counter or the agency with the receipt and pay the fare difference there.
C. Ticket refunding
If flights are cancelled, advanced, delayed, rerouted or cannot provide the seat ordered due to the reason of airline companies, passengers are entitled to refund their ticket free of charge at the departing airport, or they can get their refund for the unused section free of charge at the midway airport; for ill passengers (including companion) who want a refund, the refunding procedure follows the above expect that a medical certificate is required; for passengers who want a refund of their own accord, they should provide their ticket or e-ticket receipt as well as their identity certificates.

Popular China Air Routes:

Cheap Airfare between Major Cities:
Departure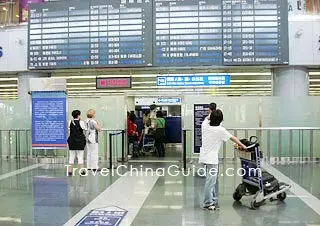 Int'l / HK, Macau, Taiwan Departures
at an airport in China

A. Domestic & International departure
Passengers taking China domestic flights should arrive at the airport within the time limit set by the airlines. Most of the Chinese airlines stop the check-in procedures 30 minutes before departing. In some large international airport, the procedures are stopped 45 minutes or one hour before the departure. So passengers are suggested to reach the airport at least one hour in advance.

While the check-in procedures for international departure are usually stopped three hours before departing. In addition, passengers taking international flights are required to produce some relative certificates, such as health certificate, entry or exit documents; passengers are responsible for any consequence caused by their violation of relative regulation.



B. Connection services
Connection services are a series of services provided for passengers with conjunction tickets. Starting from passengers booking their tickets, each department of the airline will inform the subsequent department about passengers' information. After arriving at the transfer airport, passengers can go direct to the connection service counter where special services are provided, to help them pick up baggage, handle the next boarding procedure and pass the security check.



C. Missing, mistaking a flight
If passengers miss a flight at their own fault, they can choose to take the follow-up flight or refund their tickets (refunding fee will be charged), which can be dealt with either at the departing airport or at the original booking site. If it is airlines' fault, passengers can also choose to take the following flight or have their tickets refunded free of charge.

If passengers mistake a flight at their own fault, passengers can catch the earliest flight to their destination with airlines help; however, their tickets cannot be refunded. If it is airlines' fault, passengers will also be arranged to catch the earliest flight to get their destination; if passengers want to have their tickets refunded, no refunding fee will be charged.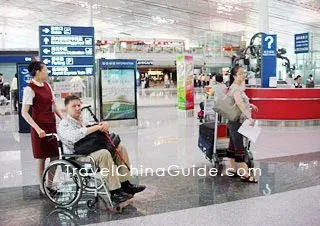 A disabled traveler in an airport

D. Services for disabled passengers
Disabled passengers who need special services should apply to the airline in advance. The special services provided by the airlines usually include assistance with those passengers when they board, transfer and get off the plane.

Passengers with wheelchairs should consign their wheelchairs as checked luggage. The blind and deaf passengers can board the plane with their guide dogs or they can consign them free of charge. If passengers want to take their dogs into the cabin, they must have them well muzzled, firmly strapped and not occupying any seat; if passengers want to cosign them in the cargo hold, their guide dogs must accord with the requirements for pets shipping.
- Last updated on Apr. 14, 2021 -
Questions & Answers on China Civil Aviation - Tickets & Departure
Asked by Cheyenne from USA | Jun. 08, 2015 16:01

Reply
NEED URGENT HELP! Stolen passport just got a new one
Hello,
My passport was stolen, I have already been issued a new one but all my domestic flight were booked with my old one and I know that you have to show your passport to get your paper ticket. Is there anyway to change the passport info connected to my bookings or can I use a photo copy of my stolen passport to collect my tickets? Or will I lose all my bookings and have to book again?
Answers (1)
Answered by Charlie from KENYA | Jun. 09, 2015 01:35

0

0

Reply
Cheyenne, according to what I know, most airlines allow the passengers to update their passport information. Therefore, you need to contact your airline to change your passport information. If your airline refuses to update your passport information, then you need to cancel the ticket and rebook another one.
Asked by Zdenka Stankova from CZECH REPUBLIC | Oct. 31, 2014 13:18

Reply
Is there any list of cities with airports in China?
We are planning to travel for one month around the China and would like to plan where to go. Thanks. Zdenka
Answers (1)
Answered by Armo from USA | Nov. 01, 2014 01:56

0

0

Reply
There is no such kind of a list. In most cities of China, there are airports, such as Beijing, Shanghai, Xi'an, Qingdao, Tianjin, etc.
Personally speaking, you can only plan to travel to different places instead of thinking about the airport. If you want to confirm whether the city you plan to go has an airport or not, you can search on this website. It is assured that you will find the suitable answer here.
Asked by Eddy Ong from SINGAPORE | Oct. 21, 2012 21:11

Reply
is there any online check-in available in Singapore or Xiamen?
Answers (1)
Answered by Peter | Oct. 22, 2012 01:25

0

0

Reply
It is available in Singapore, but it depends on which airline company do you choose. You can go to the website of your airline company to seach whether it has that kind of service in either of the two cities.
Asked by Lee Sior Peng from SINGAPORE | Sep. 13, 2011 06:49

Reply
The best way to get to Xi'an from singapore
How can I get to Xi'an from Singapore? Is there a direct flight that I can book or must I connect from somewhere in China. Plse advise. Then I need to get a ticket from Xiamen to Singapore .
Answers (1)
Answered by Cindy | Sep. 14, 2011 01:56

0

0

Reply
Yes, there is direct flight and this is exactly the best way to travel. You can book ticket here
http:/www.travelchinaguide.com/china-flights/
Asked by subhash rohan from MALAYSIA | Jul. 28, 2011 06:44

Reply
Can I change the departure date of a e ticket if needed and if seats are available?
Answers (1)
Answered by Kevin | Jul. 29, 2011 04:50

1

0

Reply
Yes, you can change the date and there will be available seats, but you have to pay additional fees for this.