Bike Sharing in China
From the end of 2016, bike-sharing programs have been flourished in China at an impressive speed. These dockless bikes seem to have invaded most cities overnight, including Beijing, Shanghai, Guangzhou, Shenzhen, Xi'an, and Hangzhou, and reproduce the scenes of China back in the 1990s as the Kingdom of Bicycles. Nowadays, there are over 30 operators providing more than 10 million bikes hitting the streets in China. It has become a popular and healthy transportation option for short-distance journey.
Fleet of bike shares in various colors is commonly seen in the streets, including the orange Mobike, the yellow ofo, and Hellobike in white and blue. China bike shares also go abroad and appear in some western countries, such as the US, the UK, Japan, and Singapore, and become a new name card of 'Made in China'.
Besides dockless sharing bikes, there is also a public bicycle system operated since 2007 in some major cities of China. Here is the comparison between the two systems.
Bike Sharing Program
Dockless
Bike location is showed in the app
Scan the QR code with your phone to unlock
Can be reserved for 15 minutes
CNY 0.5~1 for 30 min
vs
Public Bicycle System
Fixed docking stations
Near subway stations, bus stops & crossroads
Get a bicycle-rental card to unlock
Cannot be reserved
Usually free for the first 1 or 2 hours
2 Popular Bike-Sharing Apps in China
Mobike / Mobike Lite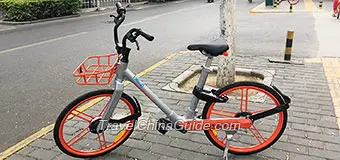 How to unlock: App + Scan QR code
Fare: CNY 1/30min, CNY 0.5/30min for Mobike Lite
ofo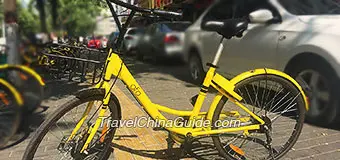 How to unlock: App + Scan QR code or input the bike number to get the password + open password lock
Fare: CNY 0.5/30min
How does a dockless sharing bike works? - 6 Steps
1
Download a bicycle-sharing app.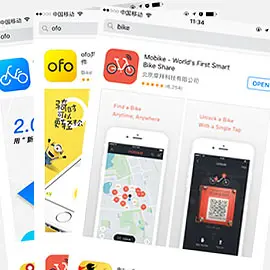 2
ID verification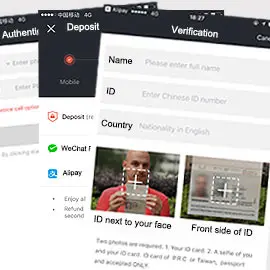 3
Locate a bicycle from the app.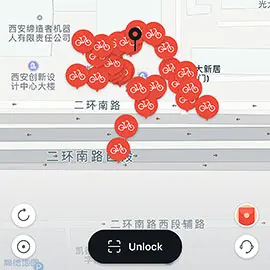 4
Scan the QR code to unlock.
5
Enjoy riding.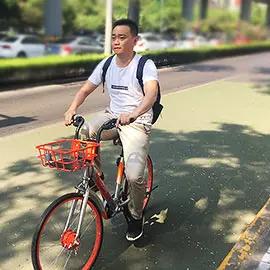 6
Park in a proper area and lock manually.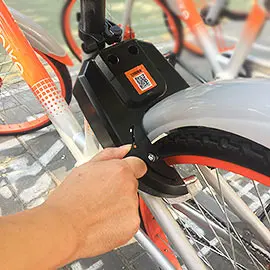 How to Pay the Fare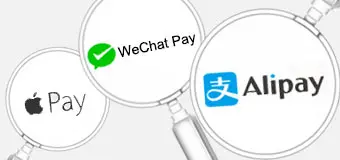 Users can pay the fee and top up by WeChat Pay and Alipay. Mobike and ofo also accept Apple Pay. The cycling fare will be deducted from your account balances.



Mobike can be used through a WeChat account without downloading the app. The fare will be deducted from your WeChat wallet.

Useful Tips
1. Once you finished the authentication on Mobike or ofo, you will be given 100 points as your credit. When the credit is deducted to 0, you are unable to use the service.
| Plus | Deduction |
| --- | --- |
| Finish a cycling | Forget to lock |
| Report breakdowns or inappropriate parking | Inappropriate parking in residential communities, hutongs, garage |
| Invite friends | Stopped by police |
| Share your cycling | Keep for one's own |
2. Not all city roads in China are equipped with cycle paths. If there is a cycleway, ride along it and avoid going on the wrong side or riding on the pavements. If there is no cycle path, you could cycle along the rightmost of a road and be very careful about the rushing cars on the motor way.

3. Seats of most bicycles can be adjusted. Those of fixed seats are comfortable for users between 1.65 ~ 1.70m (5.4 ~ 5.6ft).

4. If you failed to unlock a bike, you should firstly check whether the Bluetooth connection of your phone is opened or not. Turn it on and try again. If it still cannot work, the bike should be either reserved or waiting for repair. You may try to unlock another one.

5. If the app is still charging after you lock the bicycle, you may reopen the app or report this problem via the app.
Convenience and New Trend
The dockless bike sharing can make short journey very convenient, especially for the 'last kilometer'. For people who commute by public bus or subway, there is often a distance between the bus stops and their home or company. Riding a bicycle can be the wisest choice and it's a good workout on the way. A lot of car owners also join the fleet, to avoid the traffic jams, and also do something to environment protection.

The solar panels on some Mobikes's baskets provide energy for their electronic locks. What's more, most sharing bike companies do not require the deposit anymore.
Surplus of Sharing Bikes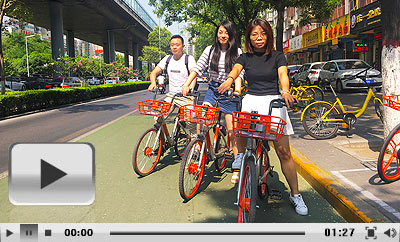 Statistics state that over 10 million bikes have already been put in the cities of China. Lack of enough parking places, it is not surprised to see sharing bikes crowd around sidewalks, subway stations, and bus stops, especially in bustling areas, which affects the city image and causes traffic congestion. Some city governments have urged operators to control the bike number.

The high damage and loss rate is another problem. When you are about to scan the QR code, you may find the bicycle with a flat tire or miss a foot pedal. Some people even keep the bikes for their own by hiding them in their houses, staircases, or basements. Mobike and ofo have set up electronic railings in Beijing. If a bicycle is not parked inside the railing, the user will get a warning and his credit will be deducted by 2 points. Chinese bike sharing operators also devote more money and energy in improving the bikes' quality and intensify the GPS system to monitor the bikes' locations.
- Last updated on Jul. 03, 2023 -
Questions & Answers on Bike Sharing
Asked by Kh from NETHERLANDS | Jul. 03, 2023 05:47

Reply
Seat for child
Are there bikes with a seat for a 6 year old?
Answers (1)
Answered by Ivy | Jul. 03, 2023 17:43

0

0

Reply
I'm afraid no, sorry for that:(
Asked by Paulien Leisink from NETHERLANDS | Mar. 30, 2019 23:43

Reply
If I download the app, can my family members also use it or does every individual need the app?
Answers (1)
Answered by Guest from CHINA | Apr. 01, 2019 20:38

0

0

Reply
One app account can take one bike. If you go together, each of you should have an app in a phone because each of you need to scan QR-code.