China Civil Aviation - Regulations & Security Check
Regulations of Civil Aviation Administration of China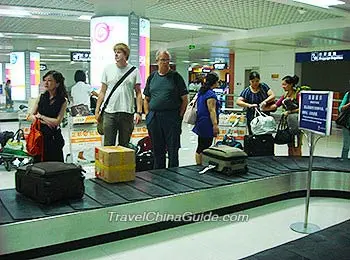 Passengers wait to take
their baggages at the airport.

Lithium Battery
According to the Specifications for Air Transport of Dangerous Goods Carried by Passengers or Crew, the rated energy of lithium batteries that are taken onto an air plane either in hand baggage or consigned luggage should not exceed 160wh. Air passengers carrying electronic applications with lithium batteries and spare batteries should pay attention to the following:

1. Electronic products that contain lithium batteries, such as watches, calculators, cameras, cell phones, portable computers and DVs, can be taken as hand luggage and consigned in the checked luggage. The rated energy of the batteries should not exceed 100wh; those between 100wh and 160wh must get the permission of the air company. The electric appliances should be carefully kept to prevent any unexpected startup.

2. For spare batteries, they can only be carried as hand luggage and should be well preserved to avoid short-circuit. The rated energy of each battery should not exceed 100wh. The batteries between 100wh and 160wh must get the permission of the air company; each passenger is allowed to take at most two spare batteries.



Lighters or Matches
Inflammable and explosive items, such as lighters or matches are not allowed to carry in hand luggage or consigned luggage.



Liquids Articles
For passengers boarding China domestic flights:
a. liquids articles are prohibited in hand luggage, but can be consigned in checked luggage.
b. Passengers may take small quantities of cosmetics, one piece for each type. The container shall be no more than 100 ml in volume. All cosmetics must be placed in a separate bag ready for inspection.
c. Passengers transferring from international flights to China domestic flights may carry unopened duty-free liquid items, in properly sealed transparent plastic bags, with relative receipts.
d. When purchasing tickets, passengers accompanying infants may apply for free liquid dairy products, provided by the airlines. Liquid medicines necessary for diabetic or other patients should go through safety inspection and will be kept by the crew.

For passengers taking international flights:
1. Passengers taking an international flight departing from China are allowed to take certain quantity of liquid items in their carry-on bags. Each one piece of liquid item must not exceed 100ml in volume. If the container of a liquid item is more than 100ml in volume, not matter full or not, it should be consigned in checked luggage. All the liquid articles should be put into a transparent plastic bag with a maximum volume of 1L that can be re-sealed. Each passenger is allowed to take one transparent plastic bags, and the exceeding parts should be consigned in checked luggage.
2. The liquid articles purchased in the duty-free stores in the airport should be placed in a sealed transparent plastic bag. Passengers should not open it and shall keep the receipt.
3. Proper amount of liquid dairy products and liquid medicine for diabetes and other illness are allowed to take in carry-on bags after security inspection.



Regulations about Alcoholic Beverage:
According to the Specifications for Air Transport of Dangerous Goods Carried by Passengers or Crew, passengers are not allowed to taken alcoholic beverage in their carry-on luggage. Alcoholic beverage can only be consigned in checked luggage, but the quantity shall meet the following requirements:
1. The quantity of the beverage whose alcohol content is lower than 24% is not restricted;
2. Each passenger is allowed to take up to 5L alcoholic beverage and the alcohol content should be lower than 70%.
3. The beverage that has alcohol content higher than 70% is prohibited.

Popular China Air Routes:
Security Check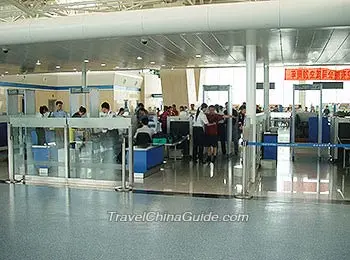 Security check at an airport in China

A. Who cannot pass the security check?
Before the departure, passengers along with their luggage must receive the security check. For special passengers such as unaccompanied children, invalids, pregnant women, the blind and deaf as well as criminals, only should they meet the airlines' regulations or be approved by the airlines can they pass the security check. Patients with infectious diseases, psychopaths or individuals whose physical condition may do harm to other passengers cannot pass the security check.

B. What are hazardous materials by CAAC?
The carrying of hazardous materials can be very dangerous. The CAAC states that hazardous materials mainly include the following categories: aerated solids like polishes, paraffin wax or detergents; corrosive substances like acids, cleaning agents or wet button batteries; combustible materials like paint, thinners, flammable liquids, lighter, adhesion and portable stoves; explosive materials like fireworks, flare bombs, announciators, loaded firearms and gunpowder; radioactive substances like β-ray telescope, radioactive Pharmacy or to-be-transplanted pacemaker; compressed gases like tear gas, protected pressurized spray, air tank or gasoline tank (unless it is empty); infectious materials like vaccines or animal viruses; toxic substances like rat poison.
If passengers have to take those articles with them, they may confer with the airline's freight department.

C. Specific provisions for hand luggage
The following are articles that cannot be taken with passengers as hand luggage.
A. firearms and equipments for military or police use
a. military or police guns: pistols, rifles, submachine guns, machine guns and baton guns
b. civilian guns: air guns, shotguns, sporting guns, anesthetic injection guns and starting guns
c. Other military or police weapons: batons, daggers and bayonets
d. State prohibited guns or weapons: steel ball guns, tear gas guns and electric guns
e. Imitation of firearms mentioned above: gun samples or guns used as properties
B. Explosives
a. ammunition: bombs, grenades, flare bombs, fire bombs, smoke shells, tear bombs, gas bombs and bullets including blank cartridges, testing missiles and practice ammunition
b. blasting equipment: blasting explosive, blasting fuse, detonating cords, non-electric detonating system and blasting agents
c. Pyrotechnic products: fireworks and firecrackers
d. Imitation of explosives mentioned above
C. State controlled cutting tools: daggers, three-square tools, backsword or double-edged sword that is longer than a dagger
D. Explosive and Flammable materials: cylinders containing liquefied or compressed gases such as hydrogen, oxygen and butane; white phosphorus, yellow phosphorus, nitrocellulose (including film), oilpaper and their products which may cause spontaneous combustion; potassium, sodium, lithium, calcium carbide, Mg-Al powder that will react with water; Gasoline, kerosene, diesel, benzene, ethanol (alcohol), paint, thinner, retinol and other flammable liquids; flashlight powder, solid alcohol, celluloid and other flammable solids; sodium peroxide, potassium peroxide, lead peroxide, acetyhydroperoxide and other organic oxides
E. Toxic materials: Cyanide, highly toxic pesticides and other toxic materials
F. Corrosive substances: sulphuric acid, hydrochloric acid, nitric acid, electrolytic batteries, sodium hydroxide and potassium hydroxide
G. Radioactive substances like radioisotopes
H. Other materials that may harm the flight's safety, such as materials with strong irritating smell and strong magnetic articles that may interfere the normal working of aircraft's instruments.
- Last modified on Mar. 03, 2019 -
Questions & Answers on China Civil Aviation - Regulations & Security Check
Asked by Rene LeClair from USA | Mar. 02, 2019 15:04

Reply
Prescription medication pills
Does prescription medication pills need to be in original container (plastic bottles) or can they be put into plastic bag
Answers (1)
Answered by Daina from USA | Mar. 03, 2019 17:42

0

0

Reply
Yes, they need to be taken in original container.
Asked by Dan Hurley from UNITED STATES | Feb. 27, 2019 10:53

Reply
Do I need a visa for a layover in China??
I'm flying from San Francisco to Bali. My flight there has one layover in Guangzhou, and my flight back has a layover in Guangzhou and then a short 1hr+ stopover in Wuhan. Do I need a visa for this scenario? We won't be in China for more than 24hrs in either scenario.
Answers (3)
Answered by Lily from CANADA | Feb. 27, 2019 17:17

0

0

Reply
No, you don't need to apply for a visa. Just apply for a stay permit in the airport.
Answered by Dan Hurley from USA | Feb. 28, 2019 10:09

0

0

Reply
I've gotten mixed reviews because of the double layover on my return trip. I've read that if there's a flight that takes off and lands within mainland China, the 24-hour free visa won't apply. It only applies if you have one layover. Sometimes this results in needing a full visa, which I'm sure would be time consuming and expensive if done at the airport. Has anyone experienced this?
Answered by Lily from CANADA | Feb. 28, 2019 17:29

0

0

Reply
Hi, the 24-hour free visa can apply in multiple-stop transit so you don't need a visa actually. If you still feel worried, you can search more information on Timatic or apply for a visa in advance.
Asked by Bonnie from USA | Feb. 26, 2019 14:50

Reply
How do I get permission to bring a battery between 100wh and 160wh?
Answers (1)
Answered by Sally from USA | Feb. 26, 2019 16:39

0

0

Reply
Generally, you need to contact your air company to get a permission.
Asked by Roslyn from USA | Feb. 24, 2019 06:01

Reply
Coming into China from the US, what toiletries can I bring in and in what amounts?
Answers (1)
Answered by Alice from AUSTRALIA | Feb. 24, 2019 21:34

0

0

Reply
Some toiletries for daily use and as for the amounts, you should consult your air company.
Asked by Igor from SLOVAKIA | Feb. 16, 2019 21:43

Reply
Can i bring iqos to china?
Answers (1)
Answered by Nancy from MALAYSIA | Feb. 17, 2019 18:43

0

0

Reply
It is okay if you don't take too much and take it in checked in luggage.