Dongping National Forest Park
Dongping National Forest Park is in the center of Chongming Island, Shanghai. Covering an area of 1.4 square miles (3.55 square kilometers), it has the largest man-made forest in east China with a forest coverage rate of 90%. Besides the thick forest, dotted lakes, and elegant gardens, there are also many recreational activities, such as grass skiing, rock climbing, forest driving range, and forest sunbath. The barbeque and camping base offer much fun for families and outdoor vacationers, making the park a popular weekend destination.
Swan Lake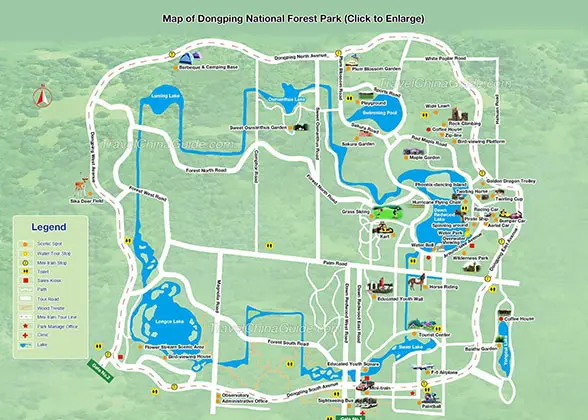 Map of Dongping National Forest Park
Entering from Gate No.1 on the south, you will find Swan Lake on your right. There is a shooting range on the south bank, where you can play paintball with your friends. To the east is Baizhu Garden with more than ten species of bamboo, stretching along Yongcui Lake. The garden is divided into several flowerbeds. Bamboos there are all elaborately clipped into different styles, injecting vitality into the garden.
Dawn Redwood Lake
To the north of the Swan Lake, the Dawn Redwood Lake area contains most of the recreational activities, such as arrow shooting, horseback-riding, kart, bumper car, racing car and grass skiing. In addition to the entertainment facilities, you can also wander in the nearby Maple Garden and Sakura Garden, breathing the sweet air and enjoying the delightful scenery of flamboyant maples and full-blown flowers.
Bird-watching Terrace
There are plenty of trees in Dongping National Forest Park. Numerous migratory birds come to the park to reproduce all year round except winter. The birds' migration is the most spectacular sight in the park. At the southwest corner of the park, a terrace, equipped with two high-power telescopes, was specially built for visitors on the north bank of Longce Lake to watch this scene.
Barbeque and Camping Base
You can have a picnic or camp out at the northwest corner of the park. There is a grill zone to the north of Luming Lake, providing visitors fresh ingredients. After eating and drinking, lying on the grass is a good choice to relax. You can spend the night in the camping area enjoying the bright moon and starry sky, if you like. With the chirping of insects around, you will feel truly relaxed. You don't have to bring all your own equipment. There are tents and sleeping bags for rent.

How to get to Dongping National Forest Park
1. Take metro line 6, and get off at Wuzhou Dadao Station. Leave through Exit 2 and walk south. Take bus Shenchong Line 6 at Wuzhou Dadao Metro Station, and get off at South Gate Bus Station of Chongming Island. Then take Nandong Special Bus Line or Nanjiang Special Line, and get off at Forest Park Station.
2. Take metro line 1, and get off at Wenshuilu Station. Leave through Exit 4 and walk west. Take bus Shenchong Line 3 at Wenshuilu Gonghexinlu Station, and get off at South Gate Bus Station of Chongming Island. Then take Nandong Special Bus Line or Nanjiang Special Line to your destination.
Shanghai Bus / Metro Search
Admission Fee
CNY 70
For children between 1.3 and 1.4 meters (4.3 and 4.6 feet): CNY 35
Free for children less than 1.3 meters (4.3 feet).
Opening Hours
Monday - Friday: 8:30 – 16:00
Weekends and Holidays: 8:30 – 17:00
Price of the Recreational Facilities
(Reference Only)
Mini Train
CNY 20 / per person
Battery Car
CNY 30 / per person
One-seat Bicycle
CNY 20 / per hour
Tandem Bicycle
CNY 30 / per hour
Grass Skiing
CNY 50 / 30min / per person
Racing Car
CNY 20 / a round
Water Ball
CNY 20 / 5min
Kart
CNY 20 / a round / per person
Bumper Car
CNY 20 / 5min / per car
Aerial Car
CNY 30 / a round
Paintball
CNY 60 / 30 bullets / per person
Pirate Ship
CNY 20 /3min / per person
Two-man Pedalo
CNY 30 / 30min
Four-man Pedalo
CNY 40 / 30min
Tent for Two
CNY 100 / one night
Tent for Three
CNY 150 / one night
Horse-riding
CNY 30 / a round / per person
Twirling Cup
CNY 10 / 5min
Zip-Line
CNY 30 / per person / time
Twirling Horse
CNY 10 / 5min
Rock Climbing
CNY 30 / per person / time
Ovens in grill area
CNY 30 for small oven
CNY 60 for middle-size oven
CNY 100 for big oven
- Last modified on Jul. 10, 2019 -