Shanghai Geography
Geographical Location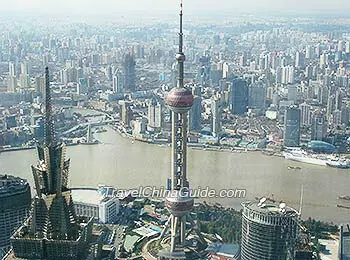 Shanghai is located on the east tip of Yangtze River Delta and halfway along China's eastern coastline. Based on Shanghai geography, It borders the estuary of Yangtze River to the north, Jiangsu and Zhejiang Provinces to the west and Hangzhou Bay to the south. Due to its advantageous geographical location, Shanghai has become a large and prosperous port city. Hereunder are the Shanghai geography features/characteristics:

Geographical Facts & Characteristics
Yangtze River Delta
The lower reaches of the Yangtze River running through the city bring lots of mud and sand to its estuary. The wind, the river flow and the tide jointly account for the alluvial plain including today's Yangtze River Delta.Shanghai landform on the east tip of the delta covers an area of 6,340.5 square kilometers (2,448.1 square miles). The altitude of the city lies between three and five meters. With comparatively soft and loose earth, the city has a slightly higher coastal area in the east and a lower hinterland to the west. The area around Dianshan Lake in the west of the city is the lowest. Plains cover most areas in its middle and east part including the city zone and part of Jiading, Minghang, Fengxian and Jinshan Districts.
Hills & Small Mountains
There are a few hills and small mountains in the southwest Qingpu and Songjiang Districts, including Tianma Mountain, Fenghuang Mountain, Hengshan Mountain and Xiaokunshan Mountain. This is another landscape features of Shanghai.
Offshore Islands
In additional, there are some offshore islands in the area of Shanghai geography, such as Dajinshan Island, Xiaojinshan Island and Fushan Island. Among them, Dajinshan with an altitude of 103.4 meters is the peak. There are three alluvial islands of
Chongming
, Changxing and Hengsha in the estuary of Yangtze River to the north of Shanghai mainland. Changxing and Hengsha are small islands under the jurisdiction of Baoshan District. Chongming is the only county of Shanghai. With an area of 1,041.21 square kilometers, the island is the third largest in China.
Densest Water Network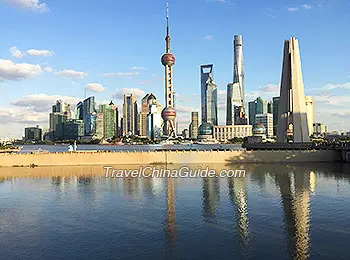 The water network inside the city is the densest and the most developed in China. A lot of rivers and lakes in the city provide sufficient water to facilitate the transportation and irrigation. The Yangtze River running eastwards to the sea through the north suburbs of the city is one of the main rivers. Huangpu River, the 'Mother River of Shanghai', is the last main tributary of the Yangtze River. Originating from the Taihu Lake in Jiangsu Province, Huangpu River runs through the city zone. Being wide, deep and never freezing, it contributes a lot to the city's transportation. Huangpu River has many tributaries such as Wusong River (alias Suzhou River). Wusong River with various historical monuments and buildings along its banks offers an important link between Shanghai and its hinterland. Dianshan Lake is the largest freshwater lake in the west Qingpu District, producing various aquatic products.
Lack of Natural resources
Shanghai geographical facts decide that natural resources are not abundant in the region. Natural vegetation is hardly seen except in a few areas such as Dajinshan Island, Sheshan Mountain and some cays and bottomlands. There are just cultivated crops, trees and flowers. The area is not a good habitat for wild animals, so animals there are always domestic. Shanghai also lacks mineral resources and energy sources. Only crude oil and natural gas are found in the offing of East China Sea and south Yellow Sea nearby.
- Last modified on Oct. 23, 2018 -
Questions & Answers on Shanghai Geography
Asked by Trinity Hobson from UNITED STATES | Oct. 23, 2018 11:09

Reply
I'd really like to go to Hangzhou Bay on my trip in Shanghai, do you recommend it?
Answers (1)
Answered by Hannah from USA | Oct. 23, 2018 23:10

0

0

Reply
Do you means the Hangzhou Bay economic and technological development zone? If yes, I won't recommend it to you because there are almost no attractions that can be visited. You are advised to take a tour to the Bund, Yuyuan Garden and Disneyland.
Asked by Meghan O Stalnaker from UNITED STATES | Jan. 18, 2018 11:53

Reply
what are the unique natural or human made features that I would see in the middle of shanghai?
Answers (1)
Answered by Amenda from UK | Jan. 18, 2018 21:02

2

1

Reply
For natural views, you can enjoy the Huangpu River on the Bund, and go to Yuyuan Garden. Man-made masterpieces in downtown include the buildings and complex on the Bund, Oriental Pearl TV Tower, and Jinmao Tower.
Asked by Anonymous from CALI | Mar. 04, 2015 18:37

Reply
What are the landforms in shanghai?
Answers (1)
Answered by Fiona from ITALY | Mar. 04, 2015 19:29

4

12

Reply
Except hills and mountains in the southwest, the rest areas are plains. The average elevation is about 4.4 yards. This area belongs to Yangtze River Delta and halfway along China's eastern coastline.
Asked by Mr. Study from SAMOA WESTERN | Feb. 10, 2015 10:59

Reply
What are major landforms in Shanghai?
Answers (1)
Answered by Max from UKRAINE | Feb. 10, 2015 20:11

6

6

Reply
This city mainly has large area plain. In the southwest, there are some hills. :-)
Asked by Anonymous from AUSTRALIA | Jul. 04, 2014 23:15

Reply
What are some of the main characteristics of Shanghai?
Could you please give me some links to some good websites for answers and pictures? Thankyou!! XD
Answers (2)
Answered by Jane from USA | Jul. 05, 2014 02:47

7

23

Reply
Do you especially refer to the geography or all aspects? For the latter, here is my own opinion:
1. Modern: it is a modern city, which is characterized by many modern buildings, such as Jin Mao Tower, Orient Pearl TV Tower and SWFC.

2. Busy: the pace of the city is faster than other cities in China. You can see people always being busy with work and they seem to rest a little.

3. Tourist: It has been one of the must-go places in China. There are many fashionable or ancient scenic spots attracting a large number of visitors.
Answered by Anonymous from AUSTRALIA | Jul. 08, 2014 23:10

7

7

Reply
Thanks very much. Your answer was very useful!!