Shanghai Economy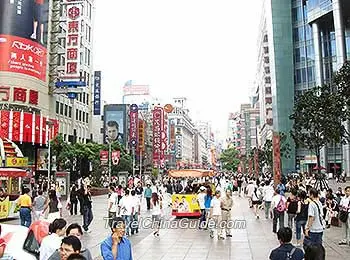 Shanghai is an important economic, financial, trade and shipping center in China. It contributes greatly to the whole nation's economic structure and the development of society. Taking up only 0.06% of the country's land area, Shanghai economy now generates about 8.3% of China's gross industrial output value, 10% of its ports' cargo-throughput, 25% of the total value of the country's imports and exports and 12.5% of the total revenue of China.

2018 Shanghai Economy Statistics & Facts
(Jan. - June.)
GDP: CNY 1.5 Trillion
Shanghai Economic Growth: 6.9%
GDP per capita: CNY 29,030

Agriculture
The government of Shanghai knows that the importance of agriculture cannot be overemphasized, so it always tries to develop planting, stockbreeding, forestry and fisheries. The city's advantageous geographical location endows it with favorable conditions for agricultural development. Despite the comparative shortage of arable land, moderate temperature, sunlight, rainfall and fertile soil make the region famous for its high yield of agricultural production in China. Generally the region can produce enough grain, meat, eggs, milk, vegetable and fruit for consumers in the city and suburbs. Some agricultural products are sold to neighboring areas or even exported to foreign countries.
The city has many modern agricultural zones. These includes Sunqiao Modern Agriculture Development Zone in Pudong New Area, Fengxian Modern Agriculture Zone in the south Fengxian District and many others in the suburbs including the districts of Baoshan, Jiading, Minhang, Songjiang, Jinshan as well as Chongming County. These urban agricultural zones attract a lot of foreign investment, advanced technologies and agricultural professionals.
In addition convenient transportation provides various fast links between the city zone and the suburbs which strengthen the cooperation of industry and agriculture. A system of distinctively export-oriented agriculture has be established here. As a result, farmers' incomes have increased.

Industry and Architectural Industry
The great leap of Shanghai economy benefited from the amazingly industries with Development. In the past the city gave priority to advanced manufacturing industries and promoted the construction of its industrial base and large projects. The manufacture of automobiles, electronic and communication equipment, petrochemicals, steel products, equipment assemblies and biomedicine had once been promoted as the six pillar-industries in Shanghai.
Shanghai still pays much attention to its industry. There are many industrial areas here such as Jinqiao Export Processing Zone in Pudong New Area, Zhangjiang Hi-Tech Park and some other processing zones in Jiading, Qingpu, Songjiang and Minhang Districts. As a result the city's industrial production continues to grow rapidly. There is no doubt that industry makes a lot of Shanghai economic development and profit; however, it is much more costly to the environment.
The architectural industry has also developed quickly in the area. The construction of airports, railways, highways, expressways, subways, maglev lines, ports, bridges and tunnels forms a convenient transportation network. Various commercial buildings, residential buildings and other infrastructure in the city create an open and pleasant environment for investment and further development.

Other Industries
Other booming industries, especially the service industries, contribute a lot to the Shanghai economy. In recent years the financial market system has gradually matured, providing citizens and tourists with improved services. Domestic and international trade also has developed quickly. The
Lujiazui Finance and Trade Zone
in Pudong is now becoming more and more influential. It brings together many financial and commercial institutions such as stock exchanges, securities companies and insurance companies, both Chinese and foreign.
Transportation, especially the metro system in this city, is developing vigorously, providing sufficient transport capability and good services. The prosperous postal services, communications and information industries facilitate daily communication among people.
Various other service industries are booming here, so that the living standards of its citizens are improved. These include catering, hotel, entertainment, tourism, real estate, education, culture, health, physical training, TV and broadcast, consultation and information services, technology services, public utilities and social welfare.

Shanghainese Economy: Present & Future
The good national policy of reform and opening up sped up Shanghai's development. Shanghai economic development has maintained a very high level for many years. The income of the locals has increased and the standard of living improved.
However, underlying problems can not be ignored. The growth of Shanghai economy is too dependent on manufacturing, especially heavy industry, which usually demands much more land and energy, often seriously polluting the environment. Other business segments such as the service industries occupy only a small portion of the industrial structure of the city. If the situation continues, it will unbalance or even damage the economy.
To solve the problem, Shanghai will continue to make efforts to transform the industrial structure and promote the advancement of service industries. Six new pillar-industries have been selected: information industry, financial services, commerce and trade, automobile manufacture, equipment assemblies and real estate. It is obvious that the city tends to accelerate the high-tech and service industries.
In this way the city can keep a balance between Shanghai economy and the environment. Moreover many local enterprises show increasing creativity and innovation in their development. More and more famous multinational corporations have set up their Asia Pacific headquarters in Shanghai. With the advent of World Expo 2010, the city will grow into an international metropolis to better serve and lead the economic development of the Yangtze River Delta, the Yangtze watershed and even all of China.

- Last updated on Aug. 23, 2018 -
Questions & Answers on Shanghai Economy
Asked by Larry Menner from UNITED STATES | Jul. 06, 2015 03:24

Reply
Could an American Citizen move to Shanghai, get dual citizenship and get a retirement income?
Answers (1)
Answered by Portia from DENMARK | Jul. 07, 2015 02:21

7

0

Reply
But China doesn't accept dual citizenship. So to get Chinese retirement income, you have to give up your US citizenship first and join Chinese nationality. Also there are strict regulations for a foreigner gaining the retirement income.
Asked by Obi-Wan Kenobi from CANADA | Jun. 17, 2013 17:21

Reply
Does Shanghai actually depend on agriculture?
Answers (2)
Answered by Wei from CHINA | Jun. 17, 2013 20:53

6

7

Reply
The city depends on trade, car, real estate, finance, information and manufacture of set of equipments.
Answered by Bob from AUSTRALIA | Nov. 03, 2013 14:13

7

2

Reply
How has it developed structure wise?