Oriental Land
Built in 2000, Oriental Land is a park consisting of eight districts with 16 natural and cultural sites and many facilities to satisfy all kinds of needs at different ages and levels. Visitors can also participate in over 30 activities, such as rock climbing, science discovery, outdoor training, and military experiences.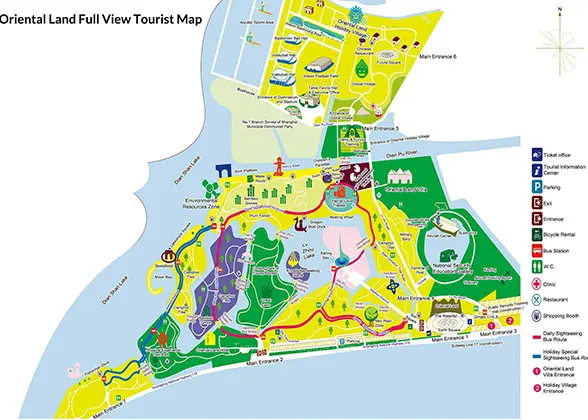 Map of Shanghai Oriental Land
Close to the beautiful Dianshan Lake, the Oriental Land covers 56 square kilometers (21 square miles), of which 20 square kilometers (7 square miles) is the water area. To the south, you may walk along the lake, cross some bridges and through the forest. The bamboo grove and some different-shaped stones will come into view. To the north, rows of over 30 villas of Spanish, English and American style show each country's culture. You can also enjoy all kinds of modern sports facilities in this area, like tennis courts, volleyball halls and swimming pools. To the east of the park, a large aircraft carrier stands to represent modern military. Walking to the west, you can see Moon Bay and Fisherman Dock. Walking along Lakeshore Avenue, you may appreciate the beautiful sunset of Dianshan Lake. Below are some main sites one should not miss:

Aircraft Carrier
Enter through the 4th gate of Oriental Land and you will see the huge aircraft aarrier built in its original proportion: 220 meters (240 yards) in length, 48 meters (52 yards) in width and 46 meters (150 feet) in height. Many entertainment facilities and the aviation museum are designed so children can increase their knowledge. There is a 4D cinema with the biggest screen in the world. To the east of the carrier, there is a Chinese 280th Navy Submarine on display.
Wisdom Avenue
To the southwest of the Aircraft Carrier, there is the long Wisdom Avenue with a length of over 700 meters (760 yards), including more than 160 statues of Chinese and foreign scientists, philosophers and artists where children can learn about the stories of these well-known people.
Global Village
The Global Village shows 26 exotic residential buildings of different countries, including Thai villa, Greek villa, an American wooden house and a cartoon elephant house. The village also offers visitors accommodation. There are also many sports activities, such as tennis courts, volleyball halls and indoor swimming pools.
Great Lawn
At over 170,000 square meters (200,000 yards), the Great Lawn has open space and a comfortable environment, suitable for hiking, flying kites and resting. Visitors can choose to prepare food and picnic on the grass ground, enjoying the warm sunshine.
Aquatic Activities Area
Due to the closeness to the Dianshan Lake, Oriental Land has many aquatic activities. The outer edge of the lake is so long that you can go for a walk and enjoy the natural landscapes. There you can also play the game, 'Hero's Road' with many special checkpoints like a rope-made bridge, a single-plank bridge, stakes and so on. When playing, you will need balance to avoid falling into the water. In addition, you can cruise on the lake by pedal boats, rowing boats, battery ships, amongst others.
You can take a walk in the large park or rent a bike to the sites and feel the joy of riding. There are single and tandem bicycles for you to choose. Single bicycles cost CNY 20 per hour and require a CNY 200 deposit. If you choose a tandem bicycle, you need pay CNY 30 per hour and CNY 300 deposit.
The best time to visit Oriental Land is in the Spring from April to May and in the Autumn from September to October for comfortable weather.
How to Get to Oriental Land:

Metro:
Take
Line 17
and get off at Oriental Land Station directly.

Bus:
1. Take the tourism bus line Qingpu A from Shanghai Stadium to get there. The bus departs daily from 07:30 to 11:00.
2. Take a special tourism bus from Yangpu Sports Center or Hongkou Football Stadium to get there. Both depart on weekends only.
3. Take Huzhu Express Line from Yan' an Road Puan Road, close to People's Square, to Zhujiajiao.Then change to Qingjin Line or Qinshang Line to get there.
4. Take Huzhu line from West Zhongshan Road Wuzhong Road Station, close to Xiqu Bus Station, to Zhujiajiao, then change to Qinjin line or Qinshang line to get there.
Admission Fee
CNY 50 per person
Free of charge for children below 1.3 meters (4.2 feet)
Opening Hours
8:30-16:30

Nearby Attractions:
Zhujiajiao Water Town
Dianshan Lake



​ Further Reading:


​ 15 Most Beautiful Places in Shanghai in Spring


12 Popular Shanghai Activities to Survive Summer​


Top 5 Shanghai Must See Places in May


15 Things to Do in Shanghai with Kids

- Last updated on Jul. 27, 2020 -
Questions & Answers on Oriental Land
Asked by John BIRTWISTLE from PORTUGAL | Aug. 04, 2019 19:51

Reply
Which exact part of the park is hosting the YIC youth football tournament taking part this week ..?
Answers (1)
Answered by Devon from USA | Aug. 07, 2019 18:16

0

0

Reply
Sorry, I haven't found the news about tournament taking part recently. How and where do you know it?
Asked by Just touring from UNITED KINGDOM | Jun. 03, 2019 00:13

Reply
When or - is Shanghai Oriental Land opened to the public?
The first park where there is more staff than tourists ...

All attractions closed ... but you can sit on the grass.

Half of this the park is closed at the beginning of June
Answers (1)
Answered by Darvin from AUSTRALIA | Jun. 03, 2019 23:19

0

0

Reply
Yes, it is opened now.
Asked by Andrew from AUSTRALIA | Jun. 30, 2018 04:16

Reply
Does Entry Fee of Shanghai Oriental Land Cover Everything?
If I want to take part in special acituvities within the park will it cost extra per activity?
Only 50 RMB to access everything seems very cheap.
Answers (1)
Answered by Junos from FINLAND | Jul. 01, 2018 22:38

0

0

Reply
No, CNY 50 is just the entrance fee. You need to pay extra money for the activities.