Shanghai Disney Resort
Shanghai Disney Resort, the first Disney theme park in mainland China, has been opened since June 16th, 2016. It's situated at Chuansha New Town in Pudong New Area.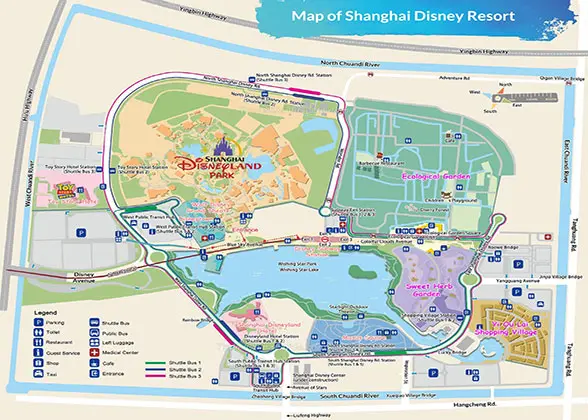 Map of Shanghai Disney Resort
(Click to enlarge)
Planned to be constructed as large as 1,730 acres (700 hectares), Shanghai Disney Resort presently covers an area of 964 acres (390 hectares) and consists of Shanghai Disneyland Park, the core zone, as well as Disneytown, Wishing Star Park, and two themed hotels.
The whole park is like a world full of wonders and fantasies. It features seven theme lands, respectively Mickey Avenue, Gardens of Imagination, Fantasyworld, Adventure Isle, Treasure Cove, Tomorrowland, and Disney Pixar Toy Story Land.

Blending authentic Disney style and Chinese elements, this park gives visitors a brand-new experience. On the Mickey Avenue, Mickey and his friends welcome world guests. Princesses out of animated classics interact with visitors in the Enchanted Storybook Castle. In the Treasure Cove, Captain Jack performs amazing stunts and guides you to an adventure to seek treasure and meet monsters. Both relaxing and thrilling facilities are available throughout the park, making visitors totally obsessed with this wonderland.

Ticket Type
Regular
Saturday, Sunday, public holidays, July & August
Standard (1.4m+ / 4.6ft+)
1-day
CNY 399
CNY 575
2-day
CNY 718
CNY 1,034
Child (1-1.4m / 3.3-4.6ft or aged between 3 and 11)
Senior (Age 65+)
Disabled (Certificate required)
1-day
CNY 299
CNY 431
2-day
CNY 538
CNY 744
A child under 1 meter (3.3 feet) or aged below 3 can enter for free when accompanied by an adult.
See how to get there.
See how to tour the park.
| | |
| --- | --- |
| Enchanted Storybook Castle, Disneyland Park | Performance in the Disneyland Park |
Disneytown
It is a large shopping mall in Shanghai Disney Resort where tourists can have a dinner or buy meaningful souvenirs. 50 gift shops of different classes, including high-end, entry luxury, and fashionable brands, are open to visitors. In the center stands the World of Disney Store, a railroad-themed marketplace selling toys, key rings, watches, and other products developed by Disney. The largest Lego store can be found as well. Some of the restaurants occupy favorable locations, providing leisure places for customers to appreciate the fascinating scenes inside the park. The landmark of this town, Walt Disney Grand Theater, where you can enjoy the Lion King Musical, is located on Broadway Plaza at the end of Broadway Boulevard.
Hotels
Near the park, there are two hotels, enabling visitors to linger and feel the charm of Shanghai Disney Resort in a slow pace.



Shanghai Disneyland Hotel:
Facing the Disneyland Park across a lake, this hotel owns an advantageous location. It takes you into an incomparable fairytale world once you step into the porch. Several statues of classic movie figures are displayed in this 17-acre (7-hectare) hotel. It has 420 guest rooms, all equipped with top-notch facilities. Besides, there are restaurants, a gym, a swimming pool and a meeting room.



Toy Story Hotel:
It is plenty of the elements in the animated movie series with Sheriff Woody wing and Buzz Lightyear wing. You will feel immersed in the world of the toy story, surrounding by the pictures, statues, and voices of the cartoon figures. There are altogether 800 guest rooms.

See More:
6 Hotels near Shanghai Disneyland
Wishing Star Park
Adjacent to Disneytown in the north and Shanghai Disneyland Hotel in the south, the Wishing Star Park is a place for you to escape from the hustle and bustle of modern life. It covers an area of nearly 100 acres (40 hectares), with the Wishing Star Lake being the main attraction. A 1.5-mile-long (2.5-km-long) walking path snakes through the wetlands and gardens. The place is a good option to appreciate sunset and natural sceneries. The interesting thing is that the park's name is inspired by the classic line "when you wish upon a star" in the Disney film The Adventures of Pinocchio. When the night falls, the dazzling firework light reflects in the lake, reminding visitors of the romantic scenes in fairy tales.
Shanghai Disney Store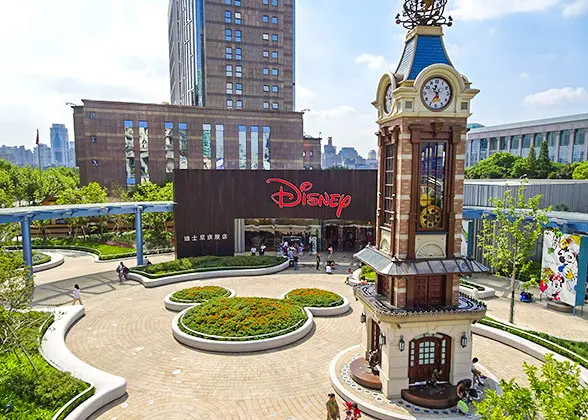 For shopping lovers and big fans of Disneyland, they can go to Shanghai Disney Flagship Store near the Oriental Pearl Tower in the downtown area.

It is the world's largest Disney store providing more than 2,000 kinds of commodities ranging from small gadgets to dresses and big dolls, among which 99% are exclusively sold at Disney Stores.

A three-minute castle show is put on every one hour. This store differentiates itself from others in Marvel Shopping Zone, where you can see the life-size statues of Marvel super heroes like Iron Man, Thor, Captain America and Hulk.

- Last updated on Apr. 24, 2023 by Catherine He -
Questions & Answers on Shanghai Disney Resort
Asked by jenchan from PHILIPPINES | Nov. 16, 2019 14:10

Reply
do you need a shanghai Disneyland ticket to watch beauty and the beast in disney grand theater
is disney grand theater located insude the disneyland theme park or just outside? do
they require you to buy a Disneyland theme park ticket before purchasing a beauty and the beast ticket?
Answers (1)
Answered by Kimmy from AUSTRALIA | Nov. 18, 2019 19:52

0

0

Reply
Hi, Disney Theater isn't in Disneyland theme park. You just need to buy the theater ticket to watch the show.
Asked by carin from MALAYSIA | Aug. 29, 2019 08:10

Reply
where can i view the performance timetable of Shanghai Disney Resort?
and how to download the Disneyland app? thank you!
Answers (2)
Answered by Jeremy from USA | Sep. 01, 2019 23:30

0

0

Reply
You can go to its official website: Shanghaidisneyresort.com and go check. You can download this app in Android or Apple system.
Answered by carin from MALAYSIA | Sep. 03, 2019 21:10

0

0

Reply
Thank you for your reply
Asked by rufaida from BANGLADESH | Apr. 13, 2019 06:39

Reply
Can I go to Shanghai disneyland park to disneytown?
I mean if I go out,do I have to buy new ticket.Or there is a way inside the park to go to disneytown.I have one day.I want to have lunch there and come back to the park
Answers (1)
Answered by Eva from DENMARK | Apr. 16, 2019 20:23

0

0

Reply
No, you don't need to pay the extra entrance ticket.
Asked by Jimmy from USA | Mar. 14, 2019 05:10

Reply
Does Shanghai Disneyland Resort have stores outside the park?
or Do I have to buy a ticket to go shopping?
I just want to buy a sweater
Answers (1)
Answered by Andrew from CAMEROON | Mar. 19, 2019 00:16

0

0

Reply
Yes, there are several stores outside. You can buy the souvenirs there.
Asked by Rizal from INDONESIA | Sep. 01, 2018 03:17

Reply
Is there any supermarket or convinience store near or in disneyland? If there is where?
Thank you
Answers (1)
Answered by Mike from RUSSIA | Sep. 02, 2018 23:33

0

0

Reply
Yes, there is a FamilyMart Convenience Store in the basement of Disneyland metro station.