Jing'an Temple
Jing'an Temple is one of the most famous temples in Shanghai which is located at West Nanjing Road, Jing'an District, the flourishing downtown area of Shanghai. In 1983, it was put on the list of key national protection.

The temple has a history of more than 780 years. First built in the Three Kingdoms Period (220-280), it was named Hudu Chongyuan Temple. In the Southern Song Dynasty (1127-1279), it was moved to the present location from the bank of Wusong River and became a busy and crowded place until 1908; the first tramcar was built as Jing'an Temple for its starting station. Later, a famous calligrapher renamed it as Jing'an Temple in 1945 and is still named as such today. Unfortunately, the temple was burnt down to ruins in 1972. However, the reconstruction began after 1984, so the Hall of Heavenly Kings and the Three-Sage Hall were repaired in succession. In 1990, the whole temple was finally opened to the public.
| | |
| --- | --- |
| The Grand Gate | The inside Scenery |

Pictures of Jing'an Temple
There were eight scenes in the former Jing'an Temple that previously enjoyed great popularity. Most of them are extinct but the Estavel (Yong Quan) which was in front of the temple was excavated in May 5th, 2009. The spring water gushed out day and night, so people called it 'boil well'. It was regarded as the 'Sixth Spring under Heaven'. After reconstruction, the spring was relocated at the crossing of Huashan Road and West Nanjing Road, and regained its former charm.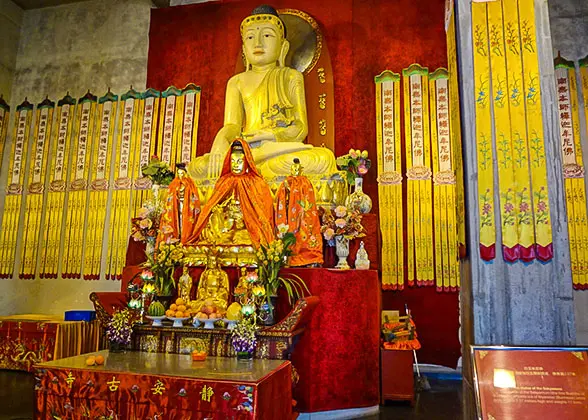 The Statue of Jade Buddha
There are three main halls here: The Mahavira Hall, the Hall of Heavenly Kings and the ThreeSage Hall. In Mahavira Hall, the biggest pure jade portrait of Sakyamuni in Mainland China is placed. The jade Buddha has a height of 3.78 meters (about 12 feet), a weight of 2.6 meters (about 9 feet) and a weight of 11,000 kilograms. It was so big that the wall was torn down when it was moved into the hall. With a kind and tranquil facial expression, the Buddha radiates venerability and auspiciousness.
Jing'an Temple is a good place to escape the hustle and bustle of crowds in downtown Shanghai. In the meantime, you can enjoy the marvellous painting and calligraphy by Yangzhou's Eight Eccentric Painters in the Exhibition Hall of Buddhist Relics. An important display of this temple is the bronze bell which was made in the Ming Dynasy (1368-1644).
Temple Fair is held here once a year. In the eighth year during the reign of
Emperor Guangxu
, Qing Dynasty, the first Festival of Buddha's Birthday was held on 8th day of Lunar April, villagers all came here to sell handcrafted goods, agricultural and sideline speciality products. The Temple Fair lasts three days and many people from near and far came to worship during the fair. Gradually, business in this district became prosperous. From then on, Temple Fair became a tradition, held annually on that day.
Jing'an Terminal Building of Shanghai Airport is opposite to the Jing'an Temple Station of Metro Line 2 (out of the station from Exit 3). You can take Airport Bus Line 2 there to
Pudong Airport
directly.
How to get to Jing'an Temple Shanghai

By metro:
Take
Line 2
or
Line 7
and get off at Jing'an Temple Station. Leave from Exit 1 to the temple directly.

By bus:
Take bus 15, 20, 40, 113, 315, 321, 330, 824, 830 or 927 and get off at Jing'an Temple Station.
Shanghai Bus / Metro Search
| | |
| --- | --- |
| Entrance Fee | CNY50; the price may be up to CNY100 on holidays. |
| Opening Hours | 07:30 -18:00 (04:30 to 17:00 during the incense period, which usually refers to the 1st and 15th days of each lunar month) |

Recommended Nearby Attractions:
1.
Zhongshan Park
2.
Nanjing Road

Read more:
Places of Interest in Shanghai: 12 Historical Sites to Explore
Top 10 Famous Temples in Shanghai
Print
- Last updated on Sep. 28, 2023 by Gabby Li -
Questions & Answers on Jing\an Temple
Asked by Soe Soe Moe from MALAYSIA | Jan. 29, 2023 01:10

Reply
How to go from jingan temple to east xujing?
Answers (1)
Answered by Anna | Jan. 31, 2023 17:55

0

0

Reply
You can take metro line2 to Xujing East metro station directly.
Asked by TZ from USA | Jan. 07, 2020 05:40

Reply
I heard there is a vegetarian restaurant at Jing'an Temple. How much does it cost?
Answers (1)
Answered by Heloise from FRANCE | Jan. 07, 2020 22:27

0

0

Reply
Gong De Lin Restaurant is recommended, which is located at No.82, Wuyuan Road, Xuhui District. The per capita consumption is CNY 40 to CNY 50.
Asked by Kiersten Solomon from USA | Jan. 24, 2019 18:41

Reply
When the Shanghai Jing'an Temple March is it open?
Will this be open from March 7-10?
Answers (2)
Answered by Alexis from USA | Jan. 28, 2019 19:36

0

0

Reply
Yes, it will open during that period of time.
Answered by Kiersten from USA | Jan. 29, 2019 05:31

0

0

Reply
Thank you. I just realized how poorly worded my question was so I'm glad you understood it haha.
Asked by Ashley from USA | May. 07, 2017 22:50

Reply
Does Shanghai Jing'an Temple Open Mondays?
I have heard that many tourist attractions and museums are closed on Mondays.
Answers (1)
Answered by Carl from IRELAND | May. 10, 2017 02:36

0

0

Reply
As I know, it opens on Monday. The opening time is from 7:30 to 17:00.
Asked by rajeshkpillai2001 | Mar. 24, 2015 09:35

Reply
Is shanghai jing'an temple worth visiting? how much time reqd?
what is the entrance fee? couldnt make out from what is writtrn above. Pls guide
Answers (2)
Answered by Maria from FRANCE | Mar. 25, 2015 03:49

1

5

Reply
Yes, it is worth visiting. The entrance fee is CNY50. 1-2h's visiting is recommended.
Answered by SP Shukla from INDIA | Aug. 21, 2016 18:55

4

0

Reply
Yes it is worth visiting . In addition to religious significance, please note Ashoka Pillars depicting 4 lions facing 4 directions . Main pillar is just outside the temple near main gate. There are several smaller versions inside. Emperor Ashoka of India spread Buddhism all over the world . Four Lions from original Ashoka Pillar in India are now the national emblem of India and appear on all Indian currency notes and coins.