China Weather in January
Season: Winter
China in January is right in winter. Northern cities at high latitude are in the coldest time along with snow fall. In the southern cities of China at low latitude like Guangzhou, Hong Kong and Sanya, it is much better and one does not feel cold most of the time. China temperature in January displays a decreasing trend from south to north mainly due to different latitudes.

The coldest cities in China in January:
Harbin: -24°C (-11°F), Changchun: -20°C (-4°F), Yinchuan: -14°C (6°F), Hohhot: -17°C (1°F).

The hottest cities in China in January:
Sanya: 26°C (78°F), Beihai: 19°C (66°F), Guangzhou: 18°C (64°F), Fuzhou: 15°C (59°F)

See more:
Winter in China – Weather & Tour Tips
Averages for China Weather in January



Rainfall

Sunrise
07:25 - 07:36

Sunset
16:59 - 17:32
The times for sunrise and sunset are based on Beijing.
China Temperatures in January
Based on the average temperature of China weather in January, you need to wear winter clothes to keep warm, such as long underwear, thick overcoat, thick sweater, winter pants, cotton wadded jacket, turtleneck shirts, down coat, snow boots, earmuff, hat, scarf and gloves. In northern areas of China, there is proper heating system installed and wearing a thin sweater is enough indoors. However, this is not always the case. What to wear in China in January mainly depends on the area or city you actually go to.


February Travel Guide - Where to Go & Tips
Tourism Rate: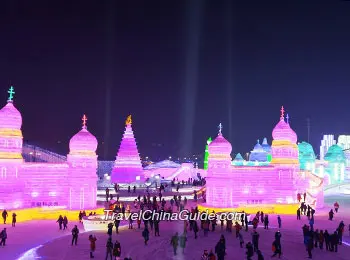 Harbin Ice and Snow Festival
January is the coldest time of China and there are two totally different kinds of travel destinations in China. Many tourists choose to visit some northern cities or areas, such as Harbin for
Ice and Snow Festival
and Snow Town for skiing, while some choose to enjoy themselves in warmer southern China like Hainan.
If you go to the North China for snow view, take enough clothes to keep warm. The road in winter is more slippery, so you'd better wear antiskid shoes. IPhone and camera are easy to power off in the temperature of under 20°C (68°F) so remember to put them inside your coat in time to keep warm and take them out when you need them.
Read more about
China's Top 5 Places to Travel in January
​China Regional Weather in January
Beijing & Northeast China
Major Destinations: Beijing, Tianjin, Harbin, Dalian, Shenyang, Inner Mongolia…
Temperatures: -28 – -8°C (-18 – 18°F)

The weather in January is cold and dry in Northeast China, under zero temperature (32°F). The higher latitude is, the colder it is. Nevertheless, it is a good time for tourists to enjoy the snow view and skiing.

Clothing: hat, gloves, earmuff, snow boot, cotton-padded clothes and trousers, down coat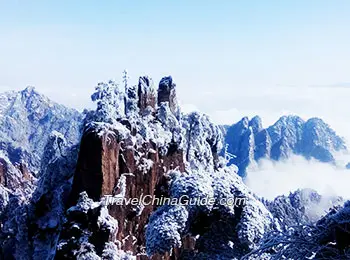 Snow Covered Yellow Mountain
Major Destinations: Shanghai, Hangzhou, Suzhou, Nanjing, Huangshan (Yellow Mountain), Nanchang, Fujian, Shandong…
Temperatures: -5 – 5°C (23 – 41°F)

Generally, it is cold and humid in January in East China but most cities don't reach below zero. It is an appropriate time to see the rime and the sea of clouds on
Yellow Mountain
.
Clothing: down jacket, raincoat, waterproof shoes, umbrella

Major Destinations: Xi'an, Chengdu, Luoyang, Zhangjiajie, Wuhan, Yangtze River…
Temperatures: -3 – 2°C (26 – 35°F)

The climate in January in Central China is cold and dry and snow often falls in this month. You'd better visit some indoor attractions like
Terracotta Army
in Xi'an. If going outside, wear a mask as the air is sometimes heavily polluted this month.
Clothing: winter warm clothes, gloves

Major Destinations: Guilin, Hong Kong, Guangzhou, Yunnan, Guizhou, Hainan…
Temperatures: 10 – 12℃(50 – 53°F)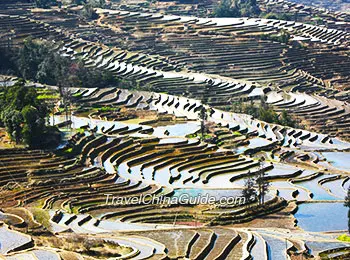 Yuanyang Rice Terraces
It is mild with less rain in January in South China. It is an ideal destination to escape winter coldness. In Sanya, you can even wear summer clothes. In Kunming, it is sunny with comfortable temperature and you can have a great view of Cuihu or feed blackheaded gulls at
Dianchi Lake
.
Yuanyang Rice Terraces
in Yunnan is also a good choice. In January, it is the irrigation time and you can witness the beauty of the glittering water; its sunrise and sunset are also popular among shutterbugs.
Clothing: wind coat, sweater, jacket, overcoat

Major Destinations: Tibet, Xinjiang, Gansu, Qinghai…
Temperatures: -12 - 5℃(10 – 41°F)

It is cold and dry in West China along with snowfalls. The temperature varies widely from day to night in January. It is not a good time for a visit. If going, prevent from getting cold by drinking more water and wear enough warm winter clothes.

Clothing: warm winter clothes
​January Weather of Major Chinese Cities
January

Temperature

Sunrise / Sunset
Humidity
(%)
High
Low
Beijing

2°C/ 36°F

-9°C / 16°F
07:25/ 17:32
44
Changsha
8°C / 46°F

-1°C / 30°F
07:20/ 18:07
84
Chengdu
3°C / 37°F

9°C / 48°F
07:56/ 18:38
79
Chongqing
11°C / 52°F

6°C / 43°F
07:45/ 18:30
83
Guangzhou
18°C / 64°F

10°C / 50°F
07:08/ 18:13
72
Guilin
12°C / 54°F

5°C / 41°F
07:23/ 18:22
73
Guiyang
2°C / 36°F
07:41/ 18:34
79
Hangzhou
8°C / 46°F

1°C / 34°F
06:51/ 17:35
75
Harbin
-13°C / 9°F

-24°C / -11°F
06:58/ 16:36
72
Hohhot

-5°C / 23°F

-17°C / 1°F
07:44/ 17:48
57
Hong Kong
19°C / 66°F

14°C / 57°F

07:03/ 18:11
74
Huangshan

1°C / 34°F

-6°C / 21°F
06:56/ 17:43
65
Kunming
15°C / 59°F

2°C / 36°F

07:53/ 18:53
68
Lhasa
7°C / 45°F

-9°C / 16°F
08:46/ 19:32
28
​Lijiang

14°C / 57°F

0°C / 32°F

08:05/ 17:32
46
Luoyang

6°C / 43°F

-5°C / 23°F
07:24/ 17:52
/
Nanjing

7°C / 45°F

-1°C / 30°F
06:59/ 17:37
76
Pingyao

-10°C / 14°F

07:34/ 17:51
52
Qingdao
3°C / 37°F

-3°C / 27°F
07:14/ 17:36
63
Sanya
19°C / 66°F

/
Shanghai
1°C / 34°F
06:48/ 17:28
75
Shenzhen

20°C / 68°F

12°C / 54°F
07:04/ 18:12
70
Suzhou
8°C / 46°F

1°C / 34°F
06:51/ 17:31
73
Tianjin
2°C / 36°F

-8°C / 18°F
07:18/ 17:30
56
Urumqi
-8/ 18°F

-17°C / 1°F
09:27/ 19:18
78
Wuhan
8°C / 46°F

0°C / 32°F
07:14/ 17:57
77
Xiamen
17°C / 63°F

10°C / 50°F
06:49/ 17:52
75
Xi'an
5°C / 41°F

-4°C / 25°F

07:43/ 18:12
66
Zhangjiajie
9°C / 48°F

2°C / 36°F
07:27/ 18:15
75
Zhengzhou

6°C / 43°F

-4°C / 28°F

07:24/ 17:53
60
- Last updated on Dec. 29, 2020 -
Questions & Answers on China Weather in January
Asked by Salim jasani from INDIA | Nov. 04, 2018 01:28

Reply
What is the weather in Beijing and Shanghai in November?
Answers (1)
Answered by Jim from NETHERLANDS | Nov. 04, 2018 18:15

0

0

Reply
The temperature is about -3 to 13C in Beijing and 5 to 18C in Shanghai.