China Weather in July
In the mid-summer, July is the hottest month in China. How hot does it get in China in July? The average high temperature can reach about 30°C (86°F) while in the hottest cities including Xi'an, Wuhan, and Turpan, the highest temperature can reach even above 40 °C (104°F).The weather is also the rainiest throughout the whole year.
In spite of the hot and rainy climate, July is peak travel season due to summer vacation and vibrant natural scenery which tends to influence higher hotel rates, flight ticket fare, and busy scenic spots.

The coldest cities in China in July:
Harbin: 18°C (64°F), Changchun: 19°C (66°F), Yinchuan: 18°C (64°F), Hohhot: 16°C (61°F)

The hottest cities in China in July:
Sanya: 32°C (90 °F), Nanjing: 32°C (90 °F), Wuhan: 33°C (91 °F), Chongqing:34°C (93 °F), Xi'an: 32°C (90 °F), Urumqi: 30°C (86°F)

See more:
Summer in China – Weather & Tour Tips
Averages for China Weather in July

30°C (86°F)

21°C (70°F)

Rainfall
156 mm (6 in)

Sunrise
04:49 ~ 05:12

Sunset
19:30 ~ 19:47
The times for sunrise and sunset are based on Beijing.
China Temperatures in July
Wear light and cool clothes during the hot season including T-shirt, shorts, dress, skirt, short shirt and sandals. In addition, take a sunhat, sunglasses, sun-proof clothing, sun umbrella and sunblock to prevent ultraviolet raya and protect your eyes and face. However, what you wear largely depends on where you go.


July Travel Guide - Where to Go & Tips
Tourism Rate: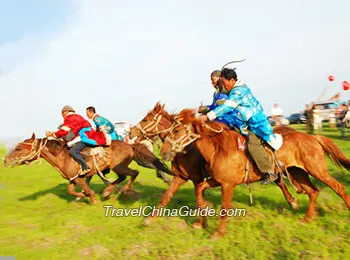 Horse Racing in Inner Mongolia
July is one of the busiest travel months in China due to the summer holiday, when many parents will take their children for a day out. Some interesting attractions with lesser crowds and cooler temperatures include
Qinghai Lake
and
Chaka Salt Lake
in Qinghai Province and the holy mountains and lakes in Lhasa and the
Yangtze River
. Meanwhile Guizhou is a great summer resort where you can enjoy a great view of
Huangguoshu Waterfall
and mysterious ethnic villages. Further north of China, in Inner Mongolia you can experience living in the yurt, eating a roast lamb, horse riding and watching the sunset and sunrise on the grasslands. Nowadays, the Silk Road is also becoming more and more popular. As you travel along this remarkable road, you will see many historic and cultural sites while learning more about ancient Chinese culture.
It may be crowded in some popular attractions in this peak travel month, just please prepare for the big crowds, and book the hotel and air tickets as early as possible. In the hot summer, the best time to do outside activities is before 10 a.m. or after 4 p.m.
China Regional Weather in July
Beijing & Northeast China
Major Destinations: Beijing, Tianjin, Harbin, Dalian, Shenyang, Inner Mongolia…
Temperatures: 22 - 31°C (72 - 88°F)

In July, North China is hot and rainy, although it is cooler than in the southern areas. You can even take a tour to the grassland in Inner Mongolia to see the local traditional fair. Nadam Fair is a Mongolian tradition ritually celebrated amongst the herds people and filled with jubilant celebrations of dances and songs, horse racing and wrestling. To do outdoor activities like climbing
the Great Wall
in Beijing, you are advised to do this in the early morning.
Clothing: T-shirt, shorts, dress, skirt, short shirt, sandals, sneakers…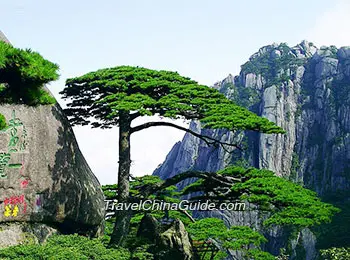 Major Destinations: Shanghai, Hangzhou, Suzhou, Nanjing, Huangshan (Yellow Mountain), Nanchang, Fujian, Shandong…
Temperatures: 25 - 32°C (77 - 90°F)
In this region, the scorching weather will appear every now and then in this month, along with more rainfall. On sunny days, you can go to
Yellow Mountain
in Anhui or
Purple Mountain
in Nanjing to escape the summer heat. You can also spend a day in the ancient water towns around Shanghai.
Clothing: T-shirt, shorts, dress, skirt, short shirt, sandals…
Major Destinations: Xi'an, Chengdu, Luoyang, Zhangjiajie, Wuhan, Yangtze River…
Temperatures: 25 - 34°C (77 - 93°F)

The high temperatures and large rainfall in this region often see people flock to the local summer resorts with lower temperature and beautiful natural scenery, such as
Zhangjiajie National Forest Park
. Boating on the Yangtze River is also a good choice to escape the hot climate in July.
Clothing: T-shirt, shorts, dress, skirt, short shirt, sandals…
Major Destinations: Guilin, Hong Kong, Guangzhou, Yunnan, Guizhou, Hainan…
Temperatures:26 - 33°C (79 - 91°F)

In this region, along with hot weather, there usually appears some rainy days, even the rainstorm and typhoons. In this month, you are not advised to travel to the coastal cities. Meanwhile Guizhou and Yunnan are good choices to appreciate charming natural scenery with relatively lower temperature.

Clothing: T-shirt, shorts, dress, skirt, short shirt, sandals, sneakers

Major Destinations: Tibet, Xinjiang, Gansu, Qinghai…
Temperatures: 12 - 23°C (54 - 73°F)

Compared with other regions in China, the western part is relatively cooler. It is an ideal travel destination in the hot season. You can travel to Lhasa in Tibet in July, where the climate is cool due to the high altitude. However, if you travel to Tibet, remember to take light coats and thin jeans for the nighttime. Southern Gansu also is a pleasant place for viewing the grassland and experiencing the unique Tibetan customs.

Clothing: T-shirts, shirts, shorts, jeans, light coat and pants, sneakers, hat, sunglasses…


July Weather of Major Chinese Cities
July
Sunrise / Sunset
Humidity
(%)
High

Low

31°C / 88°F
22°C / 72°F
04:49 / 19:47
75
Changsha

33°C / 91°F
25°C / 77°F
05:34 / 19:29
78
Chengdu

30°C / 86°F
22°C / 72°F
06:04 / 20:10
84
Chongqing

33°C / 91°F
25°C / 77°F
05:57 / 19:58
76
Guangzhou

33°C / 91°F
26°C / 79°F
05:45 / 19:17
82
Guilin
33°C / 91°F
25°C / 77°F
05:52 / 19:34
79
Guiyang
33°C / 91°F
23°C / 73°F
06:03 / 19:50
76
Hangzhou

33°C / 91°F
25°C / 77°F
04:49 / 19:47
78
28°C / 82°F
18°C / 64°F
03:48 / 19:27
77
Hohhot

29°C / 84°F
16°C / 61°F
05:05 / 20:08
61
Hong Kong

32°C / 90°F
27°C / 81°F
05:44 / 19:12
83
Huangshan

20°C / 68°F
16°C / 61°F
05:09 / 19:13
92
Kunming

24°C / 75°F
17°C / 63°F
06:23 / 20:03
83
Lhasa

23°C / 73°F
10°C / 50°F
06:59 / 21:00
62
Lijiang

23°C / 73°F
15°C / 59°F
06:29 / 20:17
81
Luoyang

32°C / 90°F
23°C / 73°F
05:20 / 19:47
/
Nanjing

32°C / 90°F
25°C / 77°F
05:02 / 19:15
81
Pingyao
30°C / 86°F
18°C / 64°F
05:14 / 19:55
68
Qingdao

27°C / 81°F
22°C / 72°F
04:45 / 19:19
87
Sanya

32°C / 90°F
26°C / 79°F
06:09 / 19:22
/
Shanghai

32°C / 90°F
25°C / 77°F
04:54 / 19:02
80
Shenzhen

32°C / 90°F
26°C / 79°F
05:43 / 19:12
79
Suzhou

32°C / 90°F
25°C / 77°F
04:56 / 19:06
76
Tianjin
31°C / 88°F
23°C / 73°F
04:48 / 19:41
76
Urumqi

30°C / 86°F
19°C / 66°F
06:31 / 21:55
43
Wuhan

33°C / 91°F
25°C / 77°F
05:24 / 19:29
79
Xiamen

32°C / 90°F
25°C / 77°F
05:22 / 19:00
82
Xi'an

32°C / 90°F
22°C / 72°F
05:36 / 20:00
71
Zhangjiajie

33°C / 91°F
24°C / 75°F
05:43 / 19:42
78
Zhengzhou

32°C / 90°F
23°C / 73°F
05:15 / 19:42
78
- Last updated on Apr. 20, 2021 -