Hangzhou Weather in July
Hangzhou weather is very hot in July with an average high temperature of 33°C (91°F). Generally speaking, July and August are the hottest months here. Sometimes, the temperature reaches as high as 38°C (110.4°F) or even higher. In addition, the rainy season ends by early July and the weather turns into sunny and hot with little rain controlled by subtropical high in the later period of this month. Usually, there are only temporary thunderstorms in the afternoon.
Hangzhou is very beautiful in summer with clear water, blue sky and verdant landscapes. However, tourists are advised to avoid going outside around midday. Moreover, you should make travel plans in advance because July is also the summer vacation for Chinese students.
Averages for Hangzhou Weather in July
Temperature: 28°C / 82°F
High Temperature: 33°C / 91°F
Low Temperature: 25°C / 77°F
Humidity: 78%
Rainfall: 159 mm
Rainy Days:13 days
Sunrise: 04:49 ~ 05:12
Sunset: 19:30 ~ 19:47
Air Quality in July
Average AQI:36

What to Wear in Hangzhou in July
Summer clothes, such as short-sleeve shirt, skirt and short pants are suitable for the climate in Hangzhou in July. Breathable clothes are better like those are made of 100% cotton. It is also necessary to check the weather forecast before travel, and remember to take an umbrella with you in case it rains.


Things to Do in Hangzhou in July
West Lake
, as the must-see attraction in Hangzhou, is amazing. You can take a few days to explore beautiful sceneries that circle around the lake. July is also the best time to enjoy lotus in Quyuan Garden in front of the Tomb of General Yue Fei. The garden is free of charge, and the lotus there is regarded as one of 'Ten Views of the West Lake'. Other recommended attractions include
Lingyin Temple
and
Running Tiger Spring
.
Mt. Putuoshan
is also a good choice as a summer resort.
Do not stay outside long under the hot sun because you may be liable to sunstroke. Besides, listen to the weather forecast every day, and avoid going out if there is a thunderstorm, especially in the afternoon.
What is the temperature in Hangzhou in July?
High/Low Temperatures of Hangzhou in July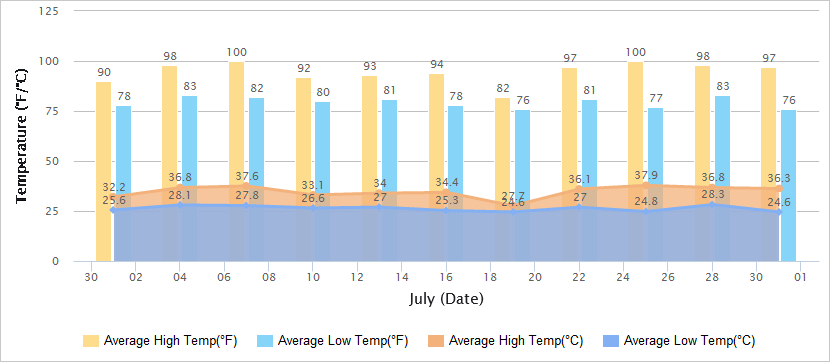 Air Quality of Hangzhou in July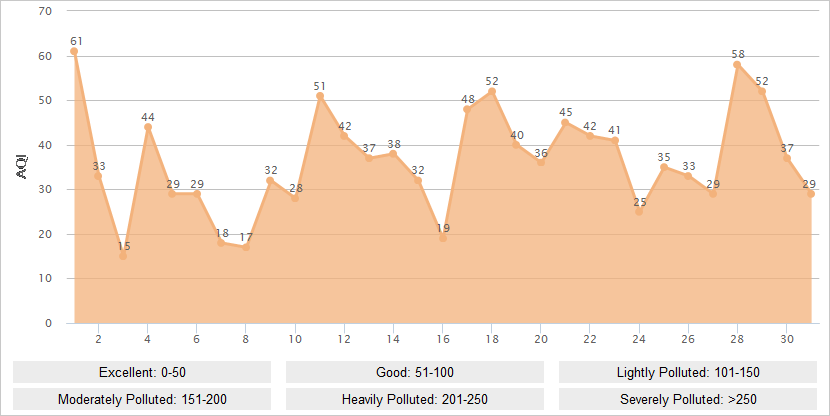 Historical Hangzhou Weather in July
Jul
Temperature
Sunrise / Sunset
Humi-
dity
(%)
High
Low
1
32.2°C / 90°F
25.6°C / 78.1°F

05:01 / 19:05

82
2
35.8°C / 96.4°F
26.5°C / 79.7°F
05:01 / 19:05
66
3
35.7°C / 96.3°F
27.3°C / 81.1°F
05:02 / 19:05
63
4
36.8°C / 98.2°F
28.1°C / 82.6°F
05:02 / 19:05
61
5
35.4°C / 95.7°F
27.2°C / 81°F
05:03 / 19:05
70
6
37.3°C / 99.1°F
28.6°C / 83.5°F
05:03 / 19:05
64
7
37.6°C / 99.7°F
27.8°C / 82°F
05:04 / 19:05
60
8
33°C / 91.4°F
27.7°C / 81.9°F
05:04 / 19:05
74
9
31.4°C / 88.5°F
26.5°C / 79.7°F
05:05 / 19:04
80
10
33.1°C / 98.6°F
26.6°C / 79.9°F
05:05 / 19:04
72
11
32.6°C / 90.7°F
27.3°C / 81.1°F
05:06 / 19:04
72
12
31.4°C / 88.5°F
26.8°C / 80.2°F
05:06 / 19:04
70
13
34°C / 93.2°F
27°C / 80.6°F
05:07 / 19:03
73
14
31.4°C / 88.5°F
26°C / 78.8°F
05:07 / 19:03
78
15
32.3°C / 90.1°F
24.4°C / 75.9°F
05:08 / 19:03
81
16
34.4°C / 93.9°F
25.3°C / 77.5°F
05:08 / 19:02
77
17
33.5°C / 92.3°F
25.3°C / 77.5°F
05:09 / 19:02
77
18
33°C / 91.4°F
26.2°C / 79.2°F
05:09 / 19:02
78
19
27.7°C / 81.9°F
24.6°C / 76.3°F
05:10 / 19:01
88
20
34.5°C / 94.1°F
23.7°C / 74.7°F
05:11 / 19:01
70
21
35.5°C / 95.9°F
26.2°C / 79.2°F
05:11 / 19:00
63
22
36.1°C / 97°F
27°C / 80.6°F
05:12 / 19:00
68
23
37.1°C / 98.8°F
25.9°C / 78.6°F
05:12 / 18:59
76
24
38.1°C / 100.6°F
25°C / 77°F
05:13 / 18:59
76
25
37.9°C / 100.2°F
24.8°C / 76.6°F
05:14 / 18:58
69
26
38.4°C / 101.1°F
28.2°C / 82.8°F
05:14 / 18:57
64
27
36.3°C / 97.3°F
29.4°C / 84.9°F
05:15 / 18:57
56
28
36.8°C / 98.2°F
28.3°C / 82.9°F
05:15 / 18:56
50
29
36.7°C / 98.1°F
28.3°C / 82.9°F
05:16 / 18:56
54
30
38.2°C / 100.8°F
27.9°C / 82.2°F
05:17 / 18:55
56
31
36.3°C / 97.3°F
24.6°C / 76.3°F
05:17 / 18:54
68
- Last updated on Aug. 22, 2022 -