Hangzhou Weather in November
Hangzhou is in late autumn weather in November, so the leaves begin to fall when winds rise. However, the autumn leaves make the city charming and attractive as well. The temperature drops continuously but with less rain, and sometimes the weather is frosty and foggy. The average high and low temperatures are respectively 17°C (63°F) and 9°C (48°F), so the climate can still be suitable for travel.
Moreover, there are fewer tourists compared to October, so you will keep costs down and have a much more profound experience in Hangzhou.
Averages for Hangzhou Weather in November
Temperature: 12°C / 54°F
High Temperature: 17°C / 63°F
Low Temperature: 9°C / 48°F
Humidity: 74%
Rainfall: 60 mm
Rainy Days: 9 days
Sunrise: 06:13 ~ 06:37
Sunset: 16:59 ~ 17:13
Air Quality in November
Average AQI:68

What to Wear in Hangzhou in November
Bring coats and sweaters for this month, because the weather may change greatly influenced by cold air from northern China. Thick coats are necessary for outdoor activity at night.


Where to Go in Hangzhou in November
Apart from the beautiful golden leaves, November is also a good time to see migrant birds on the
West Lake
, including larus argentatus and mandarin duck. Generally, it takes a few days if you want to explore the attractions around the lake entirely. You may just select the highlights like the
Leifeng Pagoda
, Baochu Pagoda, and the Museum of Traditional Chinese Medicine.
Lingyin Temple
is another most famous attraction recommended. What's more, surrounded on three sides by mountains, the North Peak near the temple is worth visiting where you will have a panoramic view of the West Lake. If you have more time, don't hesitate to visit Hangzhou Zoo to see the Chinese treasure animal - the cute giant pandas.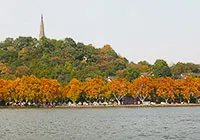 Baochu Pagoda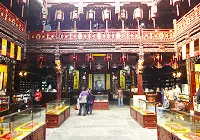 Museum of Traditional Chinese Medicine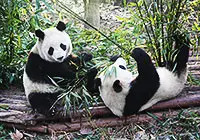 Hangzhou Zoo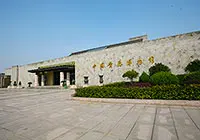 China Yellow Wine Museum
Pay attention to the weather forecast and add clothing when it is necessary. It is convenient to travel among attractions in the city by bus, so better prepare enough changes.
What is the temperature in Hangzhou in November?
High/Low Temperatures of Hangzhou in November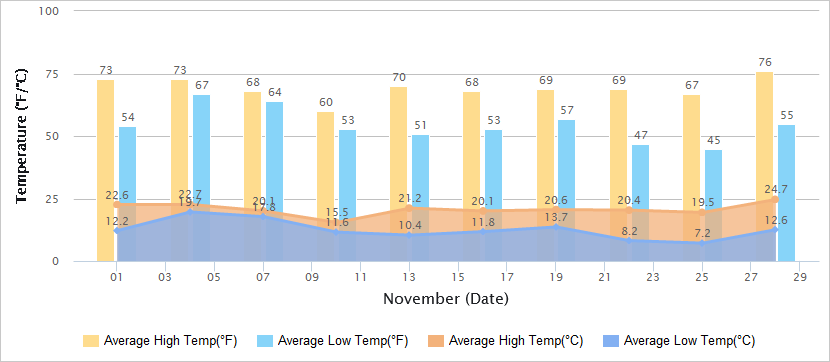 Air Quality of Hangzhou in November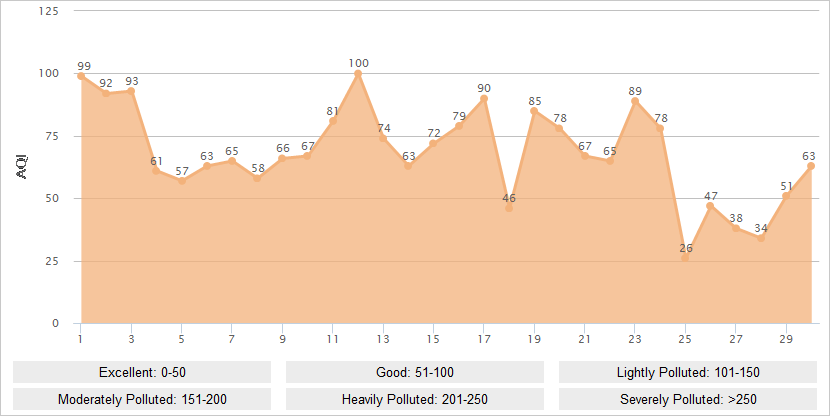 Historical Hangzhou Weather in November
Nov
Temperature
Sunrise / Sunset
Humi-
dity
(%)
High
Low
1
22.6°C / 72.7°F
12.2°C / 54°F
06:13 / 17:13
81
2
18.7°C / 65.7°F
16.8°C / 62.2°F
06:14 / 17:12
94
3
22.4°C / 72.3°F
17.4°C / 63.3°F
06:15 / 17:11
93
4
22.7°C / 72.9°F
19.7°C / 67.5°F
06:15 / 17:10
96
5
24.4°C / 75.9°F
19.9°C / 67.8°F
06:16 / 17:09
92
6
21.7°C / 71.1°F
18.7°C / 65.7°F
06:17 / 17:09
87
7
20.1°C / 68.2°F
17.8°C / 64°F
06:18 / 17:08
83
8
18.6°C / 65.5°F
15.4°C / 59.7°F
06:18 / 17:07
85
9
15.6°C / 60.1°F
13.2°C / 55.8°F
06:19 / 17:07
88
10
15.5°C / 59.9°F
11.6°C / 52.9°F
06:20 / 17:06
79
11
18.2°C / 64.8°F
8.5°C / 47.3°F
06:21 / 17:05
70
12
21.8°C / 71.2°F
8.3°C / 46.9°F
06:22 / 17:05
63
13
21.2°C / 70.2°F
10.4°C / 50.7°F
06:23 / 17:04
69
14
18.5°C / 65.3°F
11.4°C / 52.5°F
06:23 / 17:04
76
15
19.5°C / 67.1°F
14.4°C / 57.9°F
06:24 / 17:03
71
16
20.1°C / 68.2°F
11.8°C / 53.2°F
06:25 / 17:03
84
17
24.4°C / 75.9°F
17°C / 62.6°F
06:26 / 17:02
86
18
21.4°C / 70.5°F
17.3°C / 63.1°F
06:27 / 17:02
96
19
20.6°C / 69.1°F
13.7°C / 56.7°F
06:28 / 17:01
84
20
15.8°C / 60.4°F
10.1°C / 50.2°F
06:28 / 17:01
67
21
15.6°C / 60.1°F
7.6°C / 45.7°F
06:29 / 17:01
69
22
20.4°C / 68.7°F
8.2°C / 46.8°F
06:30 / 17:00
72
23
19.1°C / 66.4°F
10°C / 50°F
06:31 / 17:00
63
24
14.6°C / 58.3°F
5.5°C / 41.9°F
06:32 / 17:00
58
25
19.5°C / 67.1°F
7.2°C / 45°F
06:33 / 16:59
71
26
22.4°C / 72.3°F
9.5°C / 49.1°F
06:33 / 16:59
69
27
24°C / 75.2°F
11.9°C / 53.4°F
06:34 / 16:59
70
28
24.7°C / 76.5°F
12.6°C / 54.7°F
06:35 / 16:59
80
29
21.9°C / 71.4°F
16.5°C / 61.7°F
06:36 / 16:59
87
30
18.3°C / 64.9°F
9°C / 48.2°F
06:37 / 16:59
83
- Last updated on Jun. 27, 2019 -