Hangzhou Weather in June
Hangzhou weather is characterized by a lot of rain from late June due to the monsoon, so the humidity during this time is higher than usual and it makes the weather uncomfortable. The temperature is between 21°C (70°F) and 36°C (97°F), so it can get quite hot. Traditionally speaking, June is a tourist off season in Hangzhou, between peak seasons in spring and summer.
It is worth to mention that
Chinese Dragon Boat Festival
falls on the fifth day of the fifth lunar month, usually in June. There are traditional dragon boat races held in Hangzhou, which is very exciting.
Averages for Hangzhou Weather in June
Temperature: 24°C / 75°F
High Temperature: 29°C / 84°F
Low Temperature: 21°C / 70°F
Humidity: 81%
Rainfall: 231 mm
Rainy Days:15 days
Sunrise: 04:57 ~ 05:01
Sunset: 18:56 ~ 19:05
Air Quality in June
Average AQI:42

What to Wear in Hangzhou in June
A short-sleeved T-shirt and calf-length pants are suggested to cope with the climate in June in Hangzhou, because long pants are easily soaked by rain. It is also necessary to wear waterproof shoes. Don't forget to bring a thin coat in case of staying in air-conditioned places. Take an umbrella when going out, because the weather during this period is changeable and unpredictable.

Where to Go in Hangzhou in June
The West Lake contains the essence of the Hangzhou attractions. Although it takes a few days to explore the lake scenic area entirely, it is well worthwhile. The scenes of the lake in the rain, in the early morning, or at dusk are all different, but beautiful. If you are interested in Chinese classic architecture,
Qinghefang Ancient Street
is a good place to visit, where you can also buy distinctive handicraft and have a good taste of the local food. In addition, it is recommended to escape from the summer heat in Mogan Mountain, or tour
Xixi National Wetland Park
or Xitang Water Town by boat.
Top 10 Things to Do in Hangzhou
Remember to wear sunscreen if going out on sunny days. Bicycle is the best means of transportation for traveling around the West Lake, so we advise tourists to buy a card for renting a bicycle. You can get any remaining balance when you leave. Keep in mind not to take a taxi or bus during the rush hour.
What is the temperature in Hangzhou in June?
High/Low Temperatures of Hangzhou in June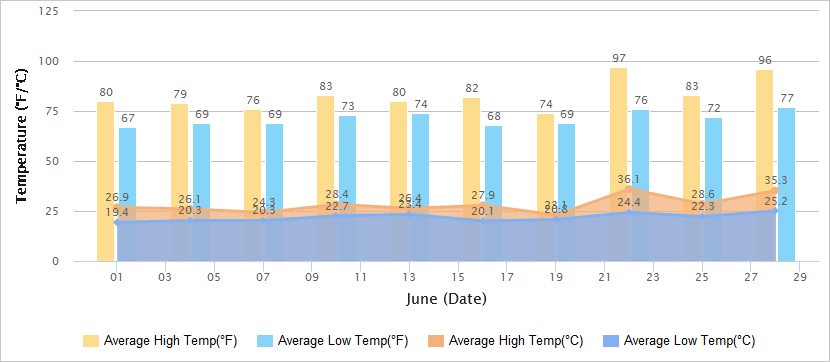 Air Quality of Hangzhou in June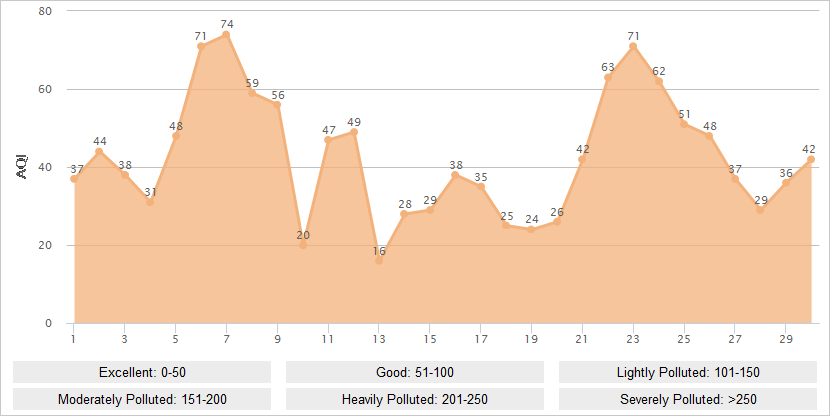 Historical Hangzhou Weather in June
Jun
Temperature
Sunrise / Sunset
Humi-
dity
(%)
High
Low
1
26.9°C / 80.4°F
19.4°C / 66.9°F
04:58 / 18:56
73
2
30.8°C / 87.4°F
21.5°C / 70.7°F
04:58 / 18:57
63
3
30.9°C / 87.6°F
21.5°C / 70.7°F
04:58 / 18:57
49
4
26.1°C / 79°F
20.3°C / 68.5°F
04:58 / 18:58
89
5
25.1°C / 77.2°F
21.3°C / 70.3°F
04:57 / 18:58
93
6
22.5°C / 72.5°F
20.3°C / 68.5°F
04:57 / 18:59
94
7
24.3°C / 75.7°F
20.3°C / 68.5°F
04:57 / 18:59
94
8
33.6°C / 92.5°F
21.3°C / 70.3°F
04:57 / 19:00
74
9
35.9°C / 96.6°F
23.7°C / 74.7°F
04:57 / 19:00
74
10
28.4°C / 83.1°F
22.7°C / 72.9°F
04:57 / 19:01
88
11
27.1°C / 80.8°F
22.8°C / 73°F
04:57 / 19:01
89
12
28.7°C / 83.7°F
21.9°C / 71.4°F
04:57 / 19:01
87
13
26.4°C / 79.5°F
23.4°C / 74.1°F
04:57 / 19:02
79
14
23.8°C / 74.8°F
20.5°C / 68.9°F
04:57 / 19:02
94
15
21.5°C / 70.7°F
20.2°C / 68.4°F
04:57 / 19:02
97
16
27.9°C / 82.2°F
20.1°C / 68.2°F
04:57 / 19:03
86
17
27.8°C / 82°F
22.4°C / 72.3°F
04:57 / 19:03
92
18
31.6°C / 88.9°F
22.8°C / 73°F
04:57 / 19:03
94
19
23.1°C / 73.6°F
20.8°C / 69.4°F
04:58 / 19:04
93
20
25.1°C / 77.2°F
21.3°C / 70.3°F
04:58 / 19:04
84
21
28.7°C / 83.7°F
22°C / 71.6°F
04:58 / 19:04
86
22
36.1°C / 97°F
24.4°C / 75.9°F
04:58 / 19:04
76
23
34.6°C / 94.3°F
25.3°C / 77.5°F
04:58 / 19:05
66
24
36°C / 96.8°F
26.7°C / 80.1°F
04:59 / 19:05
68
25
28.6°C / 83.5°F
22.3°C / 72.1°F
04:59 / 19:05
86
26
30.5°C / 86.9°F
21.5°C / 70.7°F
04:59 / 19:05
60
27
34.3°C / 93.7°F
21.4°C / 70.5°F
05:00 / 19:05
62
28
35.3°C / 95.5°F
25.2°C / 77.4°F
05:00 / 19:05
74
29
27.3°C / 81.1°F
24.9°C / 76.8°F
05:00 / 19:05
88
30
29°C / 84.2°F
24.7°C / 76.5°F
05:01 / 19:05
84
- Last updated on Jul. 19, 2022 -