Hangzhou Weather in October
The temperature in Hangzhou changes significantly in October. The weather can be hot during the
National Day
holiday, the first week of October, with the high temperature reaching 30 °C (86°F), but the high temperature usually drops below 20°C (68°F) later that same month. Besides, it seldom rains in this month. As the autumn is short in Hangzhou, the weather turns cooler after each autumn rain.
October is the tourist peak season in Hangzhou, especially during the National Day Golden Week, when there are also many Chinese tourists. Just like spring April, October is the other great time for travel in Hangzhou due to the comfortable climate.
Averages for Hangzhou Weather in October
Temperature: 18°C / 64°F
High Temperature: 23°C / 73°F
Low Temperature: 15°C / 59°F
Humidity: 77%
Rainfall: 87 mm
Rainy Days:10 days
Sunrise: 05:53 ~ 06:12
Sunset: 17:13 ~ 17:46
Air Quality in October
Average AQI:47

What to Wear in Hangzhou in October
Generally, it is ok to wear summer clothes such as short-sleeved shirts and pants at noon during first half of the month. And remember to put on a coat or a long-sleeved shirt if going out in the early morning or at night. The temperature drops in later October, so it is necessary to prepare autumn clothes as well.


Things to Do in Hangzhou in October
People always associate Hangzhou with the
West Lake
, so the West Lake is the most worth visiting place in Hangzhou with abundant natural and cultural landscapes. There are often firework shows in October, and it will be an amazing experience to appreciate fireworks while taking a boat on the lake. It's also worth mentioning that besides fireworks there are many tourist activities and folk carnivals held in this month, especially during National Day in Hangzhou, such as the Qiantang River International Surfing Competition, Parent-child carnival and musical festivals. In addition, a visit by boat along the Grand Canal is highly recommended.
Top 10 Things to Do in Hangzhou
Tourists are advised to avoid visiting Hangzhou during the National Day Holiday if you are worried about crowds. If you plan to experience the busy city, make sure to book hotels in advance.
What is the temperature in Hangzhou in October?
High/Low Temperatures of Hangzhou in October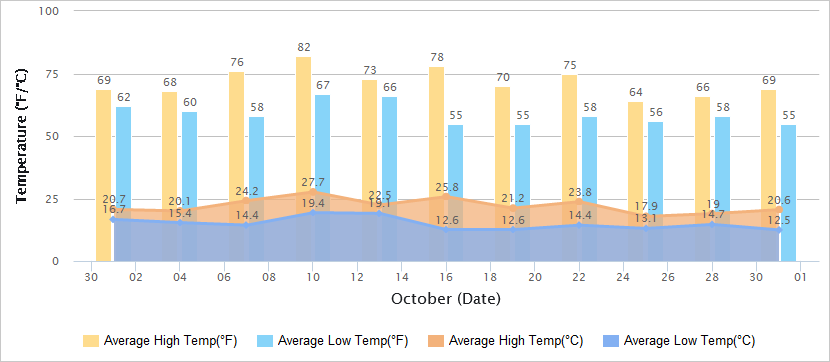 Air Quality of Hangzhou in October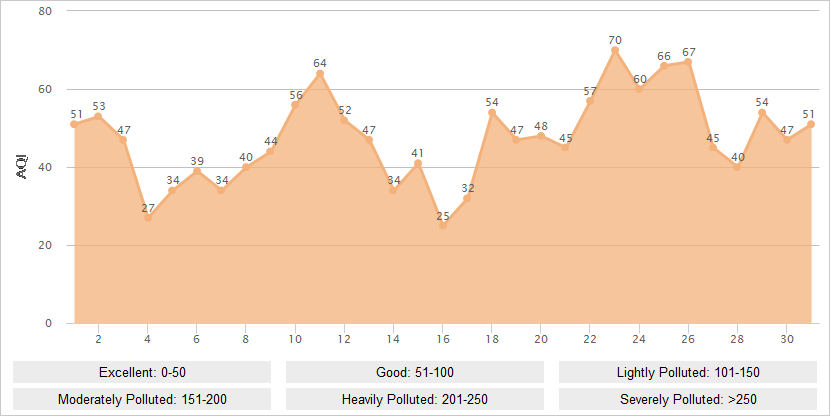 Historical Hangzhou Weather in October
Oct
Temperature
Sunrise / Sunset
Humi-
dity
(%)
High
Low
1
20.7°C / 69.3°F
16.7°C / 62.1°F
05:53 / 17:46
81
2
19.8°C / 67.6°F
16°C / 60.8°F
05:53 / 17:44
79
3
20.7°C / 69.3°F
15.4°C / 59.7°F
05:54 / 17:43
64
4
20.1°C / 68.2°F
15.4°C / 59.7°F
05:54 / 17:42
68
5
23.4°C / 74.1°F
15.5°C / 59.9°F
05:55 / 17:41
69
6
22.6°C / 72.7°F
15.7°C / 60.3°F
05:56 / 17:40
71
7
24.2°C / 75.6°F
14.4°C / 57.9°F
05:56 / 17:38
76
8
26.5°C / 79.7°F
16.7°C / 62.1°F
05:57 / 17:37
72
9
27.3°C / 81.1°F
15.5°C / 59.9°F
05:57 / 17:36
73
10
27.7°C / 81.9°F
19.4°C / 66.9°F
05:58 / 17:35
84
11
24.9°C / 76.8°F
21.8°C / 71.2°F
05:59 / 17:34
82
12
24.6°C / 76.3°F
19°C / 66.2°F
05:59 / 17:33
78
13
22.5°C / 72.5°F
19.1°C / 66.4°F
06:00 / 17:31
88
14
23.3°C / 73.9°F
17°C / 62.6°F
06:00 / 17:30
80
15
25.1°C / 77.2°F
14.8°C / 58.6°F
06:01 / 17:29
66
16
25.8°C / 78.4°F
12.6°C / 54.7°F
06:02 / 17:28
53
17
25.5°C / 77.9°F
16.5°C / 61.7°F
06:02 / 17:27
49
18
24°C / 75.2°F
13.8°C / 56.8°F
06:03 / 17:26
58
19
21.2°C / 70.2°F
12.6°C / 54.7°F
06:04 / 17:25
66
20
21.1°C / 70°F
14.4°C / 57.9°F
06:04 / 17:24
81
21
24.4°C / 75.9°F
17.1°C / 62.8°F
06:05 / 17:23
76
22
23.8°C / 74.8°F
14.4°C / 57.9°F
06:06 / 17:22
69
23
26.6°C / 79.9°F
16.2°C / 61.2°F
06:06 / 17:21
72
24
21.5°C / 70.7°F
15.3°C / 59.5°F
06:07 / 17:20
91
25
17.9°C / 64.2°F
13.1°C / 55.6°F
06:08 / 17:19
63
26
18.6°C / 65.5°F
12.8°C / 55°F
06:09 / 17:18
57
27
21.4°C / 70.5°F
12°C / 53.6°F
06:09 / 17:17
69
28
19°C / 66.2°F
14.7°C / 58.5°F
06:10 / 17:16
79
29
18.1°C / 64.6°F
15.6°C / 60.1°F
06:11 / 17:15
84
30
20.3°C / 68.5°F
15.5°C / 59.9°F
06:11 / 17:14
77
31
20.6°C / 69.1°F
12.5°C / 54.5°F
06:12 / 17:13
68
- Last updated on Jul. 19, 2022 -