Southern Song Dynasty Guan Kiln Museum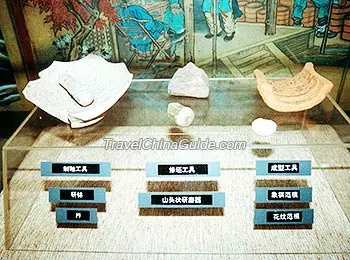 Old tools used to make ceramics


Photos
Lying to the south of
West Lake
, Southern Song Dynasty Guan Kiln Museum is built over the remains of Jiaotanxia Official Kiln and is the first of its kind with pottery and porcelain as its subject.
China is a country with a rich tradition of pottery and porcelain. The history of pottery can be traced back through 8,000 years, while porcelain in the country has a history over 2,000 years. During the Song Dynasty (960-1279), this culture came to a climax. A variety of chinaware appeared. Particularly representative of that time are the products of the official kiln (Guan Yao in Chinese). Guan Yao produces high-class chinaware for royalty - either for daily use or decoration. It is recorded that there were two official kilns in the Southern Song Dynasty (1127-1279): Jiaotanxia Guanyao and Xiuneisi Guanyao.
The Southern Song Dynasty Guan Kiln Museum has a floor area of 15,000 square meters (3.7 acres); the building area is 4,364 square meters (1.1 acres). It was opened to public in 1992 and was extended in 2002. Now the museum displays the products of the official kilns of Southern Song Dynasty, highlighting their charm and delicate beauty. It has been praised as the Civilized Museum of Zhejiang Province and the first group of Provincial Education Base of Patriotism.
Southern Song Dynasty Guan Kiln Museum consists of two parts: the exhibition area and the official kiln relic.
There are three rooms in the exhibition area. In the first exhibition room, many delicate chinaware treasures of past dynasties unearthed in Hangzhou are on display. While in the second room, one can study the history of China's ceramics as well as the social, political and economic base and development after the establishment of official kilns in Southern Song Dynasty. And in the third one, visitors can see the fruits of research on the ancient porcelain of the country and the products in imitation of the famous products of kilns made by modern technology. Now, over 8,000 restored chinaware samples dug up from the site are on display in the exhibition area.
| | | |
| --- | --- | --- |
| Porcelain from the old kiln | Ceramics item in museum | Ruins of the olf official kiln |
Jiaotanxia Guanyao was firstly discovered in 1930, but was only serious excavated in the mid 1980s. Of particular interest are the pugging pond, the shaping workshop and the Dragon Kiln. Modern technology is so advanced that ancient pieces can be fully restored, making a visit well worthwhile for the visitor.
As a part of Jiaotanxia Guanyao, the Dragon Kiln clings to a slope with a total length of 40.3 meters (44 yards). The kiln was built with adobes whose profile is still visible. The remains of Dragon Kiln in the protection corridor have stairs on both sides. The visitors can climb the steps to appreciate the fantastic site.
In the Southern Song Dynasty Guan Kiln Museum, there is a pottery bar with a unique style. Visitors can see for themselves how pottery was made long ago. They can also have the experience of making their own pottery, and so enter into the hardship and exhilaration that must have been the lot of people in long-ago times.
How to get to Southern Song Dynasty Guan Kiln Museum
1. Take bus 42, 87 or 133, and get off at Shijiashan Station. Then, walk toward south about around 50 meters (55 yards) to reach Southern Song Dynasty Guan Kiln Museum.
2. Take bus 20, 42 or 62 to Hangzhou Taocipin Shichang Station, and then walk east for 5 minutes to the museum.
3. Take bus 20, 39, 119, 189, 202, 308, 514a, or 514 to Shuichengqiao and walk north for about 10 minutes to the Southern Song Dynasty Guan Kiln Museum.
Hangzhou Bus / Metro Search
Entrance Fee
Free of charge
Opening Hours
Tuesday - Sunday: 8:30-16:30
Closed on Monday except it's a public holiday.
- Last updated on Jul. 28, 2023 -
Questions & Answers on Southern Song Dynasty Guan Kiln Museum
Asked by Dean Still from UNITED STATES | Jul. 27, 2023 18:13

Reply
Is there an old pottery cook stove in museum?
I work in Shengzhou with a Chinese factory that makes ceramic cook stoves for Africans who cook with wood. So I wonder if the museum has an old cook stove made from clay? That would be amazing!
Answers (2)
Answered by Trace | Jul. 28, 2023 00:28

0

0

Reply
I'm not clear. But I once saw pottery boilers in Zhengjiang provincial museum.
Answered by Dean Still | Jul. 28, 2023 08:47

0

0

Reply
I saw old pottery cook stoves for burning wood at the beautiful new museum in Ning Bo.
Asked by Sam from MALAYSIA | Feb. 12, 2012 08:06

Reply
Can we take photographs in Southern Song Dynasty Official Kiln Museum?
Can we bring our cameras into it and take pictures?
Answers (1)
Answered by Doris | Feb. 15, 2012 02:27

2

2

Reply
Yes, most of the exhibitions can be photoed. Please payattention to the Notice signs there.
Asked by Hugh Sheridan from UNITED STATES | Jul. 19, 2011 20:38

Reply
Chinese vase with writing on the bottom of it
I have a metal vase with Chinese writing on the bottom of it ! A friend said it might mean Guang Gao and then I found your web site . It was given to a friend years ago and is now mine . It has a Bronze like finish that is running down the sides . If you could give me any infomation about it I would appriciate it very much !
Thank You
Hugh Sheridan
Answers (1)
Answered by jason from CHINA | Jul. 19, 2011 21:34

2

2

Reply
Hi, I can't understanf 'Guang gao' because it sound like 'Advertisement' in Chinese. The shapes of the vase and the Chinese writings are important clue to distinguish the vase.