Hangzhou Weather in August
Hangzhou weather is still very hot in August, with an average high temperature of 32°C (90°F). The highest temperature can reach 37-38 °C (98-100 °F) on a bright sunny afternoon. There are often temporary windy rains during late August influenced by typhoons, and the temperature may drop slightly. However, it will be soon hot again when the weather clears up. Thanks to the perfect vegetation coverage in the city with willows and other trees providing shade at most scenic spots, tourists will be rarely exposed to the sun.
Hangzhou has fewer tourists in August because of the hot weather. Hotels usually offer deals at this time, so the travel cost is more affordable than in the peak tourist season.
Averages for Hangzhou Weather in August
Temperature: 28°C / 82°F
High Temperature: 32°C / 90°F
Low Temperature: 25°C / 77°F
Humidity: 79%
Rainfall: 156 mm
Rainy Days:14 days
Sunrise: 05:18 ~ 05:36
Sunset: 18:24 ~ 18:53
Air Quality in August
Average AQI:39

What to Wear in Hangzhou in August
Summer clothes are enough for the August climate in Hangzhou, such as short sleeved T-shirt, short pants, and sandals or sports shoes. Make sure to bring an umbrella or a raincoat in case it rains. In addition, it is advised to avoid outdoor activities in the afternoon.


Things to Do in Hangzhou in August
Hangzhou is a beautiful city even in the hot summer, with blue sky, white clouds, green hills, and clear waters. The
West Lake
lined with willow trees is magnificent. Besides, it is a good time to enjoy the lotus here, where the leaves stretch over a large area into the lake and the lotus looks extremely bright in the sunshine. Other natural scenic attractions are also recommended, such as Peak Flown From Afar,
Xixi National Wetland Park
, and Thousand Islets Lake. Some nearby watertowns like Wuzhen, Xitang, and Nanxun are good summer resorts. Moreover, Sweet-scented osmanthus generally blooms towards the end of August, when the air in Hangzhou is filled with the fragrance. It is also advised to pay a visit to the wonderful performance in the Song Dynasty Town.
Top 10 Things to Do in Hangzhou
Remember to use mosquito repellents in case you want to tour around the West Lake at night.
What is the temperature in Hangzhou in January?
High/Low Temperatures of Hangzhou in August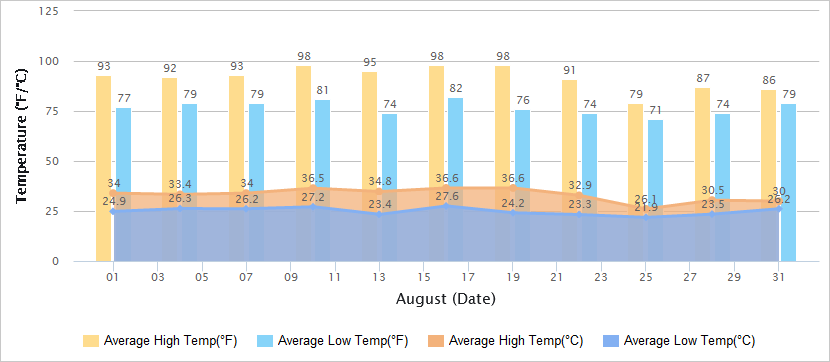 Air Quality of Hangzhou in August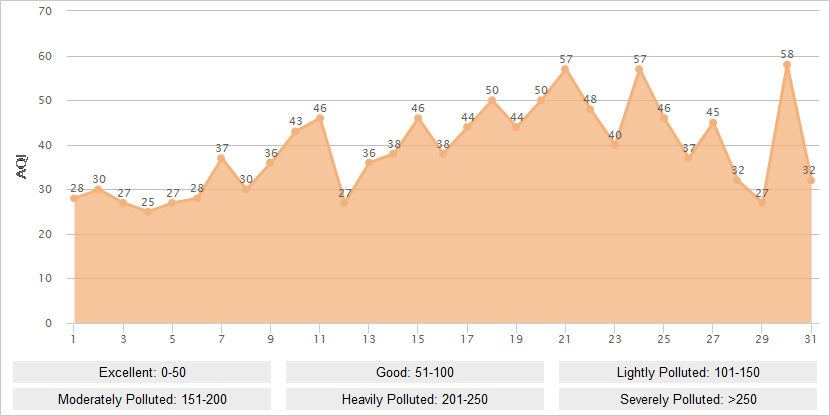 Historical Hangzhou Weather in August
Aug
Temperature
Sunrise / Sunset
Humidity
(%)
High
Low
1
34°C / 93.2°F
24.9°C / 76.8°F
05:18 / 18:53
83
2
35.2°C / 95.4°F
26°C / 78.8°F
05:18 / 18:53
74
3
35.8°C / 96.4°F
26.9°C / 80.4°F
05:19 / 18:52
75
4
33.4°C / 92.1°F
26.3°C / 79.3°F
05:20 / 18:51
81
5
33.9°C / 93°F
25.9°C / 78.6°F
05:20 / 18:50
78
6
32°C / 89.6°F
26.3°C / 79.3°F
05:21 / 18:49
81
7
34°C / 93.2°F
26.2°C / 79.2°F
05:21 / 18:49
67
8
34.6°C / 94.3°F
26.3°C / 79.3°F
05:22 / 18:48
72
9
35.7°C / 96.3°F
25.6°C / 78.1°F
05:23 / 18:47
70
10
36.5°C / 97.7°F
27.2°C / 81°F
05:23 / 18:46
64
11
35.1°C / 95.2°F
26.9°C / 80.4°F
05:24 / 18:45
68
12
31.3°C / 88.3°F
25.3°C / 77.5°F
05:25 / 18:44
86
13
34.8°C / 94.6°F
23.4°C / 74.1°F
05:25 / 18:43
84
14
34°C / 93.2°F
25.4°C / 77.7°F
05:26 / 18:42
74
15
35.6°C / 96.1°F
26.9°C / 80.4°F
05:26 / 18:41
68
16
36.6°C / 97.9°F
27.6°C / 81.7°F
05:27 / 18:40
62
17
33.6°C / 92.5°F
29.2°C / 84.6°F
05:27 / 18:39
63
18
35.5°C / 95.9°F
28.3°C / 82.9°F
05:28 / 18:38
70
19
36.6°C / 97.9°F
24.2°C / 75.6°F
05:29 / 18:37
68
20
37.4°C / 99.3°F
26.8°C / 80.2°F
05:29 / 18:36
62
21
33.2°C / 91.8°F
25.1°C / 77.2°F
05:30 / 18:35
72
22
32.9°C / 91.2°F
23.3°C / 73.9°F
05:30 / 18:34
81
23
27.4°C / 81.3°F
23.1°C / 73.6°F
05:31 / 18:33
84
24
25.1°C / 77.2°F
22°C / 71.6°F
05:32 / 18:32
90
25
26.1°C / 79°F
21.9°C / 71.4°F
05:32 / 18:31
93
26
30°C / 86°F
24.4°C / 75.9°F
05:33 / 18:29
84
27
33.1°C / 91.6°F
24.3°C / 75.7°F
05:33 / 18:28
80
28
30.5°C / 86.9°F
23.5°C / 74.3°F
05:34 / 18:27
87
29
32.1°C / 89.8°F
23.6°C / 74.5°F
05:34 / 18:26
85
30
29.3°C / 84.7°F
25.3°C / 77.5°F
05:35 / 18:25
86
31
30°C / 86°F
26.2°C / 79.2°F
05:36 / 18:24
79
- Last updated on Aug. 30, 2019 -