Hangzhou Weather in April
In Hangzhou, April is the most beautiful month of the year. With pleasant spring weather, it is the best time to travel when willow branches swing in the breeze and flowers are in bloom by the West Lake. The average high temperature is 21°C (70°F), and it is pleasant to stay outdoors.
Chinese
Qingming Festival
usually falls in early April, while many tourists may choose Hangzhou as their destination for holiday. As during the peak tourist season, it is advisable to plan your trip itinerary beforehand and arrange accommodation and flight or train tickets before traveling.
Averages for Hangzhou Weather in April
Temperature: 16°C / 61°F
High Temperature: 21°C / 70°F
Low Temperature: 12°C / 54°F
Humidity: 76%
Rainfall: 127 mm
Rainy Days:15 days
Sunrise: 05:18 ~ 05:49
Sunset: 18:18 ~ 18:36
Air Quality in April
Average AQI:52

What to Wear in Hangzhou in April
A coat, a long-sleeved T-shirt or a light sweater plus pants are enough for Hangzhou's climate in April. Raining weather is frequent here in spring, so it is recommended to pack warm underwear, a thin sweater and a thin coat to go out at night or on rainy days.


Where to Go in Hangzhou in April
The West Lake is a must-visit place in Hangzhou. Besides, there are many scenic spots around the lake, including Lingyin Temple and Running Tiger Spring.
Xixi National Wetland Park
is a highly recommended place of visit at this time, as well as the
Thousand Islets Lake
. If you prefer places of ancient and historical beauty,
Qinghefang Ancient Street
and
Wuzhen Water Town
are good choices.
The best way to visit the West Lake is to rent a bike. It is convenient as there are many bike renting places around the lake. Generally, the lease price is higher when there are more tourists. Every bike has a serial number with lock and key. Make sure to lock it whenever necessary. By the way, sightseeing boats charges differ depending on the size of the boat. Generally, a boat seats 10 persons and sharing is allowed.
What is the temperature in Hangzhou in April?
High/Low Temperatures of Hangzhou in April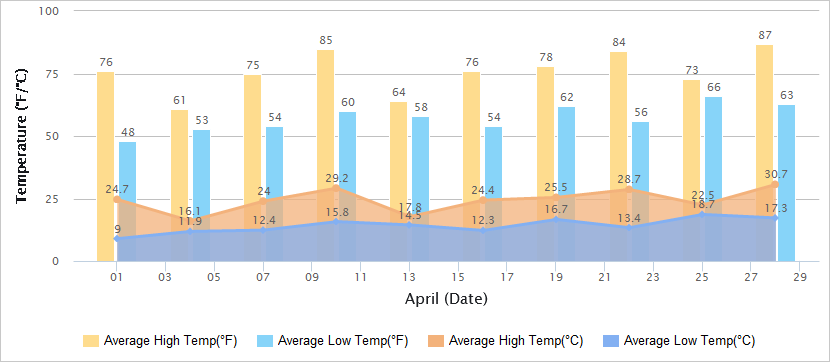 Air Quality of Hangzhou in April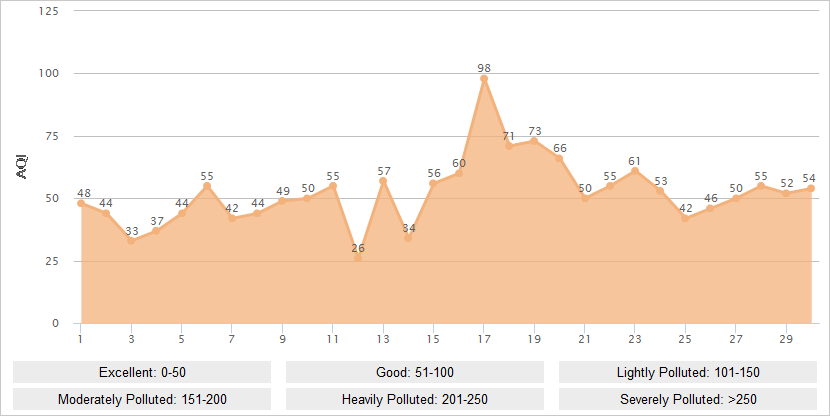 Historical Hangzhou Weather in April
Apr
Temperature
Sunrise / Sunset
Humi-
dity
(%)
High
Low
1
24.7°C / 76.5°F
9°C / 48.2°F
05:49 / 18:18
46
2
26.7°C / 80.1°F
14.2°C / 57.6°F
05:48 / 18:18
37
3
24.3°C / 75.7°F
11.4°C / 52.5°F
05:47 / 18:19
40
4
16.1°C / 61°F
11.9°C / 53.4°F
05:46 / 18:20
53
5
26.1°C / 79°F
10.5°C / 50.9°F
05:45 / 18:20
53
6
25.7°C / 78.3°F
10.8°C / 51.4°F
05:44 / 18:21
35
7
24°C / 75.2°F
12.4°C / 54.3°F
05:42 / 18:21
49
8
20.6°C / 69.1°F
14.7°C / 58.5°F
05:41 / 18:22
60
9
19.5°C / 67.1°F
16.3°C / 61.3°F
05:40 / 18:23
77
10
29.2°C / 84.6°F
15.8°C / 60.4°F
05:39 / 18:23
78
11
26.1°C / 79°F
18.3°C / 64.9°F
05:38 / 18:24
69
12
20.1°C / 68.2°F
13.7°C / 56.7°F
05:37 / 18:24
80
13
17.8°C / 64°F
14.5°C / 58.1°F
05:35 / 18:25
85
14
21.1°C / 70°F
13.8°C / 56.8°F
05:34 / 18:26
82
15
20.9°C / 69.6°F
13.9°C / 57°F
05:33 / 18:26
82
16
24.4°C / 75.9°F
12.3°C / 54.1°F
05:32 / 18:27
63
17
21.7°C / 71.1°F
14.1°C / 57.4°F
05:31 / 18:28
61
18
21.9°C / 71.4°F
15°C / 59°F
05:30 / 18:28
60
19
25.5°C / 77.9°F
16.7°C / 62.1°F
05:29 / 18:29
65
20
21.2°C / 70.2°F
17°C / 62.6°F
05:28 / 18:29
80
21
22.4°C / 72.3°F
14.9°C / 58.8°F
05:27 / 18:30
73
22
28.7°C / 83.7°F
13.4°C / 56.1°F
05:26 / 18:31
63
23
32.5°C / 90.5°F
17.5°C / 63.5°F
05:25 / 18:31
50
24
26.3°C / 79.3°F
20.4°C / 68.7°F
05:24 / 18:32
85
25
22.5°C / 72.5°F
18.7°C / 65.7°F
05:23 / 18:33
74
26
25.6°C / 78.1°F
14.7°C / 58.5°F
05:22 / 18:33
35
27
29.5°C / 85.1°F
14°C / 57.2°F
05:21 / 18:34
49
28
30.7°C / 87.3°F
17.3°C / 63.1°F
05:20 / 18:35
58
29
26.4°C / 79.5°F
21.1°C / 70°F
05:19 / 18:35
87
30
22.8°C / 73°F
19.5°C / 67.1°F
05:18 / 18:36
90
- Last updated on Sep. 04, 2019 -