Hangzhou Weather in March
With Hangzhou stepping into spring in March, being outdoors under a blue sky is comfortable. However, the weather is changeable as between winter and spring, and temperatures vary greatly from day to night even on sunny days. Although it rains occasionally during this month in Hangzhou, the scenery of grass, flowers and willows by the West Lake under drizzly misty rain is enchanting as well.
Beside the beautiful scenery, there will be fewer tourists in March than during the golden travel months of April and May, so why not take advantage to better experience the south China's Jiangnan landscape and the local culture.
Averages for Hangzhou Weather in March
Temperature: 10°C / 50°F
High Temperature: 14°C / 57°F
Low Temperature: 6°C / 43°F
Humidity: 78%
Rainfall: 138 mm
Rainy Days:16 days
Sunrise: 05:53 ~ 06:12
Sunset: 17:13 ~ 17:46
Air Quality in March
Average AQI:54

What to Wear in Hangzhou in March
Coats and a light sweater or T-shirts are ok for the climate of March in Hangzhou. It is better to put on thicker clothes when going out in the morning or at night. Also, make sure to bring an umbrella in case it rains.

Things to Do in Hangzhou in March
The natural scenery of Hangzhou in March is beautiful as there are wonderful spring flowers everywhere. It is also the best time for cherry blossom in Taiziwan Park by the West Lake. Riding a bike along the lake or visiting a tea garden to taste the fresh spring tea can be a memorable experience. Qinghefang Ancient Street is also worth a visit. In addition, the Botanical Garden,
Thousand Islets Lake
, and
Xitang Water Town
are recommended for all visitors to Hangzhou.
Generally speaking, Hangzhou will enter its peak tourist season from the 20th of March, so it is advisable to book hotels and air tickets in advance if you plan to visit during that period of time. With a convenient public transportation system, all the scenic spots within the city can be reached by public buses. But try to avoid taking buses or taxis during rush hours. Moreover, people who are allergic to pollen should avoid going out too much, especially on windy days.
What is the temperature in Hangzhou in March?
High/Low Temperatures of Hangzhou in March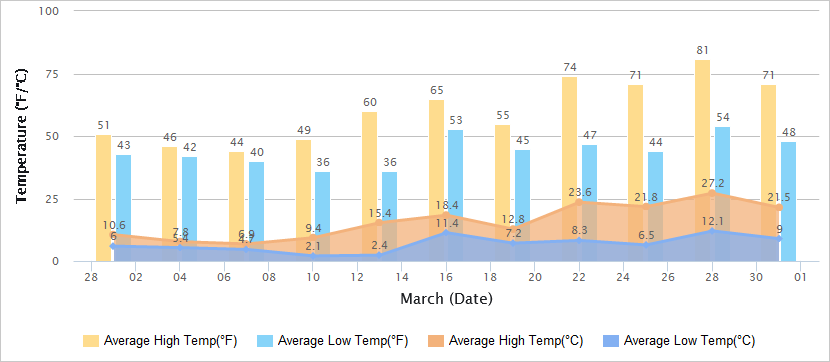 Air Quality of Hangzhou in March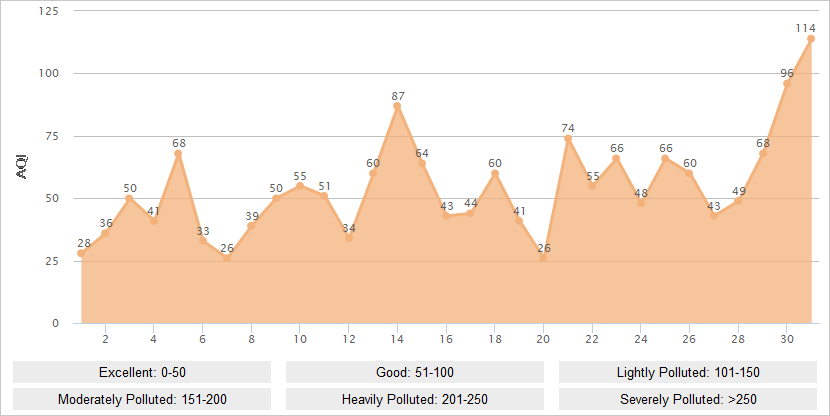 Historical Hangzhou Weather in March
Mar
Temperature
Sunrise / Sunse
Humi-
dity
(%)
High
Low
1
10.6°C / 51.1°F
6°C / 42.8°F
06:26 / 17:58
89
2
8.0°C / 46.4°F
6.4°C / 43.5°F
06:25 / 17:59
89
3
6.5°C / 43.7°F
4.6°C / 40.3°F
06:24 / 17:59
89
4
7.8°C / 46°F
5.4°C / 41.7°F
06:23 / 18:00
94
5
7.3°C / 45.1°F
6.3°C / 43.3°F
06:21 / 18:01
95
6
10.8°C / 51.4°F
4.8°C / 40.6°F
06:20 / 18:01
82
7
6.9°C / 44.4°F
4.7°C / 40.5°F
06:19 / 18:02
87
8
5.8°C / 42.4°F
4.3°C / 39.7°F
06:18 / 18:03
88
9
8°C / 46.4°F
4.1°C / 39.4°F
06:17 / 18:03
66
10
9.4°C / 48.9°F
2.1°C / 35.8°F
06:16 / 18:04
54
11
11.4°C / 52.5°F
1.4°C / 34.5°F
06:14 / 18:05
65
12
9.2°C / 48.6°F
1.7°C / 35.1°F
06:13 / 18:05
51
13
15.4°C / 59.7°F
2.4°C / 36.3°F
06:12 / 18:06
61
14
18.3°C / 64.9°F
4.1°C / 39.4°F
06:11 / 18:07
66
15
13.2°C / 55.8°F
9.7°C / 49.5°F
06:10 / 18:07
90
16
18.4°C / 65.1°F
11.4°C / 52.5°F
06:09 / 18:08
88
17
14.7C / 58.5°F
11.3°C / 52.3°F
06:07 / 18:08
85
18
16.6°C / 61.9°F
11.5°C / 52.7°F
06:06 / 18:09
84
19
12.8°C / 55°F
7.2°C / 45°F
06:05 / 18:10
84
20
7.6°C / 45.7°F
5.5°C / 41.9°F
06:04 / 18:10
80
21
15.6°C / 60.1°F
3.6°C / 38.5°F
06:03 / 18:11
65
22
23.6°C / 74.5°F
8.3°C / 46.9°F
06:01 / 18:12
73
23
12.4°C / 54.3°F
6.9°C / 44.4°F
06:00 / 18:12
77
24
18.7°C / 65.7°F
7.5°C / 45.5°F
05:59 / 18:13
27
25
21.8°C / 71.2°F
6.5°C / 43.7°F
05:58 / 18:13
44
26
22.1°C / 71.8°F
8°C / 46.4°F
05:57 / 18:14
54
27
26.7°C / 80.1°F
9.3°C / 48.7°F
05:55 / 18:15
51
28
27.2°C / 81°F
12.1°C / 53.8°F
05:54 / 18:15
42
29
22.1°C / 71.8°F
12°C / 53.6°F
05:53 / 18:16
59
30
18.6°C / 65.5°F
14.6°C / 58.3°F
05:52 / 18:16
89
31
21.5°C / 70.7°F
9°C / 48.2°F
05:51 / 18:17
51
- Last updated on Aug. 22, 2022 -