Best Hangzhou Tours
Top Hangzhou Attractions
More Things to Do
Top 10 City Tours
HZ03: One Day Private Chinese Tea Culture and West Lake Tour
Meijiawu Tea Village - West Lake
Free Cancellation

24-hour Before

In the morning, our guide will come and meet you at your hotel in downtown Hangzhou and escort you to Meijiawu Tea Village, the first stop of this Hangzhou 1-day tour. Going inside, you can not only catch sight of the green tea trees, but also smell the fresh fragrance. Then you will be guided to the mountain area and see the tea farmers working in the tea plantation on the hillside. You can join them to pick tea leaves and watch the tea-making process. In addition, we will stop by a tea farmer's house to experience the tea ceremony. Lunch will be arranged in the Chenghuang Pavilion. You can enjoy a traditional Chinese music performance there while feasting your stomach with unique lunch-snacks.
Picturesque scenery of the West Lake
Local people's leisure life
In the afternoon, the guide will lead you to the West Lake and you will have a chance to take a cruise on the lake to admire its fascinating view. Your one day private Hangzhou city tour to Meijiawu and West Lake will come to an end after finishing the West Lake cruise, and then our guide will transfer you back to your hotel.
For travelers who would like to take Hangzhou day tour from Shanghai, we suggest you take an early morning high speed train to Hangzhou and our guide will pick you up from Hangzhou Railway Station. The day trip normally ends at around 17:00. After that, we can transfer you to the railway station for your high speed train back to Shanghai upon you request.
Meals: Dim sum lunch
Meijiawu Tea Village
Located in the southwest of Hangzhou, Meijiawu Tea Village is one of the main production areas of Longjing, a famous traditional Chinese green tea. When visiting the village, you will see the lofty surrounding mountains and endless tea trees, hear the murmur of flowing water, smell the fragrance of tea, and all of these would be helpful to wholly refresh your body and mind. Entering the tea plantation to learn how to pick tea leaves and watching the tea making process will help you have a better understand about Chinese tea culture.
Tea farmer working in the tea plantation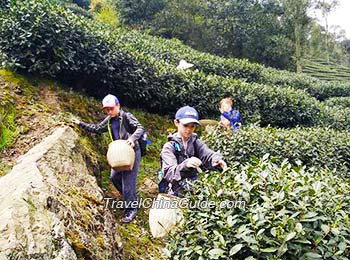 Visitors learning to pick up tea leaves
West Lake
The West Lake is a must for a Hangzhou day tour. It is renowned for not only beautiful lakes and mountains, but also a lot of historical sites. Looking like a pearl surrounded by hills from three directions, the West Lake has totally unique and enchanting scenery in four seasons - weeping willows sprouting and peach trees blooming along the causeways in spring; lotus leaves and flowers swaying in the ponds in summer; setting sun reflected on the lake in autumn; and the red plum blossoms flickered on white snow in winter. You will enjoy the beauty of the West Lake whenever you reach there. Taking a West Lake tour by cruise boat, you can watch the famous Bai Causeway, the Su Causeway as well as Leifeng Pagoda from a distinctive perspective.
West Lake is famous for both the stunning sceneries and fascinating legend
Prices (US$ Per Person)
1 person

$225

2 persons

$149

3 persons

$149

4 persons

$130

5 persons

$130

6 persons

$101

7 persons

$101

8 persons

$101

9 persons

$101

10+

$83

Price Includes
Private English-speaking guide
Private driver & air-conditioned vehicle
Dim sum lunch
Entrance fees to tourist sites
Price Excludes
Hotel accommodation with breakfasts
Tips or gratuities for guide and driver
Itineraries you may also like:
The above routes do not meet your requirements? Please click
Tailor My Trip