Hangzhou Weather in September
September weather is not too hot in Hangzhou, with the average temperature of 23°C (73°F). It is pleasant as the weather turns cool with occasional rain. However, there may be a short spell of hot days after the beginning of autumn, when the temperature reaches 36°C (96.8°F) or over.
Generally, the summer vacation has ended before September, so this month is a good time to visit Hangzhou due to lower travel costs and fewer tourists, but it is wise to avoid traveling during
Mid-Autumn Festival
for fear of crowds, unless you prefer a festival atmosphere.
Averages for Hangzhou Weather in September
Temperature: 23°C / 73°F
High Temperature: 28°C / 82°F
Low Temperature: 20°C / 68°F
Humidity: 81%
Rainfall: 145 mm
Rainy Days:13 days
Sunrise: 05:36 ~ 05:52
Sunset: 17:47 ~ 18:22
Air Quality in September
Average AQI:47

What to Wear in Hangzhou in September
Wearing summer clothes, such as short-sleeved T-shirts and skirts or shorts is suitable for the pleasant and cool climate. Quick-drying clothes are recommended. Bring a thin coat or a long-sleeved shirt in case it rains or the temperature cools down after sunset. An umbrella is always necessary in case of sudden rain.


Things to Do in Hangzhou in September
The classic tourist attractions in Hangzhou include the
West Lake
,
Xixi National Wetland Park
, and
Thousand Islets Lake
, which are highly recommended if time permits. It is worth mentioing that all affiliated attractions around the West Lake are free of charge, except the famous
Leifeng Pagoda
. For attractions around Hangzhou city, you can select to visit
Xitang Water Town
or Wuzhen Water Town, and stay for a day to enjoy the classic southern Chinese riverside ancient architecture, as well as the red lanterns along the river at night.
Top 10 Things to Do in Hangzhou
Attractions of the West Lake Scenic Area are walkable. You can also rent a bicycle to enjoy the beauty around the lake. If you prefer to watch the large-scale live performance – "Impressions of the West Lake", we suggest that you book tickets in advance. Moreover, in case you prefer travel during the Mid-Autumn Festival, remember to make hotel reservations before traveling.
What is the temperature in Hangzhou in September?
High/Low Temperatures of Hangzhou in September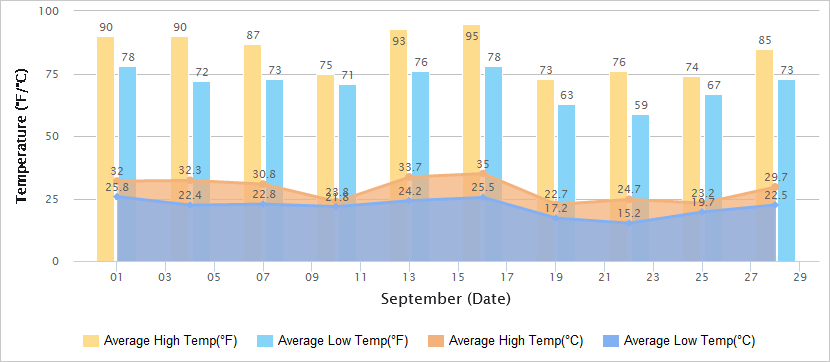 Air Quality of Hangzhou in September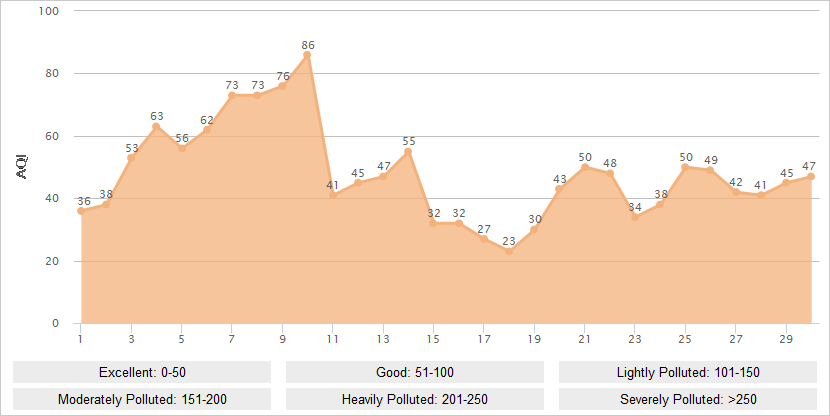 Historical Hangzhou Weather in September
Sep
Temperature
Sunrise / Sunset
Humi-
dity
(%)
High
Low
1
32°C / 89.6°F
25.8°C / 78.4°F
05:36 / 18:22
75
2
33.3°C / 91.9°F
23.7°C / 74.7°F
05:37 / 18:21
62
3
32.2°C / 90°F
25.1°C / 77.2°F
05:37 / 18:20
61
4
32.3°C / 90.1°F
22.4°C / 72.3°F
05:38 / 18:19
57
5
30.8°C / 87.4°F
22.1°C / 71.8°F
05:38 / 18:18
55
6
29.7°C / 85.5°F
22.6°C / 72.7°F
05:39 / 18:16
47
7
30.8°C / 87.4°F
22.8°C / 73°F
05:39 / 18:15
56
8
34.5°C / 94.1°F
23.1°C / 73.6°F
05:40 / 18:14
69
9
27.1°C / 80.8°F
22.4°C / 72.3°F
05:40 / 18:13
89
10
23.8°C / 74.8°F
21.8°C / 71.2°F
05:41 / 18:12
90
11
27.8°C / 82°F
22.1°C / 71.8°F
05:42 / 18:10
84
12
31.1°C / 88°F
23.7°C / 74.7°F
05:42 / 18:09
76
13
33.7°C / 92.7°F
24.2°C / 75.6°F
05:43 / 18:08
74
14
34.8°C / 94.6°F
24°C / 75.2°F
05:43 / 18:07
70
15
36.2°C / 97.2°F
24.7°C / 76.5°F
05:44 / 18:05
64
16
35°C / 95°F
25.5°C / 77.9°F
05:44 / 18:04
69
17
32.5°C / 90.5°F
26.2°C / 79.2°F
05:45 / 18:03
65
18
28.9°C / 84°F
22.1°C / 71.8°F
05:45 / 18:02
69
19
22.7°C / 72.9°F
17.2°C / 63°F
05:46 / 18:00
59
20
21°C / 69.8°F
16°C / 60.8°F
05:46 / 17:59
58
21
24.4°C / 75.9°F
17.3°C / 63.1°F
05:47 / 17:58
51
22
24.7°C / 76.5°F
15.2°C / 59.4°F
05:48 / 17:57
50
23
24.6°C / 76.3°F
15.6°C / 60.1°F
05:48 / 17:55
52
24
26.1°C / 79°F
16.2°C / 61.2°F
05:49 / 17:54
57
25
23.2°C / 73.8°F
19.7°C / 67.5°F
05:49 / 17:53
75
26
23.5°C / 74.3°F
19°C / 66.2°F
05:50 / 17:52
86
27
24.6°C / 76.3°F
21.3°C / 70.3°F
05:50 / 17:51
89
28
29.7°C / 85.5°F
22.5°C / 72.5°F
05:51 / 17:49
82
29
26.6°C / 79.9°F
20.9°C / 69.6°F
05:51 / 17:48
92
30
20.9°C / 69.6°F
18.5°C / 65.3°F
05:52 / 17:47
90
- Last updated on Jul. 19, 2022 -