Hangzhou Weather in December
Hangzhou enters its early winter in December, with an average temperature of 7°C (45°F). The weather is cold exacerbated by high humidity, so it is not the best time for travel. There is no central heating in Hangzhou, unlike cities in northern China. However, December has the least rain so it's more likely you will find plentiful sunshine during your visit.
Moreover, it is worth mentioning that if you don't mind the cold weather, December is a good time to take advantage of cut-price promotions on tour arrangement including accommodation and tickets.
Averages for Hangzhou Weather in December
Temperature: 7°C / 45°F
High Temperature: 11°C / 52°F
Low Temperature: 4°C / 39°F
Humidity: 72%
Rainfall: 47 mm
Rainy Days:8 days
Sunrise: 06:38 ~ 06:55
Sunset: 16:59 ~ 17:09
Air Quality in December
Average AQI:81

What to Wear in Hangzhou in December
Compared to the cold dry weather in Northern China, Hangzhou's climate in December may make you feel older because it is wet cold without public heating. It is necessary to wear warm clothes such as sweaters and down jacket. Temperature differs greatly between day and night, so we recommend you to put on more clothes if going outdoors during evening.


Where to Go in Hangzhou in December
The natural scenery of Hangzhou in December can be spectacular. It may snow, in which case you could stroll around the
West Lake
because to see one of the top ten famous views of the West Lake - Remnant Snow on Broken Bridge. Lingyin Temple and Peak Flown From Afar are always recommended for every visitor to Hangzhou. Besides, don't forget to pay a visit to
Qinghefang Ancient Street
to enjoy the local food, and buy some tea and silk as souvenirs. If time permits, water towns like
Wuzhen
or
Xitang
are worth visiting as well.
Generally, the price is higher for hotels that are closer to the West Lake. Although most hotels in Hangzhou provide air-conditioning, make sure to confirm this when you make hotel reservations.
What is the temperature in Hangzhou in December?
High/Low Temperatures of Hangzhou in December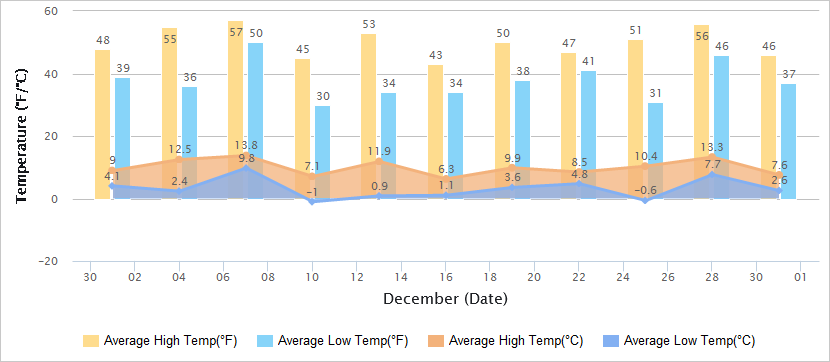 Air Quality of Hangzhou in December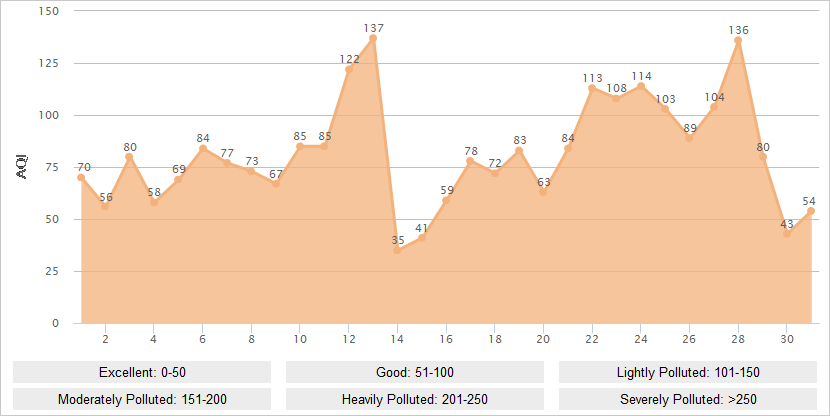 Historical Hangzhou Weather in December
Dec
Temperature
Sunrise / Sunset
Humi-
dity
(%)
High
Low
1
9°C / 48.2°F
4.1°C / 39.4°F
06:38 / 16:59
80
2
10.3°C / 50.5°F
3.5°C / 38.3°F
06:38 / 16:59
62
3
11.7°C / 53.1°F
2.7°C / 36.9°F
06:39 / 16:59
63
4
12.5°C / 54.5°F
2.4°C / 36.3°F
06:40 / 16:59
74
5
15.2°C / 59.4°F
5.4°C / 41.7°F
06:41 / 16:59
82
6
16.4°C / 61.5°F
10.8°C / 51.4°F
06:41 / 16:59
86
7
13.8°C / 56.8°F
9.8°C / 49.6°F
06:42 / 16:59
93
8
9.9°C / 49.8°F
5.8°C / 42.4°F
06:43 / 16:59
79
9
6.6°C / 43.9°F
1.6°C / 34.9°F
06:44 / 16:59
55
10
7.1°C / 44.8°F
-1°C / 30.2°F
06:44 / 16:59
48
11
8.5°C / 47.3°F
-1.4°C / 29.5°F
06:45 / 16:59
52
12
10°C / 50°F
-0.6°C / 30.9°F
06:46 / 17:00
55
13
11.9°C / 53.4°F
0.9°C / 33.6°F
06:47 / 17:00
62
14
12.5°C / 54.5°F
2.8°C / 37°F
06:47 / 17:00
70
15
8.6°C / 47.5°F
4.9°C / 40.8°F
06:48 / 17:01
61
16
6.3°C / 43.3°F
1.1°C / 34°F
06:48 / 17:01
44
17
6°C / 42.8°F
-1.9°C / 28.6°F
06:49 / 17:01
39
18
6.4°C / 43.5°F
-0.8°C / 30.6°F
06:50 / 17:02
59
19
9.9°C / 49.8°F
3.6°C / 38.5°F
06:50 / 17:02
66
20
8°C / 46.4°F
5°C / 41°F
06:51 / 17:03
87
21
10.4°C / 50.7°F
7°C / 44.6°F
06:51 / 17:03
79
22
8.5°C / 47.3°F
4.8°C / 40.6°F
06:52 / 17:04
61
23
7.9°C / 46.2°F
0.4°C / 32.7°F
06:52 / 17:04
52
24
9.1°C / 48.4°F
-0.7°C / 30.7°F
06:53 / 17:05
49
25
10.4°C / 50.7°F
-0.6°C / 30.9°F
06:53 / 17:05
46
26
10.1°C / 50.2°F
2.2°C / 36°F
06:54 / 17:06
52
27
10.8°C / 51.4°F
4.9°C / 40.8°F
06:54 / 17:06
74
28
13.3°C / 55.9°F
7.7°C / 45.9°F
06:54 / 17:07
71
29
10°C / 50°F
8.3°C / 46.9°F
06:55 / 17:08
75
30
10.1°C / 50.2°F
5.8°C / 42.4°F
06:55 / 17:08
60
31
7.6°C / 45.7°F
2.6°C / 36.7°F
06:55 / 17:09
73
- Last updated on Jul. 19, 2022 -