Hangzhou Weather in February
Hangzhou is still in its winter weather in February, but it is a little warmer than January. The temperature warms quickly at the end of this month. However, it may have many rainy days based on the statistics over the past few years. The weather in Hangzhou is changeable in this period, but you can enjoy different sceneries. For example, the misty lake is beautiful and the charm is no less excellent than in spring, summer or autumn.
Generally, the Chinese New Year falls in the beginning of February, so visitors can also learn more about traditional Chinese culture while traveling in Hangzhou during this month.
Averages for Hangzhou Weather in February
Temperature: 6°C / 43°F
High Temperature: 10°C / 50°F
Low Temperature: 3°C / 37°F
Humidity: 75%
Rainfall: 84 mm
Rainy Days:12 days
Sunrise: 06:27 ~ 06:50
Sunset: 17:36 ~ 17:57
Air Quality in February
Average AQI:78


What to Wear
To cope with the February climate, it is necessary to wear warm clothes, such as a wool sweater, cotton-padded clothes, long johns and thermal underwear. Because there is no public heating in Hangzhou, it is advisable to bring a down coat just in case of staying in a place without heating. Hats, gloves and scarves are necessary if going out. In addition, make sure to bring a pair of waterproof shoes and an umbrella, in case it rains.



Things to Do
Enjoying the sunshine while sitting beside the
West Lake
can be pleasant. You can also appreciate the beautiful scenery of the West Lake on foot, or by sightseeing bus, and riding a bike along the lakeside path is very enjoyable. Qinghefang Ancient Street is worth a visit for shopping, as well as for delicious local snacks. In addition, it is advisable to take a boat ride to the
Xixi National Wetland Park
. Also there are many tourist spots along the
Grand Canal
- the longest man-made waterway.

Other Tips
There are many tourists during the Chinese Spring Festival, so all visitors are advised to book tickets and hotels in advance. Or you can just avoid traveling during this 'golden week' for fear of the crowds.

What is the temperature in Hangzhou in February?
High/Low Temperatures of Hangzhou in February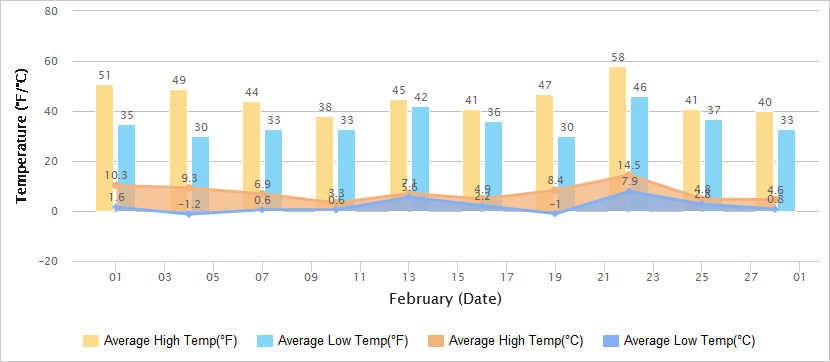 Air Quality of Hangzhou in February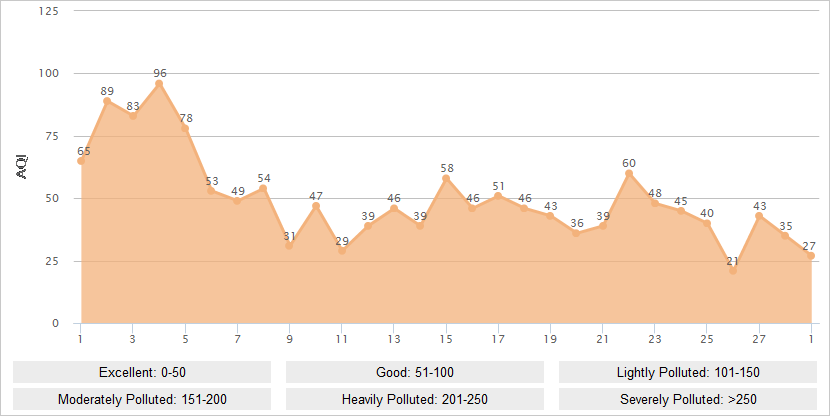 Historical Hangzhou Weather in February
Feb
Temperature
Sunrise / Sunset
Humi-
dity
(%)
High
Low
1
10.3°C / 50.5°F
1.6°C / 34.9°F
06:50 / 17:36
79
2
3.7°C / 38.7°F
0.1°C / 32.2°F
06:50 / 17:37
53
3
7.4°C / 45.3°F
-2.2°C / 28°F
06:49 / 17:38
52
4
9.3°C / 48.7°F
-1.2°C / 29.8°F
06:48 / 17:39
75
5
9.6°C / 49.3°F
5.1°C / 41.2°F
06:48 / 17:39
87
6
8.3°C / 46.9°F
6.8°C / 44.2°F
06:47 / 17:40
92
7
6.9°C / 44.4°F
0.6°C / 33.1°F
06:46 / 17:41
46
8
4.9°C / 40.8°F
-2.8°C / 27°F
06:46 / 17:42
27
9
4.2°C / 39.6°F
-2°C / 28.4°F
06:45 / 17:43
48
10
3.3°C / 37.9°F
0.6°C / 33.1°F
06:44 / 17:44
80
11
5.9°C / 42.6°F
-1.2°C / 29.8°F
06:43 / 17:44
80
12
5.9°C / 42.6°F
3.3°C / 37.9°F
06:42 / 17:45
91
13
7.1°C / 44.8°F
5.6°C / 42.1°F
06:42 / 17:46
92
14
6.3°C / 43.3°F
5.2°C / 41.4°F
06:41 / 17:47
93
15
6.4°C / 43.5°F
4.4°C / 39.9°F
06:40 / 17:48
92
16
4.9°C / 40.8°F
2.2°C / 36°F
06:39 / 17:48
85
17
8.1°C / 46.6°F
2°C / 35.6°F
06:38 / 17:49
62
18
6.0°C / 42.8°F
-0.1°C / 31.8°F
06:37 / 17:50
48
19
8.4°C / 47.1°F
-1°C / 30.2°F
06:36 / 17:51
47
20
9.1°C / 48.4°F
-0.7°C / 30.7°F
06:35 / 17:51
65
21
11°C / 51.8°F
5.4°C / 41.7°F
06:34 / 17:52
91
22
14.5°C / 58.1°F
7.9°C / 46.2°F
06:33 / 17:53
92
23
11.4°C / 52.5°F
6°C / 42.8°F
06:32 / 17:54
93
24
6°C / 42.8°F
4.2°C / 39.6°F
06:31 / 17:54
86
25
4.8°C / 40.6°F
2.8°C / 37°F
06:30 / 17:55
81
26
5.2°C / 41.4°F
-0.1°C / 31.8°F
06:29 / 17:56
74
27
5.6°C / 42.1°F
1.7°C / 35.1°F
06:28 / 17:57
61
28
4.6°C / 40.3°F
0.8°C / 33.4°F
06:27 / 17:57
85