Mogan Mountain
Located in Deqing County of Huzhou City in northeastern Zhejiang Province; Mogan Mountain has been listed as one of the 'Four Best Summer Resorts in China' along with Beidaihe Scenic Area, Mt. Lushan and Jigong Mountain. Covering an area of 43 sq kilometers (about 10,625 acres) and with an average altitude of 500 meters (1,640 ft), Mogan Mountain is famous for its wild bamboo and dispersed villas of different styles and enthralling legends.

A Green Sea in Mogan Mountain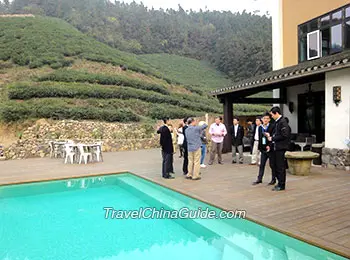 Mogan Mountain
Bamboos can be seen everywhere in Mogan Mountain. Lush fresh bamboo covers the whole mountain giving a tranquil atmosphere. Trees, bamboo, grasses and the mountain itself form a green 'sea' for visitors to appreciate. Hundreds of springs and waterfalls make this mountain the best place to escape the summer heat. As the saying goes 'the morning is just like spring and the night is fall', the average temperature of Mogan Mountain's summer is only 24 °C (75°F). Cloud formations here are very special and changeable. Sometimes the clouds may looks like heaps of cotton, sometimes they may become ribbons wrapping the mountain. A splendid Cloud Sea can be seen regularly.

Villas in Mogan Mountain
Villas hidden in the bamboo forest may surprise the visitors. More than two hundreds villas representing different styles, including European, American, Japanese, Russian, give the name 'World Architecture Museum' to Mogan Mountain. Gothic, Barroque or Rococo, northern and southern European, American and traditional Chinese architectures are scattered on the mountain. Most of the villas were built in the last century and were used by many famous people, such as the former leader of CCP Mao Zedong and Zhou Enlai, the former leader of Kuomintang Chiang Kai-shek, the former King of Cambodia Norodom Sihanouk and the former Chairman of Vietnam Ho Chi Minh. Now the previous residences are well preserved and open to visitors.

Legend of Mogan Mountain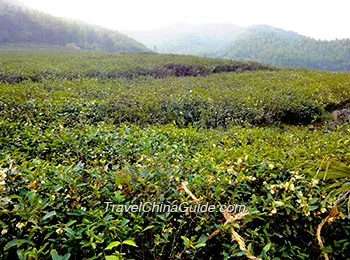 Tea Garden on Mogan Mountain
The endearing legend of Mogan Mountain is another attraction. It is said that in the Spring and Autumn Period (770-476 BC) a couple named Gan Jiang and Mo Ye, who were expert sword makers, were asked by the king to make their best sword in three months. For the work they chose a spiritual place in the mountain. But they had problems during the process, so Mo Ye, the wife, cut her hair and nails and threw them into the furnace. Finally, they cast two swords and named them Gan Jiang and Mo Ye. The husband dedicated Sword Mo Ye to the king. The king killed him to prevent another sword to be made that would beat Sword Mo Ye. After hearing the tragic news, the wife jumped with Sword Gan Jiang into the pond that had been used to temper the swords. To commemorate the couple, the mountain was named Mogan and the pond Sword Pond. Because of the legend, the Sword Pond should not be missed by visitors.

How to get to Mogan Mountain
From Hangzhou:
1. Take K588 bus from Wulinmen to Deqing and change minibuses to reach there. K588 bus is operated from 07:00 to 19:30.
2. Take regular bus from Passenger Transport Central Station to Deqing and then change minibuses to get there.
Hangzhou Bus / Metro Search
From Shanghai:
1. Take high speed trains to Hangzhou first and then use the above-mentioned ways to reach there.
2. Take long distance bus from Shanghai Long Distance General Bus Station to Deqing directly. It departs at 08:50 every day. The bus fare is around CNY 67. Then take minibuses to get there.

Visitors can also take train from other cities to reach Deqing first. Then they can take regular buses to reach the mountain. It costs around CNY 15 per person. Bus schedule is as below:
Deqing Railway Station: 08:30, 13:00, 16:40
Mogan Mountain: 10:20, 14:50, 18:30
Entrance Fee
May 1 to 3, Jul. - Aug., Oct. 1 - 7: CNY 100;
Dec. - Feb.: CNY 50;
Other times: CNY 80.
Opening Hours
8:00 - 17:00
- Last updated on Jul. 26, 2021 -
Questions & Answers on Mogan Mountain
Asked by Hamaoui from USA | Aug. 01, 2019 20:14

Reply
how to get to the Mogan mountain from Quzhou
Answers (1)
Answered by Ethel from GERMANY | Aug. 02, 2019 00:28

0

0

Reply
You can take a coach from Quzhou to Deqing first. Then take the mini buses to get to the destination.
Asked by Barbara from BRAZIL | Jul. 09, 2019 17:57

Reply
How to get to Mogan Mountain from huzhou?
I AM already on huzhou city, next do Sheraton hotel in taihu lake.. Could you help me find a way to get there please?
Answers (1)
Answered by Moria from USA | Jul. 16, 2019 00:55

0

0

Reply
Hi, you can take a bus from Huzhou East Bus Station to Wukang and then take a tourist line to Moganshan. The bus from Huzhou to Wukang operates from 6:20 to 16:55 with an interval about 40 minutes and it takes about CNY12 per person.
Asked by Mike from SLOVAKIA | Sep. 18, 2016 00:19

Reply
How to get to Mogan Mountain from Hangzhou railway station?
What is Wulinmen? Which minibuses we need to change?
I cant see bus K588 when I click at ``Hangzhou Bus Search``
can you tell me CLEARLY how to get there from Hangzhou?

Thank you
Answers (1)
Answered by Mia from ITALY | Sep. 19, 2016 00:56

0

0

Reply
Well, Wulinmen is the name of a bus stop.

From Hangzhou Railway Station, you can take metro line 1 to Wulin Square Station, Exit B. Walk west for about 400 yards, and turn right. Then, walk north for about 200 yards to Wulinmen North Station. Take bus line K588 to the terminus: Deqing General Bus Station. Then, take a direct bus to the mountain. The bus has no number.

Or, you can take metro line 1 to Hangzhou East Railway Station. Then, take a bullet train to Deqing Railway Station (about 13 minutes). Upon arrival, take a bus to it. ;)