Luoyang Weather in July
Just as most cities in China, the weather of Luoyang is hot and rainy in July. The average daytime temperature is 32°C (90°F), and the average night temperature is 23°C (73°F). The temperature difference between day and night is not big.
With an average of 140 mm, the most abundant precipitation throughout a year falls in this month.
Thanks to the rainwater, trees and flowers are flourishing, making the city more energetic.
Averages for Luoyang Weather in July
Temperature: 27°C / 81°F
High Temperature: 32°C / 90°F
Low Temperature: 23°C / 73°F
Rainfall: 140 mm
Rainy Days: 12 days
Sunrise: 05:21 ~ 05:40
Sunset: 19:34 ~ 19:48
Air Quality in July
Average AQI:50

What to Wear in Luoyang in July
You can wear short-sleeved T-shirts plus shorts or thin skirts, or wear a cotton or chiffon dress in the daytime. The weather gets a little colder at night, so you'd better take a thin coat or a thin cardigan when going outside.


Things to Do in Luoyang in July
A whitewater rafting trip is wonderful in hot summer. In Dinosaur Valley Rafting Scenic Area, you will experience the charm of rafting and escape summer heat. It is the first rafting scenic area with the theme of dinosaur, where visitors not only can experience rapids, jungle adventure, original bamboo rafting trips, but also can learn about the birth and extinction of dinosaurs.
The Yellow River Xiaolangdi Scenic Area is also a famous summer resort. Dominated by Xiaolangdi Multipurpose Dam Project, the scenic area features spectacular scenery of gorges, mountains, waters and profound Yellow River culture. Bali Gorge, Gushan Gorge and Dragon and Phoenix Gorge are the essence of the scenic area, which present a rarely-seen magnificent landscape of mountain and water in northern China. Visitors can pass though the gorges by boats and appreciate the beautiful views on both sides of the Xiaolangdi Reservoir.
Lotus flowers are in full bloom in this month. Sui and Tang Dynasties City Ruins Botanical Garden,
China National Flower Garden
, Lizhuang Village in Mengjin County and Lingshan Village in Yiyang County are well-known places to admire beautiful lotus flowers
Other Tips
Because of the hot climate and intensive sunlight in July in Luyoyang, you need to drink enough water and apply sunscreen or wear sun-protective clothing to protect your skin during outdoor activities. In addition, mosquito repellent is indispensable. Because of the increase of rainfall, roads in some scenic areas are slippery, so you'd better bring a pair of flat and skidproof shoes. If you decide to go rafting, you need to take a suit of clean clothes.
What is the temperature in Luoyang in July?
High/Low Temperatures of Luoyang in July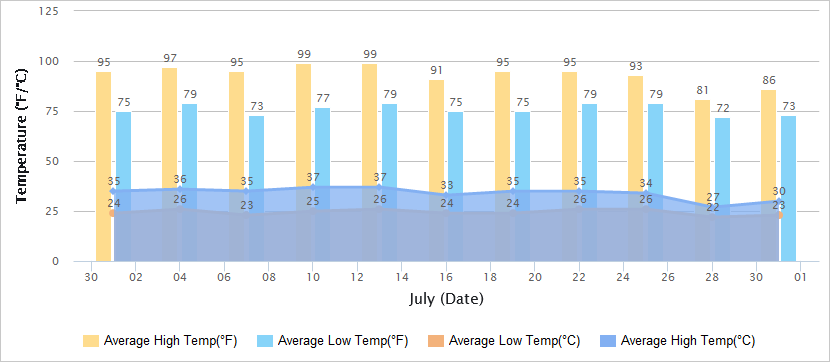 Air Quality of Luoyang in July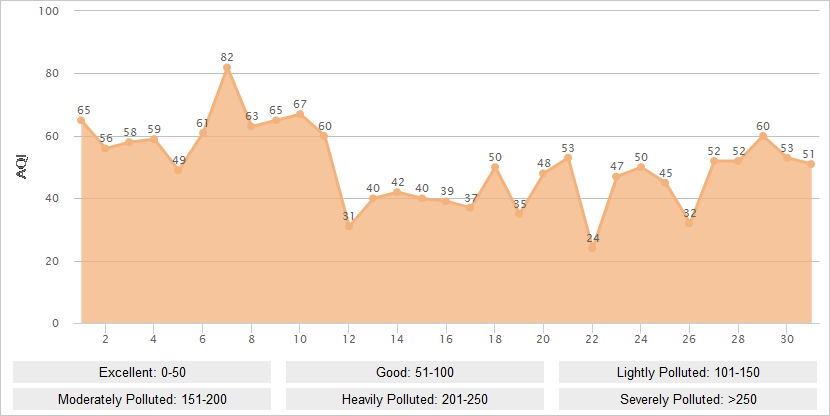 Historical Luoyang Weather in July
Jul
Temperature
Sunrise / Sunset
Humi-
dity
(%)
High
Low
1
35°C / 95°F
24°C / 75.2°F

05:21

/

19:48

38
2
35°C / 95°F
24°C / 75.2°F

05:21

/

19:48

31
3
37°C / 98.6°F
26°C / 78.8°F

05:22

/

19:48

17
4
36°C / 96.8°F
26°C / 78.8°F

05:22

/

19:47

31
5
33°C / 91.4°F
24°C / 75.2°F

05:23

/

19:47

45
6
27°C / 80.6°F
23°C / 73.4°F

05:23

/

19:47

83
7
35°C / 95°F
23°C / 73.4°F

05:24

/

19:47

35
8
35°C / 95°F
25°C / 77°F

05:24

/

19:47

29
9
37°C / 98.6°F
25°C / 77°F

05:25

/

19:46

30
10
37°C / 98.6F
25°C / 77°F

05:25

/

19:46

37
11
37°C / 98.6°F
25°C / 77°F

05:26

/

19:46

41
12
37°C / 98.6°F
26°C / 78.8°F

05:27

/

19:45

50
13
37°C / 98.6°F
26°C / 78.8°F

05:27

/

19:45

43
14
36°C / 96.8°F
26°C / 78.8°F

05:28

/

19:45

41
15
31°C / 87.8°F
23°C / 73.4°F

05:28

/

19:44

46
16
33°C / 91.4°F
24°C / 75.2°F

05:29

/

19:44

45
17
34°C / 93.2°F
25°C / 77°F

05:30

/

19:43

47
18
35°C / 95°F
25°C / 77°F

05:30

/

19:43

49
19
35°C / 95°F
24°C / 75.2°F

05:31

/

19:42

47
20
36°C / 96.8°F
26°C / 78.8°F

05:32

/

19:42

45
21
37°C / 98.6°F
27°C / 80.6°F

05:32

/

19:41

52
22
35°C / 95°F
26°C / 78.8°F

05:33

/

19:41

42
23
36°C / 96.8°F
27°C / 80.6°F

05:34

/

19:40

42
24
39°C / 102.2°F
27°C / 80.6°F

05:34

/

19:39

38
25
34°C / 93.2°F
26°C / 78.8°F

05:35

/

19:39

58
26
34°C / 93.2°F
26°C / 78.8°F

05:36

/

19:38

50
27
31°C / 87.8°F
22°C / 71.6°F

05:37

/

19:37

58
28
27°C / 80.6°F
22°C / 71.6°F

05:37

/

19:36

57
29
26°C / 78.8°F
21°C / 69.8°F

05:38

/

19:36

55
30
27°C / 80.6°F
22°C / 71.6°F

05:39

/

19:35

54
31
30°C / 86°F
23°C / 73.4°F

05:40

/

19:34

42
- Last updated on Sep. 09, 2019 -