Luoyang Weather in February
Just as the weather of January, Luoyang weather in February is cold and dry. The average daytime temperature is 8°C (46°F), and the average night temperature is -3°C (27°F). The average precipitation is only 16mm.

The air is heavily polluted this month. It should be noted that the temperature difference between day and night is great, you should dress properly according to the weather.
Averages for Luoyang Weather in February
Temperature: 3°C / 37°F
High Temperature: 8°C / 46°F
Low Temperature: -3°C / 27°F
Rainfall: 16 mm
Rainy Days: 5 days
Sunrise: 07:10 ~ 07:29
Sunset: 17:59 ~ 18:25
Air Quality in February
Average AQI:94

What to Wear in Luoyang in February
On sunny days, a thick sweater plus a wind coat or a thin down jacket, and a pair of cotton boots or flat heel leather boots are enough for weather. However, you need to change into cotton-padded coat or thick down jacket and wear hat, gloves and scarf if going outside at night.


Things to Do in Luoyang in February
If you visit Luoyang in this month, you can appreciate some cultural landscapes.
Luoyang Museum
is a good option, where you can learn about the history and culture of the city. Many rare exhibits are collected there, including potteries from Yangshao and Longshan culture periods, jade and stone objects of Xia and Shang Dynasties (21st century-1046 BC), bronze wares of Zhou Dynasty (1046-256 BC), paintings of Han Dynasty (202 BC- 220 AD), tri-colored glazed pottery of the Tang Dynasty (618-907) and porcelains of Song Dynasty (960-1279). There you also can see the exquisite bronze wine vessel with nipple pattern from Xia Dynasty (21st-17th century BC).
After a cultural exploration, you can take a walk and enjoy the sunny afternoon in the Sui and Tang Dynasties City Ruins Botanical Garden which is next to Luoyang Museum. There plum blossom come into bloom in Plum Garden where more than 30 species of plum trees are planted. As you enter the garden, you will smell a sweet fragrance.
Other Tips
The climate of Luoyang in February is still dry, so you should drink enough water during outdoor activities, moreover, you need to pay attention to skin protection. To prevent physical discomfort caused by climate and diet change, you'd better take some commonly used medicines. Few tourists visit Luoyang in this month, so it is a good option to travel there if you get used to the cold weather. It is noteworthy that some fake and inferior souvenirs are sold in scenic spots, so you should be careful to identify before paying.
What is the temperature in Luoyang in February?
High/Low Temperatures of Luoyang in February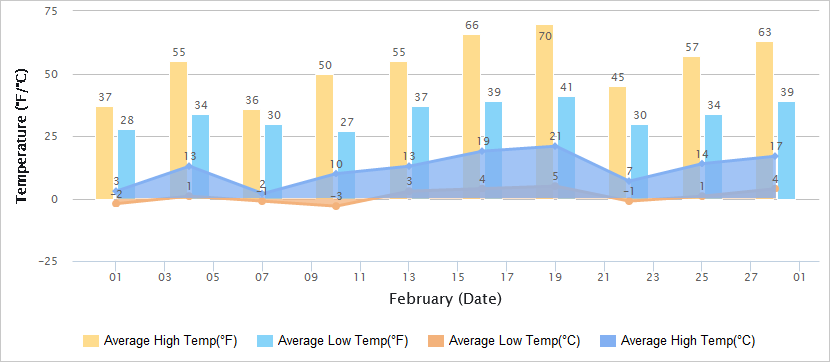 Air Quality of Luoyang in February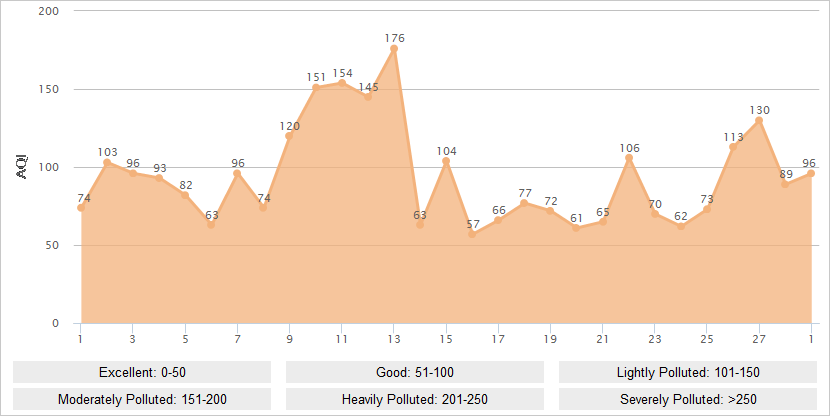 Historical Luoyang Weather in Feburary
Feb
Temperature
Sunrise / Sunset
Humi-
dity
(%)
High
Low
1
3°C / 37.4°F
-2°C / 28.4°F

07:29

/

17:59

30
2
4°C / 39.2°F
-2°C / 28.4°F

07:28

/

18:00

29
3
8°C / 46.4°F
-1°C / 30.2°F

07:27

/

18:01

42
4
13°C / 55.4°F
1°C / 33.8°F

07:27

/

18:02

36
5
10°C / 50°F
2°C / 35.6°F

07:26

/

18:03

40
6
6°C / 42.8°F
1°C / 33.8°F

07:25

/

18:04

34
7
2°C / 35.6°F
-1°C / 30.2°F

07:24

/

18:05

33
8
3°C / 37.4°F
-2°C / 28.4°F

07:23

/

18:06

54
9
6°C / 42.8°F
-4°C / 24.8°F

07:22

/

18:07

25
10
10°C / 50F
-3°C / 26.6°F

07:21

/

18:08

17
11
11°C / 51.8°F
-1°C / 30.2°F

07:20

/

18:09

18
12
13°C / 55.4°F
0°C / 32°F

07:19

/

18:10

20
13
13°C / 55.4°F
3°C / 37.4°F

07:18

/

18:11

25
14
13°C / 55.4°F
4°C / 39.2°F

07:17

/

18:12

36
15
17°C / 62.6°F
5°C / 41°F

07:16

/

18:13

38
16
19°C / 66.2°F
4°C / 39.2°F

07:15

/

18:14

38
17
11°C / 51.8°F
1°C / 33.8°F

07:14

/

18:15

32
18
15°C / 59°F
2°C / 35.6°F

07:13

/

18:16

31
19
21°C / 69.8°F
5°C / 41°F

07:12

/

18:17

41
20
6°C / 42.8°F
-3°C / 26.6°F

07:11

/

18:18

14
21
1°C / 33.8°F
-5°C / 23°F

07:10

/

18:19

85
22
7°C / 44.6°F
-1°C / 30.2°F

07:08

/

18:19

75
23
9°C / 48.2°F
-1°C / 30.2°F

07:07

/

18:20

32
24
13°C / 55.4°F
1°C / 33.8°F

07:06

/

18:21

23
25
14°C / 57.2°F
1°C / 33.8°F

07:05

/

18:22

24
26
15°C / 59°F
2°C / 35.6°F

07:04

/

18:23

21
27
18°C / 64.4°F
4°C / 39.2°F

07:02

/

18:24

20
28
17°C / 62.6°F
4°C / 39.2°F

07:01

/

18:25

33
- Last updated on Sep. 09, 2019 -