Luoyang Weather in November
In November, the weather of Luoyang is cool and dry. It enters late autumn in this month, and the temperature drops sharply. The average daytime temperature is 14°C (57°F), and the average night temperature is 3°C (37°F). The temperature difference between day and night is great, so you should pick up the right clothes according to the weather.
The average precipitation of this month further reduces to 20mm. The heating system in Luoyang will start to run in mid-November, which may affect the air quality and visibility.
Averages for Luoyang Weather in November
Temperature: 9°C / 48°F
High Temperature: 14°C / 57°F
Low Temperature: 3°C / 37°F
Rainfall: 20 mm
Rainy Days: 5 days
Sunrise: 06:24 ~ 06:49
Sunset: 17:38 ~ 18:15
Air Quality in November
Average AQI:120

What to Wear in Luoyang in November
Due to the extensive heating system in Luoyang, a thin sweater or a thin T-shirt plus thin pants are enough if you are staying inside. If going outside, you have to wear a woolen coat or a thick jacket.


Where to Go in Luoyang in November
The daytime temperature is not very low in this month, so outdoor activities are OK. It is the best time to appreciate beautiful red leaves and the Laojun Mountain and the Daimei Mountain are two preferred choices.
Laojun Mountain is a Taoist holy land in northern China, which was once the retreat of Laozi, a famous Chinese philosopher and the founder of Taoism. Autumn is the most beautiful season when the mountain is dyed by fiery red leaves. Dark green and golden yellow leaves are dotted on the flaming mountain, forming a picturesque scene. As many as 16 Taoist temples are situated there, adding strong cultural atmosphere. Spectacular sea of clouds and unique landform are also attractions of the scenic area.
The Daimei Mountain is the only primitive eco-tourism scenic area surrounded by the
Yellow River
on three sides. In autumn, smoke trees and maple trees put on gorgeous red makeup. Beautiful red leaves all over the mountains and clear blue sky as well as floating white clouds are set off by each other, making the scenic area especially enchanting. There tourists can also visit geological gallery and alpine meadow.
The climate is dry in November in Luoyang, so moisturizing skin care products are essential. Oxygen is abundant and there are plenty of dead branches and rotten leaves in the mountains, hence you should not smoke or make campfire for fear of causing a fire. The temperature in the mountains is lower; therefore, you'd better take a thick coat.
What is the temperature in Luoyang in November?
High/Low Temperatures of Luoyang in November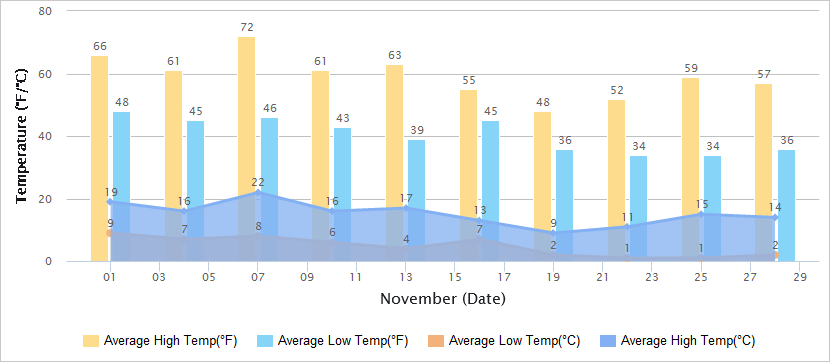 Air Quality of Luoyang in November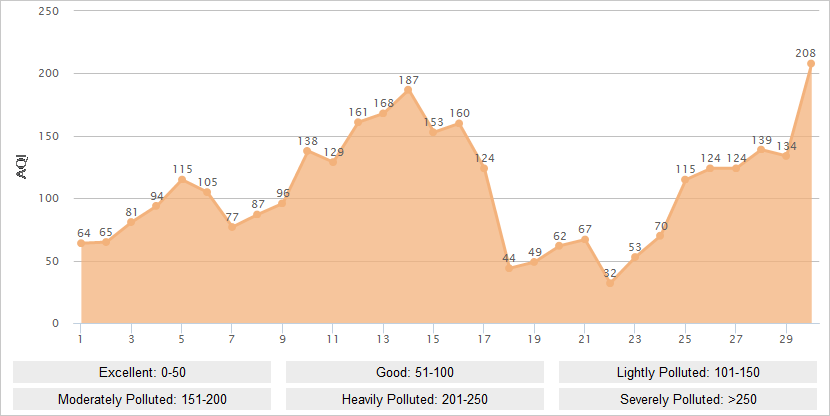 Historical Luoyang Weather in November
Nov
Temperature
Sunrise / Sunset
Humi-
dity
(%)
High
Low
1
19°C / 66.2°F
9°C / 48.2°F

06:50

/

17:37

54
2
23°C / 73.4°F
9°C / 48.2°F

06:51

/

17:36

39
3
18°C / 64.4°F
7°C / 44.6°F

06:52

/

17:35

47
4
16°C / 60.8°F
7°C / 44.6°F

06:53

/

17:34

43
5
18°C / 64.4°F
9°C / 48.2°F

06:54

/

17:34

46
6
22°C / 71.6°F
10°C / 50°F

06:55

/

17:33

44
7
22°C / 71.6°F
8°C / 46.4°F

06:56

/

17:32

32
8
20°C / 68°F
9°C / 48.2°F

06:57

/

17:31

34
9
18°C / 64.4°F
10°C / 47.1°F

06:58

/

17:30

50
10
16°C / 60.8F
6°C / 42.8°F

06:59

/

17:29

25
11
12°C / 53.6°F
4°C / 39.2°F

07:00

/

17:29

25
12
16°C / 60.8°F
6°C / 42.8°F

07:01

/

17:28

42
13
17°C / 62.6°F
4°C / 39.2°F

07:02

/

17:27

35
14
14°C / 57.2°F
5°C / 41°F

07:03

/

17:27

22
15
14°C / 57.2°F
5°C / 41°F

07:04

/

17:26

30
16
13°C / 55.4°F
7°C / 44.6°F

07:05

/

17:25

36
17
12°C / 53.6°F
2°C / 35.6°F

07:06

/

17:25

38
18
7°C / 44.6°F
0°C / 32°F

07:07

/

17:24

17
19
9°C / 48.2°F
2°C / 35.6°F

07:08

/

17:24

24
20
12°C / 53.6°F
1°C / 33.8°F

07:09

/

17:23

32
21
14°C / 57.2°F
3°C / 37.4°F

07:10

/

17:23

27
22
11°C / 51.8°F
1°C / 33.8°F

07:11

/

17:22

23
23
12°C / 53.6°F
2°C / 35.6°F

07:11

/

17:22

22
24
14°C / 57.2°F
3°C / 37.4°F

07:12

/

17:21

22
25
15°C / 59°F
1°C / 33.8°F

07:13

/

17:21

22
26
13°C / 55.4°F
-1°C / 30.2°F

07:14

/

17:21

26
27
10°C / 50°F
2°C / 35.6°F

07:15

/

17:20

40
28
14°C / 57.2°F
2°C / 35.6°F

07:16

/

17:20

27
29
5°C / 41°F
-1°C / 30.2°F

07:17

/

17:20

25
30
5°C / 41°F
-3°C / 26.6°F

07:18

/

17:20

31
- Last modified on Sep. 09, 2019 -