Luoyang Weather in April
The weather of Luoyang is pleasant in April. The average daytime temperature is 21°C (70°F), and the average night temperature is 9°C (48°F). Even though the average precipitation increases to 37mm, the climate is still dry. April is regarded as the most beautiful time of the city when many kinds of peony flowers are in full bloom. Luoyang peony is the finest under heaven, attracting a large number of tourists to come for a visit.
The
Peony Culture Festival
of Luoyang China is held annually in early April and will last about one month. Visitors can appreciate peony flowers and watch peony flower-themed exhibitions, lantern shows and cultural performances.
Averages for Luoyang Weather in April
Temperature: 14°C / 57°F
High Temperature: 21°C / 70°F
Low Temperature: 9°C / 48°F
Rainfall: 37 mm
Rainy Days: 7 days
Sunrise: 05:16 ~ 05:59
Sunset: 18:38 ~ 19:08
Air Quality in April
Average AQI:84

What to Wear in Luoyang in April
You can bring some thin clothes such as long-sleeve shirts, cotton and linen suits, thin coats, denim shirts and thin jeans. However, cotton wadded jackets, light sweaters and wind coats are necessary, for they can protect you from night cold climate in Luoyang.


Thing to Do in Luoyang in April
It is the best time to appreciate peonies whose blooming becomes a grand event in Luoyang. The
China National Flower Garden
and Wangcheng Park are popular places to admire peony flowers.
The China National Flower Garden is the largest specialized peony ornamental garden in China at present, where 500,000 peonies belonging to over 1,000 species are cultivated. Besides appreciating peony flowers, visitors can enjoy the exquisite gardening craft of this traditional royal garden.
Peony viewing area in Wangcheng Park offers a collection of famous peony varieties, where you can see some rarely-seen peonies. There is a zoo inside the park and visitors can see giant pandas, South China tigers, white rhinos, kangaroos and so on. Lantern show held during the Peony Culture Festival is also a highlight of the park.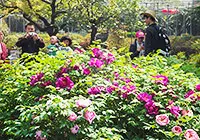 Wangcheng Park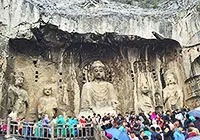 Longmen Grottoes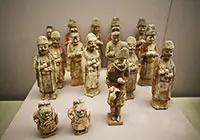 Luoyang Museum
Yongtai Temple
Other Tips
If you visit Luoyang in this month, sun-protective clothing and sunscreen are indispensable. Many kinds of flowers are in full blossom in this month, so you should be aware of pollen allergy. A lot of tourists visit Luoyang to admire the beautiful peony flowers in April; therefore, you'd better have your itinerary arranged as soon as possible and book hotels in advance. In addition, you'd better not visit the city during the
Qingming Festival
holiday to avoid crowds.
What is the temperature in Luoyang in April?
High/Low Temperatures of Luoyang in April
Air Quality of Luoyang in April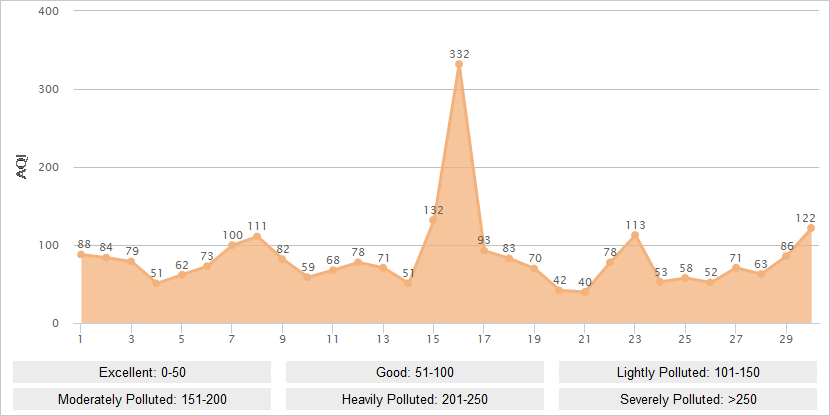 Historical Luoyang Weather in April
Apr
Temperature
Sunrise / Sunset
Humi-
dity
(%)
High
Low
1
20°C / 68°F
6°C / 42.84°F

06:18

/

18:51

25
2
24°C / 75.2°F
10°C / 50°F

06:16

/

18:52

24
3
19°C / 66.2°F
11°C / 51.8°F

06:15

/

18:53

52
4
14°C / 57.2°F
10°C / 50°F

06:14

/

18:53

77
5
19°C / 66.2°F
12°C / 53.6°F

06:12

/

18:54

65
6
23°C / 73.4°F
13°C / 55.4°F

06:11

/

18:55

54
7
21°C / 69.8°F
14°C / 57.2°F

06:10

/

18:56

59
8
15°C / 59°F
10°C / 50°F

06:08

/

18:57

87
9
12°C / 53.6°F
7°C / 44.6°F

06:07

/

18:57

68
10
11°C / 51.8F
7°C / 44.6°F

06:06

/

18:58

73
11
20°C / 68°F
10°C / 50°F

06:04

/

18:59

56
12
23°C / 73.4°F
12°C / 53.6°F

06:03

/

19:00

39
13
23°C / 73.4°F
13°C / 55.4°F

06:02

/

19:01

39
14
28°C / 82.4°F
13°C / 55.4°F

06:01

/

19:01

42
15
27°C / 80.6°F
16°C / 60.8°F

05:59

/

19:02

38
16
21°C / 69.8°F
14°C / 57.2°F

05:58

/

19:03

57
17
29°C / 84.2°F
16°C / 60.8°F

05:57

/

19:04

26
18
29°C / 84.2°F
16°C / 60.8°F

05:56

/

19:05

26
19
27°C / 80.6°F
12°C / 53.6°F

05:54

/

19:05

38
20
25°C / 77°F
12°C / 53.6°F

05:53

/

19:06

21
21
24°C / 75.2°F
9°C / 48.2°F

05:52

/

19:07

20
22
26°C / 78.8°F
12°C / 53.6°F

05:51

/

19:08

21
23
29°C / 84.2°F
14°C / 47.7°F

05:50

/

19:09

29
24
28°C / 82.4°F
13°C / 55.4°F

05:49

/

19:09

40
25
18°C / 64.4°F
10°C / 50°F

05:47

/

19:10

55
26
21°C / 69.8°F
11°C / 51.8°F

05:46

/

19:11

25
27
26°C / 78.8°F
11°C / 51.8°F

05:45

/

19:12

23
28
29°C / 84.2°F
14°C / 57.2°F

05:44

/

19:13

15
29
33°C / 91.4°F
16°C / 60.8°F

05:43

/

19:13

17
30
33°C / 91.4°F
17°C / 62.6°F

05:42

/

19:14

21
- Last updated on Sep. 09, 2019 -