China Weather in December
December is the first winter month in China and the weather is cold or even freezing in the north, so dress yourself warmly if coming to China in this month. But the cold weather may award visitors with white and pure snow. In some southern tropical cities, including Hainan, Hong Kong and Macau, it is relatively warm.

The coldest cities in China in December:
Harbin: -20°C (-4°F), Changchun: -17°C (1°F), Yinchuan: -11°C (12°F), Hohhot: -15 °C (5°F)

The hottest cities in China in December:
Sanya: 27°C (81°F), Beihai: 21°C (70°F); Dongfang: 24°C (75°F), Fuzhou: 18°C (64°F)

See more:
Winter in China – Weather & Tour Tips
Averages for China Weather in December

7°C (45°F)

-2C (28°F)

Rainfall
17 mm (½ in)

Sunrise
07:16 ~ 07:36

Sunset
16:50 ~ 16:59
The times for sunrise and sunset are based on Beijing.
China Temperatures in December
In such a cold winter month, wearing warm clothes is practical, including down coat, thermal shirt, padded overcoat, winter pants, padded trousers, snow boots, hat, scarf, gloves… In North China, there is proper heating system, and you can just wear a thin sweater indoors. Some southern cities would be warm, so you can prepare a thin jacket or coat, thin pants, jeans and long-sleeve T-shirt. All in all, clothes to wear in China in December depends on where you are actually going.


December Travel Guide - Where to Go & Tips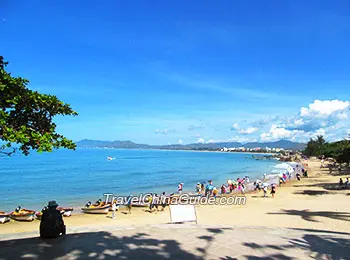 Sanya in December
Tourism Rate:

Tourists, who aren't afraid of the cold climate and would like to see winter scenery, should not miss the
Ice and Snow Festival
in Harbin in the end of December to see various colorful ice sculptures, or the fairyland - Snow Town completely covered with white snow. You can also appreciate the sea of clouds, sunrise and sunset on
Mount Emei
or
Yellow Mountain
. Here are also some recommendations for you to escape the coldness. You can spend a warm Christmas holiday in Hong Kong or Macau. Or stroll around on the seaside beach in Sanya.
Wear enough warm clothes in North China to protect you against the cold or fever. Be cautious of the slippery road, especially after snow or in some mountainous areas.
China Regional Weather in December
Beijing & Northeast China
Major Destinations: Beijing, Tianjin, Harbin, Dalian, Shenyang, East Inner Mongolia…
Temperatures: -7 - 3°C (19 - 37°F)

It is cold and dry in this month and some cities receive more snowfall than in November. It is a great time to appreciate colorful ice sculptures in the
Ice and Snow World
in Harbin in late December, or ski in the ski resorts of Beijing or Harbin. Standing on
the Great Wall
to see the mountains covered with white snow is also an enjoyable experience.
Clothing: down coat, thermal shirt, padded overcoat, winter pants, padded trousers, snow boots, hat, scarf, gloves…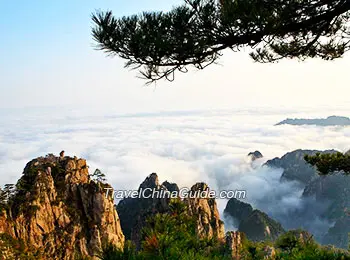 Sea of Clouds on Yellow Mountain
Major Destinations: Shanghai, Hangzhou, Suzhou, Nanjing, Huangshan (Yellow Mountain), Nanchang, Fujian, Shandong…
Temperatures: 2 - 11°C (36 - 52°F)

The climate of East China in December is clammy: freezing and humid. But it is a great time to see the rime and sea of clouds or take a bath in the hot spring of the Yellow Mountain.

Clothing: padded overcoat, sweater, long boots, down jacket, thick pants, hat, scarf, gloves…

Major Destinations: Xi'an, Chengdu, Luoyang, Zhangjiajie, Wuhan, Yangtze River…
Temperatures: 4 - 12°C (39 - 54°F)

Central China's weather in this month is also chilly and dry. It snow sometimes. In such cold days, why not go to Chengdu or Chongqing to taste the authentic Sichuan Hot Pot? It will be a nice bite of trip. It is also a great time to appreciate the sea of clouds on Mount Emei.

Clothing: down coat, padded jacket, thick overcoat, padded trousers, short boots, hat, scarf, gloves…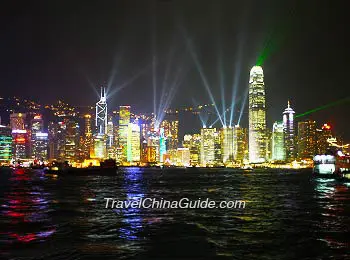 Victoria Harbour in Hong Kong
Major Destinations: Guilin, Hong Kong, Guangzhou, Yunnan, Guizhou, Hainan…
Temperatures: 8 - 16°C (46 - 61°F)
Comparing with North China, the temperature in South China is higher and people feel warm in this region. It would be a great destination to escape the cold climate and enjoy a comfortable holiday. You are advised to go shopping around Christmas in Hong Kong or Macau for bigger discount, or enjoy sunshine on the beaches of Sanya. Guilin and Yunnan are also good choice in this month.

Clothing: long-sleeve T-shirt, basketball jacket, sweat pants, jeans, ankle boots…

Major Destinations: Tibet, Xinjiang, Gansu, Qinghai, West Inner Mongolia…
Temperatures: -5 - 11°C (23 - 52°F)

It is quite cold and snows less in this region. In fact, it is not a perfect time to take a visit to West China in December.

Clothing: thick sweater, thermal shirt, down coat, winter pants, long boots, hat, scarf, gloves…
December Weather of Major Chinese Cities
December
Sunrise / Sunset
Humidity
(%)
High

Low

4°C / 39°F
-6°C / 21°F
07:16 / 16:5
49
Changsha

11°C / 52°F
2°C / 36°F
07:02 / 17:42
79
Chengdu

11°C / 52°F
5°C / 41°F
07:43 / 18:12
82
Chongqing

12°C / 54°F
8°C / 46°F
07:31 / 18:05
85
Guangzhou

21°C / 70°F
11°C / 52°F
06:51 / 17:52
66
Guilin
15°C / 59°F
7°C / 45°F
07:08 / 18:00
67
Guiyang
11°C / 52°F
4°C / 39°F
07:24 / 18:11
75
Hangzhou

11°C / 52°F
4°C / 39°F
06:38 / 17:09
72
-9°C / 16°F
-20°C / -4°F
06:54 / 15:59
71
Hohhot

-3°C / 27°F
-14°C / 7°F
07:37 / 17:14
59
Hong Kong

21°C / 70°F
15°C / 59°F
06:46 / 17:50
66
Huangshan

4°C / 39°F
-3°C / 27°F
06:46 / 17:17
56
Kunming

15°C / 59°F
3°C / 37°F
07:38 / 18:30
73
Lhasa

8°C / 46°F
-8°C / 18°F
08:33 / 19:07
34
Lijiang

14°C / 54°F
0°C / 32°F
07:51 / 18:36
53
Luoyang

8°C / 46°F
-3°C / 27°F
07:19 / 17:29
/
Nanjing

10°C / 50°F
0°C / 32°F
06:47 / 17:10
74
Pingyao
3°C / 37°F
-8°C / 18°F

07:26 / 17:23
55
Qingdao

6°C / 43°F
-1°C / 30°F
06:50 / 16:53
63
Sanya

27°C / 81°F
19°C / 66°F
06:35 / 17:02
/
Shanghai

11°C / 52°F
2°C / 36°F
06:35 / 17:02
73
Shenzhen

13°C / 55°F
22°C / 72°F
06:47 / 17:50
64
Suzhou

11°C / 52°F
2°C / 36°F
06:39 / 17:05
70
Tianjin
4°C / 39°F
-5°C / 23°F
07:11 / 16:58
59
Urumqi
-5°C / 23°F
-14°C / 7°F
09:23 / 18:41
78
Wuhan

11°C / 52°F
2°C / 36°F
07:02 / 17:32
74
Xiamen

20°C / 68°F
12°C / 54°F
06:34 / 17:29
70
Xi'an

6°C / 43°F
-3°C / 27°F
07:32 / 17:45
69
Zhangjiajie

12°C / 54°F
4°C / 39°F
07:14 / 17:51
73
Zhengzhou
8°C / 46°F
-3°C / 27°F
07:14 / 17:24
61
- Last updated on Dec. 29, 2020 -