Suzhou Weather in December
In December, Suzhou is in early winter with colder weather compared with November. The temperature hovers between 2°C (36°F) and 11°C (52°F). It snows sometimes and covers the city in white. Although it hardly rains in December, it is wet and uncomfortably cold, but there are also some sunny breaks.
You may chance upon the grand Bell Chime Listening ceremony held in Hanshan Temple on the New Year's Eve. After the ceremony, you may strike the bell inside the temple while making a New Year wish. Many Buddhism themed shows are performed there as well. The city will also celebrate the Christmas Day with the crazy shopping carnival there.
Averages for Suzhou Weather in December
Temperature: 6°C / 43°F
High Temperature: 11°C / 52°F
Low Temperature: 2°C / 36°F
Humidity: 70%
Rainfall: 35 mm
Rainy Days: 5 days
Sunrise: 06:39 ~ 06:56
Sunset: 16:54 ~ 17:05
Air Quality in December
Average AQI:78

What to Wear in Suzhou in December
Winter clothing are a must. Tourists should wear down jackets, sweaters, warm coats, scarves, hats, masks, and warm pants when going out. They should be aware of the noticeable temperature gap between day and night and add clothes accordingly.


Where to Go in Suzhou in December
Hanshan Temple, as one of the most famous Buddhism temples in China, well-known for the bell it houses, is worthy of visiting in Suzhou City. Tourists can make wishes in the Grand Prayer Hall and get entertained. They can also pay a visit to the Maple Bridge on the side.
Another popular place is
Pingjiang Road
, the largest and best-kept historical block in Suzhou city. Tourists traverse many small lanes where they can find old residential houses, some of which have been converted into tea houses, cafes, and bars. Many snack stalls along the streets are home grown and operated. Delicious snacks include meat-stuffed moon cakes, jelly, begonia cakes, chicken feet and duck tongues.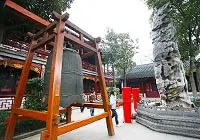 Hanshan Temple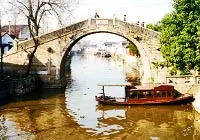 Maple Bridge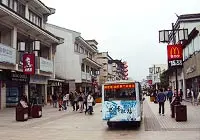 Guanqian Street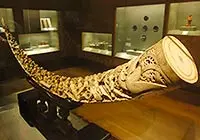 Suzhou Museum
Top 10 Things to Do in Suzhou
Other Tips
It is necessary to find a hotel providing good heating. The wet cold weather makes it easy to catch cold, so tourists should dress warmly and bring medical remedies. Warm clothes are necessary when visiting water towns as the climate is colder than urban areas.
What is the temperature in Suzhou in December?
High/Low Temperatures of Suzhou in December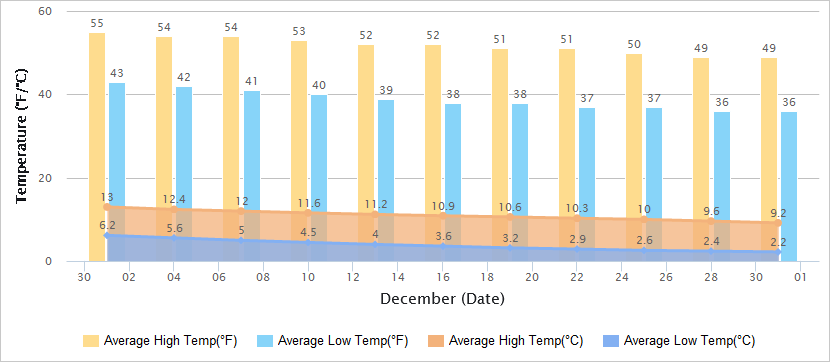 Air Quality of Suzhou in December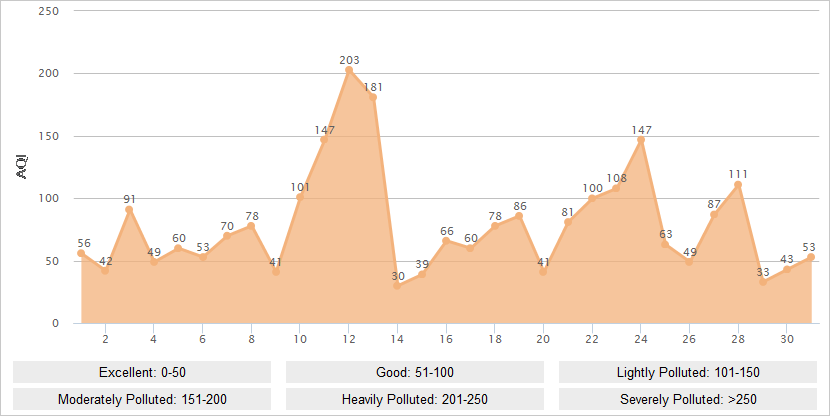 Historical Suzhou Weather in December
Dec
Temperature
Sunrise / Sunset
Humi-
dity
(%)
High
Low
1
13°C / 55.4°F
6.2°C / 43.2°F

06:39

/

16:54

64
2
12.8°C / 55°F
6°C / 42.8°F

06:39

/

16:54

63
3
12.6°C / 54.7°F
5.8°C / 42.4°F

06:40

/

16:54

68
4
12.4°C / 54.3°F
5.6°C / 42.1°F

06:41

/

16:54

69
5
12.3°C / 54.1°F
5.4°C / 41.7°F

06:42

/

16:54

68
6
12.1°C / 53.8°F
5.2°C / 41.4°F

06:43

/

16:55

69
7
12°C / 53.6°F
5°C / 41°F

06:43

/

16:55

68
8
11.8°C / 53.2°F
4.8°C / 40.6°F

06:44

/

16:55

61
9
11.7°C / 53.1°F
4.6°C / 40.3°F

06:45

/

16:55

57
10
11.6°C / 52.9°F
4.5°C / 40.1°F

06:45

/

16:55

59
11
11.5°C / 52.7°F
4.3°C / 39.7°F

06:46

/

16:55

68
12
11.3°C / 52.3°F
4.1°C / 39.4°F

06:47

/

16:56

74
13
11.2°C / 52.2°F
4°C / 39.2°F

06:48

/

16:56

93
14
11.1°C / 52°F
3.8°C / 38.8°F

06:48

/

16:56

65
15
11°C / 51.8°F
3.7°C / 38.7°F

06:49

/

16:57

48
16
10.9°C / 51.6°F
3.6°C / 38.5°F

06:50

/

16:57

48
17
10.8°C / 51.4°F
3.4°C / 38.1°F

06:50

/

16:57

64
18
10.7°C / 51.3°F
3.3°C / 37.9°F

06:51

/

16:58

72
19
10.6°C / 51.1°F
3.2°C / 37.8°F

06:51

/

16:58

73
20
10.5°C / 50.9°F
3.1°C / 37.6°F

06:52

/

16:59

92
21
10.4°C / 50.7°F
3°C / 37.4°F

06:52

/

16:59

94
22
10.3°C / 50.5°F
2.9°C / 37.2°F

06:53

/

17:00

75
23
10.2°C / 50.4°F
2.8 °C / 37°F

06:53

/

17:00

62
24
10.1°C / 50.2°F
2.7°C / 36.9°F

06:54

/

17:01

70
25
10°C / 50°F
2.6°C / 36.7°F

06:54

/

17:01

90
26
9.8°C / 49.6°F
2.6°C / 36.7°F

06:55

/

17:02

92
27
9.7°C / 49.5°F
2.5°C / 36.5°F

06:55

/

17:03

67
28
9.6°C / 49.3°F
2.4°C / 36.3°F

06:55

/

17:03

62
29
9.5°C / 49.1°F
2.3°C / 36.1°F

06:56

/

17:04

57
30
9.3°C / 48.7°F
2.3°C / 36.1°F

06:56

/

17:05

70
31
9.2°C / 48.6°F
2.2°C / 36°F

06:56

/

17:05

71
- Last updated on Jul. 13, 2022 -