Suzhou Weather in November
Suzhou Weather in November is cold with an average temperature of 12°C (54°F), but it is not cold as north China. As late autumn arrives in November, yellow leaves fall like flying butterflies, which makes a beautiful sight.
Generally, November is a good time to visit the city. The average high and low temperatures in this month are 17°C (63°F) and 9°C (48°F) respectively. In addition, fewer tourists may visit the city. You do not find crowds and the prices are an off season low, which is ideal for budget travelers.
Averages for Suzhou Weather in November
Temperature: 12°C / 54°F
High Temperature: 17°C / 63°F
Low Temperature: 9°C / 48°F
Humidity: 72%
Rainfall: 51 mm
Rainy Days: 5 days
Sunrise: 06:13 ~ 06:38
Sunset: 16:55 ~ 17:09
Air Quality in November
Average AQI:52

What to Wear in Suzhou in November
Due to the unstable weather, tourists need to take both thick and thin clothes such as wind coats, thick jackets, thin sweaters, and sportswear. The temperature varies a lot between day and night. Tourists should wear thick coats when going out at night.


Where to Go in Suzhou in November
Tourists should not miss the classical gardens of Suzhou. The distinctive gardens with typical Chinese architecture styles are well-kept showing their uniqueness and elegance. The
Humble Administrator's Garden
, the
Lingering Garden
, and the Canglang Pavilion are all worth visiting. At night, visitors can go to
Shantang Street
, which is a riverside busy pedestrian road and has beautiful night view and delicious local snacks. The city is also famous for beautiful ancient towns, well-preserved residential houses and fantastic watery scene.
Zhouzhuang Water Town
,
Tongli Town
and
Guangfu Ancient Town
are famous ones among all the towns.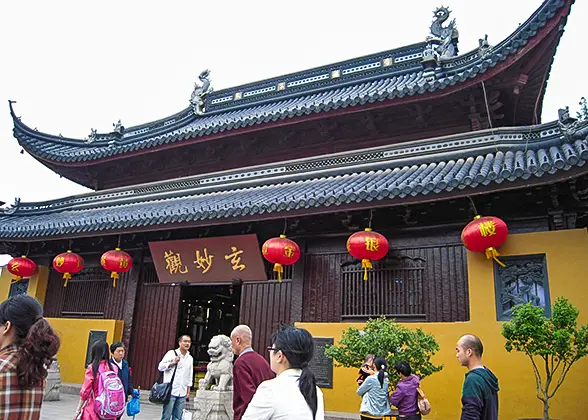 Xuanmiao Taoist Temple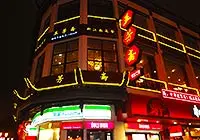 Guanqian Street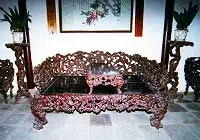 Canglang Pavilion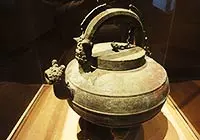 Suzhou Museum
Other Tips
Tourists should bring along skin-care cream as the autumn wind may damage their skin. All should drink enough water as the climate is dry. Keep an ear on the weather forecast and put on more clothing when necessary. Avoid early morning or late night sojourn because it's chilly outside and you are likely to catch a cold.
What is the temperature in Suzhou in November?
High/Low Temperatures of Suzhou in November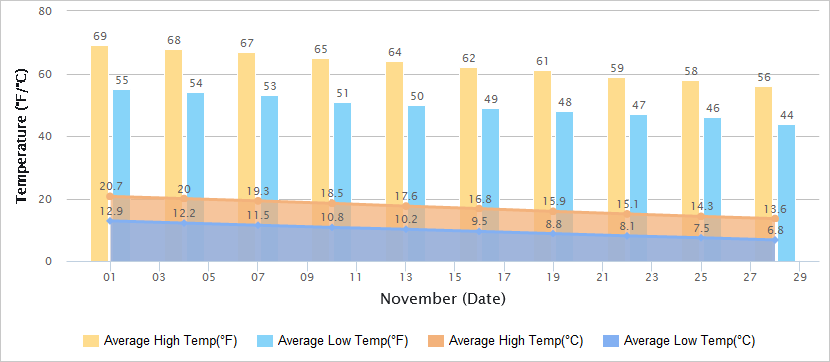 Air Quality of Suzhou in November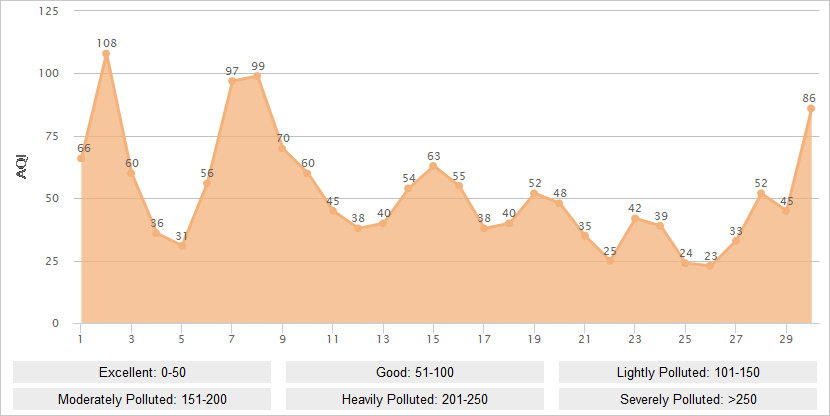 Historical Suzhou Weather in November
Nov
Temperature
Sunrise / Sunset
Humi-
dity
(%)
High
Low
1
20.7°C / 69.3°F
12.9°C / 55.2°F

06:13

/

17:09

69
2
20.5°C / 68.9°F
12.7°C / 54.9°F

06:14

/

17:08

61
3
20.3°C / 68.5°F
12.5°C / 54.5°F

06:15

/

17:07

55
4
20°C / 68°F
12.2°C / 54°F

06:16

/

17:06

65
5
19.8°C / 67.6°F
12°C / 53.6°F

06:16

/

17:06

60
6
19.5°C / 67.1°F
11.8°C / 53.2°F

06:17

/

17:05

64
7
19.3°C / 66.7°F
11.5°C / 52.7°F

06:18

/

17:04

79
8
19°C / 66.2°F
11.3°C / 52.3°F

06:19

/

17:03

72
9
18.8°C / 65.8°F
11.1°C / 52°F

06:20

/

17:03

69
10
18.5°C / 65.3°F
10.8°C / 51.4°F

06:21

/

17:02

69
11
18.2°C / 64.8°F
10.6°C / 51°F

06:21

/

17:01

60
12
17.9°C / 64.2°F
10.4°C / 50.7°F

06:22

/

17:01

62
13
17.6°C / 63.7°F
10.2°C / 50.4°F

06:23

/

17:00

59
14
17.3°C / 63.1°F
9.9°C / 49.8°F

06:24

/

17:00

82
15
17.1°C / 62.8°F
9.7°C / 49.5°F

06:25

/

16:59

68
16
16.8°C / 62.2°F
9.5°C / 49.1°F

06:26

/

16:59

66
17
16.5°C / 61.7°F
9.2°C / 48.6°F

06:27

/

16:58

92
18
16.2°C / 61.16°F
9°C / 48.2°F

06:27

/

16:58

82
19
15.9°C / 60.6°F
8.8°C / 47.8°F

06:28

/

16:57

84
20
15.6°C / 60.1°F
8.6°C / 47.5°F

06:29

/

16:57

87
21
15.3°C / 59.5°F
8.4°C / 47.1°F

06:30

/

16:57

91
22
15.1°C / 59.2°F
8.1°C / 46.6°F

06:31

/

16:56

82
23
14.8°C / 58.6°F
7.9°C / 46.2°F

06:32

/

16:56

83
24
14.5°C / 58.1°F
7.7°C / 45.9°F

06:33

/

16:56

66
25
14.3°C / 57.7°F
7.5°C / 45.5°F

06:33

/

16:55

69
26
14.1°C / 57.4°F
7.3°C / 45.1°F

06:34

/

16:55

86
27
13.8°C / 56.8°F
7°C / 44.6°F

06:35

/

16:55

64
28
13.6°C / 56.5°F
6.8°C / 44.2°F

06:36

/

16:55

66
29
13.4°C / 56.1°F
6.6°C / 43.9°F

06:37

/

16:55

75
30
13.2°C / 55.8°F
6.4°C / 43.5°F

06:38

/

16:55

74
- Last modified on Jun. 27, 2019 -