Suzhou Weather in July
Just time for summer, Suzhou weather in July is sweltering hot and wet. The average high temperature in this month reaches up to 32°C (90°F)) and the average low temperature dips down to 25°C (77°F). As it is in the rainy season, heavy rain in Suzhou may bring the temperature down. When sunny it gets rather hot. Tourists should be prepared for a changeable weather.
In China, school summer vacation begins from July. Crowds of tourists add to the chaos. Visitors are advised to make travel plans in advance to ensure a smooth and great journey.
Averages for Suzhou Weather in July
Temperature: 28°C / 82°F
High Temperature: 32°C / 90°F
Low Temperature: 25°C / 77°F
Humidity: 76%
Rainfall: 128 mm
Rainy Days: 9 days
Sunrise: 04:57 ~ 05:14
Sunset: 18:54 ~ 19:06
Air Quality in July
Average AQI:38

What to Wear in Suzhou in July
Summer clothing is preferred. Usually, visitors can wear skirts, short-sleeve T-shirts, and short pants. Rain gear is necessary to guard against sudden down pours. Also, the temperature drops during the rain; in this case, a coat is handy.


Where to Go in Suzhou in July
Visiting Suzhou city in summer should include the water towns. Time spent inside the ancient towns gives you an intimacy beyond words. By the window during on Suzhou delicacies, you can survey at leisure small bridges arched over a flowing stream. The famous water towns consist of Zhouzhuang Water Town, Tongli Town, Luzhi Town, and
Mudu Ancient Town
.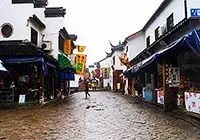 Tongli Town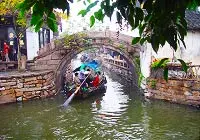 Zhouzhuang Water Town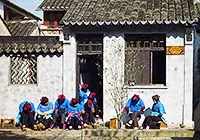 Luzhi Town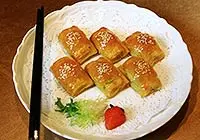 Suzhou Snacks
Top 10 Things to Do in Suzhou
Other Tips
If you go out on a hot day, go protected against the sun, use sunscreen or wear a hat or sunglasses. Tourists should take an umbrella whenever going out. The wet climate may cause allergies, so bring anti-allergic medicines.
What is the temperature in Suzhou in July?
High/Low Temperatures of Suzhou in July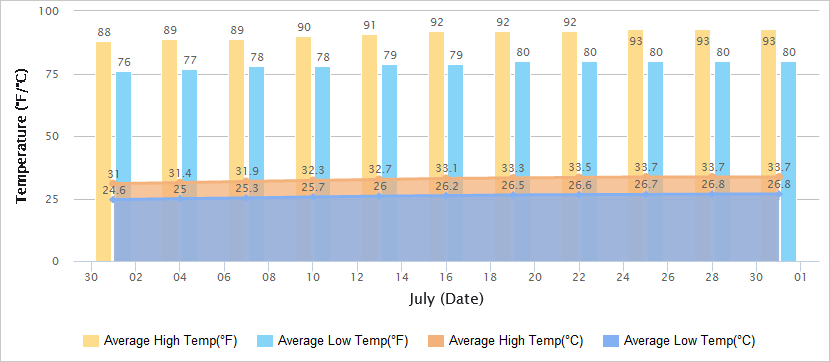 Air Quality of Suzhou in July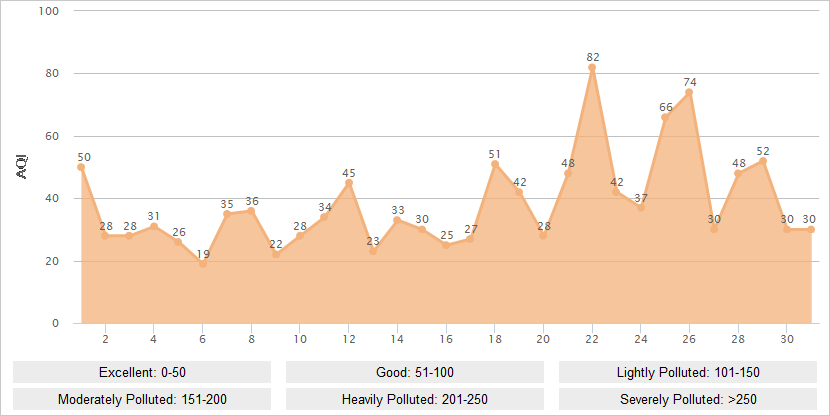 Historical Suzhou Weather in July
Jul
Temperature
Sunrise / Sunset
Humi-
dity
(%)
High
Low
1
31°C / 87.8°F
24.6°C / 76.3°F

04:57

/

19:06

83
2
31.1°C / 88°F
24.7°C / 76.5°F

04:57

/

19:06

93
3
31.3°C / 88.3°F
24.8°C / 76.6°F

04:58

/

19:06

84
4
31.4°C / 88.5°F
25°C / 74.3°F

04:58

/

19:06

91
5
31.6°C / 88.9°F
25.1°C / 77.2°F

04:59

/

19:06

89
6
31.7°C / 89.1°F
25.2°C / 77.4°F

04:59

/

19:06

83
7
31.9°C / 89.4°F
25.3°C / 77.5°F

05:00

/

19:05

87
8
32°C / 89.6°F
25.5°C / 77.9°F

05:00

/

19:05

77
9
32.2°C / 90°F
25.6°C / 78.1°F

05:01

/

19:05

85
10
32.3°C / 90.1°F
25.7°C / 78.3°F

05:01

/

19:05

94
11
32.5°C / 90.5°F
25.8°C / 78.4°F

05:02

/

19:05

82
12
32.6°C / 90.7°F
25.9°C / 78.6°F

05:02

/

19:04

77
13
32.7°C / 90.9°F
26°C / 78.8°F

05:03

/

19:04

75
14
32.8°C / 91°F
26.1°C / 79°F

05:03

/

19:04

83
15
33°C / 91.4°F
26.2°C / 79.2°F

05:04

/

19:03

77
16
33.1°C / 91.6°F
26.2°C / 79.2°F

05:04

/

19:03

88
17
33.2°C / 91.8°F
26.3°C / 79.3°F

05:05

/

19:02

80
18
33.3°C / 91.9°F
26.4°C / 79.5°F

05:06

/

19:02

78
19
33.3°C / 91.9°F
26.5°C / 79.7°F

05:06

/

19:02

80
20
33.4°C / 92.1°F
26.5°C / 79.7°F

05:07

/

19:01

72
21
33.5°C / 92.3°F
26.6°C / 79.9°F

05:07

/

19:01

65
22
33.5°C / 92.3°F
26.6°C / 79.9°F

05:08

/

19:00

61
23
33.6°C / 92.5°F
26.7°C / 80.1°F

05:09

/

18:59

60
24
33.6°C / 92.5°F
26.7°C / 80.1°F

05:09

/

18:59

66
25
33.7°C / 92.7°F
26.7°C / 80.1°F

05:10

/

18:58

72
26
33.7°C / 92.7°F
26.8°C / 80.2°F

05:11

/

18:58

66
27
33.7°C / 92.7°F
26.8°C / 80.2°F

05:11

/

18:57

63
28
33.7°C / 92.7°F
26.8°C / 80.2°F

05:12

/

18:56

60
29
33.7°C / 92.7°F
26.8°C / 80.2°F

05:12

/

18:55

63
30
33.7°C / 92.7°F
26.8°C / 80.2°F

05:13

/

18:55

71
31
33.7°C / 92.7°F
26.8°C / 80.2°F

05:14

/

18:54

73
- Last updated on Jul. 13, 2022 -