Mudu Ancient Town
Mudu, an ancient landscape water town south of the Yangtze River, is located to the southwest of Suzhou City. Surrounded by groups of hills and next to Taihu Lake, it has beautiful natural scenery and abundant natural resources. It now covers about 34.5 square kilometers (about 13.32 square miles). With a history more than 2,500 years long, Mudu has witnessed the rise and fall of many dynasties and it is also endowed with plentiful cultural connotations. This is a traditional town and has typical landscape gardens, small rivers and bridges. Unlike the prosperous eastern cities in China, the town displays a simple and peaceful image.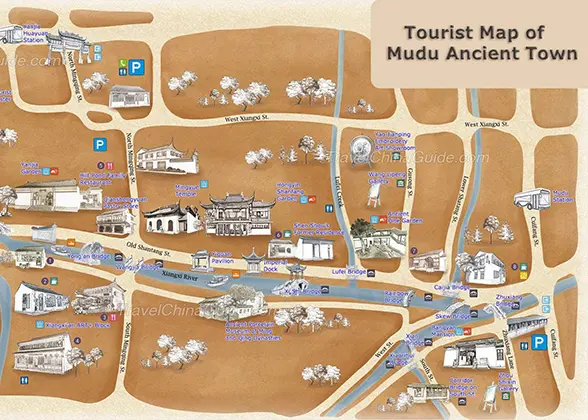 Map of Mudu Town (Click to enlarge)
The name 'Mudu' is derived from a story about Xishi, one of the Top Four Beauties in Chinese history. It is said in the Spring and Autumn Period (773BC-476BC), Fuchai, the king of Wu State, obliged workers to build Guanwa Palace (Palace Housing Beautiful Women) in order to please the Beauty Xishi. Then, considerable wood was carried here so that the river in this area was blocked. This was called 'Ji Mu Se Du' (which means the accumulated wood blocks the river). So, the town was named 'Mu Du'. Early in the Three Kingdom Period (220-280), it had been a crucial town in China both economically and militarily. During the following Song (960-1279), Ming (1368-1644) and Qing (1644-1911) periods, it still held an important position in Chinese culture and commerce. In the past thousands of years, Mudu has produced many outstanding scholars and wealthy businessmen. Some of their former residences have now become popular sights.
Yanjia Garden
Yanjia Garden (Yan's Garden), also named Xi'an Yuan, was originally the residence of the famous scholar Shen Deqian in Suzhou during the reign of Emperor Qianlong in Qing Dynasty. Following this, it was rebuilt several times. With an acrea of about 2.64 acres (1 hectare) and lots of well-designed chambers and pavilions, this garden has become the leading landscape garden in Suzhou. The most unusual part in it is the Shangxian Hall (Wisdom-respected Hall) which is a nanmu-framed hall built in the architectural style of the Ming Dynasty. The hall is simple but elegant in design and betrays a dignified look by its large finely-made nanmu (a kind of precious wood, usually used to make furniture) pillars. The elaborate carvings on these pillars are decorated in plain colors but are very attractive in appearance. In this garden there are several southern magnolias which it is said were planted by the Emperor Qianlong. Nowadays, they have become lofty trees. Every spring when the flowers are in full bloom, the whole garden is enveloped in their fragrance.
Hongyin Shanfang Garden
Some 219 yards (about 200 meters) to the east of Yanjia Garden, there is the Hongyin Shanfang. This was the private landscape garden of a scholar named Xu Shiyuan who lived during the Qing Dynasty. It is made up of two small gardens of Ming Dynasty - Xiaoyin Garden (Privacy Garden) and Xiuye Garden (Beautiful Field Garden). In contrast with other
gardens in Suzhou
, Hongyin Shanfang Garden combines the characteristics of a delicate southern landscape and a grand northern royal garden. In the eastern part of Xiaoyin Garden, old trees, remarkable rocks and bamboo show people a charming but peaceful natural scenery. In the western part of Xiuye Garden, which is now a museum, 20 Decrees of the Emperors and the papers of imperial examinations in Qing Dynasty are exhibited. During the Qing Dynasty, Emperor Qianlong visited the gardens to listen to opera every time when he traveled south of the Yangtze River. Now, many relics of this emperor, such as a tablet carved with a poem written by him remain in the garden.
Ancient Pine Garden
Situated on Gusong Street, Ancient Pine Garden (Gusong Garden) is named after a vigorous ever-green pine of more than 500 years old in the garden. With dwelling houses in the front and a beautiful backyard, it is a typical classical garden of Qing Dynasty. The quaint structures with delicate carvings in the garden indicate the artistic taste of the previous owner Cai Shaoyu, one of the top four wealthiest men in Mudu at his time. Next to a pond in the backyard, there is a showroom of embroidery art built in the name of Yao Jianping, who is the third generation inheritor of
Su embroidery
workmanship.
Bangyan Mansion
In Xiatang Street, lies another garden called Bangyan Mansion ('bangyan' means the person who wins second place in the imperial exam). In this garden, there is a carving on the rock wall which shows the prosperous image of Suzhou. This carving is made up of 8 rocks; each of them is 4 feet (about 1.2 meters) high. Most of the scenery on these carvings are about the fair, streets and people here. In the backyard, there is a beautiful lake at the center. Around the lake are sprinkled pavilions, chambers, corridors and artificial hills which are like decorations. Among those buildings stand many vigorous green trees. All in all, this garden gives a poetic feeling.
Lingyan Hill
The Lingyan Hill (Spirit Rock Hill) is situated in the suburban area of the town. With a height of 597 feet (about 182 meters), this mountain spreads about 306 acres (about 124 hectares). Because it looks like an elephant in the distance, it is also named Xiang Hill (Elephant Hill). Besides, it's also called Yan Hill (Inkstone Hill) for many stones in the mountain can be made into inkstones. The small path up to the top of the peak is constructed with rocks. Along the path, there are over 18 different scenes such as an elaborate pavilion, old pines, ancient temple, or a spectacular sunset. Remarkable rocks with special shapes like an old man, a turtle or other animals are situated here and there on the mountain. On the top of Lingyan Hill is the majestic Lingyan Temple. Built in 503, this temple was originally named Xiufeng Temple. The large vivid and lifelike josses make this temple much more magnificent. In the eastern part of the temple, there is Lingyan Pagoda, also named the Duobao Pagoda which was also built in 503. With a height of about 112 feet (about 34 meters), this simple but dignified seven-storied pagoda has become the symbol of Lingyan Hill.
The ancient landscape gardens endow the town with traditional culture and the natural beauty of the area enriches it in outlook. This ancient town south of Yangtze River awaits visitors to explore its unique charm.
Transportation

From Suzhou:
Take bus no. 2, 38, 43, 63, 64, 65, 69, 312, 315, 326, 446, 502, 505, 506, 508, 511, 512, 622 or tourist bus no. 4 and get off at Mudu Station or Yanjia Huayuan Station.
Suzhou Bus Search

From Shanghai:
Take a tourist bus from the
General Station of Shanghai Tour Bus Center
(at Gate 5 of Shanghai Stadium) or
Hongkou Branch
(at Gate 2 of Hongkou Soccer Stadium) to the town. The bus respectively departs at 08:10 and 07:20 at weekends at the two places. It returns at 16:00.

From Hangzhou:
Take a tourist bus from Hangzhou Tour Bus Center (at Dragon Sports Center) to Suzhou South Bus Station. Then from there, take bus no. 43, 63 or 512 to Mudu.
Alternatively, visitors can take a train or bus from Hangzhou/Shanghai to
Suzhou Railway Station
. Then take bus no. 38, 63, 64, 69, 502 or tourist bus no. 4 to Mudu.
Admission Fee
Free to enter the ancient town.
Combo ticket: CNY 78 (include Yanjia Garden, Hongyin Shanfang Garden, Ancient Pine Garden, Bangyan Mansion)
Yanjia Garden: CNY 40
Hongyin Shanfang Garden: CNY 40
Ancient Pine Garden: CNY 20
Bangyan Mansion: CNY 10
Lingyan Hill Scenic Area: Free
Ancient Porcelain Museum of Ming and Qing Dynasties: CNY 5
White Elephant Ecological Garden: CNY 60
Boating on Xiangxi River: CNY 10
Opening Hours
The town is open all day long.
Opening hours of scenic spots in the town:
Spring, summer and autumn: 08:00-17:00
Winter: 08:00-16:30

You May Like:

Guangfu Ancient Town

Tongli Town

Luzhi Town

Zhouzhuang Water Town

Shaxi Ancient Town

Top 8 Suzhou Water Towns

Top 10 Water Towns in China

12 Best Places to Visit in Suzhou
- Last updated on Feb. 01, 2021 -
Questions & Answers on Mudu Ancient Town
Asked by Gac | Jan. 16, 2018 08:57

Reply
How to go from suzhou train station to mudu water town?
Answers (1)
Answered by Black from UK | Jan. 16, 2018 19:32

0

0

Reply
You can walk to the south square of the train station and take bus 64 to Lingyanshan, which is in the town.
Asked by jean paul from CHINA | Jul. 26, 2013 23:39

Reply
Could we visit mudu thanks to the subway station called Mudu?
thanks in advance for your reply
Answers (1)
Answered by Sally from CANADA | Jul. 27, 2013 01:26

2

0

Reply
Yes, you can. Upon your arrival at Mudu MTR Station, the Water Town is still some distance away, within 3km. So you still need to take local public bus or a taxi to reach there.
Asked by Ms.Sandi from CANADA | Jul. 20, 2009 11:53

Reply
Can Mudu be visited in the same day that we visit Suzhou as a daytrip from Shanghai? We will arrive in Suzhou in the early morning and visit Suzhou, then we would like to visit Mudu. How do we get back to Shanghai then? When is the last bus back? We want to see the canals and the bridges. Is the bus station near the scenic areas? thank you!
Answers (1)
Answered by Ms.Fay from CHINA | Jul. 22, 2009 22:07

0

1

Reply
Hi, Sandi. You can visit Mude in the same day that you visit Suzhou as a daytrip from Shanghai. After your tour in Mudu, you can take the tourist bus at the scenic area to Suzhou railway station and returen Shanghai by train. The last bus is around 9 p.m.. Hope you a good journey.