Taihu Lake (Tai Lake)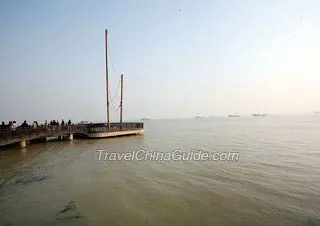 Wuxi Taihu Lake
Located in the southern part of the Yangtze River delta in Wuxi, Taihu Lake is the third largest freshwater lake in China. With a surface area of about 2,338 square kilometers (about 902 square miles), it is a famous scenic spot in China and is famed for its lake, hills and splendid man-made scenery.
Taihu Lake is just like a bright pearl set in the Yangtze River delta. It crosses Jiangsu and Zhejiang provinces, where 48 islets of different sizes and 72 peaks and peninsulas along the lake combine to form a panorama of great natural beauty. The best place to view the beautiful lake is on the Turtle Head Islet. Turtle Head Islet is an islet stretching into the water, whose shape is really like the head of a turtle protruding from the water. Taihu Lake and the surrounding magnificence will bewitch your eyes when you climb onto Turtle Head. When the soft breezes blow, waves roll and the hills in the distance look like an overlapping landscape painting. The scene is really captivating. Turtle Head Islet Park is mainly made of the natural landscape, augmented by man-made additions. Flowers and trees can be seen everywhere. Various kinds of architecture are strategically placed among the trees and shrubs. All conspire to make the park graceful and elegant.
Besides the natural scenery of Taihu Lake, there are many ruins of historic sites, such as the Grand Canal of the Sui Dynasty (581-618), the Islets in the lake along with the coastal places in the east, the north and the west both of which are the cradle land of the culture of Wuyue (this culture touches on traditions that flow from or refer to Jiangsu, Zhejiang and the southeast part of Anhui Province today) and so on.
Taihu Lake is an abundant source of fish. Traveling there, you can taste the famous delicious food known as 'Taihu Lake Three Whites', including white shrimp, whitebait and whitefish. The feast is generally prepared in the boat as one floats on the placid waters of Taihu Lake. It is very well worth a visit.
Admission Fee:
CNY 105 (Turtle Head Isle,including the ship fare)
Opening Hours (Turtle Head Isle):
08:00 to 17:30 (excluding winter)
08:30 to 17:00 (winter)
Transportation:
Take K1 or K87 bus to Turtle Head Isle.
Ship Route:
Take regular ship at Turtle Head Isle Wharf (The last ship is at 15:00)

Related Link: Tai Lake Cruise
- Last modified on Mar. 24, 2019 -
Questions & Answers on Taihu Lake (Tai Lake)
Asked by Magda Bell from SOUTH AFRICA | Mar. 14, 2019 22:04

Reply
How to get to Wuxi turtle head isle
Can you tell me address or something to get there from Huqiao, kunshan? Want to go there and have boat trip with prepared food on boat etc.... But don't know how to get there? Probably using Didi? Which address will I give them?
Answers (1)
Answered by Olivia from FRANCE | Mar. 24, 2019 19:15

0

0

Reply
Well, sorry, I didn't find Huqiao in Kunshan. Can you provide more detailed address?
Asked by shahzad from CHINA | Feb. 06, 2019 08:35

Reply
i am from changzhou and want to visit the tai hu lake.
please suggest me what are the main spots which i can visit, in addition i will reach wuxi by train, can it possible to take bus or metro to reach at destination and please guide me about entry tickets
Answers (3)
Answered by Bryony from CANADA | Feb. 17, 2019 22:12

0

0

Reply
You can tour around Plum Garden Scenic Area, Three Kingdom City, Turtle Head Isle, Li Garden and Lingshan Grand Buddha. About the transportation, take metro line 1 to People's Hospital Station, Exit 3 from the railway station. Then take a taxi to the lake area. As I know, the entrance ticket is CNY105/person.

Answered by shahzad from CHINA | Feb. 19, 2019 03:02

0

0

Reply
Thanx for your reply, let me clarify the entry ticket is for all places or only just for one spot
Answered by Bryony | Feb. 19, 2019 18:34

0

0

Reply
Well, the entrance ticket only include the Turtle Head Isle.
Asked by pamela from TANZANIA | Aug. 09, 2018 14:02

Reply
how to get to taihu lake from jiangnan university in wuxi?
i would like to know which is better ,taking taxi or witch line for subway?
Answers (1)
Answered by Fannie from GERMANY | Aug. 10, 2018 00:44

0

0

Reply
I guess taking a taxi is more convenient.
Asked by Diana from CHINA | Apr. 22, 2018 23:45

Reply
Can you fish in Taihu Lake? Amateur fishing not fishing for food?
Hi

We are planning to visit the lake and Suzhou and wanted to know if we can rent a local boat and go with a local to fish ? For relaxation ? And what is the best way to do that/?
Answers (1)
Answered by Levi from SINGAPORE | Apr. 23, 2018 03:30

0

0

Reply
Well, tourists are not allowed to fish in this lake.
Asked by Tessa from NETHERLANDS | Jun. 14, 2016 06:50

Reply
Is it possible to go diving in Lake Taihu?
Hi guys,
I am planning a trip to Suzhou soon and my boyfriend loves diving. Is there somewhere not too far from Suzhou where you can do this? Including renting equipment etc?

Thank you!
Tessa
Answers (3)
Answered by Lee from GERMANY | Jun. 15, 2016 03:36

2

0

Reply
I am afraid that you cannot go diving in the lake.
Thus you can go to Linglan International Diving Club that located at No. 28, Huantaihu Avenue. Also, you can rent the equipment there. You can contact the club by dialing 86-0512-69381000.:)
Answered by Tessa from NETHERLANDS | Jun. 15, 2016 06:07

0

0

Reply
Great to know, thank you!
Do you happen to have the website of this diving center? Calling is difficult since I am still in Europe right now.
Answered by Lee | Jun. 17, 2016 04:03

1

2

Reply
Dear Tessa, I have no idea of their website. Sorry for that! Maybe you can try to call them when you arriving there.