Wuxi Travel Guide
Wuxi Facts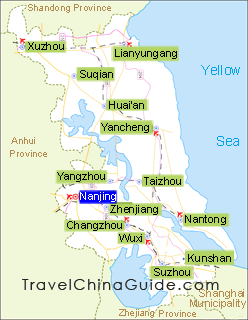 Nestled on the northern shore of Tai Lake, China's third-largest body of fresh water, Wuxi lies on the southern border of Jiangsu Province, about 128 kilometers (79.5 miles) northwest of Shanghai. Covering an area of 4,785 square kilometers (1847.5 square miles), it borders Suzhou to the east, Zhejiang Province to the south and Changzhou to the west. There are six districts and two county-level cities (Jiangyin and Yixing) under its prefecture with a total population of 4.578 million.

Wuxi is a city richly endowed by nature. Owing to its pleasantly warm and moist climate, it boasts a reputation of the 'Land of Fish and Rice'. Relying on the near-by Yangtze River and ancient Grand Canal, it had been a port city with the busiest rice and cloth market in China before 19th century. In modern times, with its rapidly developing industry, Wuxi became one of China's top 50 cities with broad strength and is thus called the 'Little Shanghai' for its prosperous economy.

With a splendid history of over three thousands years, Wuxi claims to be 'the Pearl of Tai Lake'. Early in the Spring and Autumn Period (770 BC-476 BC), it had been the economic and politic center south of Yangtze River.
Lots of outstanding people rose from that time, leaving many related historical and cultural relics, such as Li Lake named for the famous general Fan Li of Yue Kingdom, the Donglin Academy remained from the Ming Dynasty (1368-1644) and the former residence of the renowned Chinese geographer, Xu Xiake.
| | |
| --- | --- |
| Li Garden | A film is shot in the Three Kingdoms City |
Besides being a rich cultural repository, Wuxi is blessed with charming natural beauty: the vast Tai Lake with its fascinating water scenes, the Turtle Head Isle with countryside scenery and landscape gardens, the 'Sea of Bamboo' in Yixing, the Second Spring, Huishan Mountain — the 'First Mountain South of Yangtze River' — and so on. Various aspects of nature give you a new experience at every turn.
Wuxi Travel Tips
Wuxi, a city embraced by clear water and green hills, also has a nicely-developed urban area. The tidy, clean cityscape and convenient public transportation combine well with its beautiful landscape. A trip to this city would be quite easy and pleasant.
- Last modified on Feb. 26, 2019 -
Questions & Answers on Wuxi Travel
Asked by AK from VIETNAM | Jun. 10, 2019 19:32

Reply
Transportation to Wuxi Grand Buddha
Dear everyone,

Pls advise me which railway station is suitable for destination Grand Buddha : Wuxi [Jiangsu], Wuxi [Jiangsu] East or Wuxi New District?
We only go there by Bus not Metro? Does the Bus has notice by English?
Thank you!
AK.
Answers (2)
Answered by Alice from USA | Jun. 11, 2019 19:08

0

0

Reply
The nearest railway station around Grand Buddha is Wuxi Railway Station. You can take direct bus No.88 from it to your destination with CNY2 and 1 hour. I think the bus guide only has Chinese.
Answered by AK from VIETNAM | Jun. 23, 2019 18:47

0

0

Reply
Thank you so much Alice
Asked by EILEEN LIM from SINGAPORE | May. 27, 2019 06:30

Reply
From grand Buddha to wuxi city centre
Hi,

Any recommendations for eating place along the way from ling shan buddha to WX train station. Our train dept 8.30. So need to kill time and ease our stomach. And is the distance far from ling shan buddha to city centre?

Thanks in advance

Eileen
Answers (1)
Answered by Jennifer from AUSTRALIA | May. 27, 2019 20:38

0

0

Reply
It takes about 100 mins from the Buddha to railway station by bus and at least 1 hour is needed by taxi. You can taste some snacks around the railway station. There is a Wangxingji Restaurant on the second floor of the station and it is worth to visit.
Asked by Edmund T from MALAYSIA | Nov. 29, 2018 02:47

Reply
Will be spending a short 2 nights stay in Wuxi in February 2019?
I am looking to stay in an area convenient to get food, pedestrian street, places of interest and transportation.
Thanks in advance.

Answers (2)
Answered by Megen from FRANCE | Nov. 29, 2018 23:06

0

0

Reply
You are advised to live in the hotel near Chong'an Temple which can meet your demands.
Answered by Edmund T from MALAYSIA | Nov. 30, 2018 02:08

0

0

Reply
Thank you for your reply.
Asked by Nadeem Sheikh from SAUDI ARABIA | Feb. 14, 2018 02:04

Reply
Is there any strict Halal food restaurant in Wuxi?
Answers (1)
Answered by Harry from UNITED KINGDOM | Feb. 14, 2018 02:45

0

0

Reply
Of course, and I happen to know one - Mu Xiang Yuan. It is located at no. 21, Hubin Commercial Street (oppoiste to GreenTree Hotel).
Asked by S008 from USA | Dec. 18, 2017 20:22

Reply
Wuxi Railway Station to Jiangyin, and back
Hi!

I am thinking of travelling to Jiangyin this coming January or February, 2018. Please help me out.
1) What is the best way to get to Jiangyin from WX Railway Station?
- How long does the trip take?
- How much will it cost me to get to Jiangyin?

2) I am specifically going to "Chengxi Shipyard Co., Ltd, No. 1 Hengshan Road". Is there a bus or subway that I could take to get there after, OR would it be more advisable to take a cab?

3) What are the best places to visit in Jiangyin?


Thank you in advance!
Answers (1)
Answered by James from ITALY | Dec. 18, 2017 21:14

0

0

Reply
Walk north for 15 minutes to WX Bus Station and catch the bus to Jiangyin. It takes about 40 minutes and CNY15/30.

Then, take a taxi to the company with a fare of about CNY30.

In Jiangyin, you can visit Zhongshan Park, Binjiang Yaosai Park, Xuxiake Former Residence, and Junshan Temple.