Wuxi Travel Guide
Wuxi Facts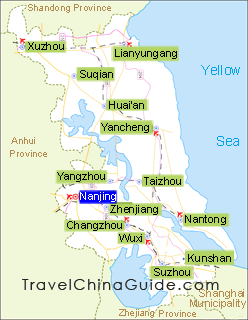 Nestled on the northern shore of Tai Lake, China's third-largest body of fresh water, Wuxi lies on the southern border of Jiangsu Province, about 128 kilometers (79.5 miles) northwest of Shanghai. Covering an area of 4,785 square kilometers (1847.5 square miles), it borders Suzhou to the east, Zhejiang Province to the south and Changzhou to the west. There are six districts and two county-level cities (Jiangyin and Yixing) under its prefecture with a total population of 4.578 million.

Wuxi is a city richly endowed by nature. Owing to its pleasantly warm and moist climate, it boasts a reputation of the 'Land of Fish and Rice'. Relying on the near-by Yangtze River and ancient Grand Canal, it had been a port city with the busiest rice and cloth market in China before 19th century. In modern times, with its rapidly developing industry, Wuxi became one of China's top 50 cities with broad strength and is thus called the 'Little Shanghai' for its prosperous economy.

With a splendid history of over three thousands years, Wuxi claims to be 'the Pearl of Tai Lake'. Early in the Spring and Autumn Period (770 BC-476 BC), it had been the economic and politic center south of Yangtze River.
Lots of outstanding people rose from that time, leaving many related historical and cultural relics, such as Li Lake named for the famous general Fan Li of Yue Kingdom, the Donglin Academy remained from the Ming Dynasty (1368-1644) and the former residence of the renowned Chinese geographer, Xu Xiake.
| | |
| --- | --- |
| Li Garden | A film is shot in the Three Kingdoms City |
Besides being a rich cultural repository, Wuxi is blessed with charming natural beauty: the vast Tai Lake with its fascinating water scenes, the Turtle Head Isle with countryside scenery and landscape gardens, the 'Sea of Bamboo' in Yixing, the Second Spring, Huishan Mountain — the 'First Mountain South of Yangtze River' — and so on. Various aspects of nature give you a new experience at every turn.
Wuxi Travel Tips
Wuxi, a city embraced by clear water and green hills, also has a nicely-developed urban area. The tidy, clean cityscape and convenient public transportation combine well with its beautiful landscape. A trip to this city would be quite easy and pleasant.