Turtle Head Isle (Yuantouzhu)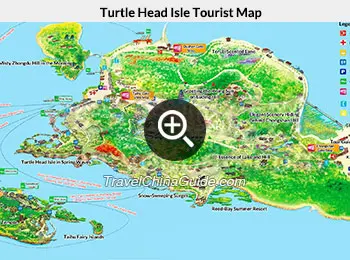 Tourist Map of Turtle Head Isle
As an old saying goes, to visit
Taihu Lake
, Turtle Head Isle is the best place to go. It is a small peninsula resembling a turtle head located in the northwest of Taihu Lake in Wuxi City, Jiangsu Province, hence the name. Famous for its beautiful scenery, especially cherry blossoms, the place attracts lots of tourists every year. Inside the attraction, there are over 10 individual scenic spots, including Cherry Blossom Valley, Taihu Fairy Island sand Chongshan Yinxiu. With local countryside scenery and landscaped gardens in southern Chinese style, Turtle Head Isle is a top attraction you should pay a visit to in Wuxi.
Paradise of Cherry Blossom
Every March and April is the best time to visit Yuantouzhu. During this time, at least 70 types of cherry flowers are in full bloom covering an area of 0.65 sq km (0.25 sq mi).Cherry Blossom Valley and Changchun Bridge are the best places for spectacular views. You can take a walk on the path under the trees, take a boat on Taihu Lake, or climb to the mountain top to have a bird's-eye view of the pink and white flowers.
Generally, in March and April, the attraction will also be open from 18:00 to21:00 for tourists to enjoy the flowers decorated by lights at night. The night opening time is only for reference, so it is best to check the specific time locally to confirm. Every year from mid March to early May, Yuantouzhu International Cherry Blossom Festival will be held bringing in people from all over the world to enjoy the flowers. If you have the opportunity, take part in the activities to enjoy the grand festival.
Taihu Fairy Islands
This is an island complex consisting of four islets. It is also called Sanshan Island or Turtle Hill because it looks like a turtle lying in the water. On the islands, there are some
Taoism
and
Buddhism
palaces and statues. The statue of the Jade Emperor, the God with the highest rank in Taoism, has a height of 18 m (60 ft) and is the most famous attraction on the islands. Hiking the hills on the islands will give you beautiful views of the boats on Taihu Lake while also giving you a sense of the vastness of the lake.
Chongshan Yinxiu
It is a landscaped garden in southern Chinese style first built by a Wuxi merchant named Chen Zhongyan in 1928. It is also known as the Chen Family Garden. Decades later, the garden was developed and given the name as Chongshan Yinxiu, meaning "elegant scenery hiding behind Chongshan Hill". The garden is now planted with abundant flowers and divided into four sections, each standing for spring, summer, autumn and winter.
How to Get to Turtle Head Isle
Bus: Bus K1 and K87 are both available to reach Turtle Head Isle. The ticket price is CNY 2 at maximum. The two both stop at Chongshan Gate of the attraction.
Tour Bus: Tour Bus No.1 is available to reach Yuantouzhu. The whole route involves several famous attractions in Wuxi. The ticket has two types: CNY15 for a single day and CNY30 for two days, valid within 24/48 hours starting from the first time used. With the ticket, you can get on and off at any stop with no limit. Each adult is permitted to take one child under1.3 m tall (around 4 ft) free of charge. For the route that Turtle Head Isle is the second stop, the operation time of the bus is 08:00-16:40; for the opposite route, it is 08:30-17:00.
Other Facts
Ticket Price
Adult and child over 1.4 m (around 4.5 ft): CNY 90
Child under 1.1 m (around 3.5 ft): Free
Child of 1.1-1.4 m: CNY 45
Opening Hours
08:00-17:00
Best Traveling Time
March to May
Suggesting Length of Visit
4-6 hours
Note:
1. The fare for the sightseeing bus inside the attraction is included in the ticket price.
2. To travel between Turtle Head Isle and Taihu Fairy Islands, you can take aship or speedboat for sightseeing. Taking a ship for a single journey generally takes 20 minutes and the fare is included in the entrance ticket price, while that for a speedboat generally takes 10 minutes for an additional fare of CNY 30. The wharf of the ship and speedboat are located near each other, only about 50 m (55 yards) away.
Nearby Attractions
Plum Garden
: 3 km (2 mi) north to the attraction. It is renowned as one of the best places to view plum flowers in China.
Li Garden
: 4 km (2.5 mi) east to the attraction. It is one of the major attractions near Taihu Lake, famous as the private resort of a statesman named Fan Li in ancient China.

Further Reading: Top 10 Things to Do in Wuxi
- Last modified on Mar. 23, 2021 -
Questions & Answers on Turtle Head Isle (Yuantouzhu)
Asked by Tanny Kee from SINGAPORE | Dec. 14, 2019 01:04

Reply
How to go turtle head isle from Three Kingdom City?
Hi, i am going to Wuxi for a day from Shanghai and I will be visiting Three Kingdom City first followed by Taihu Lake.

As such, would like to find out if it is nearer to for to Taihu Lake or to go turtle head isle from Three Kingdom City? and what are the modes of transport available.

Thank you.
Answers (1)
Answered by Kenny from SINGAPORE | Dec. 17, 2019 16:40

0

0

Reply
You can take bus No.82 from Three Kingdom City station to Baojiecun station, and walk west around 150m to Turtle head scenic area.
Asked by JimmyBoy from PHILIPPINES | Dec. 12, 2019 00:25

Reply
Are there any restaurants in Turtle head area?
What is the best restaurants to go for lunch?
Answers (1)
Answered by Gary from MALAYSIA | Dec. 15, 2019 17:08

0

0

Reply
Yes, there are many great restaurants in the scenic area like Hengyun Restaurant, Tianxiang Restaurant.
Asked by Julie from HONG KONG | Apr. 06, 2019 02:51

Reply
What is the closest railway station (Wuxi or Wuxi East) to go to Turtle Head Isle?
Answers (1)
Answered by nina from CANADA | Apr. 08, 2019 01:24

0

0

Reply
Wuxi Railway Station is much closer.

From Wuxi Railway Station, you can find public bus line 1 to reach Turtle Head Isle directly.
Asked by Quen from PHILIPPINES | Mar. 20, 2019 06:35

Reply
How should I go from Wuxi East Railway Station to Turtle Head Isle?
Answers (1)
Answered by Mason from UNITED KINGDOM | Mar. 21, 2019 20:29

0

0

Reply
You can take metro line 2 from the railway station to Sanyang Square Station, Exit 6. Then take a taxi to the scenic area. The cab fare is CNY30 to 40 in the day time.
Asked by Erica from USA | Feb. 28, 2019 20:41

Reply
How do you book the tour bus to Wuxi Turtle Island? Where does it pick up
I'm coming from Shanghai on the high speed train and would like to take a tour bus to and from the park. Rather than a bus. Where can it pick up? And how do I book it?
Answers (1)
Answered by Damian from ITALY | Mar. 05, 2019 23:05

0

0

Reply
Sorry I didn't find the tour bus. You can take the bullet train to Wuxi Railway Station. After arriving, take metro line 1 to People's Hospital. Then take bus no.77 to Shangfengzhu Bus Stop. Walk to the scenic area directly.