Tiger Hill
A famous
Song Dynasty
(960-1279) poet, Su Shi said, 'It is a lifelong pity if having visited Suzhou you did not visit Tiger Hill.' This epitomises the general opinion of those who have seen this local beauty spot with its many attractions that we shall endeavour to describe for you.
Tiger Hill, known also as Surging Sea Hill, is a large hillock covering about 3.5 acres (14,100 square metres) and only 118 feet (36 metres) in height. Climbing it, you will find a number of historical sites some of which can be traced back over 2,500 years to the founding of Suzhou. Although the hill is relatively small it has rich history. These are just some of the highlights of what to be found there.
| | |
| --- | --- |
| | Tiger Hill Pagoda |
The Tomb of King He Lu
In 496 BC during the Spring and Autumn Period (770 BC-476 BC), He Lu, King of the Wu State perished during the war fought against the Yue State. His son buried him on the hill and three days after the funeral a white tiger came and sat upon the grave as though guarding it. From that time on it has been known as Tiger Hill.
Tiger Hill Pagoda (Huqiu Tower)
The pagoda stands on the hill's summit and is the Pagoda of the Yunyan Temple. As the oldest pagoda in the vicinity of Suzhou it has come to be a symbol of the city and has the distinction of being China's Leaning Tower. Built during the
Northern Song Dynasty
(959-961), it is a seven-storey octagonal tower following the style of the timber pagodas built during the early
Tang Dynasty
(618-907). It is 158 feet (48 metres) high and for the past four hundred years has leant 3.59 degrees to the northwest.
| | |
| --- | --- |
| Sword Testing Stone | Sword Pool |
Sword Testing Stone and Sword Pool
King He Lu was a zealous collector of rare swords and it is said that he tested them upon this stone. The crevice thus made in the rock is the only evidence of the existence of these swords, as it is believed that they were buried beneath the Sword Pool as funerary objects. Another mystery that surrounds the tomb is the whereabouts of the remains of the 1,000 workers who built it and who were put to death upon completion of the task.
Lu Yu Well
Lu Yu was an authority on the art of
tea
and wrote the first ever book on the subject entitled 'The Treatise of Tea'. As an old man, he lived on Tiger Hill and it was here that he wrote the final part of his book. Lu Yu excavated the well and declared that the water from it was the third best throughout China. Consequently, upon the research and teaching of Lu Yu, tea growing and consumption came to be important factors in the daily life of Suzhou citizens.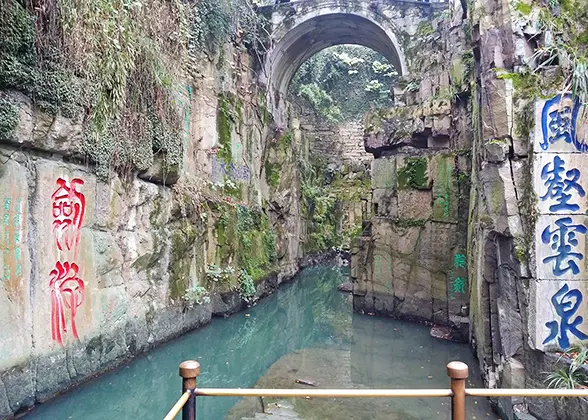 Entrance to Sword Pool
Verdant Mountain Villa (Yongcui Shanzhuang)
Built in the tenth year of the reign of
Emperor Guangxu
of the
Qing Dynasty
(1644-1911), the villa is a masterpiece of the splendid gardens for which Suzhou is so famous. As the only garden without lakes or pools in Suzhou, the villa distinguishes itself from others. It was constructed according to the outline of the hill with exquisite pavilions, paths, and decorated by luxuriant woods and flowers. The Verdant Mountain Villa was designed so that it embraced the natural vistas and views from the halls and porches, which are the most pleasing to the eye.
Wanjing Villa
The ancient art of bonsai tree growing originated in China and there are hundreds of magnificent specimens on display at this villa. Many of the specimens you can see have been awarded prizes in prestigious bonsai competitions. The miniature replicas of full-sized gardens are sure to amaze you and will give an insight into the skill and artistry of Chinese master gardeners that has been handed down from long ago.
There can be little doubt that Tiger Hill is a wonderful sight with its leaning pagoda, waterfalls and landscaped paths. It is hard to believe that it was man made to be the cemetery of king but this is yet another part of the wonder in China, a land that will never cease to amaze and enthral the visitor with its heritage.
Transportation
1. Take bus no. 32 or express line 3 and get off at Huqiu Beimen (North Gate of Tiger Hill) Station.
2. Take bus no. 146 or tourist bus no. 1 or 2 and get off at Huqiu Station.
3. Take bus no. 816 or 949 and get off at Huqiu Road Station.
Suzhou Bus Search
Admission Fee
April, May, July, August, September and October: CNY 80
January, February, March, June, November and December: CNY 60
* Note:
Children below 4.6 feet (1.4 meters) can enter for free when accompanied by an adult.
Opening Hours
07:30 - 17:30
You May Like:

Shantang Street
(Seven-Li Shantang)

Lingering Garden
(Liu Yuan)

West Garden Temple

Top 8 Classical Gardens of Suzhou

Top 10 Things to Do in Suzhou

12 Best Places to Visit in Suzhou
- Last updated on Apr. 08, 2021 -
Questions & Answers on Tiger Hill
Asked by paula andrea cristancho boada from COLOMBIA | May. 07, 2020 20:51

Reply
From Wuzhong district to tiger hill
How do I get to tiger hill from Jinfeng lu station by bus?
Answers (1)
Answered by Hilary from DENMARK | May. 10, 2020 23:44

0

0

Reply
You can take bus no.35 from Jinfeng Road to Aiheqiao. Then transfer to bus no. You 1 to Huqiu Road. After arriving, walk west around 150 meters to find the destination.
Asked by Sophie from ENGLAND | May. 02, 2019 06:51

Reply
Do you need to book tickets of Tiger Hill in advance?
Answers (1)
Answered by Cindy from AUSTRALIA | May. 06, 2019 01:16

0

0

Reply
No, you don't need to book the tickets. Just get there early to buy tickets.
Asked by Julia from POLAND | Jun. 12, 2018 09:45

Reply
Hello, how do I get to the Tiger Hill from the Suzhou train station?
I'm taking a train from Shanghai to SZ to the main train station, how do I get to the Tiger Hill from there?
Answers (1)
Answered by Mary from HUNGARY | Jun. 13, 2018 01:56

0

0

Reply
Walk to west about 100m to get Tourist Distributing Center, you can take bus line 1 north direction directly to Tiger Hill.
Asked by Jintanan from THAILAND | Apr. 07, 2018 01:54

Reply
How to get Tiger hill from Suzhou Xiyuan Temple by metro line?
Answers (1)
Answered by Helen from FRANCE | Apr. 07, 2018 20:22

0

0

Reply
No metro works but you can take bus 816 to Huqiulu directly.
Asked by tony mills from USA | Oct. 31, 2017 17:18

Reply
How long a walk to Tiger Hill?
Taking tourist bus 1 (from Lingering Garden) (or another bus if it's more convenient), how far do I have to walk from the bus stop (south gate, I guess) to Tiger Hill itself?
Answers (1)
Answered by Sandy from ITALY | Oct. 31, 2017 22:01

0

0

Reply
It's about 2 minutes' walk.
As I know, the tourist bus line 1 will take you to Huqiu Shoumo Bus Stop, which is about 200 meters north to the East Gate of your destination.
Or you can take Bus Haoxing South Line 1 directly to the North Gate.