Tiger Hill Pictures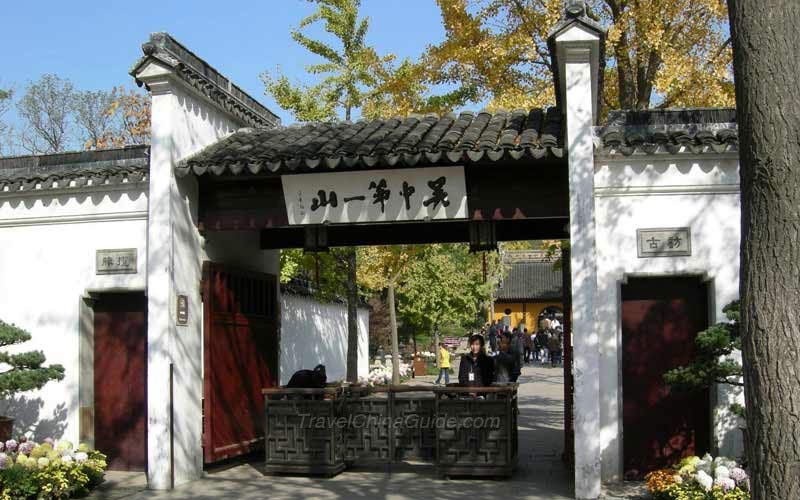 There are five Chinese characters on the white tablet of the entrance, which mean the Tiger Hill is the first hill in Wuzhong (Wuzhong especially means Suzhou).
Tiger Hill is a big hillock covering about 14,100 square meters and 36 meters high. Numerous historical sites can be found on the hill, some of which can be traced back more than 2,500 years ago. The Tiger Hill Pagoda stands on the peak. It's the oldest pagoda in the vicinity of Suzhou and has the distinction of being China's Leaning Tower.
Attraction Intro:
Tiger Hill
- Last modified on Jul. 10, 2019 -
Questions & Answers on Tiger Hill Pictures
Asked by Jenny from INDONESIA | Jul. 08, 2019 21:46

Reply
To see the colorful leafs in autumn season at Hangzhou & Suzhou
Hi all,
I plan to go to Hangzhou and Suzhou in autumn, I wanna see the colorful leafs in autumn season there so could you do me a favor to advise when is the best time for me to go there?
Thank you n Rgds
Jenny
Answers (2)
Answered by Avery from GERMANY | Jul. 09, 2019 20:25

0

0

Reply
Generally speaking, late November to December will be the best time to see the colorful leafs in autumn season.
Answered by Jenny from INDONESIA | Jul. 10, 2019 01:38

0

0

Reply
Noted with thanks

Rgds, Jenny
Asked by Student from PAKISTAN | Jan. 29, 2015 18:12

Reply
one day from shanghai to either suzhou or hangzhou? which is better?
Answers (1)
Answered by Sandy from JORDAN | Jan. 30, 2015 00:50

0

0

Reply
Pakistan, it depends on you. If you are interested in the classical gardens, I think you should go to Suzhou. Also Shantang street there shouldn't be missed. West Lake is in Hangzhou. If you plan to see the lake, you may go there.
Asked by Robin Lane from UNITED STATES | Jul. 07, 2011 16:17

Reply
Which tour shall we included please - Suzhou,Hangzhou, WestLake, or Xi'An -Terra Cotta Warriors
As part of the Chamber of Commerce Tour, the Xi'An tour is optional with added cost vs. the other. What are the most exciting to see and why given we will only travel to China once in our lifetime? Need to choose very quickly Thank you very much.
Answers (1)
Answered by Andrew from CHINA | Jul. 07, 2011 20:26

11

0

Reply
It all depends on your interests. If you prefer natural landscapes, Suzhou,Hangzhou, West Lake should be your choice; if you are interested in Chinese history and culture, then go to Xi'an!
Asked by Mr.Matt | Mar. 31, 2011 04:24

Reply
How do you get to downtown Suzhou from Taicang or Kunshan? Can you give me the details (cost, bus #, times, etc) by bus, train and taxi?
Answers (1)
Answered by Mr.Jameswong | Mar. 31, 2011 04:49

6

0

Reply
Kunshan to Suzhou: 18 minutes by bullet trains (D trains), 21 minutes by T trains, 24 minutes by K trains. there are nearly 40 trains a day from Kunshan to Suzhou. the ticket fare is : 10-13RMB by train. You can also travel by bus. Kunshan Bus Statio has buses to Suzhou North/South Bus Station (North bus station is closer to the railway station) every 10 minutes or so and takes one hour. The bus ticket costs about 15RMB.
Taicang to Suzhou: by bus, the bus ticket costs about 25RMB. The journey is about 2 hours.

Asked by Ms.nov from SINGAPORE | Aug. 26, 2009 21:46

Reply
Hi All,

I need help about the transportation from Suzhou to Hangzhou. Me and my parents are going to be travelling on oct to Suzhou and hangzhou. What is the most cost effective or time effective transportation from Suzhou to Hangzhou? And also that I will be staying in suzhou for 3 nights. Is it advisable for me to stay in suzhou but visit zhouzuang ? and how long does it takes to go to zhouzuang from suzhou?

Thanks
Answers (3)
Answered by Mr.Shan | Aug. 29, 2009 01:30

5

0

Reply
Buses from Suzhou to Hangzhou is very convenient. It just take 2 hours one the way. The fare is 70RMB per person.

Buses from Suzhou to Zhouhuang:
Suzhou North Bus Station (at the square of Suzhou Railway Station): 07:05~17:05 every 30 minutes, the journey is 100 minutes and costs 17.5RMB
Suzhou South Bus Station: please take the bus to Jiangze. There are buses depart from here every 30 minutes with a fare of 12.5RMB. When you arrive in Jiangze, please walking northwards along the road, the end of which is the entrance to Zhouzhuang.
Answered by Ms.nov from SINGAPORE | Aug. 29, 2009 12:21

0

0

Reply
Mr. Shan

Thank you for your reply.however, I will be staying in suzhou Ping Jiang Lodge. Can u tell me whether is it nearer from Ping Jiang Lodge to Suzhou North bus station or to South Bus station?

Thank you
Answered by Mr.James | Aug. 31, 2009 23:17

0

0

Reply
The lodge is on the half way between the two bus stations. No big difference. :-)