Hong Kong Weather in December
As winter arrives, the Hong Kong weather in December becomes cool in the day and cold at night. The average high temperature is 21°C (70°F) and average low temperature is 15°C (59°F). There are fewer rainy days in December than in the rest of the year.
Visitors should make sure to stay hydrated because of the dry climate in Hong Kong in December.
December is a good time for shopping as many shopping malls and department stores provide great discounts to sell out-of-season products.
Averages for Hong Kong Weather in December
Temperature: 18°C / 64°F
High Temperature: 21°C / 70°F
Low Temperature: 15°C / 59°F
Humidity: 66%
Rainfall: 27 mm
Rainy Days: 2 days
Sunrise: 06:46 ~ 07:03
Sunset: 17:39 ~ 17:50
What to Wear in Hong Kong in December
When going out on sunny days, you can just wear long-sleeved shirts, jeans, sportswear, dresses and light coats. The temperature between day and night may differ a lot, so you should also be prepared with coats, wind jackets, heavy coats or wool sweaters for nights or sudden temperature drops.


Where to Go in Hong Kong in December
Tourists are advised to go to
Lantau Island
for a visit. Lantau Island is mountainous and has a beautiful coastline, beaches and historical sites. It is a good place for camping and sightseeing. Many people from downtown Hong Kong go there to relax on weekends and holidays. Po Lin Monastery, located in Ngong Ping on the island, is one of the famous temples in Hong Kong. Tourists can stay in this temple at night and climb Phoenix Mountain to watch the sunrise in the morning. The well-known Tian Tan Big Buddha is located on the peak of Muyu Mountain. On this island, tourists can also visit the peaceful and beautiful fishing harbor
Tai O
, which is known as "Oriental Venice". If interested in a wonderful cable car trip, tourists should not miss Ngong Ping 360 on Lantau Island.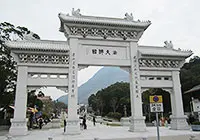 Po Lin Monastery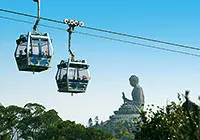 Ngong Ping 360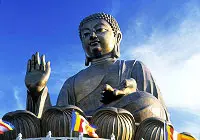 Tian Tan Big Buddha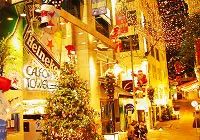 Lan Kwai Fong
Other Tips
Cold medication should be prepared in advance for the elderly and the weak, who may easily catch a cold because of the low temperature. It is advised to drink enough water or wear a mask when going outside, as it is easy to get a sore throat in the dry winter. Checking the weather forecast before traveling is a good habit at all times. Some hotels in Hong Kong may not provide hot water. Please confirm before checking-in.
What is the temperature in Hong Kong in December?
High/Low Temperatures of Hong Kong in December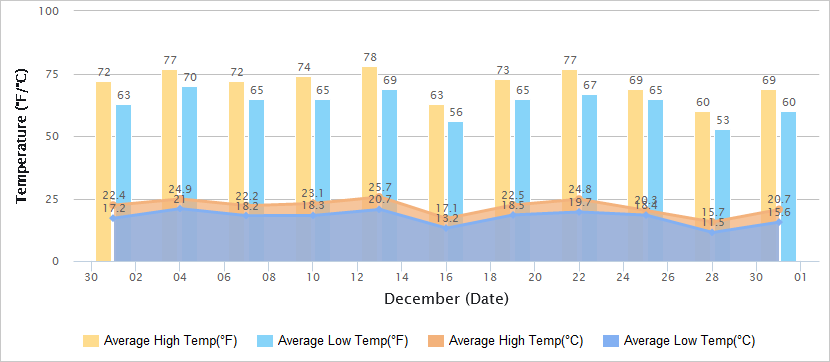 Historical Hong Kong Weather in December
Dec
Temperature
Sunrise / Sunset
Humi-
dity
(%)
High
Low
1
22.4°C / 72.3°F
17.2°C / 63°F

06:46

/

17:39

67
2
22.4°C / 72.3°F
18.4°C / 65.1°F

06:47

/

17:39

74
3
22.8°C / 73°F
19.9°C / 67.8°F

06:47

/

17:39

77
4
24.9°C / 76.8°F
21.0°C / 69.8°F

06:48

/

17:39

79
5
25.9°C / 78.6°F
21.8°C / 71.2°F

06:49

/

17:39

79
6
22.9°C / 73.2°F
19.4°C / 66.9°F

06:49

/

17:40

54
7
22.2°C / 72°F
18.2°C / 64.8°F

06:50

/

17:40

61
8
21.7°C / 71°F
17.1°C / 62.8°F

06:51

/

17:40

61
9
21.9°C / 71.4°F
16.5°C / 61.7°F

06:51

/

17:40

65
10
23.1°C / 73.6°F
18.3°C / 64.9°F

06:52

/

17:40

72
11
21.5°C / 70.7°F
19.5°C / 67.1°F

06:53

/

17:40

76
12
23.3°C / 73.9°F
19.0°C / 66.2°F

06:53

/

17:41

77
13
25.7°C / 78.3°F
20.7°C / 69.3°F

06:54

/

17:41

75
14
23.4°C / 74.1°F
18.8°C / 65.8°F

06:54

/

17:42

63
15
20.4°C / 68.7°F
15.6°C / 60.1°F

06:55

/

17:42

62
16
17.1°C / 62.8°F
13.2°C / 55.8°F

06:56

/

17:43

61
17
18.6°C / 65.5°F
13.7°C / 56.7°F

06:56

/

17:43

68
18
21.3°C / 70.3°F
17.2°C / 63°F

06:57

/

17:43

76
19
22.5°C / 72.5°F
18.5°C / 65.3°F

06:57

/

17:44

73
20
22.9°C / 73.2°F
20.0°C / 68°F

06:58

/

17:44

80
21
22.6°C / 72.7°F
21.0°C / 69.8°F

06:58

/

17:45

90
22
24.8°C / 76.6°F
19.7°C / 67.5°F

06:59

/

17:45

75
23
21.9°C / 71.4°F
19.1°C / 66.4°F

06:59

/

17:46

73
24
19.5°C / 67.1°F
16.9°C / 62.4°F

07:00

/

17:46

76
25
20.3°C / 68.5°F
18.4°C / 65.1°F

07:00

/

17:47

82
26
23.7°C / 74.7°F
19.5°C / 67.1°F

07:01

/

17:48

80
27
21.8°C / 71.2°F
12.8°C / 55°F

07:01

/

17:48

61
28
15.7°C / 60.3°F
11.5°C / 52.7°F

07:02

/

17:49

60
29
17.9°C / 64.2°F
13.9°C / 57°F

07:02

/

17:49

54
30
18.6°C / 65.5°F
14.8°C / 58.6°F

07:02

/

17:50

60
31
20.7°C / 69.3*°F
15.6°C / 60°F

07:03

/

17:50

74
- Last modified on Sep. 03, 2019 -