Hong Kong Weather in June
With a subtropical climate, the Hong Kong weather in June is quite hot as it is summer. However, different from the dry and hot summer in northern cities of China, Hong Kong's summer may feel humid and sticky. The average high temperature is 30°C (86°F) and the average low temperature is 27°C (81°F). Hong Kong is in the rainy season in June and the average rainfall is 376 mm, reaching the highest volume in the year. Tourists may encounter frequent rainy days, so it is advised to bring umbrellas and other rain gear.
The
Dragon Boat Festival
is likely to fall in June. Dragon boat racing and other traditional activities are held to celebrate this festival. When going to Hong Kong during this period, tourists can feel the festive atmosphere and taste Zongzi, a pyramid-shaped glutinous rice dumpling wrapped in reed leaves, which is the traditional food for the festival.
Averages for Hong Kong Weather in June
Temperature: 28°C / 82°F
High Temperature: 30°C / 86°F
Low Temperature: 27°C / 81°F
Humidity: 83%
Rainfall: 376 mm
Rainy Days: 16 days
Sunrise: 05:39 ~ 05:43
Sunset: 19:04 ~ 19:12
What to Wear in Hong Kong in June
Hong Kong weather in June is hot. It is advisable to wear light and breathable summer clothes such as short skirts, short-sleeved T-shirts, shorts and dresses. It will be colder on rainy days, so you should wear thin coats, jackets and sportswear.


Where to Go in Hong Kong in June
Hong Kong has many famous attractions, such as
Ocean Park
,
Victoria Harbour
, Disneyland and
Victoria Peak
. However, as it is hot outside, tourists are not advised to visit the popular Disneyland Resort, where there is always a long queue. During daytime, tourists can go to
Causeway Bay
or
Tsim Sha Tsui
for shopping because the shopping malls provide air conditioners and internet access. At night, they can go to Victoria Harbour to see the beautiful night view. Also, tourists can watch the famous
A Symphony of Lights
show there.
Top 10 Things to Do in Hong Kong
Other Tips
The hot weather on sunny days may cause sun damage, so sunglasses, hats and sun-proof clothing should be worn and sunscreen applied. Indoor air conditioning makes tourists feel comfortable, but those who get inside immediately after being exposed to the heat for a long time are likely to catch a cold, especially, for the sick and children. Remember not to set a very low air-conditioning temperature after you enter a room.
What is the temperature in Hong Kong in June?
High/Low Temperatures of Hong Kong in June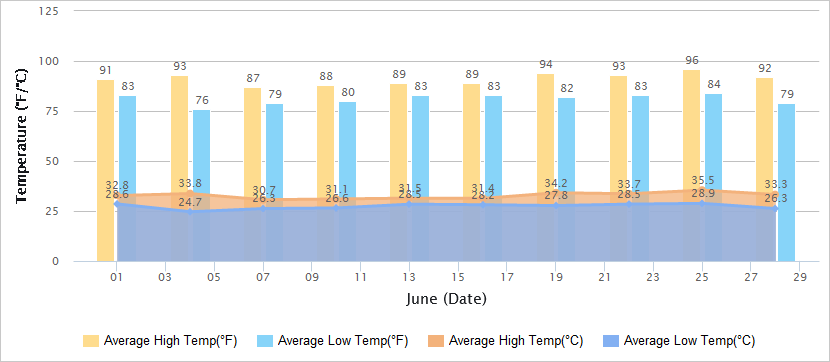 Historical Hong Kong Weather in June
Jun
Temperature
Sunrise / Sunset
Humi-
dity
(%)
High
Low
1
32.8°C / 91°F
28.6°C / 83.5°F

05:39

/

19:04

80
2
33.0°C / 91.4°F
28.7°C / 83.7°F

05:39

/

19:04

79
3
32.4°C / 90.3°F
29.0°C / 84.2°F

05:39

/

19:05

80
4
33.8°C / 87.4°F
24.7°C / 76.5°F

05:39

/

19:05

83
5
30.4°C / 86.7°F
25.0°C / 77°F

05:39

/

19:05

86
6
29.1°C / 84.4°F
24.8°C / 76.6°F

05:39

/

19:06

91
7
30.7°C / 87.3°F
26.3°C / 79.3°F

05:39

/

19:06

86
8
30.0°C / 86°F
24.1°C / 75.4°F

05:39

/

19:06

89
9
31.7°C / 89.1°F
26.6°C / 79.9°F

05:39

/

19:07

86
10
31.1°C / 88°F
26.6°C / 79.9°F

05:39

/

19:07

89
11
27.8°C / 82°F
25.4°C / 77.7°F

05:39

/

19:08

93
12
29.2°C / 84.6°F
25.4°C / 77.7°F

05:39

/

19:08

93
13
31.5°C / 88.7°F
28.5°C / 83.3°F

05:39

/

19:08

84
14
31.7°C / 89.1°F
29.2°C / 84.6°F

05:39

/

19:09

81
15
32.0°C / 89.6°F
29.3°C / 84.7°F

05:39

/

19:09

79
16
31.4°C / 88.5°F
28.2°C / 82.8°F

05:40

/

19:09

82
17
32.1°C / 89.8°F
26.7°C / 80.1°F

05:40

/

19:09

82
18
30.8°C / 87.4°F
27.7°C / 81.9°F

05:40

/

19:10

83
19
34.2°C / 93.6°F
27.8°C / 82°F

05:40

/

19:10

80
20
34.4°C / 93.9°F
28.6°C / 83.5°F

05:40

/

19:10

79
21
33.7°C / 92.7°F
28.7°C / 83.7°F

05:40

/

19:10

75
22
33.7°C / 92.7°F
28.5°C / 83.3°F

05:41

/

19:11

75
23
34.1°C / 93.4°F
28.4°C / 83.1°F

05:41

/

19:11

72
24
35.2°C / 95.4°F
28.8°C / 83.8°F

05:41

/

19:11

75
25
35.5°C / 95.9°F
28.9°C / 83.5°F

05:41

/

19:11

74
26
35.1°C / 95.2°F
29.4°C / 84.9°F

05:42

/

19:11

75
27
35.1°C / 95.2°F
28.6°C / 83.5°F

05:42

/

19:11

78
28
33.3°C / 91.9°F
26.3°C / 79.3°F

05:42

/

19:11

85
29
33.1°C / 91.6°F
27.5°C / 81.5°F

05:43

/

19:12

87
30
31.2°C / 88.2°F
27.8°C / 82°F

05:43

/

19:12

80
- Last updated on Jun. 27, 2019 -