Hong Kong Weather in August
Still in summer, the Hong Kong weather in August remains hot. With an average high temperature of 31°C (88°F) and low temperature of 26°C (79°F), Hong Kong is suitable for travelling in August. Tourists may encounter rainy days, especially intense showers.
Sometimes, the city may also suffer from typhoon. In this case, checking the weather forecast before traveling is necessary; also, bring umbrellas, raincoats and antiskid shoes. Of course, if it's in the hot climate in August in Hong Kong, tourists need to protect themselves from sunburn as well. They should use sunscreen or wear hats and sunglasses, or use a parasol.
Averages for Hong Kong Weather in August
Temperature: 28°C / 82°F
High Temperature: 31°C / 88°F
Low Temperature: 26°C / 79°F
Humidity: 80%
Rainfall: 301 mm
Rainy Days: 15 days
Sunrise: 05:55 ~ 06:06
Sunset: 18:41 ~ 19:04
What to Wear in Hong Kong in August
Summer clothes, such as short T-shirts, shorts, short skirts, sportswear, dresses, or flimsy pants are suitable for sunny days. Sun-proof clothes should also be prepared if tourists stay outdoors for a long time. On rainy days, you had better wear rain coats, long-sleeved blouses and jeans. As for shoes, flat sandals or sneakers are suitable.

Where to Go in Hong Kong in August
As a pretty popular tourist destination, Hong Kong has many famous attractions such as
Disneyland
, Ocean Park, Victoria Harbour and
Temple Street
. August is a good time for taking part in some aquatic activities in Disneyland Park or Ocean Park. It will be quite cool and comfortable to splash in the water. At night, tourists can go to the Temple Street, a famous open-air night market in Hong Kong. There are many food stalls selling special local snacks such as Wonton Noodles, Cart Noodles and Fish Balls, so it is a paradise for foodies. Tourists can also buy exquisite goods here, including toys, clothes and jade articles at bargain prices.
Top 10 Things to Do in Hong Kong
Other Tips
Hong Kong hospitals are divided into public and private ones. Usually, public hospitals are much cheaper than private ones, but visitors may need to wait for a long time as there are often long queues. Therefore it is advised to bring some common medicines. Also, tourists had better book hotels in advance. The Metro and public buses are good options for traveling around. You can take photos when visiting Disneyland, but the flash must be turned off.
What is the temperature in Hong Kong in August?
High/Low Temperatures of Hong Kong in August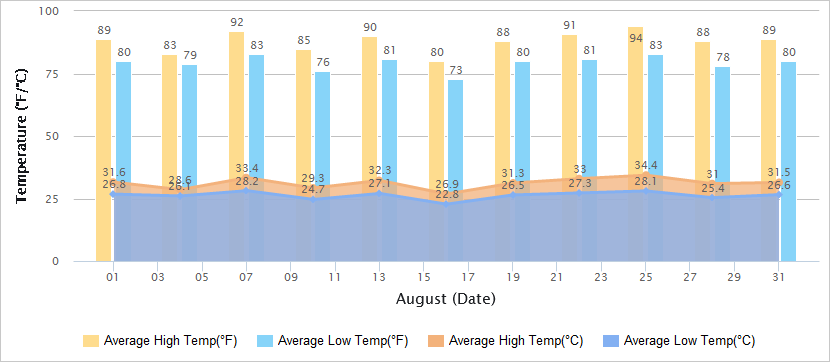 Historical Hong Kong Weather in August
Aug
Temperature
Sunrise / Sunset
Humi-
dity
(%)
High
Low
1
31.6°C / 88.9°F
26.8°C / 80.2°F

05:55

/

19:04

76
2
29.5°C / 85.1°F
25.1°C / 77.2°F

05:56

/

19:03

88
3
27.8°C / 82°F
26.1°C / 80°F

05:56

/

19:03

93
4
28.6°C / 83.5°F
26.1°C / 80°F

05:57

/

19:02

94
5
32.3°C / 90.1°F
27.0°C / 80.6°F

05:57

/

19:02

83
6
33.2°C / 91.8°F
27.4°C / 81.3°F

05:57

/

19:01

77
7
33.4°C / 92.1°F
28.2°C / 82.8°F

05:58

/

19:00

80
8
33.4°C / 92.1°F
28.6°C / 83.5°F

05:58

/

19:00

79
9
32.7°C / 90.9°F
26.1°C / 80°F

05:58

/

18:59

83
10
29.3°C / 84.7°F
24.7°C / 76.5°F

05:59

/

18:58

91
11
29.9°C / 85.8°F
25.2°C / 77.4°F

05:59

/

18:58

87
12
29.4°C / 84.9°F
26.9°C / 80.4°F

06:00

/

18:57

86
13
32.3°C / 90.1°F
27.1°C / 80.8°F

06:00

/

18:56

84
14
29.4°C / 84.9°F
25.8°C / 78.4°F

06:00

/

18:55

90
15
28.4°C / 83.1°F
25.5°C / 77.9°F

06:01

/

18:55

83
16
26.9°C / 80.4°F
22.8°C / 73°F

06:01

/

18:54

96
17
28.0°C / 82.4°F
25.3°C / 77.5°F

06:01

/

18:53

96
18
28.7°C / 83.7°F
25.9°C / 78.6°F

06:02

/

18:52

94
19
31.3°C / 88.3°F
26.5°C / 79.7°F

06:02

/

18:51

90
20
32.4°C / 90.3°F
27.4°C / 81.3°F

06:02

/

18:51

88
21
31.2°C / 88.2°F
24.5°C / 76.1°F

06:03

/

18:50

87
22
33.0°C / 91.4°F
27.3°C / 81.1°F

06:03

/

18:49

82
23
33.4°C / 92.1°F
27.2°C / 81°F

06:03

/

18:48

74
24
33.5°C / 92.3°F
27.9°C / 82.2°F

06:04

/

18:47

75
25
34.4°C / 93.9°F
28.1°C / 71.4°F

06:04

/

18:46

77
26
33.6°C / 92.5°F
28.1°C / 82.6°F

06:04

/

18:45

72
27
33.2°C / 91.8°F
27.0°C / 80.6°F

06:05

/

18:45

79
28
31.0°C / 87.8°F
25.4°C / 77.7°F

06:05

/

18:44

82
29
28.0°C / 82.4°F
26.2°C / 79.2°F

06:05

/

18:43

79
30
31.2°C / 88.2°F
26.1°C / 79°F

06:05

/

18:42

69
31
31.5°C / 88.7°F
26.6°C / 79.9°F

06:06

/

18:41

78
- Last updated on Sep. 03, 2019 -