Hong Kong Weather in March
Hong Kong Weather in March is pleasant, as spring is coming. The temperature rises gradually, so the climate will be warm along with pleasant sunshine, but there may also be drizzle from time to time. The highest temperature in this month is 21°C (70°F) and the lowest is 17°C (63°F). It is important to take some sunscreen products when going out during the day.
The Hong Kong Flower Show is held every March in
Victoria Park
. This show lasts for 10 days each time. Tourists can appreciate all kinds of flowers here at several theme parks. Different activities such as music and dance performances are held for tourists. This is also a good place to go for shutterbugs.
Averages for Hong Kong Weather in March
Temperature: 19°C / 66°F
High Temperature: 21°C / 70°F
Low Temperature: 17°C / 63°F
Humidity: 81%
Rainfall: 67 mm
Rainy Days: 6 days
Sunrise: 06:17 ~ 06:44
Sunset: 18:27 ~ 18:38
What to Wear in Hong Kong in March
When going out in the day, visitors can wear shirts, hoodies, jeans, overcoats or sportswear. The weather may gets colder at night, so they can wear light sweaters, coats, wind jackets, or velveteen hoodies. As for shoes, sneakers or casual shoes are suitable for walking around.


Where to Go in Hong Kong in March
What couples favor doing is visiting the night scene at
Victoria Harbour
, which is a quite pleasant and romantic experience. Also, 'A Symphony of Lights' is held there at 08:00 pm everyday to present a dreamlike scene. Another must-go attraction is Ocean Park, which is one of the most popular and largest theme parks in the world. Visitors can watch an interesting dolphin show and have fun at the amusement park. You can also see various kinds of animals such as seals, sea lions, fish, penguins, pandas and alligators. The food street in
Causeway Bay
is definitely a paradise for foodies. Tourists can enjoy all kinds of Hong Kong style snacks there.
Top 10 Things to Do in Hong Kong
Other Tips
March is the peak season for tourism, so tourists had better make travel plans in advance. Never litter on the streets. March is also the discount season for Hong Kong, so it is a good time for shopping, but as it is the last month of the discount season, most quality products have been sold out, so shoppers should select carefully. In order to have a peaceful and comfortable journey, it is advised to carry some gastroenteritis and cold medications.
What is the temperature in Hong Kong in March?
High/Low Temperatures of Hong Kong in March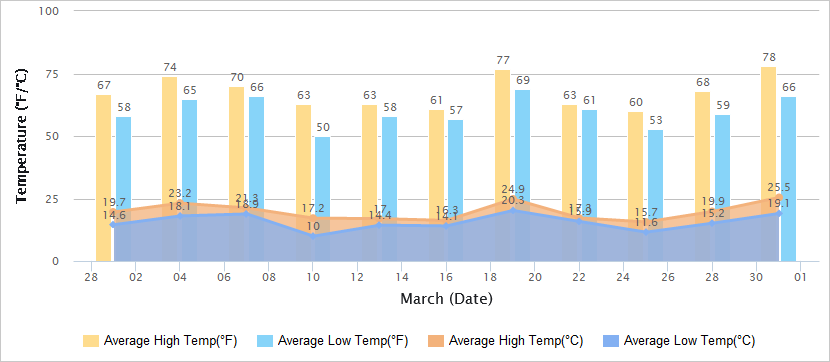 Historical Hong Kong Weather in March
Mar
Temperature
Sunrise / Sunset
Humi-
dity
(%)
High
Low
1
19.7°C / 67.5°F
14.6°C / 58.3°F

06:44

/

18:27

73
2
20.6°C / 69.1°F
14.4°C / 57.9°F

06:43

/

18:27

72
3
23.8°C / 74.8°F
15.4°C / 59.7°F

06:43

/

18:28

75
4
23.2°C / 73.8°F
18.1°C / 64.6°F

06:42

/

18:28

82
5
23.1°C / 73.6°F
19.2°C / 66.6°F

06:41

/

18:29

79
6
25.9°C / 78.6°F
19.2°C / 66.6°F
06:40 / 18:29
79
7
21.3°C / 70.3°F
18.9°C / 66°F

06:39

/

18:29

91
8
21.5°C / 70.7°F
18.9°C / 66°F

06:38

/

18:30

93
9
22.9°C / 73.2°F
17.1°C / 62.8°F

06:37

/

18:30

95
10
17.2°C / 63°F
10.0°C / 50°F

06:36

/

18:31

93
11
14.3°C / 57.7°F
10.0°C / 50°F

06:36

/

18:31

77
12
14.5°C / 58.1°F
12.7°C / 54.9°F

06:35

/

18:31

87
13
17.0°C / 62.6°F
14.4°C / 57.9°F

06:34

/

18:32

96
14
16.5°C / 61.7°F
14.2°C / 57.6°F

06:33

/

18:32

83
15
15.5°C / 59.9°F
14.0°C / 57.2°F

06:32

/

18:32

79
16
16.3°C / 61.3°F
14.1°C / 57.4°F

06:31

/

18:33

90
17
17.4°C / 63.3°F
15.6°C / 60.1°F

06:30

/

18:33

97
18
21.9°C / 71.4°F
17.2°C / 63°F

06:29

/

18:34

97
19
24.9°C / 76.8°F
20.3°C / 68.5°F

06:28

/

18:34

94
20
23.1°C / 73.6°F
17.6°C / 63.7°F

06:27

/

18:34

91
21
18.2°C / 64.8°F
16.4°C / 61.5°F

06:26

/

18:35

95
22
17.3°C / 63.1°F
15.9°C / 60.6°F

06:25

/

18:35

96
23
20.6°C / 69.1°F
17.1°C / 62.8°F

06:24

/

18:35

97
24
17.7°C / 63.9°F
12.7°C / 54.9°F

06:23

/

18:36

75
25
15.7°C / 60.3°F
11.6°C / 52.9°F

06:22

/

18:36

75
26
20.2°C / 68.4°F
12.6°C / 54.7°F

06:21

/

18:36

58
27
22.4°C / 72.3°F
14.6°C / 58.3°F

06:21

/

18:37

58
28
19.9°C / 67.8°F
15.2°C / 59.4°F

06:20

/

18:37

59
29
19.4°C / 66.9°F
15.7°C / 60.3°F

06:19

/

18:37

59
30
22.2°C / 72°F
18.4°C / 65.1°F

06:18

/

18:38

79
31
25.5°C / 77.9°F
19.1°C / 66.4°F

06:17

/

18:38

86
- Last updated on Jun. 27, 2019 -