Hong Kong Weather in September
With the average high of 30°C (86°F) and the average low of 26°C (79°F) at night, Hong Kong weather in September is pleasurable. The dry and comfortable climate on sunny days is suitable for traveling. However, you may encounter frequent rainy days, as the city is in the rainy season during this period, with an average total precipitation of 300mm. Because of the rain, the temperature between day and night may differ a lot.
It is advised to bring some long-sleeved clothing for cool nights. Sunblock should be at hand for going out on hot days. September is also in the typhoon season. It is essential to check out the weather forecast before traveling.
Averages for Hong Kong Weather in September
Temperature: 28°C / 82°F
High Temperature: 30°C / 86°F
Low Temperature: 26°C / 79°F
Humidity: 80%
Rainfall: 300 mm
Rainy Days: 12 days
Sunrise: 06:06 ~ 06:14
Sunset: 18:12 ~18:40
What to Wear in Hong Kong in September
Short T-shirts, skirts and shorts are suitable for visiting Hong Kong in September. In addition, tourists can take thin coats or jackets for nights or rainy days.


Where to Go in Hong Kong in September
Those who are interested in distinctive architecture can go to
Tsim Sha Tsui
,
Wanchai
and
Central
, where some tall buildings can be found. The typical buildings include the Bank of China Tower, International Finance Center, People's Liberation Army Hong Kong Garrison and Hong Kong Convention and Exhibition Center. If visitors want to take photos with famous stars, Madame Tussauds is a good place to go, but drinks and food are forbidden to bring inside. Tourists can also have a thrilling experience at the Chamber of Horrors, while children under 12 years old, the elderly, the pregnant and those who have heart problems, or high blood pressure are advised not to enter.
Top 10 Things to Do in Hong Kong
Other Tips
In Hong Kong, September is the discount season for shopping. Tourists can buy desirable items at a low price, but please be a sensible consumer. Traveling without an identity card or passport is regarded as illegal, so please carry relevant documents at all times.
What is the temperature in Hong Kong in September?
High/Low Temperatures of Hong Kong in September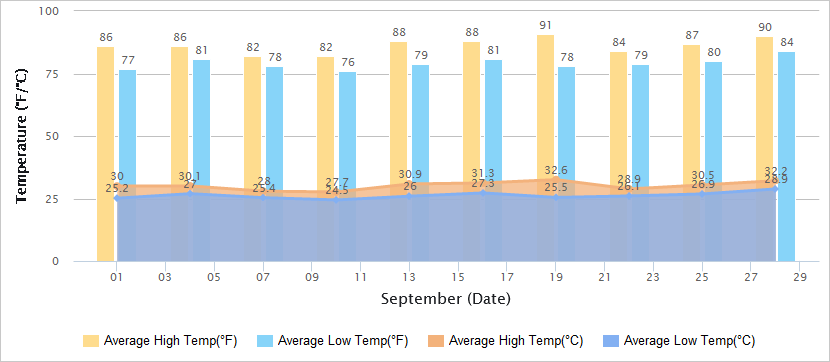 Historical Hong Kong Weather in September
Sep
Temperature
Sunrise / Sunset
Humi-
dity
(%)
High
Low
1
30.0°C / 86°F
25.2°C / 77.4°F

06:06

/

18:40

88
2
31.0°C / 87.8°F
27.5°C / 81.5°F

06:06

/

18:39

86
3
31.2°C / 88.2°F
25.7°C / 78.3°F

06:07

/

18:38

87
4
30.1°C / 86.2°F
27.0°C / 80.6°F

06:07

/

18:37

84
5
29.2°C / 84.6°F
25.8°C / 78.4°F

06:07

/

18:36

89
6
27.7°C / 81.9°F
25.7°C / 78.3°F

06:07

/

18:35

90
7
28.0°C / 82.4°F
25.4°C / 77.7°F

06:08

/

18:34

90
8
28.4°C / 83.1°F
25.5°C / 77.9°F

06:08

/

18:33

90
9
29.4°C / 84.9°F
25.5°C / 77.9°F

06:08

/

18:32

88
10
27.7°C / 81.9°F
24.5°C / 76.1°F

06:09

/

18:31

93
11
31.6°C / 88.9°F
25.9°C / 78.6°F

06:09

/

18:30

87
12
32.7°C / 90.9°F
26.0°C / 78.8°F

06:09

/

18:29

83
13
30.9°C / 87.6°F
26.0°C / 78.8°F

06:09

/

18:28

84
14
32.6°C / 90.7°F
26.9°C / 80.4°F

06:10

/

18:27

69
15
31.9°C / 89.4°F
28.0°C / 82.4°F

06:10

/

18:26

68
16
31.3°C / 88.3°F
27.3°C / 81.1°F

06:10

/

18:25

70
17
31.6°C / 88.9°F
27.3°C / 81.1°F

06:11

/

18:24

66
18
31.5°C / 88.7°F
26.3°C / 79.3°F

06:11

/

18:23

66
19
32.6°C / 90.7°F
25.5°C / 77.9°F

06:11

/

18:22

73
20
29.5°C / 85.1°F
22.8°C / 73°F

06:11

/

18:21

87
21
30.6°C / 87.1°F
24.7°C / 76.5°F

06:12

/

18:20

77
22
28.9°C / 84°F
26.1°C / 80°F

06:12

/

18:19

76
23
29.9°C / 85.8°F
26.5°C / 79.7°F

06:12

/

18:18

78
24
30.5°C / 86.9°F
26.6°C / 79.9°F

06:12

/

18:17

78
25
30.5°C / 86.9°F
26.9°C / 80.4°F

06:13

/

18:16

80
26
31.1°C / 88°F
27.0°C / 80.6°F

06:13

/

18:15

81
27
34.9°C / 94.8°F
27.7°C / 81.9°F

06:13

/

18:15

68
28
32.2°C / 90°F
28.9°C / 84°F

06:14

/

18:14

58
29
28.9°C / 84.°F
24.9°C / 76.8°F

06:14

/

18:13

70
30
26.4°C / 79.5°F
24.1°C / 75.4°F

06:14

/

18:12

78
- Last modified on Jun. 27, 2019 -