Hong Kong Weather in February
As it is still winter, the Hong Kong weather in February is cool and dry. The average low temperature is 14°C (57°F) and the average high is 19°C (66°F). It seldom rains during this period, but you may encounter some windy or cloudy days. In this case, the temperature may drop a little, so you should pay attention to skin care as high winds may hurt your skin. Masks and hats are highly recommended when going out.
The
Chinese New Year
may fall at the beginning of February. On the second night of the Lunar New Year, fireworks will be shown along Victoria Harbour. Taking a cruise on the harbor is a good way to enjoy the beautiful fireworks. Central Harborfront, Central Piers no. 9 and 10,
Golden Bauhinia Square
, Tsim Sha Tsui Promenade and West Kowloon Waterfront Promenade are all perfect sites to appreciate the wonderful show.
Averages for Hong Kong Weather in February
Temperature: 17°C / 63°F
High Temperature: 19°C / 66°F
Low Temperature: 14°C / 57°F
Humidity: 70%
Rainfall: 48 mm
Rainy Days: 5 days
Sunrise: 06:45 ~ 07:02
Sunset: 18:11 ~ 18:26
What to Wear in Hong Kong in February
Considering the climate in Hong Kong in February, cozy clothes such as long-sleeved T-shirts, jeans, sportswear, and wind jackets should be prepared for going out during the day, and have jackets, suits and sweaters at night.


Where to Go in Hong Kong in February
For those who are crazy about shopping, Tsim Sha Tsui known as the one-stop shoppers' paradise is a perfect destination. Both high-end shopping malls and bustling shopping streets can be found here. Apart from shopping, tourists can take a boat to appreciate the great skyline on both banks or walk along the Avenue of Stars to see the handprints and statues of Hong Kong superstars. For those traveling with children, Hong Kong Disneyland is a must-see attraction. Seven distinctive theme parks can be found there for visitors to start an interesting and magical journey.
Other Tips
It is advised to carry some basic medication for unexpected situations like changes in the weather. Usually, tourists are advised to book hotels in advance. If possible, you should buy tickets for most attractions in advance to save time, because there may be a queue at ticket windows and online tickets may be cheaper. If visitors want to taste the authentic and distinctive local food, they should try street foods, which are more popular than restaurants.
What is the temperature in Hong Kong in February?
High/Low Temperatures of Hongkong in February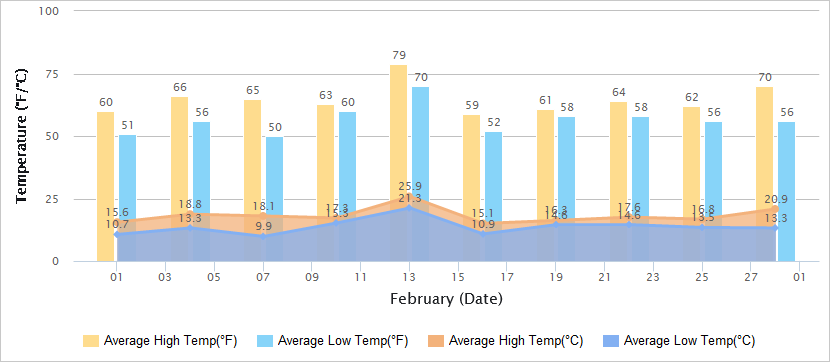 Historical Hong Kong Weather in February
Feb
Temperature
Sunrise / Sunset
Humi-
dity
(%)
High
Low
1
15.6°C / 60.1F
10.7°C / 51.3°F

07:02

/

18:11

93
2
11.2°C / 52.2F
9.4°C / 48.9°F

07:02

/

18:12

79
3
14.3°C / 57.7°F
10.3°C / 50.5°F

07:02

/

18:13

77
4
18.8°C / 65.8°F
13.3°C / 55.9°F

07:01

/

18:13

76
5
18.6°C / 65.5°F
12.3°C / 54.1°F

07:01

/

18:14

66
6
17.4°C / 63.3°F
11.2°C / 52.2°F

07:00

/

18:14

39
7
18.1°C / 64.6°F
9.9°C / 49.8°F

07:00

/

18:15

36
8
19.6°C / 67.3°F
11.6°C / 52.9°F

06:59

/

18:16

52
9
21.2°C / 70.2°F
12.7°C / 54.9°F

06:59

/

18:16

54
10
17.3°C / 63.1°F
15.3°C / 59.5°F

06:58

/

18:17

64
11
22.4°C / 72.3°F
17.2°C / 63°F

06:58

/

18:17

86
12
21.6°C / 70.9°F
17.6°C / 63.7°F

06:57

/

18:18

95
13
25.9°C / 78.6°F
21.3°C / 70.3°F

06:57

/

18:18

89
14
24.6°C / 76.3°F
17.4°C / 63.3°F

06:56

/

18:19

81
15
17.5°C / 63.5°F
11.4°C / 52.5°F

06:55

/

18:20

64
16
15.1°C / 59.2°F
10.9°C / 51.6°F

06:55

/

18:20

63
17
14.4°C / 57.9°F
11.6°C / 52.9°F

06:54

/

18:21

77
18
15.0°C / 59°F
11.7 / 53°F

06:53

/

18:21

89
19
16.3°C / 61.3°F
14.6°C / 58.3°F

06:53

/

18:22

88
20
20.1°C / 68.2°F
12.5°C / 54.5°F

06:52

/

18:22

67
21
15.9°C / 60.6°F
14.7°C / 58.5°F

06:51

/

18:23

77
22
17.6°C / 63.7°F
14.6°C / 58.3°F

06:51

/

18:23

91
23
16.7°C / 62.1°F
13.7°C / 56.7°F

06:50

/

18:24

92
24
15.5°C / 59.9°F
12.3°C / 54.1°F

06:49

/

18:24

78
25
16.8°C / 62.2°F
13.5°C / 56.3°F

06:48

/

18:25

76
26
17.6°C / 63.7°F
14.0°C / 57.2°F

06:48

/

18:25

79
27
17.5°C / 63.5°F
13.8°C / 56.8°F

06:47

/

18:26

79
28
20.9°C / 69.6°F
13.3°C / 55.9°F

06:46

/

18:26

72
29
24.8°C / 76.6°F
14.4°C / 57.9°F

06:45

/

18:26

61
- Last updated on Sep. 03, 2019 -