Hong Kong Weather in May
As it is in the rainy season, the Hong Kong weather in May is hot and humid, but it is still suitable for travel. Summer arrives in late May and sudden downpours or storms may occur from time to time.
The average high temperature in May is 29°C (84°F) and the low temperature is 24°C (75°F).
Tourists are advised to use sunscreen or other protective measures when going out on sunny days. Umbrellas and raincoats are necessary in case of bad weather.
Averages for Hong Kong Weather in May
Temperature: 26°C / 79°F
High Temperature: 29°C / 84°F
Low Temperature: 24°C / 75°F
Humidity: 82%
Rainfall: 317 mm
Rainy Days: 11 days
Sunrise: 05:39 ~ 05:51
Sunset: 18:50 ~ 19:03
What to Wear in Hong Kong in May
Since the climate in Hong Kong in May is getting hot, tourists can just take some summer clothes and coats for your trip. Blouses, thin dresses, thin T-shirts, skirts, sandals and other cool clothes are suitable for sunny weather. Wind jackets, light coats and jeans are advised for nights.


Where to Go in Hong Kong in May
If interested in horse racing and preferring an exciting experience, tourists should not miss the Hong Kong Jockey Club where they can watch fierce horse races. May is the right time for this. You can watch daytime races on Saturdays or Sundays at Sha Tin Racecourse and night races on Wednesdays at Happy Valley Racecourse. After a horse race, visitors can go to
Mong Kok
, a famous shopping street in Hong Kong. You can find all kinds of goods there. As well, you can taste both southeastern Asian food and local snacks. If time permits, you can also go to the
Tsing Ma Bridge
, which is a landmark in Hong Kong. It is not only the longest car and rail suspension bridge worldwide, but also the eighth longest suspension bridge in the world.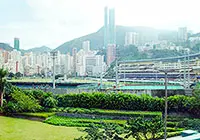 Jockey Club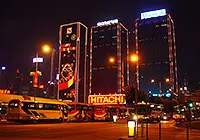 Golden Bauhinia Square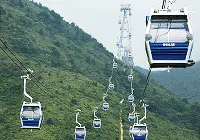 Ngong Ping 360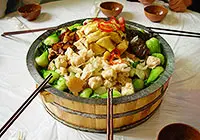 Local Snacks
Top 10 Things to Do in Hong Kong
Other Tips
Tourists from most counties can enter Hong Kong without a visa, but a valid passport, a return or onward ticket and enough travel money are needed. Visitors should learn about the specific visa policies before a trip. Public toilets can be found at street corners, malls, parks and attractions. Hong Kong voltage is 220V and many hotels provide transformers.
What is the temperature in Hong Kong in May?
High/Low Temperatures of Hong Kong in May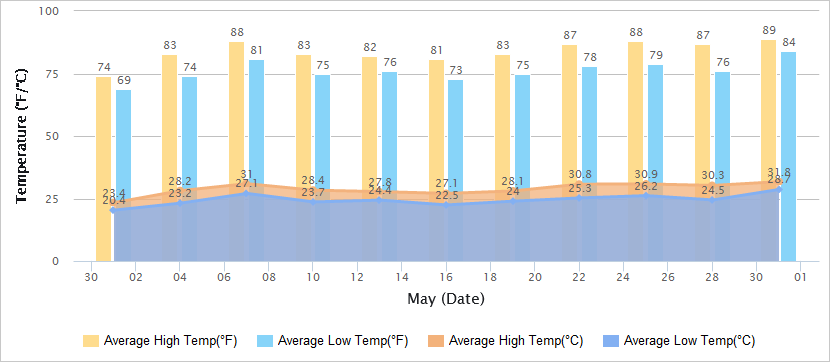 Historical Hong Kong Weather in May
May
Temperature
Sunrise / Sunset
Humi-
dity
(%)
High
Low
1
23.4°C / 74.1°F
20.4°C / 68.7°F

05:51

/

18:50

92
2
29.8°C / 85.6°F
22.8°C / 73°F

05:51

/

18:50

89
3
30.8°C / 87.4°F
22.8°C / 73°F

05:50

/

18:51

86
4
28.2°C / 82.8°F
23.2°C / 73.8°F

05:50

/

18:51

87
5
30.9°C / 87.6°F
26.2°C / 79.2°F

05:49

/

18:52

84
6
30.5°C / 86.9°F
27.2°C / 81°F

05:48

/

18:52

83
7
31.0°C / 87.8°F
27.1°C / 80.8°F

05:48

/

18:52

81
8
31.2°C / 88.2°F
27.3°C / 81.1°F

05:47

/

18:53

82
9
30.6°C / 87.1°F
26.9°C / 80.4°F

05:47

/

18:53

81
10
28.4°C / 83.1°F
23.7°C / 74.7°F

05:46

/

18:54

87
11
28.8°C / 83.8°F
23.4°C / 74.1°F

05:46

/

18:54

75
12
27.6°C / 81.7°F
23.7°C / 74.7°F

05:45

/

18:55

80
13
27.8°C / 82°F
24.4°C / 75.9°F

05:45

/

18:55

82
14
27.7°C / 81.9°F
24.0°C / 75.2°F

05:44

/

18:56

89
15
29.8°C / 85.6°F
24.4°C / 75.9°F

05:44

/

18:56

85
16
27.1°C / 80.8°F
22.5°C / 72.5°F

05:43

/

18:57

73
17
24.6°C / 76.3°F
23.2°C / 73.8°F

05:43

/

18:57

80
18
26.3°C / 79.3°F
23.4°C / 74.1°F

05:43

/

18:57

76
19
28.1°C / 82.6°F
24.0°C / 75.2°F

05:42

/

18:58

84
20
26.2°C / 79.2°F
24.3°C / 75.7°F

05:42

/

18:58

94
21
28.3°C / 82.9°F
24.7°C / 76.5°F

05:42

/

18:59

88
22
30.8°C / 87.4°F
25.3°C / 77.5°F

05:41

/

18:59

77
23
28.1°C / 82.6°F
24.8°C / 76.6°F

05:41

/

19:00

81
24
30.7°C / 87.3°F
25.4°C / 77.7°F

05:41

/

19:00

82
25
30.9°C / 87.6°F
26.2°C / 79.2°F

05:40

/

19:01

82
26
29.5°C / 85.1°F
26.7°C / 80°F

05:40

/

19:01

85
27
29.1°C / 84.4°F
26.0°C / 78.8°F

05:40

/

19:02

89
28
30.3°C / 86.5°F
24.5°C / 76.1°F

05:40

/

19:02

89
29
31.0°C / 87.8°F
27.2°C / 81°F

05:40

/

19:02

84
30
32.1°C / 89.8°F
28.0°C / 82.4°F

05:39

/

19:03

80
31
31.8°C / 89.2°F
28.7°C / 83.7°F

05:39

/

19:03

79
- Last updated on Sep. 03, 2019 -